LSI Nytro Product Family Overview - New WarpDrive XD Revealed and more
What we dubbed as the LSI WarpCache has been revealed. LSI didn't use our product name, but instead went with Nytro WarpDrive. See it and the rest of the Nytro family of products right here.
Published Mon, Apr 2 2012 12:35 PM CDT
|
Updated Tue, Nov 3 2020 7:01 PM CST
Introduction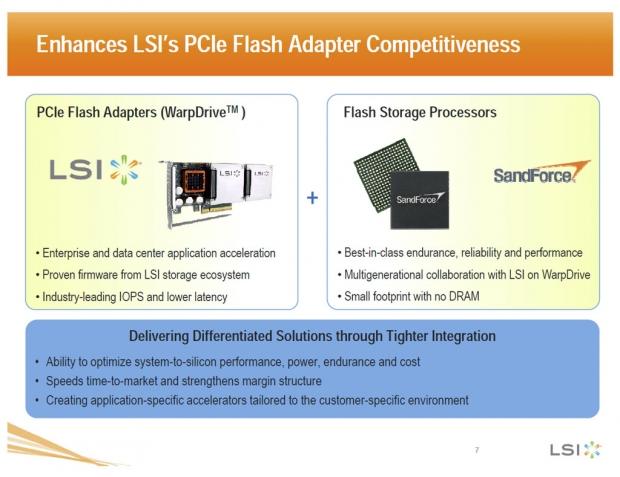 When LSI acquired SandForce they already had an existing area inside the company creating flash based products with existing SandForce technologies. The division was called the Accelerated Solutions Division. SandForce had already played a role in this new area contributing technology, expertise and silicon to WarpDrive, a bootable, low cost solution for easily increasing database server performance while lowering transaction times. The market and LSI liked what they saw in WarpDrive, the product was a success.
It didn't take LSI long to calculate the benefits of having a leading flash processor unit design team in house and so LSI, with the resources of being a top enterprise technology provider, acquired SandForce and grew the Accelerated Solutions Division. The Accelerated Solutions Division is wasting no time putting their combined resources to good use.
With the tag line "The Smarter Way to Faster", Nytro is the name of a new series of products designed to increase database and server transaction time. The idea of using high-speed flash memory to increase performance is nothing new to LSI.
CacheCade and CacheCade Pro made use of low cost flash products (SSDs) to accelerate performance of enterprise storage arrays. Later, WarpDrive was introduced and with it LSI's first all flash drive designed as a bootable, flash based array of low cost, redundant drives in a half height package.

Today LSI is introducing the next evolution of products - Nytro WarpDrive, Nytro XD and Nytro MegaRAID which will all be discussed in today article.
LSI Nytro Architecture Overview
We have quite a bit to cover today, much more than what would fit in a typical news post.
On the FAST side LSI talks about the world's best flash management, this obviously refers to the world's best flash storage processor, from SandForce. LSI has their own fast as well, products like the LSI 9265 are built on a dual core RAID-on-Chip processor that keep storage related processes off of the system CPU and memory. This keeps more processing power and memory space available for applications and background server activity.
Working backwards on the SMART category. LSI has been a long time partner to some of the world's largest datacenters and works with industry leading companies to provide solutions based on need. LSI's reputation goes far beyond what we could ever discuss in the space allotted in this article. Nytro Predictor, the software designed to help potential customers control costs by allowing them to purchase the products needed to increase performance is a part of the smart portion of the Nytro family.
Finally we have the caching area where data is placed on the flash for accelerated performance. Once in high-speed flash the data is then considered hot and referred to as hot data.
Finally we have what could be the most important aspect of LSI's Nytro architecture, EASY. Built using tools developed from the MegaRAID family, Nytro's software layers work without interrupting your system's existing software. This means your applications run without rewrites to the code or major changes to the hardware requirements outside of adding LSI's software and hardware to the system.
Dividing the Pie, or in this Case the Triangle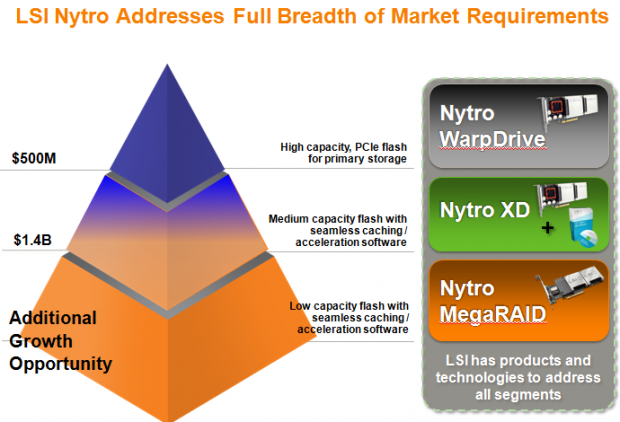 Not every server requires the same amount of storage acceleration and to address costs, application needs and existing structure LSI has created three distinct products.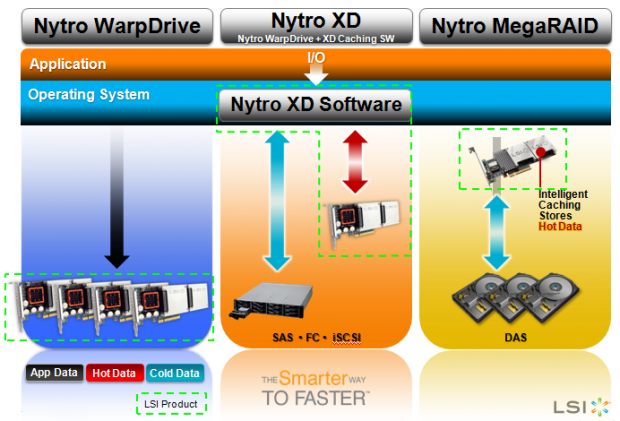 At the tier 0 level, where application speed and performance are hungry for bandwidth, LSI has placed WarpDrive or in many circumstances chosen by the customer a group of WarpDrives.
Next down the list is the most innovative product on the list. With the acceleration power of WarpDrive and a new seamless software layer called Nytro XD, existing and new off location large SAN, iSCSI and other arrays benefit from flash caching of data.
The third and final hardware solutions is Nytro MegaRAID a cross breed between a WarpDrive and MegaRAID controller that allows storage closer to the host system to be accelerated. Nytro MegaRAID accelerates DAS storage.
Nytro WarpDrive
LSI's Nytro WarpDrive Application Acceleration Cards is the second generation family of PCIe flash adapters which provide drop-in high performance and low latency to accelerate transactional application performance and response time. Nytro WarpDrive cards range in capacity from 200GB to 3.2TB of MLC or SLC flash memory, and combine the award-winning performance, reliability and energy efficiency of LSI SandForce flash storage processors with market-leading LSI SAS controller ICs. A single Nytro WarpDrive card delivers the I/O performance of hundreds of hard disk drives while requiring significantly less power, cooling and physical space for a reduced total cost of ownership. You want one, don't you?

Delivering high-speed performance beyond our current understanding of high speed performance is what the LSI WarpDrive is all about. When this article goes live on TweakTown, LSI is presenting the Nytro Family of products to Wall Street. On Wall Street millions of dollars change hands every few milliseconds and being late to the next big transaction can turn a good day into a very bad day. Few markets move at this pace and even fewer storage products can keep up. Nytro WarpDrive is designed for these custom applications that require the highest performance that can be delivered regardless of cost.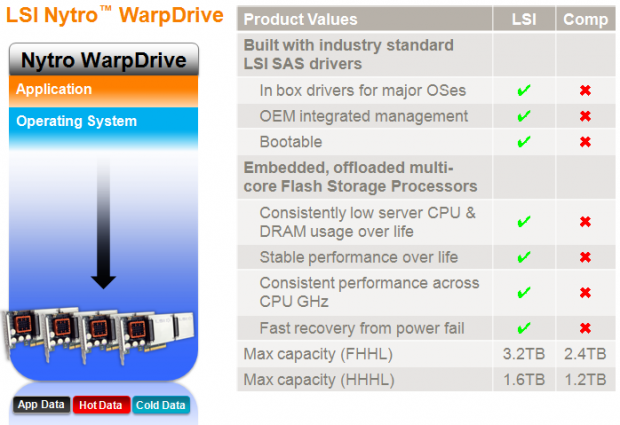 The LSI Nytro WarpDrive has several impressive features that LSI pointed out in their media briefing. LSI didn't include specific performance data, but Nytro WarpDrive is much more than just a glorified high-speed storage solution. Ease of use, overall investment and product life cycle are all major concerns when implementing a new technology regardless of the market served.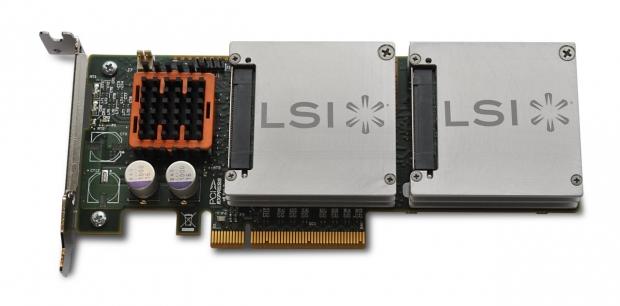 Available in half height with up to 1.6TB of capacity (shown here) and a full height model with up to 3.2TB of capacity, LSI has taken this section of Tier 0 and divided it further based on need and cost.
Nytro WarpDrive XD
LSI's Nytro XD Application Acceleration Storage Solution combines LSI Nytro WarpDrive with Nytro XD intelligent caching software to deliver out-of-the-box application acceleration for storage area networks (SAN) and direct-attached storage (DAS) environments. The Nytro XD solution seamlessly caches frequently-accessed data reads and writes to high-performance PCIe flash storage, reducing latency and delivering up to a 30x performance improvement over HDD-only storage systems. The result is optimized data I/O rates and faster system and application performance while leveraging existing IT infrastructure for investment protection.

The product I'm most impressed with from the new Nytro family is the Nytro WarpDrive XD. The XD version combines a WarpDrive with LSI's new XD software to accelerate new or existing SAN arrays. The data source could be from fiber channel arrays, NAS with iSCSI even complex DAS connected to the host.
LSI did not give us a lot of information about the XD software, but this is far from a cliffhanger as we'll have it in-house for evaluation soon. Nytro XD will make a great addition to our growing iSCSI enterprise testing products based on 10GbE technology.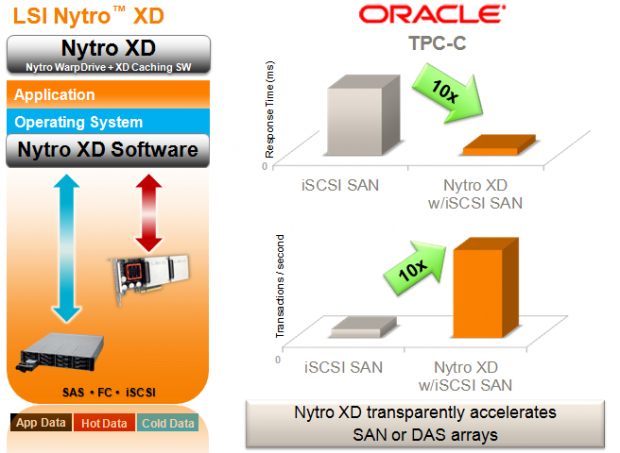 Using the industry standard TPC-C test, LSI claims a 10x reduction in response time and a 10x increase in transactions per second over an iSCSI SAN.
Nytro MegaRAID
LSI's Nytro MegaRAID Application Acceleration Cards provides simple and cost-effective acceleration of SAS-connected DAS storage by combining the proven RAID performance and data protection capabilities of LSI MegaRAID controllers with on-board flash and intelligent caching software. Nytro MegaRAID cards seamlessly move data between integrated flash storage and hard drives to deliver a blend of high-performance and high-capacity storage without requiring expensive software tuning or rewrites.

For data that is closer to the host LSI has released Nytro MegaRAID. We first saw this product in 2011 at the LSI AIS event. At the time LSI did not have a public name for the solution so we dubbed it WarpCache. I think Nytro MegaRAID was a better choice.
With Nytro MegaRAID we get the best from both traditional LSI MegaRAID and SandForce's intelligent flash processors. Nytro MegaRAID is designed to accelerate storage arrays close to the host, most often found in DAS or direct storage.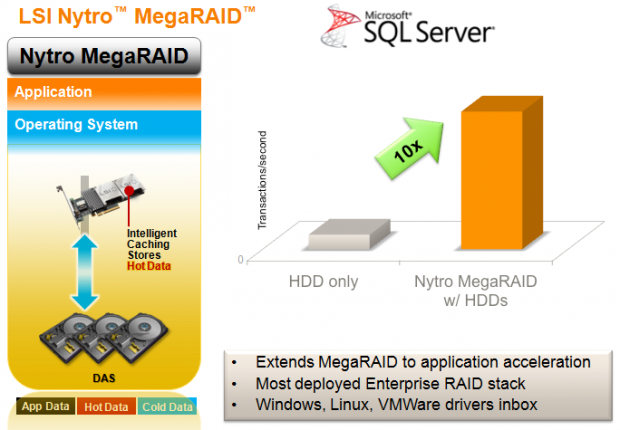 LSI claims Nytro MegaRAID will have a 10x increase in transaction per second over an enterprise mechanical HDD.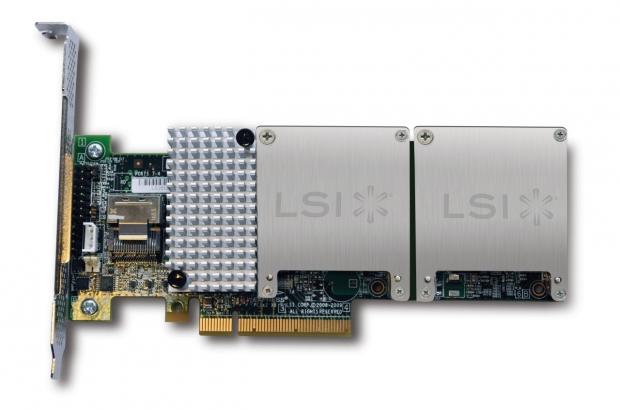 The fusion of technology is impressive and as you can see here Nytro MegaRAID looks like it could have been made in Photoshop by splicing a MegaRAID controller with the flash section of a WarpDrive. We've already seen one of these products and can say that wasn't the case.
Nytro Predictor and Final Thoughts
Nytro Predictor

Finally we have LSI's Nytro Predictor which is more of a software evaluation tool than it is a product.
Predictor allows customers to work through a guided evaluation of their acceleration needs and aids in helping better understand workload. Once completed, Nytro Predictor will aid in the process of choosing the right products to increase your application acceleration.
Final Thoughts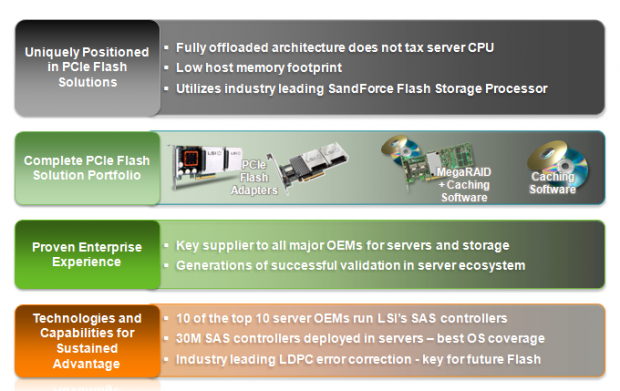 The LSI Nytro family of products is mostly built from existing technology previously developed. When I say that it is easy to see negative undertones, but that is not the case.
LSI's existing storage products are already the best in the industry and in many cases by a large margin. The large number of different products, some before the SandForce acquisition and some acquired after were in need of integration. Nytro is an evolution to CacheCade in many respects with a WarpDrive cherry sitting on top.
The foundations previously built by two separate companies are now merging to make better products that are not only the fastest available, but now presented in a more cost conscious manner by filling in the gaps previously left open from offerings in the past. The jump from MegaRAID to MegaRAID plus CacheCade was not that great, but from any existing product to WarpDrive was quite a leap. LSI has identified this and come up with solutions that bridge these gaps better making it easier for companies to choose the level of acceleration needed for their needs.
LSI Nytro solutions are currently sampling to OEM customers and are expected to be available in the second quarter. Pricing for Nytro WarpDrive cards start at $6,600 (200GB SLC). Nytro XD solutions start at $9,400 (400GB eMLC) and Nytro MegaRAID (model number 8100) at $1,699, all published prices are MSRP.
PRICING: You can find products similar to this one for sale below.

United States: Find other tech and computer products like this over at Amazon.com

United Kingdom: Find other tech and computer products like this over at Amazon.co.uk

Australia: Find other tech and computer products like this over at Amazon.com.au

Canada: Find other tech and computer products like this over at Amazon.ca

Deutschland: Finde andere Technik- und Computerprodukte wie dieses auf Amazon.de
We openly invite the companies who provide us with review samples / who are mentioned or discussed to express their opinion. If any company representative wishes to respond, we will publish the response here. Please contact us if you wish to respond.