Introduction
Editor Note: Intel or GIGABYTE did not sanction this preview in any way. We are posting this well ahead of launch since some other well-known tech sites have already covered Ivy Bridge performance and the CPU is readily available and for sale right now.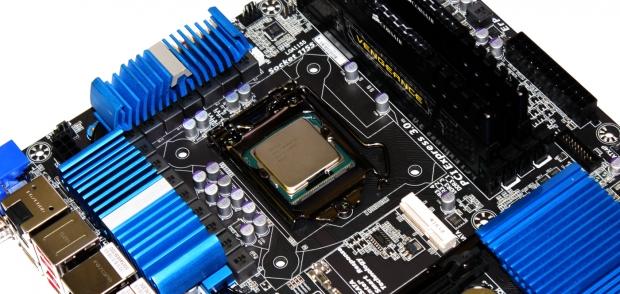 The Ivy Bridge launch has got off to a bit of a shaky start with the dates changing a lot over the last few weeks. If you really start to dig around, though, you'll probably find yourself quickly discovering that the whole Ivy Bridge platform seems to be fairly ready.
We've been seeing a fair bit of testing on the new crop of Ivy Bridge CPUs, more specifically the i7 3770k chip which at launch is going to be similar to the i7 2600k. Today we're looking at the Core i5 based 3570k which falls in line with the i5 2500k from the Sandy Bridge platform. There is a good chance you haven't seen any performance numbers on this 3570K chip until today.
Outside of all the CPUs being shown we've been seeing motherboards previewed and tested for weeks now. It really leaves us wondering why we are not seeing Ivy Bridge shown off in all its glory.
It seems to be due to stock more than anything else. While there's plenty of stock to hit the retail channel, the system integrated (SI) channel can't be as heavily populated. With the SI segment being huge for Intel it's important to keep all those guys happy and that's coming at the cost of the official Ivy Bridge launch being pushed back.
With the official launch of Ivy Bridge still being a little over a month away we don't want offer the i5 3570k as a normal full review because we could see a little change from a motherboard point of view over the coming month. We doubt it, but it's possible, so for that reason we're keeping this as a preview.
The only difference between this preview, though, and the launch review will be slightly less information in form of the technical side of things and no official score. We'll leave that for next month.
GIGABYTE Z77X-UD5H Motherboard
Earlier in the month we got a chance to head down to the GIGABYTE office and check out a large number of the Z77 boards coming from them including the Z77X-UD5H that we're going to be using today. We're going to be quickly going over the board itself today briefly before we get into the test system side of things. We'll cover the board in more detail soon as we do a full review on it.
Looking at the board head on there's nothing too unusual when it comes to first looks. Being part of the UD5 series means we've got a sexy black PCB and alongside that we've got the blue highlights throughout the board, which make it one of the best color combinations on the market.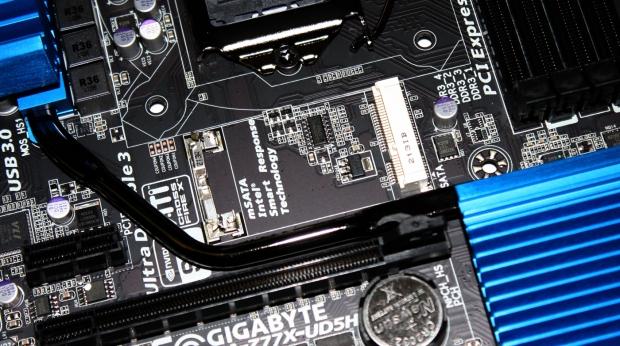 Moving in a bit closer you can see we've got two three PCI Express x16 slots, an older legacy PCI slot and three PCI Express x1 slots. On the far left you can also see a spot for an mSATA drive.

Moving across the bottom of the board there's the front panel audio header, 1394 Firewire, TPM, two USB 2.0, front panel header, Dual BIOS switch, SATA III port and two USB 3.0 headers to round off the bottom.

As we turn the corner you can see we've got a total of eight SATA ports on offer here. We've got four black SATA II ports that run natively off the Intel Z77 chipset along with two white SATA III ports that also run off the same chipset. Along with that we've got a further two SATA III ports that run off the Marvell 88SE9172 chip. Finally around here you can also see we've got a SATA port power connector. This is used in the event that you install two or more graphics card in the system. It's not compulsory to use, but it does help ensure that you have stable power going to your video cards which is never a bad thing.
GIGABYTE Z77X-UD5H Motherboard Continued
As we start to head towards the top of the board you can see the main 24-pin ATX power connector along with another USB 3.0 header to the top left of that. Above that you can see we've got a total of four DIMM slots and like the Z68 platform we've got a Dual Channel memory configuration here.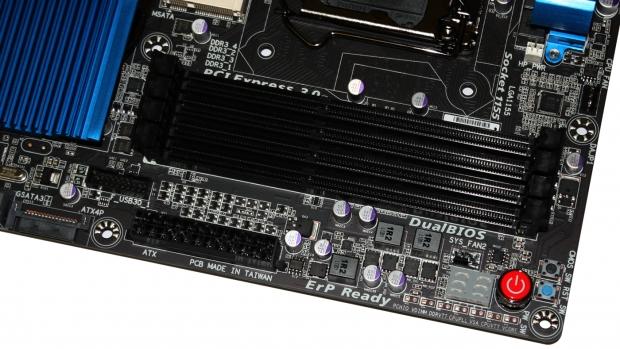 As for speed, we've got support in the BIOS of up 2800MHz DDR via a memory divider. Of course not only are you going to need really good RAM for that, but you're going to need a really good CPU that has a massively strong memory controller which will probably be harder to get in the end.
If all that wasn't enough you can see we've also got a debug LED readout in the bottom corner along with a power button that helps turn the system on and off easily when not in a case. Alongside that big button we can also see two smaller buttons. One is a CMOS switch that will help clear the BIOS, while the other is a reset button.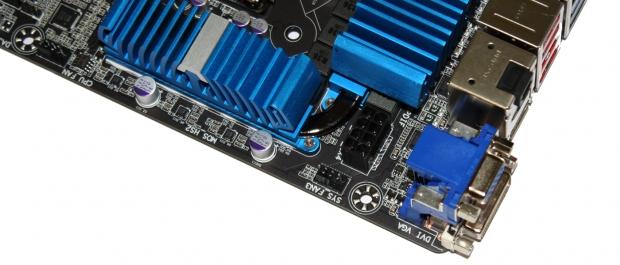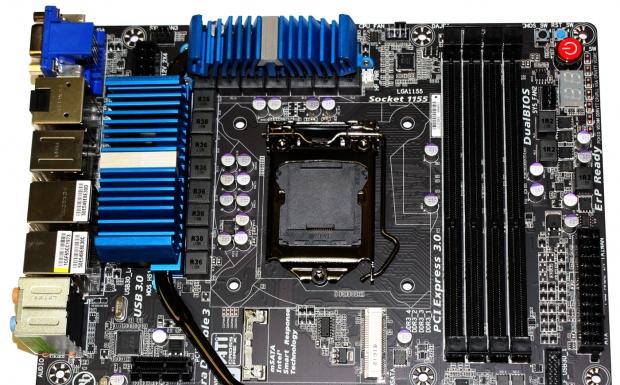 Moving around the board a bit more we can see the main 8-pin CPU power connector and the CPU socket itself that is really clean looking. You can also see the heatsink setup around the CPU area which looks great and is in that awesome blue color scheme we love to see.

Finally we finish off on the I/O side of things and straight away there's two things that stand out. First we've got no PS2 connectors and secondly we've got a bunch of video connectors starting with VGA, DVI, DisplayPort and HDMI along with an optical out port to round out that side of the connections.
Moving over we've got two USB 2.0, 1394 Firewire and an eSATA combo port. Continuing to move over we've got four native USB 3.0 ports that run off the Intel chipset and two GIGABYTE networking ports with one running off the Atheros chip and the other the Intel chip. Finally we finish off with six audio connectors that run off the Realtek ALC898 code with support for X-Fi Xtreme Fidelity and EAX Advanced HD 5.0.
Why should you move from Z68 to Z77?
Included in the media kit for GIGABYTE Z77X-UD5H we have some stand out slides which give us a really good idea of why you'd want to move over from a Z68 based board to the new Z77X-UD5H.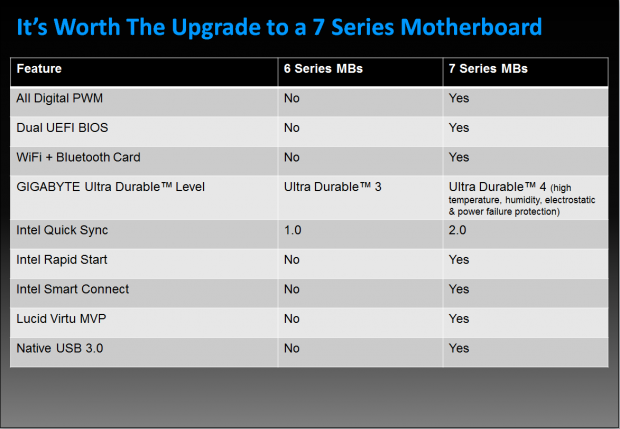 Compared to the 6 series GIGABYTE boards you can see some of the new stand out features include All Digital PWM, Dual UEFI BIOS, the new WiFi + Bluetooth card we saw in some of their X79 boards along with the latest version of GIGABYTE Ultra Durable.
We've also got the latest version of Intel Quick Sync and other new Intel technologies like Rapid Start and Smart Connect. Along with those we've got the latest version of Lucid Virtu known as MVP which is said to offer some huge performance gains along with finally the introduction of native USB 3.0 connectivity via the Intel chipset.
Before we move into the testbed side of things let's just have a quick look at some of those main benefits on offer.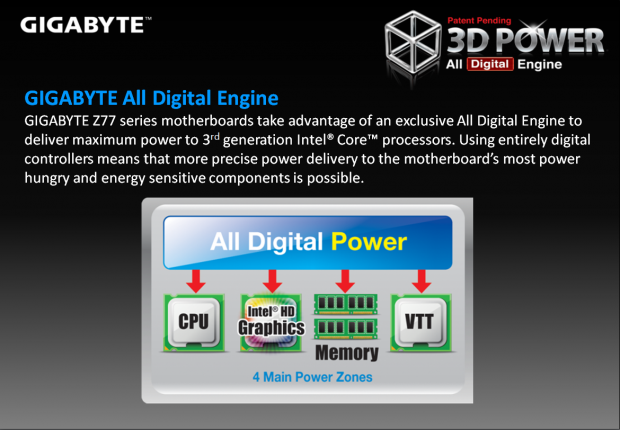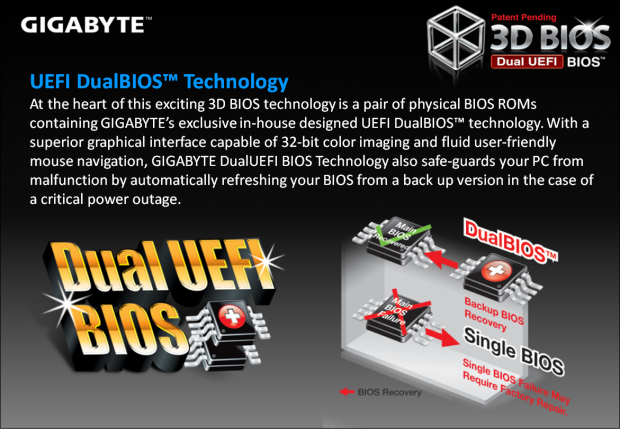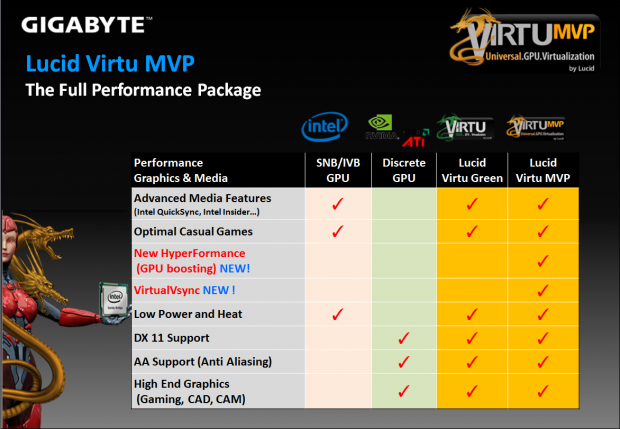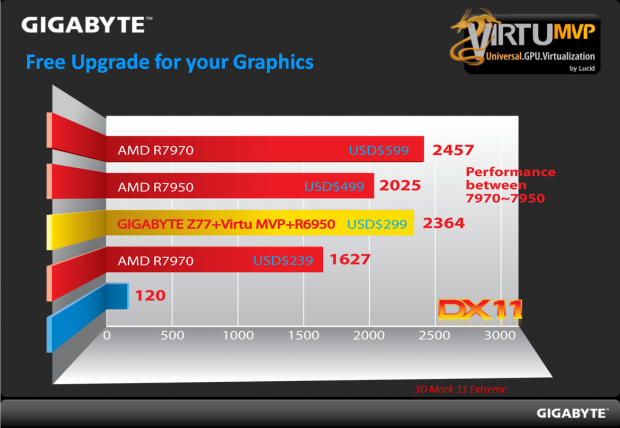 We've got some awesome new features on the GIGABYTE board and the Lucid Virtu MVP is one of the more recent technologies we're seeing with the new Z77 chipset that really stands out. There are some exciting possibilities to what the feature can do and it's something we're going to really be looking more into in the immediate future.
Benchmarks - Test System Setup and Overclocking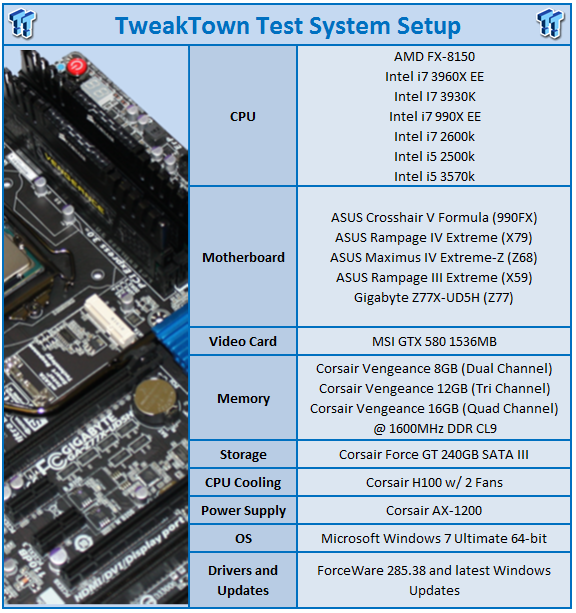 We would like to thank the following companies for supplying and supporting us with our test system hardware and equipment: Intel, GIGABYTE, MSI, Western Digital and Corsair.
Today we're going to be including a bunch of CPUs in our preview today which of course includes the brand new Ivy Bridge based Intel Core i5 3570k. The main CPU that it compares against is the Intel i5 2500k and that's one of the main comparisons we'll be looking at today.
Both of those CPUs will be tested on the upcoming GIGABYTE Z77X-UD5H motherboard based on the new Z77 chipset as the name would suggest. Alongside that we've then got the i7 2600k sitting on the Z68 board along with the older 990X Extreme Edition CPU on the X59 chipset.
From there we've also got the big boy Sandy Bridge-E processors from Intel including the 3960X Extreme Edition and 3930K which are both sitting on the X79 platform. Just because we can, we've also got the Bulldozer AMD FX-8150 CPU that sits on the AMD side of things.
Before we get into the testing side of things let us leave you with a few images with the first being the CPU we're using today which looks like your typical LGA 1155 CPU.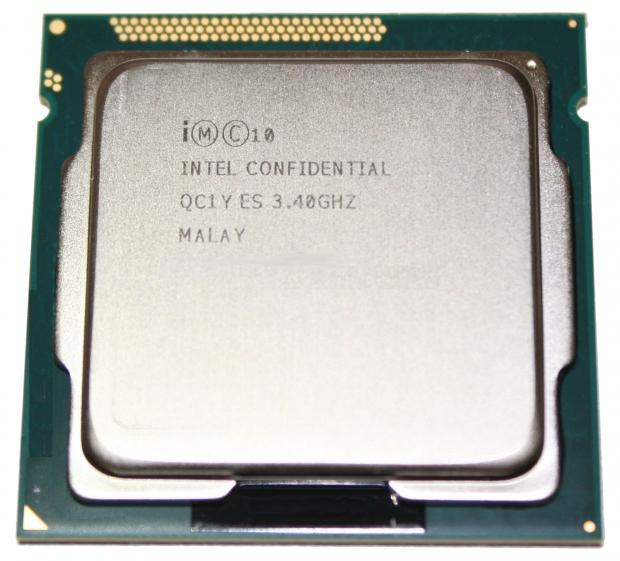 Along with that you can see our CPU-Z validation screenshot and screenshot with in AIDA64 highlighting the CPU we're using today which again is the Intel Core i5 3570k.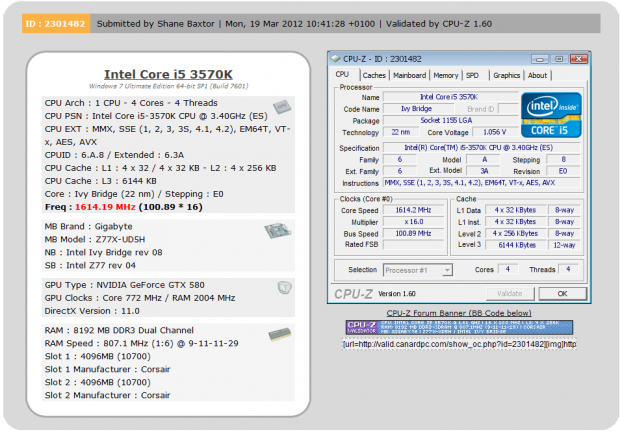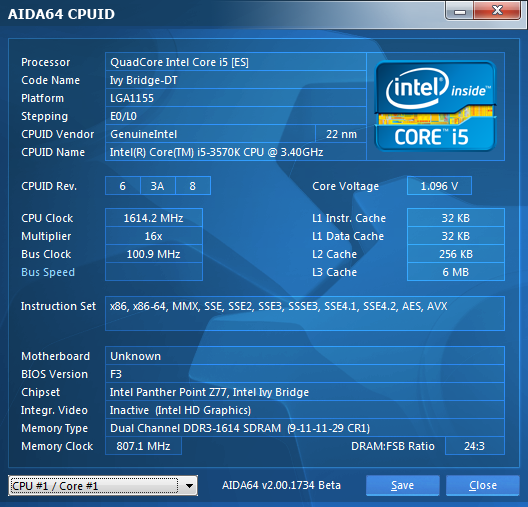 Let's get started!
Benchmarks - PCMark 7 and HyperPi
PCMark 7
Version and / or Patch Used: 1.04
Developer Homepage: http://www.pcmark.com
Product Homepage: http://www.pcmark.com
PCMark 7 includes a range of tests that give different views of your system's performance. In the Advanced Edition you can choose which tests to run. The common use and hardware component tests are unavailable in the Basic Edition.
Overall system performance is measured by the PCMark test. This is the only test that returns an official PCMark score. The Lightweight test measures the system capabilities of entry-level systems and mobility platforms unable to run the PCMark test, but it does not generate a PCMark score. Common use performance is measured by the scenario tests - Entertainment, Creativity and Production - each of which results in a scenario score. Hardware component performance is measured by the hardware tests - Computation and Storage - each of which results in a hardware score.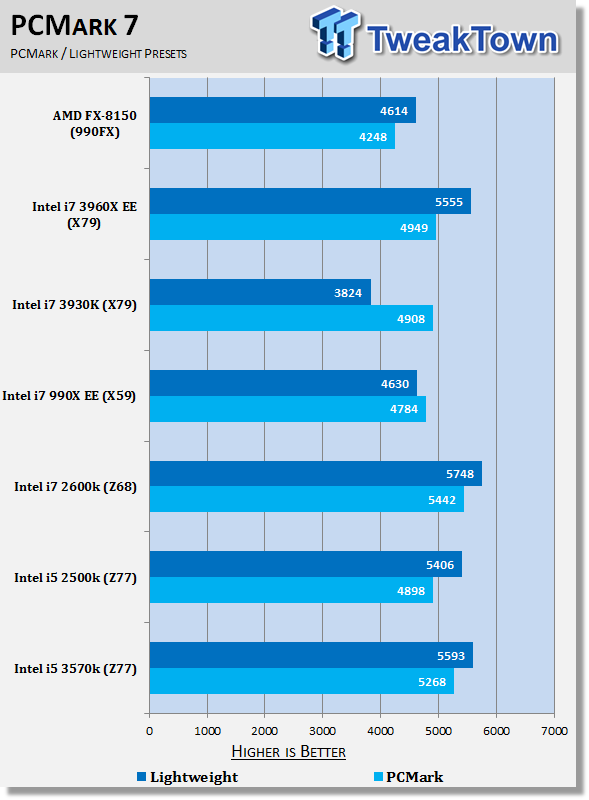 Starting off with PCMark 7 we can see that the overall PCMark score is a nice jump up over the i5 2500k. Compared to the i7 based 2600k Sandy Bridge processor we can see it sits a little behind. Compared to the older 990X and the FX-8150 from AMD we can see significantly stronger performance.
HyperPi 0.99
Version and / or Patch Used: 0.99
Developer Homepage: www.virgilioborges.com.br
Product Homepage: www.virgilioborges.com.br
HyperPi is a front end for SuperPi that allows for multiple concurrent instances of SuperPi to be run on each core recognized by the system. It is very dependent on CPU to memory to HDD speed. The faster these components, the faster it is able to figure out the number Pi to the selected length.
For our testing we use the 32M run. This means that each of the four physical and four logical cores for the i7 and the four physical cores of the i5 is trying to calculate the number Pi out to 32 million decimal places. Each "run" is a comparative to ensure accuracy and any stability or performance issues in the loop mentioned above will cause errors in calculation.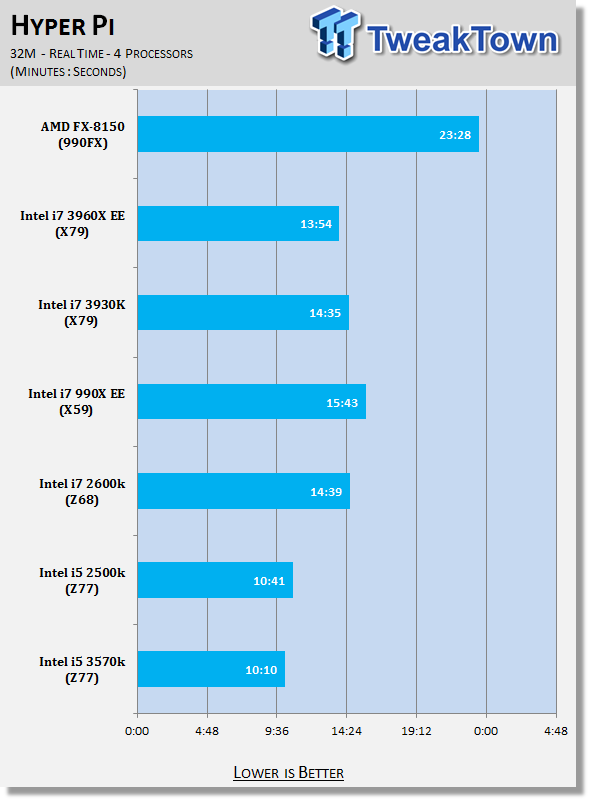 Because of the way Hyper Pi tests it doesn't become the best test when we move to different processor series like i5 and i7. We can see a good comparison of the i5 2500k and new i5 3570k with a nice 31 seconds being shaved off the time. It's a little difficult to compare it to everything else that is here, though.
Benchmarks - AIDA64
AIDA64
Version and / or Patch Used: 1.00.1035BETA
Developer Homepage: http://www.aida64.com
Product Homepage: http://www.aida64.com
Replacing Everest in our labs is AIDA64. This new testing suite is from the core development team from Lavalys and continues that tradition. The guys have thrown in better support for multithreaded CPUs as well as full 64 bit support. We use this to test memory and HDDs for now, but may find ourselves opening this up to other areas of the motherboard.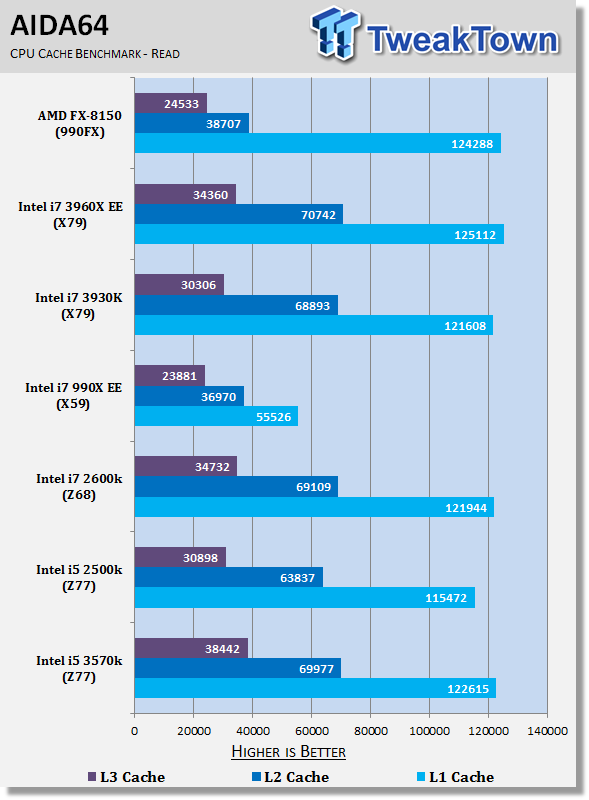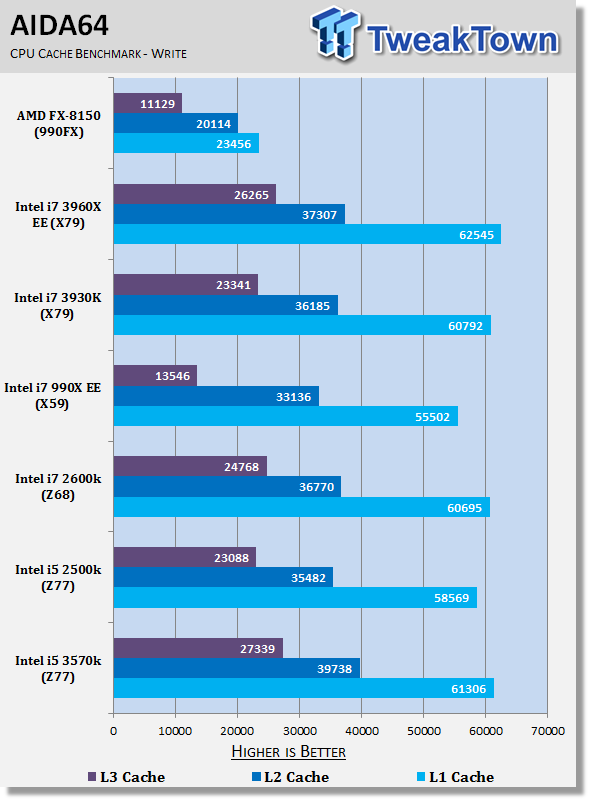 CPU read and write performance under AIDA64 is really strong for the new 3570k. You can see that in the L1 department it really only falls behind the much more expensive i7 3960X. Looking at L2 and L3 numbers we can see it manages to come out slightly ahead in some scenarios as well.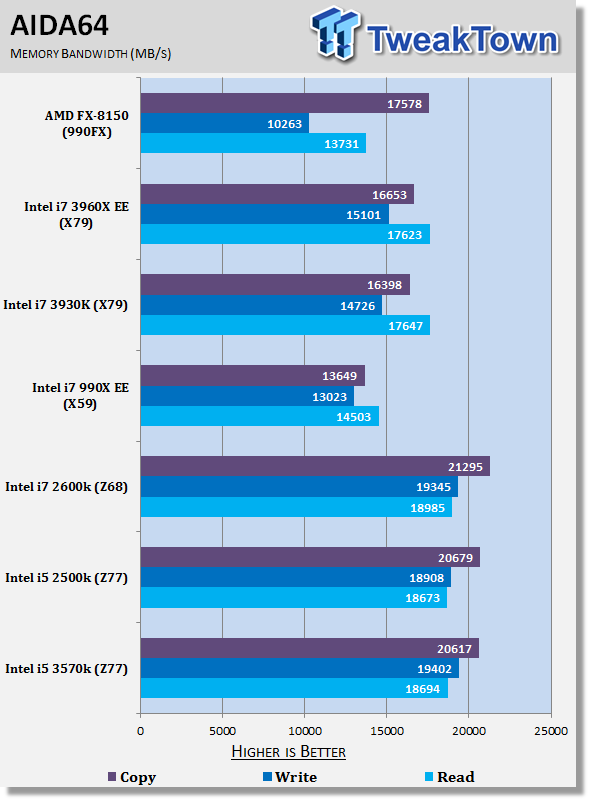 Memory performance isn't too shocking and you can see Z68 / Z77 performance is pretty tight. It's also better than the Quad Channel numbers we get out of the X79 platform which doesn't come as a shock to us. If you're interested in reading more about it I'd recommend you check out an article we did called Intel X79 Quad Channel and Z68 Dual Channel Memory Performance Analysis.
Benchmarks - PassMark PerformanceTest
PassMark PerformanceTest
Version and / or Patch Used: 7.0.1021
Developer Homepage: http://www.passmark.com/products/pt.htm
Product Homepage: http://www.passmark.com/products/pt.htm
Fast, easy to use, PC speed testing and benchmarking. PassMark PerformanceTest allows you to objectively benchmark a PC using a variety of different speed tests and compare the results to other computers. Twenty-eight standard benchmark tests are available in six test suites plus there are seven advanced testing windows for custom benchmarking.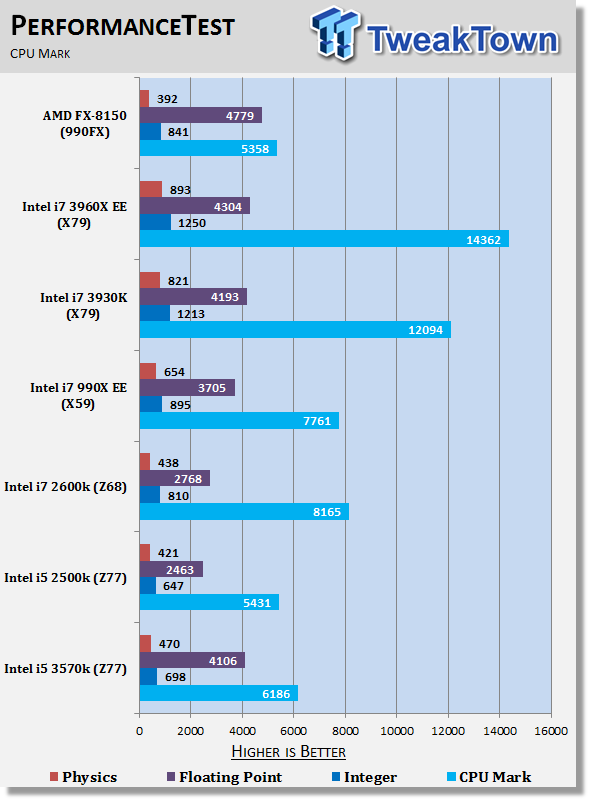 Firing up performance test we can see some strong performance across the board when compared to our i5 2500k. Compared to the 2600k we can see that the overall CPU Mark is down by a fair bit, but floating point has jumped massively compared to the 2600k, while Physics has also seen a slight boost in performance.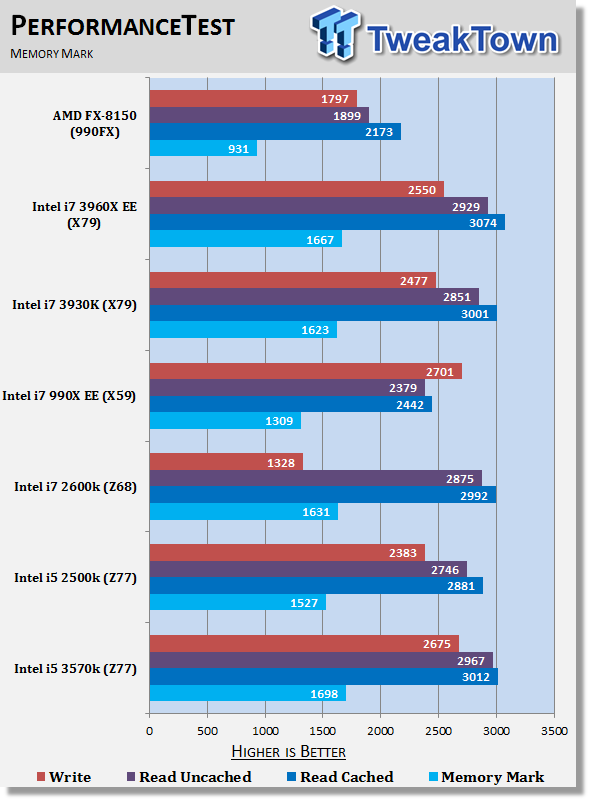 Looking at the memory side of things we can see that overall there's some very strong performance with write performance being increased on the new Z77 platform compared to the older Z68.
Benchmarks - CINEBENCH, Adobe Lightroom and MediaEspresso
CINEBENCH R11.5
Version and / or Patch Used: R11.5
Developer Homepage: http://www.maxon.net/
Product Homepage: http://www.maxon.net/downloads/cinebench/cinebench-115.html
CINEBENCH is a real-world cross platform test suite that evaluates your computer's performance capabilities. CINEBENCH is based on MAXON's award-winning animation software CINEMA 4D, which is used extensively by studios and production houses worldwide for 3D content creation. MAXON software has been used in blockbuster movies such as Spider-Man, Star Wars, The Chronicles of Narnia and many more.
CINEBENCH is the perfect tool to compare CPU and graphics performance across various systems and platforms (Windows and Mac OS X). And best of all: It's completely free.
As we start to move into some real-world tests we start to see the performance increase over the 2500k in a real-world environment. Overall we've got a nice boost, but you can see that the i7 based 2600k still sits ahead.
Adobe Lightroom
Version and / or Patch Used: v3.4
Developer Homepage: http://www.adobe.com/
Product Homepage: http://www.adobe.com/products/photoshoplightroom/
Adobe Photoshop Lightroom 3 software helps you bring out the best in your photographs, whether you're perfecting one image, searching for ten, processing hundreds, or organizing thousands.
Create incredible images that move your audience. Experiment fearlessly with state-of-the-art nondestructive editing tools. Easily manage all your images. And showcase your work in elegant print layouts, slide shows, and web galleries, as well as on popular photo-sharing sites. All from within one fast, intuitive application.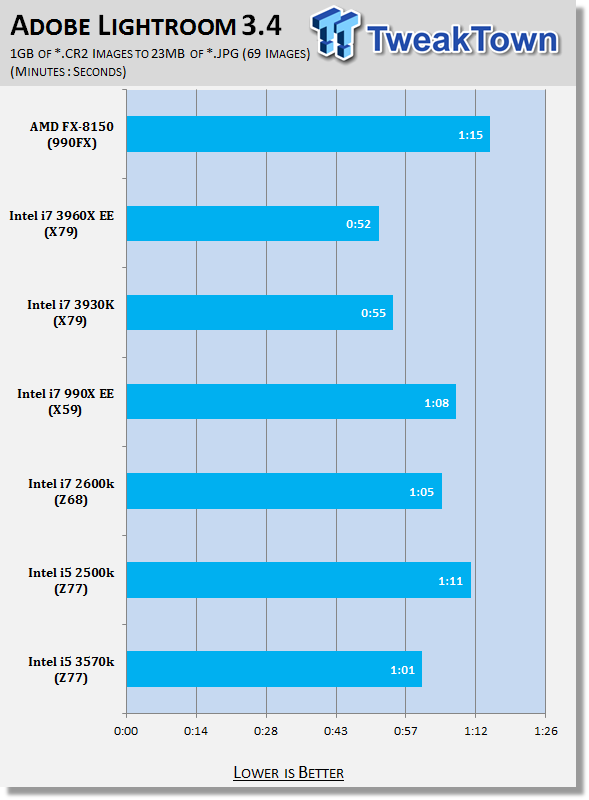 Lightroom on the other hand paints a different picture and we can see that performance on the new Ivy Bridge based i5 3570k is strong with only the Sandy Bridge-E based processors coming out ahead.
MediaEspresso
Version and / or Patch Used: v6.5
Developer Homepage: http://www.cyberlink.com/
Product Homepage: http://www.cyberlink.com/products/mediaespresso/overview_en_AU.html?fileName=overview&r=1
MediaEspresso is a blazingly fast media universal converter that can transcode your videos, photos and music files and out put them to a huge range of portable devices including mobile phones, portable media players and even game consoles. With technologies like Smart Detect, Direct Sync and CyberLink's TrueTheater™ video enhancements, you can not only forget about complicated format, resolution and output settings, but your converted file will come out the other side looking better than when it went in!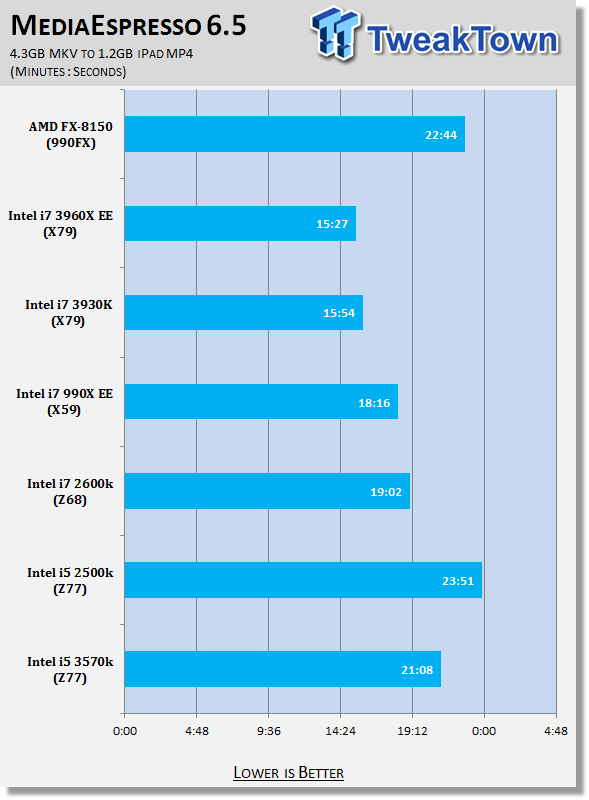 Media Espresso also paints a nice picture of how the performance differs between the two i5 based processors with a decent chunk of time being shaved off the overall speed when it comes to the encode process.
Benchmarks - 3DMark 11 and Aliens vs. Predator
3DMark 11
Version and / or Patch Used: 1.0
Developer Homepage: http://www.futuremark.com
Product Homepage: http://www.3dmark.com/3dmark11/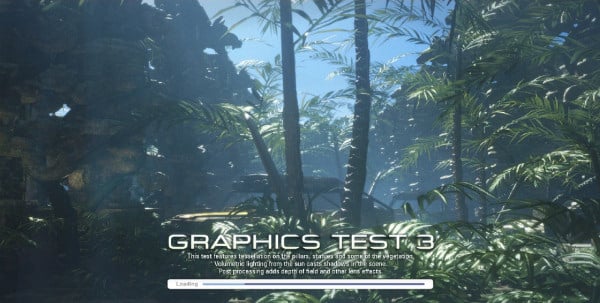 3DMark 11 is the latest version of the world's most popular benchmark. Designed to measure your PC's gaming performance 3DMark 11 makes extensive use of all the new features in DirectX 11 including tessellation, compute shaders and multi-threading. Trusted by gamers worldwide to give accurate and unbiased results, 3DMark 11 is the best way to consistently and reliably test DirectX 11 under game-like loads.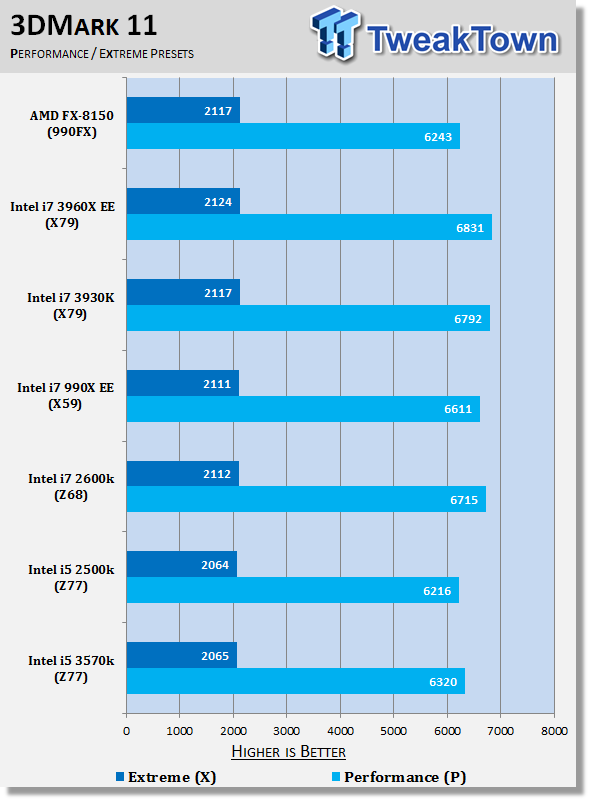 You can see under 3DMark 11 that performance is a little ahead on the 3570k when compared to the 2500k. You can see as we move to the higher end i7 setups, though, they manage to pull ahead. In no shock, though, the FX-8150 does fall to the back of the pack.
Aliens vs. Predator
Version and / or Patch Used: Standalone Benchmark
Timedemo or Level Used: Built in Benchmark
Developer Homepage: http://www.rebellion.co.uk/
Product Homepage: http://www.sega.com/games/aliens-vs-predator/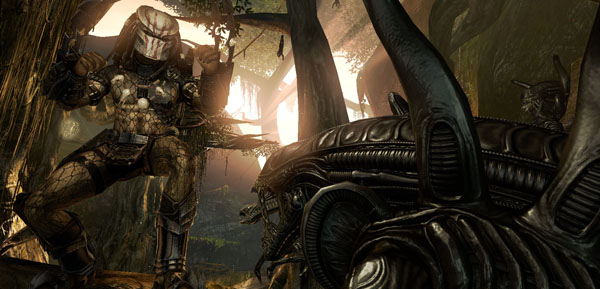 Aliens vs. Predator is a science fiction first-person shooter video game, developed by Rebellion Developments, the team behind the 1999 original PC game, and published by Sega for Microsoft Windows, the PlayStation 3 and the Xbox 360. The game is based on the Alien vs. Predator franchise, a combination of the characters and creatures of the Alien franchise and the Predator franchise. There are three campaigns in the game, one for each race/faction (the Predators, the Aliens and the Colonial Marines), that, while separate in terms of individual plot and gameplay, form one overarching storyline.
Following the storyline of the campaign modes comes the multiplayer aspect of the game. In this Multiplayer section of the game, players face off in various different gametypes in various different ways.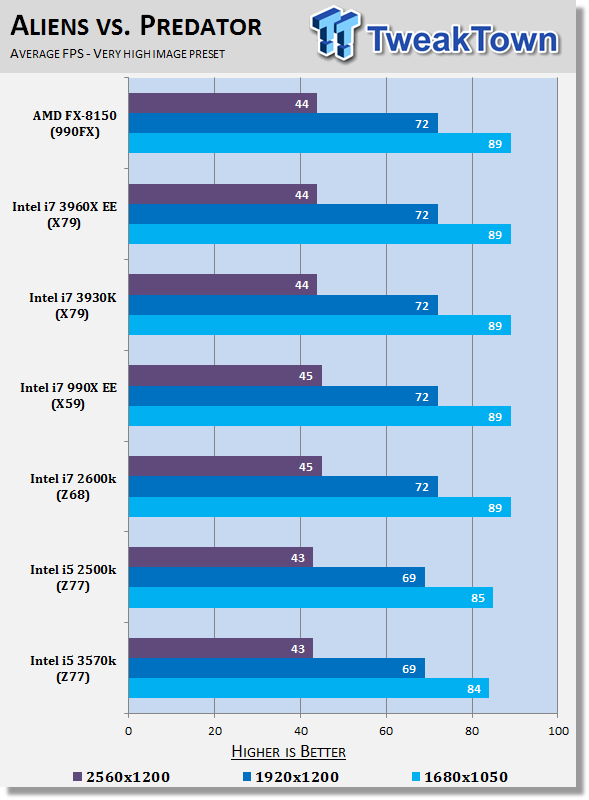 Looking at Aliens vs. Predator performance is similar between all the setups, but the i5 based processors do sit a little lower at 1680 x 1050.
Power and Temperature Tests
Power Draw Tests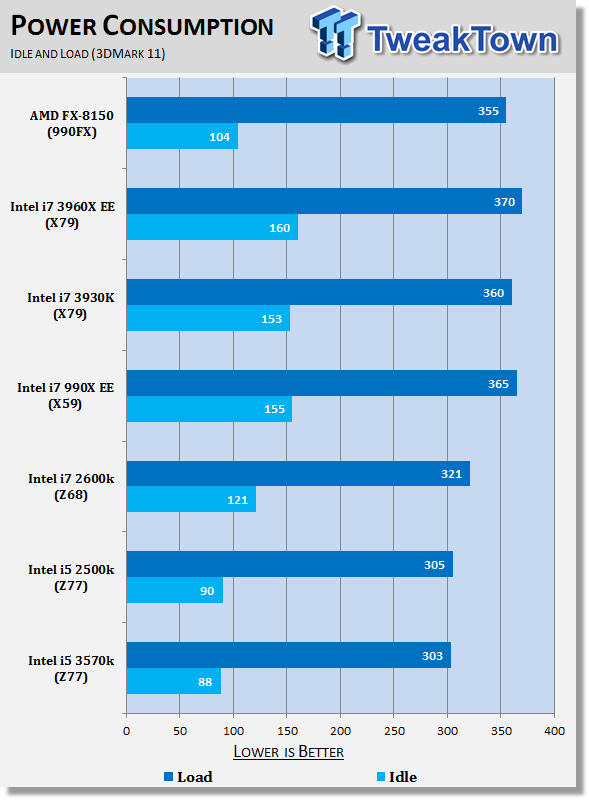 Overall power draw on the i5 3570k sits at the bottom of the pack which in this case is a good thing. You can see there are only a few watts difference between the two i5 processors. It's worth remembering the performance increase, though, we're seeing out of the 3570k compared to the 2500k, all at a similar power draw.
Temperature Tests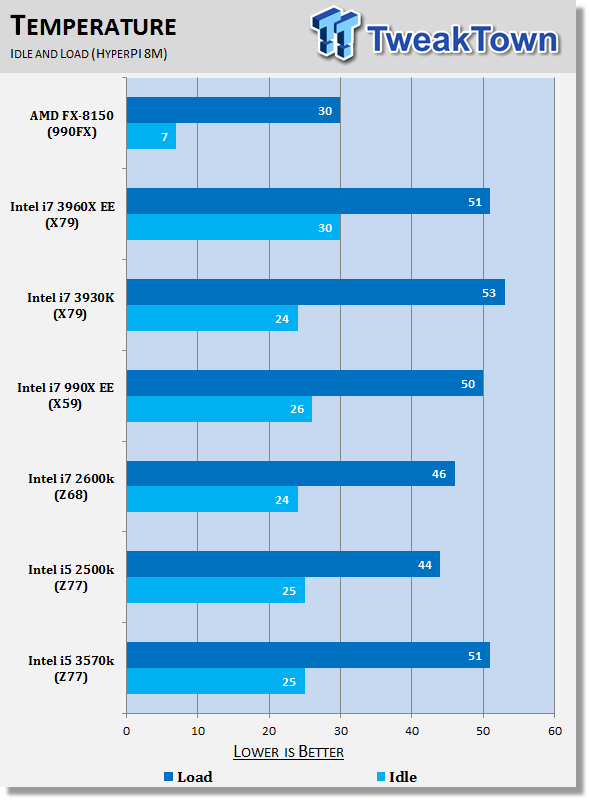 At idle we see that the 3570k sits in line with our other setups while load sits at around that 50c mark which we see out of our X79 processors. It's a little higher than the 2500k and 2600k, but nothing too major.
Final Thoughts
The baby Ivy Bridge CPU, the Core i5 3570k, comes out of the gate looking strong for Intel and should come in at a competitive price point. With that said there's still a few areas we really need to look at with overclocking being one of the more important ones and because of that, it's something we're going to be looking at really soon.
The other areas we need to really dive into is the new onboard video (Intel HD 4000) that Ivy Bridge offers us along with a good look into what's going on with the Lucid Virtu MVP. We've seen some previews of it here and there and it looks really exciting. How it transitions into our benchmark line up, though, is something that we still need to examine.
As we also mentioned companies still have a good month before Ivy Bridge officially launches and there's no doubt that some more tweaking can be done on both sides. With that being said, most companies seemed to be under the impression that the new platform would be launched in days and not weeks so they find themselves pretty on top of what's going on. I think that's the main reason we're able to offer this preview today. Companies are clearly ready with motherboards and even some retailers with Ivy Bridge processors already selling and shipping.
The big issue at the moment is that the Z77 launch is looking a bit like the 990FX launch. While we thought that the 990FX launch would bring with it the launch of the Bulldozer platform, it didn't, instead we saw the CPUs delayed. We're seeing the same kind of thing here, instead of the Ivy Bridge platform on a whole being launched, we're going to see only the chipset side of things.
The fundamental difference is that it seems that the Ivy Bridge platform is unofficially ready. But for particular reasons, we're only going to see the motherboard side launch this month and the CPU side launch next month. Well; officially that is. Unofficially we're bringing you a look at the platform on a whole.
Outside of the CPU performance, though, we've got to put a quick word in on the GIGABYTE Z77X-UD5H which has been an absolute pleasure to work with. Some of the features of the new model really stands out and that's obvious when we cover the board. When we had a chance to look at the GIGABYTE boards early this month we got excited about what was on offer. Now we've had a chance to have a little bit of a play we're finding ourselves as always impressed with what's on offer. We can't wait to get real down and dirty with the board when we start overclocking these new CPUs. So keep an eye out for some future coverage with the new GIGABYTE Z77X-UD5H.
If only we had a Core i7 3770k on hand as well to really give you an idea of how Ivy Bridge was going to look come launch day. *knock knock* sorry I'll be right back! Okay scrap that - we now do have an i7 3770k on hand. We'll throw it in our testbed right now and see you a little later on today or tomorrow morning depending where you're reading this from.