UPDATE: Razer CEO Min-Liang Tan sent us the Blade as a gesture of goodwill for Shane who is sick and in hospital. It was by no means a press unit sample, but a near complete demo unit from the Taipei Games Show. It was thought by Razer that we would not post content about the laptop on TweakTown.
UPDATE #2: I made some errors in my haste to get this article online. On the back of the laptop I said there were two speakers, they are intake vents for cooling.
Razer is a really tough company to get into in terms of getting review samples. Trust me, I know - we've been trying to get on their tier one review sampling list for a long time. When we found out about their entry into the gaming laptop market, we knew we had to get our hands on one to cover it for you guys, but didn't have high expectations of ever getting one.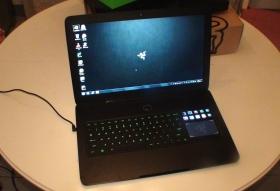 That was all until a die-hard Razer fan and very good friend of ours in Singapore (we won't mention her name, but she knows who she is!) posted on the Chief Gamer's and CEO's Facebook wall that Shane Baxtor, one of our TweakTown editors, was sick and stuck in hospital with a bad leg infection. Min-Liang Tan, CEO of Razer, instantly came to the rescue and had his staff here in Taipei arrange a Razer Blade to go to Shane from one gamer to another gamer. Let's be honest, Min is not just a gamer, but also a businessman. He knew that Shane was very critical of the price of the Blade and wanted to see if he could convince Shane it was worth the money, while passing time and playing some brand new gaming titles on the slick new Blade, whilst stuck in hospital.
That's brings us to where we are right now. I took the Blade away from Shane for a day or so to give it a look over myself - after all, it is a hot new piece of hardware and I needed some time with it, too. Initially I have to say I am fairly impressed with the Blade. I mean, I've seen it from a bit of a distance last month at CES in Las Vegas and just last weekend at the Taipei Game Show and while I was pretty impressed, I wasn't sure what all the fuss was about.
Having played with the Blade here in my home office and without what seemed like ten thousands kids around me, I like the Blade. It's out of stock right now as Razer try their hardest to fill orders (it's expected to come back into stock around the middle of this month), but it does cost $2,800 USD. In a time where most companies are trying to be price conscious in a market which demands it, Razer is bucking the trend and coming out with a high-end piece of tech equipment which they want every gamer to own.
The Razer Blade is touted as the world's first true gaming laptop. When I read that, let's be honest here, I was thinking, really?! As we know there are plenty of companies out their selling gaming laptops especially in the US market where the Blade is going on sale first. Razer is going to have a rough time at first being its first entry into the system market, going up against the likes of Alienware and others, who have a very established name in this market.
From what I have seen of the Blade in this short time, my initial impression is that it has what it takes to shake up the gaming laptop market with this entry which is certainly unique, but I'm not sure if I would go as far as saying it is the "world's first true gaming laptop". It's definitely dedicated to the gamer with some really good features and I want to go over some of them now.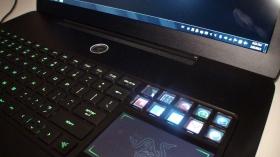 One thing that Min-Liang Tan really wanted to push into me was the weight of the laptop and how it compares to others on the market. He's right, for a 17-inch gaming laptop, it's not that heavy at all coming in at 6.4 pounds or 2.92 kilograms. I've seen many other gaming laptops in this category and they weighed much more. This is definitely a laptop that gamers that demand gaming anywhere and anytime can consider.
Besides just the weight, the unit is only one-inch thick - that's pretty crazy considering we are talking about a gaming laptop here. And speaking of the size of the screen, the 17.3-inch LED backlit screen is just lovely and the viewing angles are impressive, too. The screen is very crisp with great vibrant and full colors and I can tell even from a short time using it that eye strain should be a minimal issue and that is of course important for gamers who spend hours on end in a game.
[img]3[/img]
Below that lovely screen you have an equally impressive keyboard. Sticking with the green and black themed colors of Razer, we have a really good and responsive anti-ghosting keyboard with green backlit keys. The front of the unit is actually rather plain, but very stylish - I think gamers will appreciate this with minimal clutter to mess up their gameplay.
The unit is also covered with a very nice to touch black polished material that is really nice and smooth. Just under the screen is an oversized power on button which pulsates on and off with a green light when the laptop is turned on. When the laptop is in sleep mode, the light changes to a permanent white color, so you know that the unit is not fully switched off and can be woken up quickly.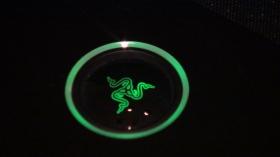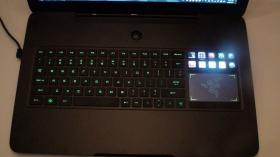 One of the biggest and most important as well as unique parts of the Blade is the Switchblade User Interface, this is what makes this laptop standout to most and it was for sure what stood out the most for me. Switchblade UI is a bit of a beast, a good one at that. I'll be the first to admit I'm no hardcore gamer (although BF3 has sucked me in for almost 180 hours so far!), but I can see gamers really get tremendous amounts of use out of this right side panel on the Blade.
It has ten fully customizable buttons (Razer call them Dynamic Adaptive Tactile keys) at the top which you can use with the included Razer Synapse 2.0 software to bind quick access functionality for your gamers be it commands, skills and macros or whatever else you can imagine. Actually, using the Synapse 2.0 software, you can change pretty much every key on the keyboard (besides the function key, Windows start key and Razer key) to do whatever you want.
[img]2[/img]
Besides just the ten Dynamic Adaptive Tactile keys, the multi-touch track pad with gesture support below it is also a second screen for the laptop. On it you can use the default buttons such as the YouTube button to quickly bring up level or boss hints to help pass onto the next stage of your game. There are also quick access buttons for Facebook, Twitter and so on. If all goes to plan, we are going to re-visit the Switchblade UI in a separate article in the next day or so. It really has a lot to it and more than we can cover in detail here today.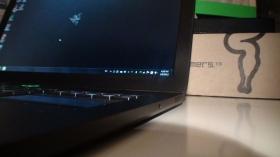 I guess the final thing here for us to discuss is performance. What I love about the Blade is that Razer made the very wise choice to include an SSD in the system - you know the new HDD that makes your computer much faster. But not only any SSD, they've included a 256GB SATA III SSD with TRIM support and it's fast. I didn't want to break into the Blade considering it's on loan to find out which exact SSD it uses, but let's just say they picked a good one as the system feels very fast and responsive and at the end of the day that comes down to the SSD.
As far as other system specs go, Razer popped in an Intel Core i7 mobile processor running at 2.8GHz and up to 3.5GHz in turbo mode and that sits in a motherboard based on the Intel HM65 Express chipset. As for the GPU, Razer selected the NVIDIA GeForce GT 555M 2GB which comes with NVIDIA Optimus technology. It also comes with 8GB dual-channel DDR3 memory running at 1333MHz and has all the other bits and pieces included you would expect such as USB 3.0 (one port), 802.11n wireless, Bluetooth 3.0, gigabit LAN, HDMI 1.4 audio and video output (which supports NVIDIA 3DTV) and a built-in HD webcam (2.0MP).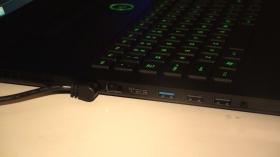 As you can see in the video above, we fired up Skyrim on the Blade and were fairly impressed by the graphics quality and performance which we saw. We didn't run any benchmarks on the unit as this is really just an initial impressions article based on the demo model we received from Razer. Performance was pretty good, though and the Blade is not going to have any issues playing all the latest games at a good to high graphics quality setting level.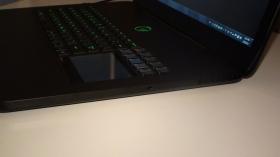 Now, we come to one of the big issues and reasons why I think we got the Blade in the first place - the price. As I mentioned earlier, Razer knew we had some pretty big issues with the price of the Blade and naturally they want to change our opinion on that. What I can say is that from my relatively short time with the Blade is that it is a really good gaming laptop and one I wouldn't mind owning at all.
Is it the world's first true gaming laptop? I cannot fully agree with that statement, but I can say Razer has done enough with the Blade to make a seriously good gaming laptop that gamers around the world will want to own. Is it worth the price? I'm going to say yes... we'll have to wait and see what Shane thinks after his time with the Blade and when his article goes live. If you compare to other gaming laptops, you can get better deals, but you are paying for the Razer name and you are getting a really cool and swish piece of kit. It's worth the price if you have that much money spare to buy a laptop.
Unfortunately it's going to be out of reach of many and I really hope Razer come back soon with a cheaper model, maybe a 15-inch version with some cut down specs, to open up the Blade laptop to the mass gaming market. To Min and the rest of the Razer team, just don't ditch the SSD though and keep all your cool bits you added to the Blade, as it is a really good product in my opinion and deserves the hype surrounding it. Now, I think I was about to install Battlefield 3 on the Blade, allow me to get back to it, will you?
*** WE SAID IN THE VIDEO THAT THE SCREEN IS OLED, IT IS LED BACKLIT - NOT OLED ***