Introduction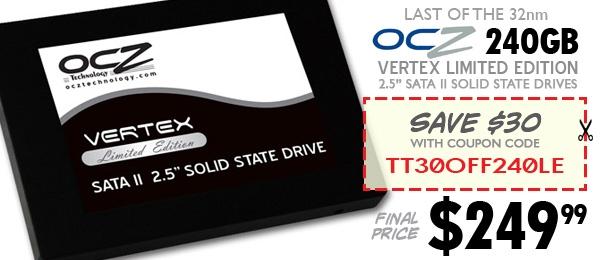 I read your forum comments, Newegg consumer comments and even try to reply to all of those emails in my inbox. To date the largest complaint about solid state drives has been pricing. Because of this, I include current and possible future pricing in all of my reviews and try to lead you to the best bang for your buck regardless of which product I'm looking at that day. The price point I hear most often is $1 per GB of capacity. That seems to be the magic number for many regardless of performance - the spot where many say they'll finally purchase an SSD.
The OCZ Vertex LE (Limited Edition) was the very first SSD on the market with a SandForce controller. On release we really couldn't call it a SandForce SF-1200 consumer controller or a SF-1500 enterprise controller; it was a mixed controller with several features from each category. Unlike the full on enterprise SF-1500 drives like the Vertex Pro, the LE didn't ship with a Super Capacitor, but that didn't stop early adopters from taking the plunge. At birth the LE caught a bit of a bad reputation associated with the growing pains of a new technology. It took a little time, but eventually those were flashed away with firmware releases and the LE ended up being a solid enthusiast product that changed the way we defined fast.
In early 2011 we prophesized the extremely successful SF-1200 SATA II controller wouldn't die off easily and we backed that up with a review of the new SanDisk Ultra just last week. At the time of writing the SanDisk Ultra 240GB costs 301 Dollars at Newegg, a good value for a product based on mature technology and high speed 3Xnm flash.
After that article went live we learned of an even greater value, on a faster product and from one of the most trusted solid state drive resellers in the business. My Digital Discount has just uncovered a stash of OCZ Vertex LE drives and together with TweakTown will be selling them for less than a Dollar per GB.
To be completely fair, the article today is more of an advertisement than it is a review. We've already reviewed a mature OCZ Vertex LE, but the drive does have newer firmware and even better performance.
The OCZ Vertex LE is not the fastest SSD on the market, but it has matured and the new price makes it the best value on the market today in our opinion.
Specifications, Pricing and Availability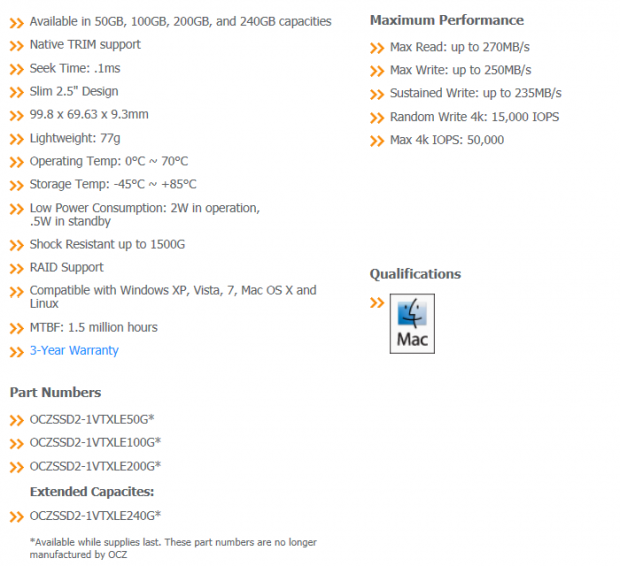 OCZ's specifications are a little outdated as later firmware increased the performance of the Limited Edition SF-1200 controlled drive. In our review of the LE we discovered the same 285MB/s read and 275MB/s write speed associated with many enthusiast SF-1200 drives.
The big news for today is the current price, so let's jump right in. My Digital Discount, the sponsor of this article has uncovered a few cases of new Vertex LE drives. We managed to talk MDD into selling 100 240GB drives for 250 Dollars. The 240GB LE has 256GB of 34nm NAND flash, so for the first time we're able to talk about a SSD that beats the $1 per GB magic number. To date this is the first time I've seen a drive, new, used or on clearance that beats this claim.
The My Digital Discount supply is made up of new drives, not refurbished or recertified or whatever discount brokers are calling their B-stock products these days. In order to get the deal you need a coupon code, TT30OFF240LE. The price reduction will be made during the check out process, so there isn't a mail-in rebate.
Let's look at what you get.
The Packaging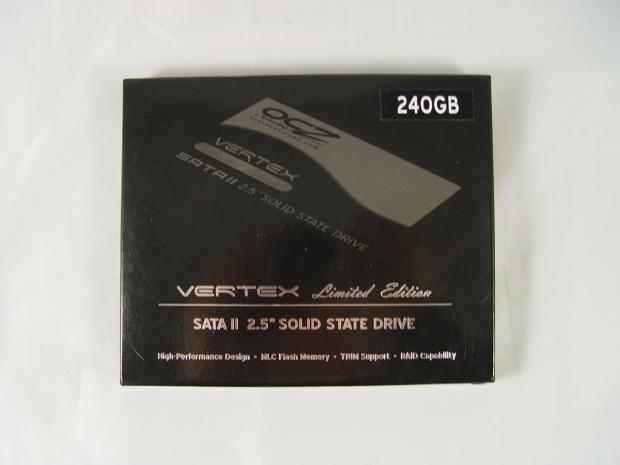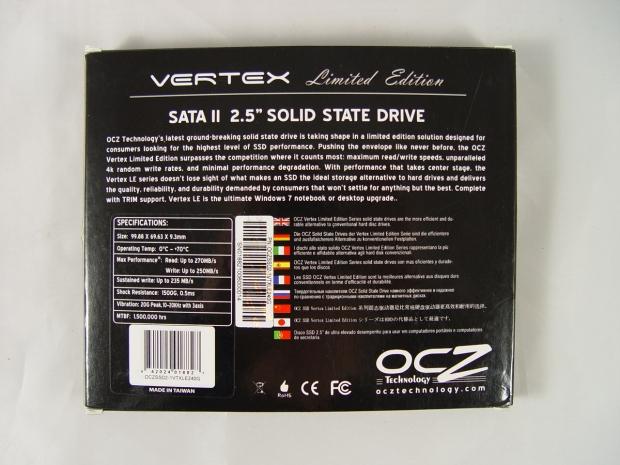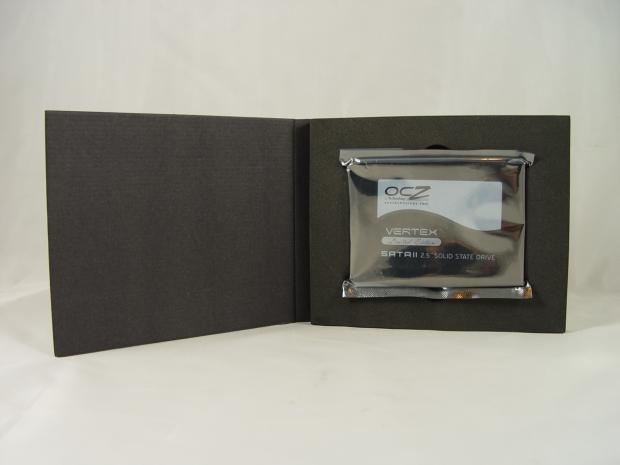 I'm not going to spend a lot of time of the packaging today since these aren't going to be on retail shelves again. Shown above is the package, but we really only care about what's inside this round.
The OCZ Vertex LE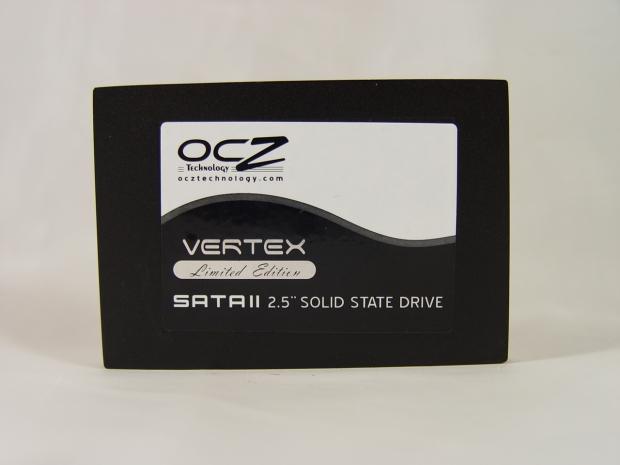 The LE didn't ship with a desktop adapter bracket, but for this price you really can't complain too much about that. The LE is a 2.5" drive that fits in a notebook or can be mounted in your desktop if it has a 2.5" HDD slot. If not, then you can purchase an adapter bracket pretty cheap these days.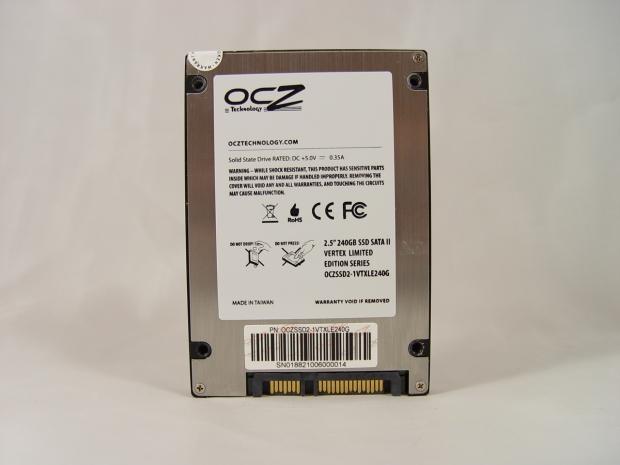 On the back we found the serial number and model number. The four under drive mounting points are where they should be so this drive will easily mount to your drive sled.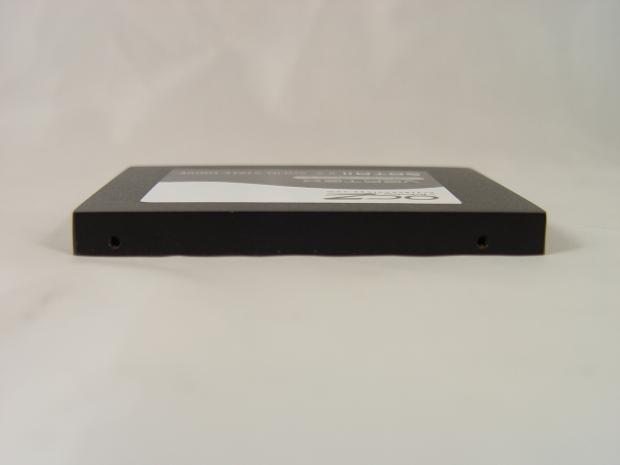 The case is made out of aluminum and the side mounting points are where they should be.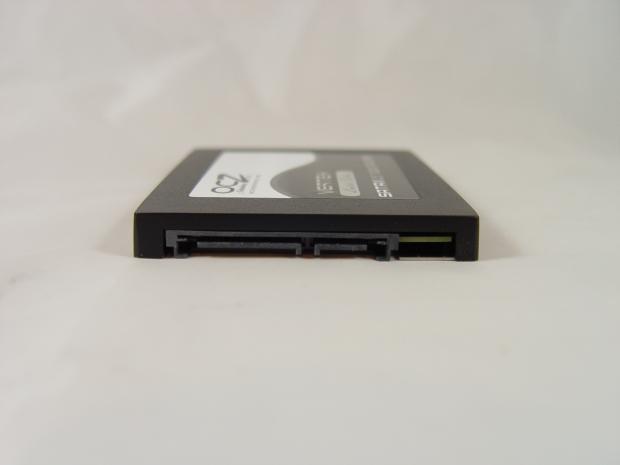 On the back side we found the SATA power and data connectors where they should be.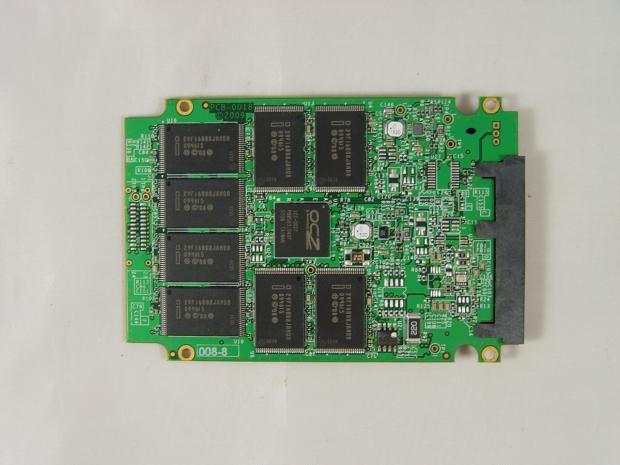 I always found the OCZ labeled controller in the LE interesting. When this drive was released I think SandForce was thinking about staying low key and letting the drive manufacturers put their own labels on all of the controllers. Thankfully that was later reconsidered.
The Vertex LE uses Intel 34nm NAND flash. This is a big selling point for this drive since most modern SF-1200 controlled drives use 25nm flash that writes data slower when used with this controller.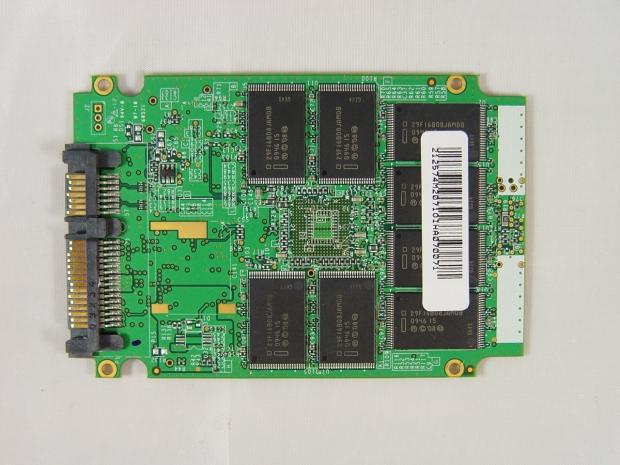 There are sixteen flash chips total - eight on each side.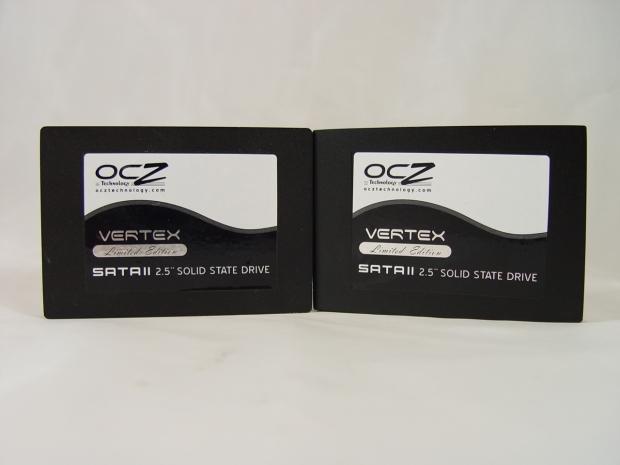 What's better than one drive? At this price, doubling up is certainly on option.
Test System Setup and ATTO Baseline Performance
We would like to thank the following companies for supplying and supporting us with our test system hardware and equipment: AVADirect, GIGABYTE, Cooler Master, LSI, Corsair and Noctua.
You can read more about TweakTown's Storage Product Testing Workstation and the procedures followed to test products in this article.
Today we are going to look at the OCZ Vertex LE in a new light. Our two drives are armed with the latest OCZ Technology firmware and since we have a pair and the price point is so attractive, in RAID 0.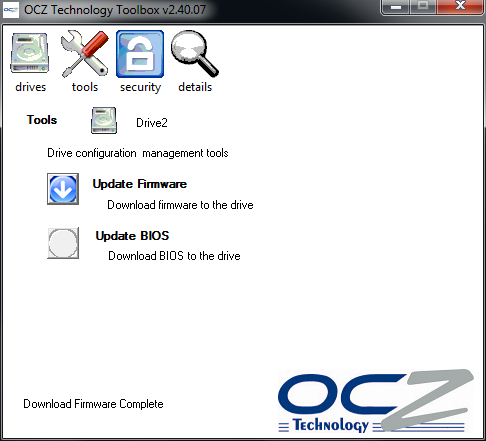 When you get your drive the first thing you should do is flash it to the latest firmware. This can be done inside of Windows with the OCZ Tool. Before you even load your OS, flash the drive in another computer with the operating system on another drive. This will let you avoid any early firmware issues.
ATTO Baseline Performance
Version and / or Patch Used: 2.34
ATTO is used by many disk manufacturers to determine the read and write speeds that will be presented to customers.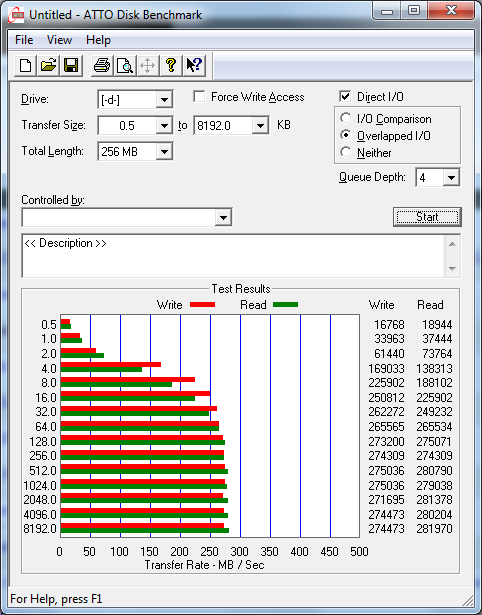 The single drive performance is about where it was the last time I looked at a 240GB LE. We didn't hit 285MB/s read speed this time, but I'd say 281MB/s is just splitting hairs. The write speed with the new firmware remained at 275MB/s - pretty much the highest possible with SATA II.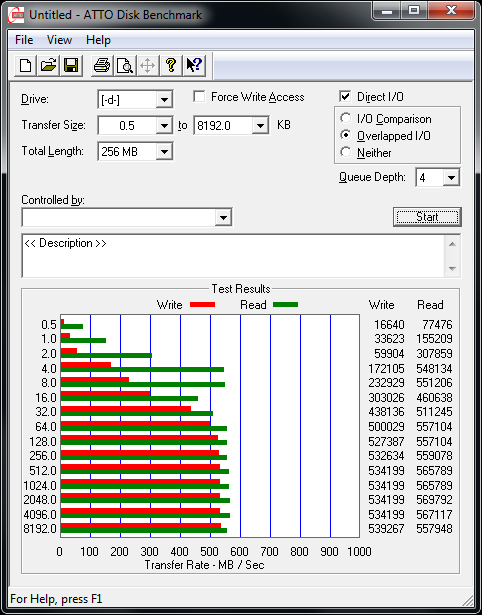 The RAID 0 performance shows really good scaling and performance that matches the newest SandForce SF-2281 SATA III controlled drives.
Benchmarks - HD Tune Pro
HD Tune Pro
Version and / or Patch Used: 4.00
Developer Homepage: http://www.efdsoftware.com
Product Homepage: http://www.hdtune.com
HD Tune is a Hard Disk utility which has the following functions:
Benchmark: measures the performance
Info: shows detailed information
Health: checks the health status by using SMART
Error Scan: scans the surface for errors
Temperature display
HD Tune Pro gives us accurate read, write and access time results and for the last couple of years has been gaining popularity amongst reviewers. It is now considered a must have application for storage device testing.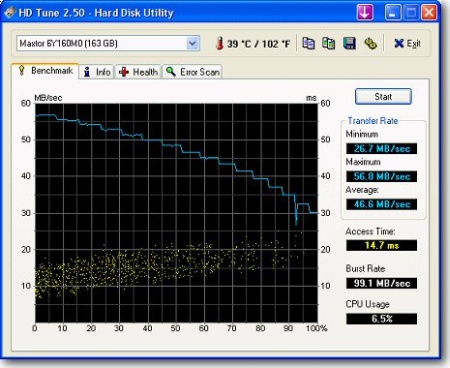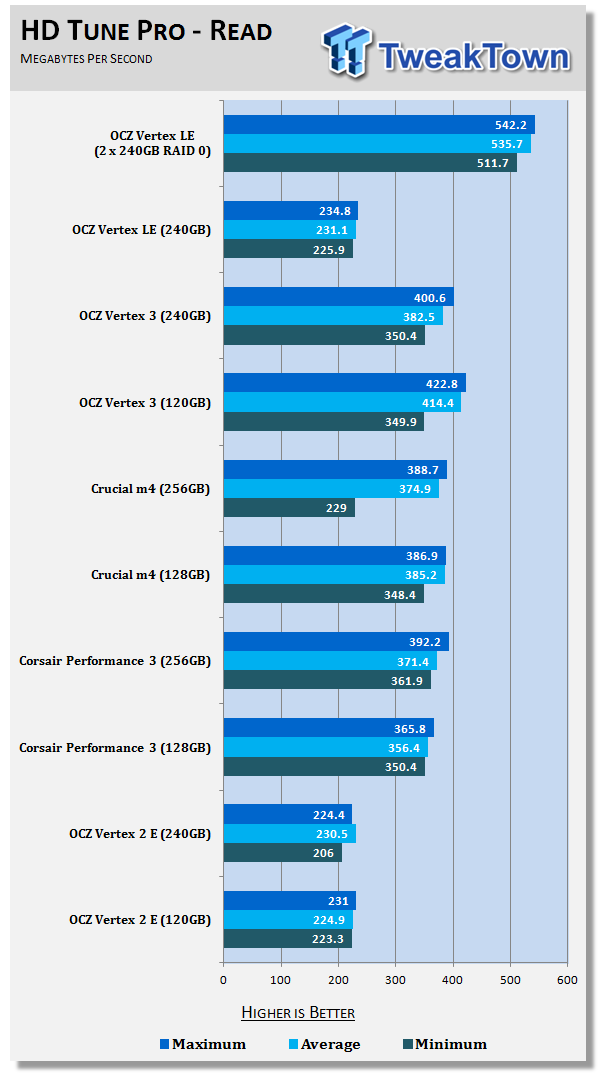 With the single 240GB Vertex LE we see that it performs at the same level as the Vertex 2 (listed at the bottom of the charts). For the most part that theme will carry over time and time again in this article, but look at what happens when you run two drives in RAID 0.
With dual drives we achieved better read performance than we did with the SATA III Vertex 3. Things are going to get interesting.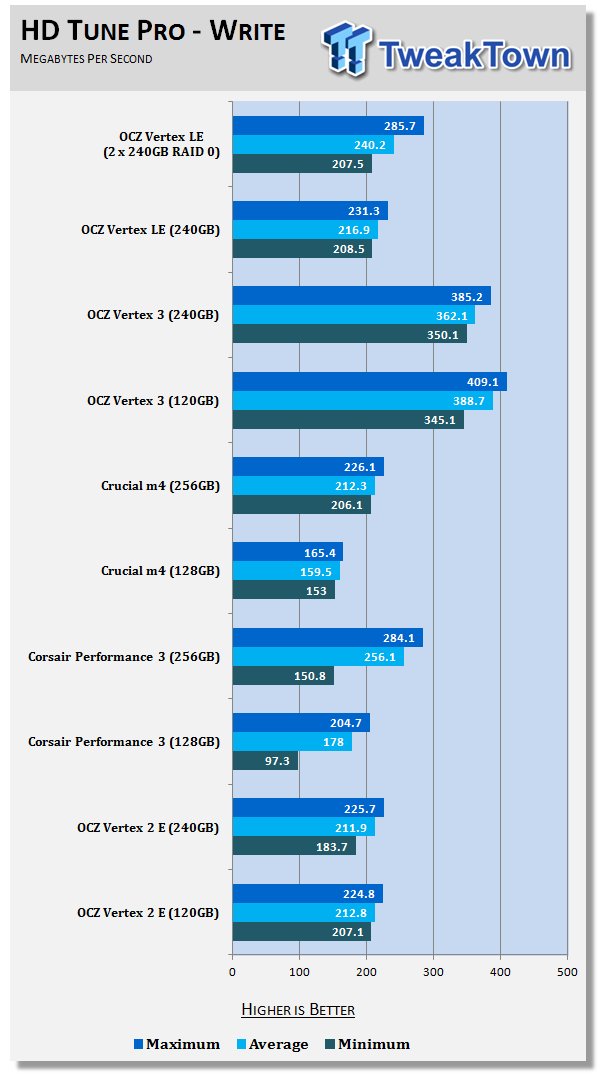 Unfortunately the write performance with two drives in RAID 0 on the Intel chipset doesn't do so well. You still get solid performance, but this combination just doesn't give the same results as we saw while reading.
The single drive write performance was as we expected, almost identical to the Vertex 2.
Benchmarks - AIDA64 Random Access Time
AIDA64 Random Access Time
Version and / or Patch Used: 1.60
Developer Homepage: http://www.aida64.com
Product Homepage: http://www.aida64.com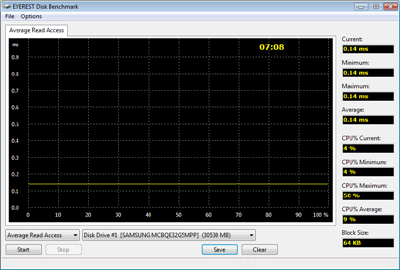 AIDA64 offers several different benchmarks for testing and optimizing your system or network. The Random Access test is one of very few if not only that will measure hard drives random access times in hundredths of milliseconds as oppose to tens of milliseconds.
Drives with only one or two tests displayed in the write test mean that they have failed the test and their Maximum and possibly their Average Scores were very high after the cached fills. This usually happens only with controllers manufactured by JMicron and Toshiba.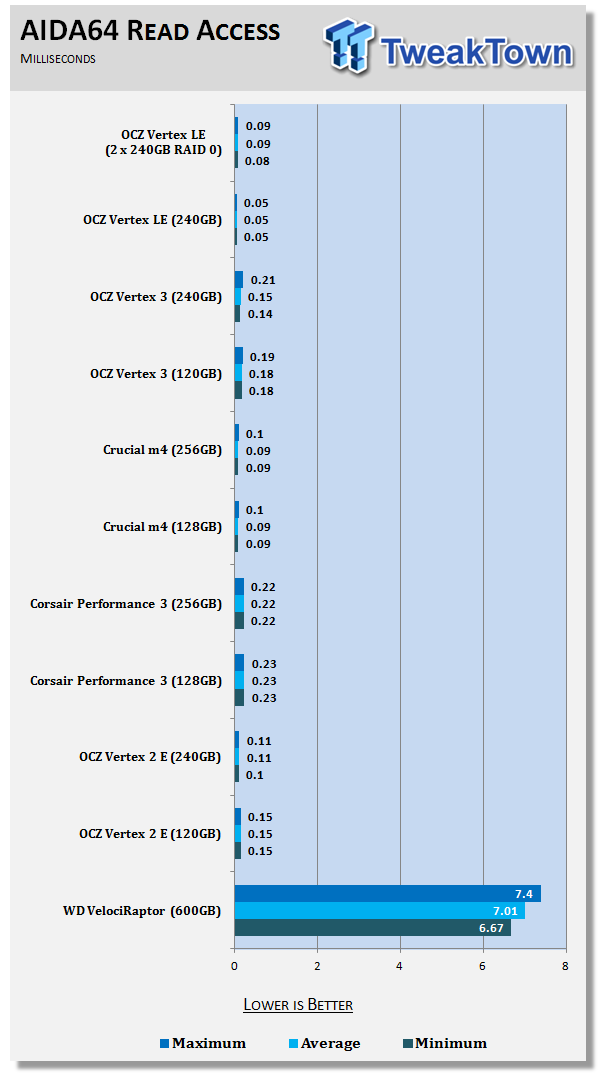 I really can't stress this point enough - access time is what makes an SSD feel fast. On the chart we've included the 10,000 RPM WD VelociRaptor, the lowest access time offered in a mechanical platter drive. The read access time difference between it and any SSD on our chart is massive. Even if your SSD could transfer only 100MB/s, it would still feel faster than any mechanical drive because of the lower latency from the SSD.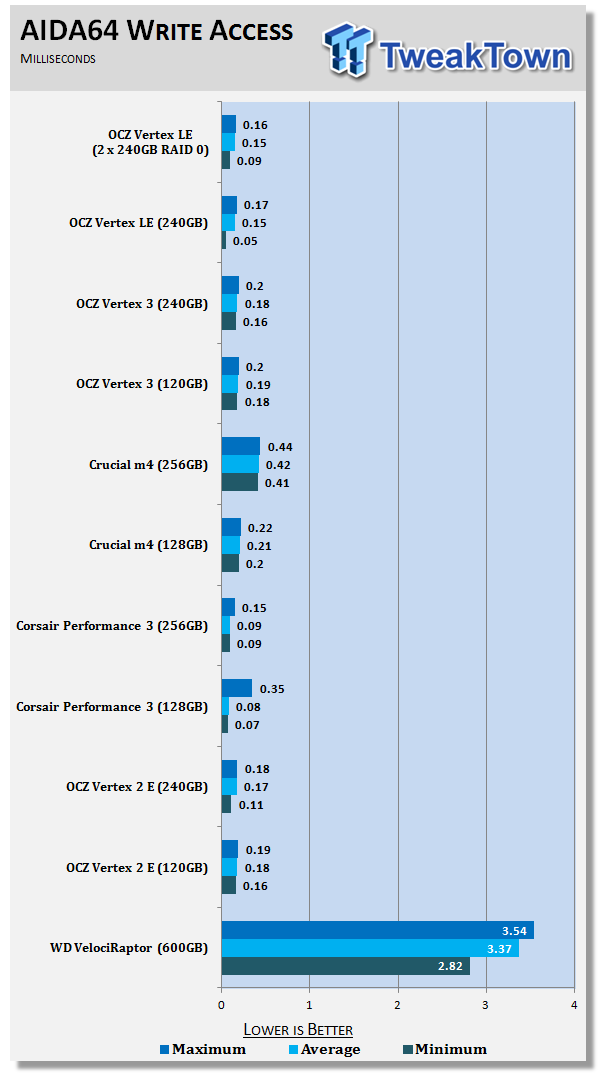 The Vertex LE has good read and write access time, performance you can feel and the reason why SSDs are superior to mechanical drives.
Benchmarks - CrystalDiskMark
CrystalDiskMark
Version and / or Patch Used: 3.0 Technical Preview
Developer Homepage: http://crystalmark.info
Product Homepage: http://crystalmark.info/software/CrystalDiskMark/index-e.html
Download here: http://crystaldew.info/category/software/crystaldiskmark
CrystalDiskMark is a disk benchmark software that allows us to benchmark 4K and 4K queue depths with accuracy.
Key Features:-
* Sequential reads/writes
* Random 4KB/512KB reads/writes
* Text copy
* Change dialog design
* internationalization (i18n)
Note: Crystal Disk Mark 3.0 Technical Preview was used for these tests since it offers the ability to measure native command queuing at 4 and 32.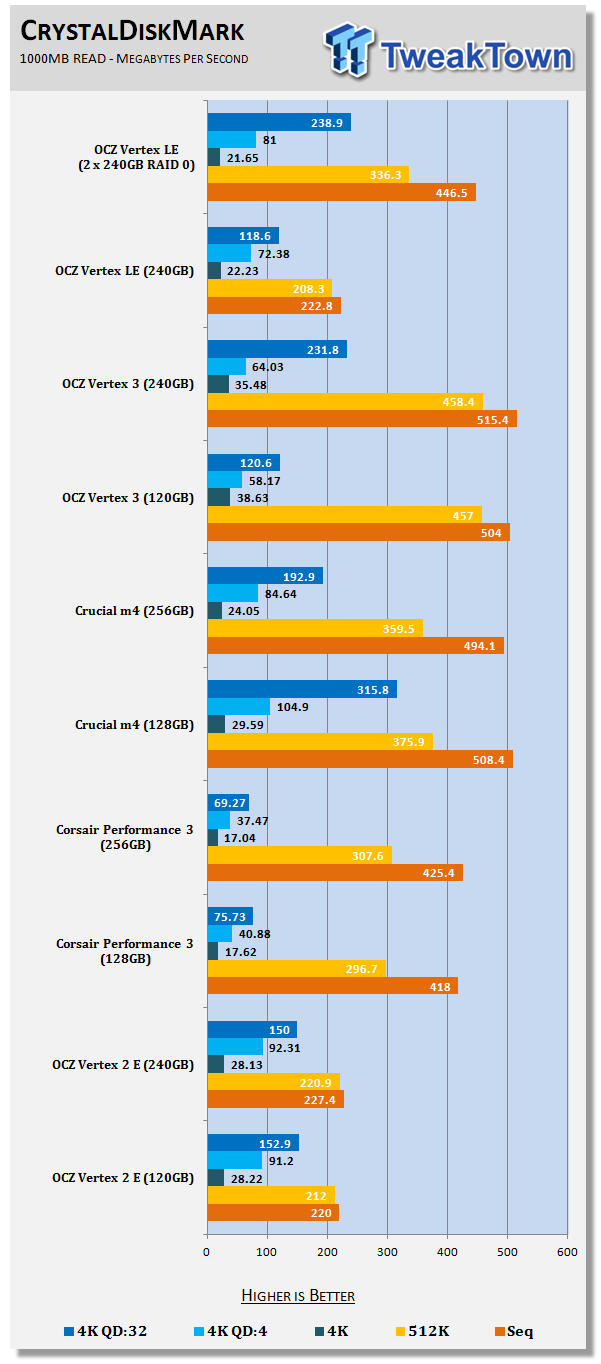 In CDM we are looking at 4K and native command queuing performance. The single drive performance is exactly what we expected. RAID performance does not scale as well until you get to high queue depths.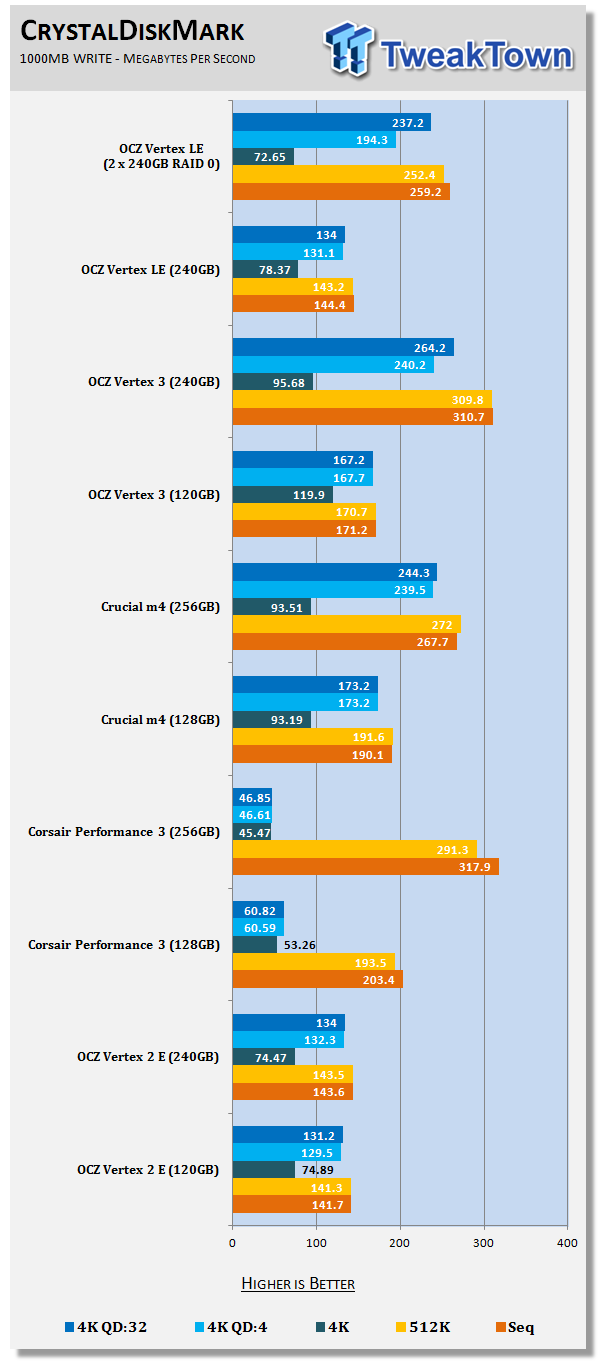 The dual drive RAID array scales much better when writing data and that performance increase comes in at lower queue depths.
Benchmarks - PCMark Vantage Hard Disk Tests
PCMark Vantage - Hard Disk Tests
Version and / or Patch Used: 1.0.0
Developer Homepage: http://www.futuremark.com
Product Homepage: http://www.futuremark.com/benchmarks/pcmark-vantage/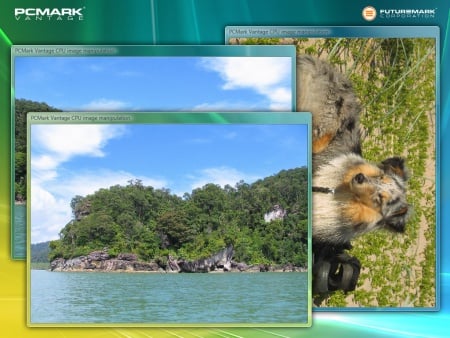 PCMark Vantage is the first objective hardware performance benchmark for PCs running 32 and 64 bit versions of Microsoft Windows Vista. PCMark Vantage is perfectly suited for benchmarking any type of Microsoft Windows Vista PC from multimedia home entertainment systems and laptops to dedicated workstations and high-end gaming rigs. Regardless of whether the benchmarker is an artist or an IT Professional, PCMark Vantage shows the user where their system soars or falls flat, and how to get the most performance possible out of their hardware. PCMark Vantage is easy enough for even the most casual enthusiast to use yet supports in-depth, professional industry grade testing.
FutureMark has developed a good set of hard disk tests for their PCMark Vantage Suite. Windows users can count on Vantage to show them how a drive will perform in normal day to day usage scenarios. For most users these are the tests that matter since many of the old hat ways to measure performance have become ineffective to measure true Windows performance.

HDD1 - Windows Defender
HDD2 - Gaming
HDD3 - Windows Photo Gallery
HDD4 - Vista Startup
HDD5 - Windows Movie Maker
HDD6 - Windows Media Center
HDD7 - Windows Media Player
HDD8 - Application Loading
Real world performance is what most of us care about and here you get a really good idea of how a drive will act in your system as the operating system drive. For the money, the LE by itself delivers a lot of performance.
Benchmarks - AS SSD
AS SSD Benchmark
Version and / or Patch Used: 1.2.3577.40358
Developer Homepage: Alex Intelligent Software
Product Homepage: Alex Intelligent Software
Download here: http://www.alex-is.de/PHP/fusion/downloads.php?cat_id=4&download_id=9
AS determines the performance of Solid State Drives (SSD). The tool contains four synthetic as well as three practice tests. The synthetic tests are to determine the sequential and random read and write performance of the SSD. These tests are carried out without the use of the operating system caches.
In all synthetic tests the test file size is 1GB. AS can also determine the access time of the SSD, the access of which the drive is determined to read through the entire capacity of the SSD (Full Stroke). The write access test is only to be met with a 1 GB big test file. At the end of the tests three values for the read and write as well as the overall performance will be issued. In addition to the calculated values which are shown in MB/s, they are also represented in IO per seconds (IOPS).
Note: AS SSD is a great benchmark for many tests, but since Crystal Disk Mark covers a broader range of 4K tests and HD Tune Pro covering sequential speeds, we will only use the Copy Benchmark from AS SSD.
- Copy Benchmark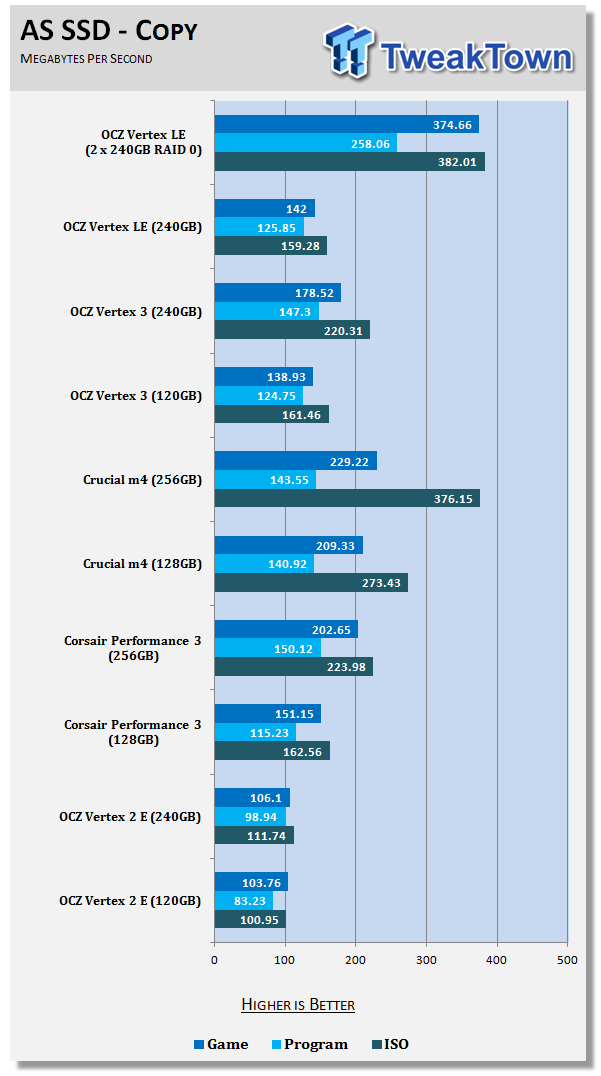 We used to beat SandForce drives up over their file transfer performance, especially when transferring compressed data, but SandForce has really made great strides in this area with their firmware updates.
Benchmarks - Passmark
Passmark Advanced Multi-User Tests
Version and / or Patch Used: 6.1
Developer Homepage: http://www.passmark.com
Test Homepage: http://www.passmark.com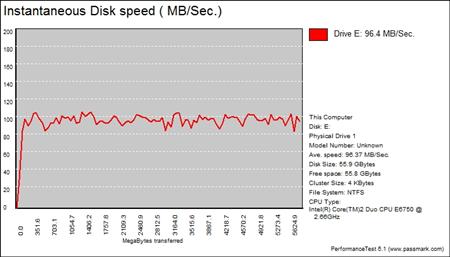 Many users complain that I/O Meter is too complicated of a benchmark to replicate results so my quest to find an alternative was started. Passmark has added several multi-user tests that measure a hard drives ability to operate in a multi-user environment.

The tests use different settings to mimic basic multi-user operations as they would play out on your server. Variances is read / write percentage as well as random / sequential reads are common in certain applications, Web Servers read nearly 100% of the time while Database Servers write a small amount of data.
The Workstation test is the only single user environment and will be similar to how you use your system at home.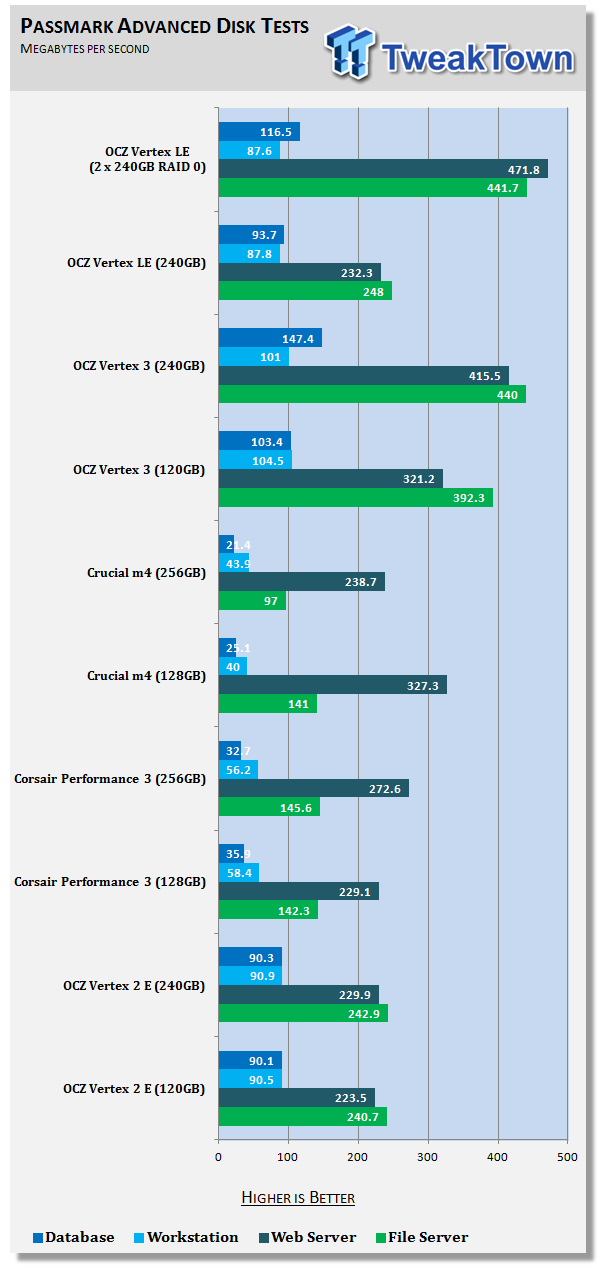 The Vertex LE is about as close as a consumer drive will ever get to an enterprise SSD. The LE came out at a time when the paper was empty and everyone was still figuring out what programming worked best on the consumer and enterprise side of things.
Final Thoughts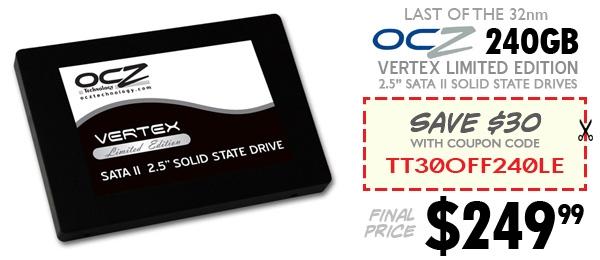 As I said in the introduction, this article is more of an advertisement than it is a review. For me, taking a second look at an older SSD gives me valuable information about how a controller and drive manufacturer evolve products through firmware and programming updates. SandForce and OCZ are both really good about getting new firmware out when issues are reported and are able to find more performance through tweaks. For the Vertex LE none of that really matters too much, because I think the drive has been tweaked as far as it can go, but in the same light all of the issues have been squashed as well.
I went looking around online to see if anyone other than My Digital Discount had Vertex LE drives for sale, but I came up short. The MDD stock is all that's left; there aren't even used ones on EBay. This puts MDD in a unique position and circumstances have made it so they can offer their limited supply at prices that can't be touched by newer SSDs on the market.
Using the coupon code TT30Off240LE you can get the 240GB Vertex LE for 250 USD. In 2010 the 240GB model cost as much as 600 Dollars, so we are talking about pretty significant savings. The Vertex 3 240GB is listed at Newegg for 450 Dollars after a mail-in rebate, but you need a SATA III motherboard to achieve full speed. Most users with SATA III enabled motherboards already have an SSD. This deal is for the budget market and those new to solid state drives. Then again, if you already have a SSD just for your operating system or a smaller SSD, the 240GB Vertex LE would make a really good drive to install your programs on or increase your SSD capacity.
No matter what you are doing with it, the 240GB LE is just a really good deal at this price. MDD also has a few 60GB and 120GB Vertex LE drives and those are priced at 79.99 and 134.99. We're still just hyped over the $1 per GB price of the 240GB model, especially after seeing first hand that this is now a mature, stable product that still delivers best in class access times. If you haven't made the move to a solid state drive for your operating system, you don't know what you're missing.