Last fortnight, I was a guest at the Sony Showcase Building in Ginza, Tokyo, to take a look at one of the more interesting and unique new gadgets from the electronics giant in some years. The HMZ-T1, otherwise known by the somewhat more interesting moniker 'Personal 3D Viewer', looks like an accessory of Professor X, but the headset which beams 3D images directly to the retina will soon be available to the Japanese market. For a brief few minutes I was given a hands on demonstration with a prototype device and I'd like to tell you all about it.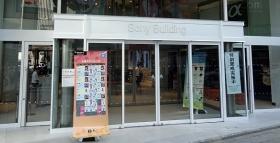 First up, the HMZ-T1 is a big device and rather heavy. The set is tethered to a HDMI breakout box, which in turn is connected to the video source (in this instance, a PlayStation 3) and then to the power supply. This is not a device that's intended to let the viewer be mobile, not least you won't be able to see where you are going (unless you have Jedi reflexes), so you'll have to do your best to get comfortable in your best lounge chair before you strap yourself in.
First up, you need to adjust the retractable straps to properly seat the device on your head. I suspect mine weren't adjusted properly because there was far too much weight on the bridge of my nose, which made for a very uncomfortable few minutes. In fact, it was rather painful.
[img]2[/img]
The twin OLED 720p LCD's which sit precariously close to the viewers eyeballs look pretty gorgeous. They certainly don't take up the viewer's peripheral vision, but they are large and clear and show just a hint of the scanlines in the image. To the viewer it would be appearing as if they were looking at a cinema screen, surrounded by black on all sides. There was no spherical distortion to the image - it appeared as a solid rectangular image.
On the underside are two detachable plastic pieces which connect to the bottom of each eyepiece and touch the viewers cheek and are designed to block out light from entering in between.
These are the key to totally immersing the viewer in the image, but were not attached for my demonstration which was a pity. I was very much aware that I was wearing a heavy headset, with light tunnelling in.
[img]3[/img]
The 3D effect was far more subtle than I was expecting, although I don't think that the movie trailer for the upcoming The Amazing Spider-Man was the best demonstration that could have been used. I was expecting an extremely immersive 3D effect, on par with the polarised RealD cinema experience, with less of the glitches, but the 3D effect seems to be far more subdued than that.
If the unit comes to market in Australia, I would be very interested to sample the device in a more controlled environment, with 3D video that I am familiar with to really get a grasp on its effect. As of right now, I was pretty disappointed in that aspect.
The sound quality was very good, with two earpieces which sit directly over the ear and mimic a 5.1 setup. There was no distortion and a surprising amount of bass.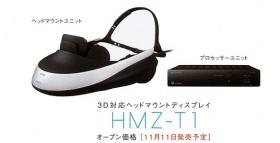 The build quality of the device is fairly solid. It feels like a typical piece of Sony workmanship, but the awkward design, coupled with the inconvenient device set up means that I don't think this device will catch on as the next big technological breakthrough. But, it's the first step we've had to a 3D, virtual reality type headset which has been mooted for years and dreamt of for even longer.
The HMZ-T1 is due to hit the Japanese market in November, retailing for around $800 AUD. Sony Australia could not confirm a release date for Australia, but an early 2012 release has been suggested. I'm sure there will be many curious onlookers wanting to experience the headset, but I don't think this would sell in huge numbers. The Japanese will likely go crazy for it, though. We will soon see.