Crucial m4 256GB SATA 6G SSD Preview and Next Gen 2x0+ GB Shootout
The wait is over - the drive is in the lab and we have the numbers for a direct head-to-head with the Vertex 3 and Performance 3.
Published Mon, Mar 28 2011 5:37 AM CDT
|
Updated Tue, Nov 3 2020 7:02 PM CST
Introduction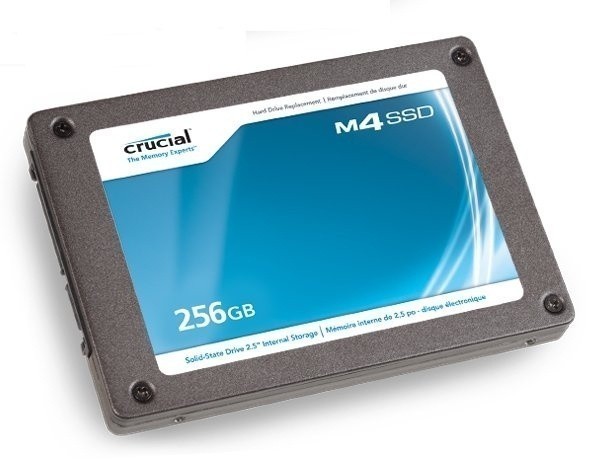 The Crucial m4 needs little introduction since it is one of the two most anticipated SSDs of 2011. The truth is that most of you are planning on skipping the next handful of pages to get right to the benchmarks. Don't do that! Take everything you've already read about the Micron C400 / Crucial m4 and toss it out of your mind, because mumble - mumble - mumble isn't exactly accurate. Let me explain with swollen tongue.
The Crucial RealSSD C300 was based on the Marvell 88SS9174-BJP2 controller. To my knowledge the C300 was the only SSD based on this controller and it was available with both Marvell and Crucial branding. Fast forward to June 2010; at Computex we were given the ADATA S501 to play with for a couple of days, another SATA 6G Marvell controlled drive that used the 88SS9174-BKK2 controller. The BKK2 is now being used in the retail ADATA S501 that is available in very limited quantities, the new Intel 510 Series, Plextor PX-xxxM2S and Corsair Performance 3 Series.
The new BKK2 revision of the 88SS9174 is very different than what was found in the RealSSD C300. Both controllers have their strengths and weaknesses, something we will talk more about in the conclusion of this preview.
The latest version of the 88SS9174 controller is the BLD2 and that is what Crucial has employed for the new m4. We've had just two days to try and unravel the new 88SS9174-BLD2 with a single example of this controller. Our sample drive is not a retail product and comes in the form of an OEM style Micron C400 with a Crucial label attached. The M400 is the exact same hardware, programming and firmware as the Crucial m4 and our testing has indicated that this will be the first retail m4 drive that will hit the market in April.
So, what makes the Crucial m4 different than the Intel, LiteON + partners BKK2 drives? That is what we are here to find out. Let's go!
Specifications, Pricing and Availability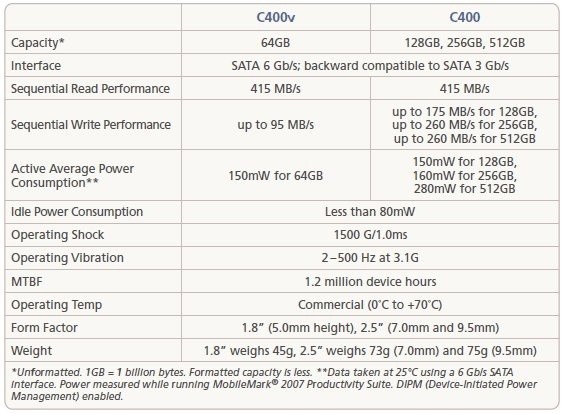 In an effort to gather as much information we could on the new Crucial m4 we turned to Micron's website and started with C400 information. On the OEM side of things Micron is already delivering C400 branded products in capacities of 64GB, 128GB, 256GB and the massive 512GB. Micron also appears to have 1.8" and 2.5" models of the C400.
Crucial m4 information was a little more limited at the time of writing, but that will change when we get to April when Crucial starts waving the m4 around for those looking to trade green for high speed blue. At this time we are really not sure how much green it will take to get some high speed blue, but we will let you know as soon as the information comes our way. What we do have, though, is the baseline for which most SSDs will be measured in 2011 in both performance and pricing, since OCZ has already announced their Vertex 3 pricing; 250 USD for their 120GB model and an even 500 USD for their 240GB. For now we are going to leave pricing out of the mix, though, since you can't buy either drive at this time. On the shoot-out side of things the Intel 510 Series and Corsair Performance 3 are both widely available, but both cost more than the quoted Vertex 3 numbers.
As you can see, the Crucial m4 is going to have more competition this year with more companies being given the opportunity to produce products based on Marvell's controller designs. In 2010 it was pretty much Crucial verse Team SandForce, but in 2011 it is Crucial vs. Team SandForce vs. Team Marvell with BKK2 products.
In 2010 the drive to purchase in 240-256GB capacity was the Crucial C300. The drive outperformed the Team SandForce offerings in this capacity size as long as you purchased a SATA 6G motherboard to take full advantage of the high speed abilities offered only on the RealSSD C300 in 2010. In 2011 SATA 6G will have a high adaption rate with Intel P67 motherboards shipping with native SATA 6G built in.
Crucial's m4 will carry a 415MB/s read speed across the board in all capacity sizes. This includes the 64GB model, but write speeds will vary depending on the capacity. The flagship 512GB and 256GB drives share the same 260MB/s write speeds, but the 128GB model dips down to 175MB/s and the 64GB model dips even lower, to just 95MB/s. The write speed reductions with the lower capacity sizes left us a little gun shy with the C300 at 64GB and 128GB sizes, but Crucial has increased their write speeds up from 75MB/s for the 64GB and 140MB/s for the 128GB C300.
The m4 has increased the read and write MB/s, but the read IOPS performance has gone the other way. The C300 shipped with a claimed 60K read IOPS, but the new m4 is only rated at 40K. Write IOPS on the other hand have been increased to 50K for the flagship 512GB and 256GB, up from 45K. The 128GB capacity size will also receive an increase of 5K IOPS from the C300, now up to 35K with the m4.
Let's catch up to the benchmark only readers.
The Packaging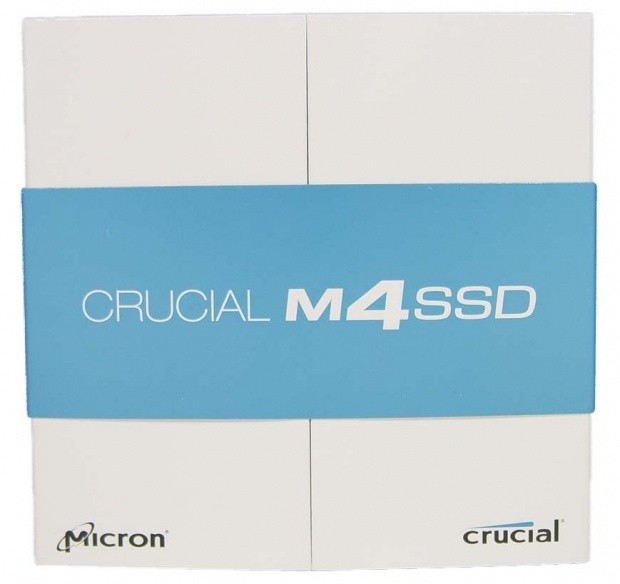 Our Crucial m4 256GB sample arrived in a media presentation package and is not what will sit on store shelves or what will ship from Crucial.com. With all of my standard huffing and puffing about retail products displaying accurate specifications on the package, I really like and appreciate Crucial's presentation and that is why I'm showing it here.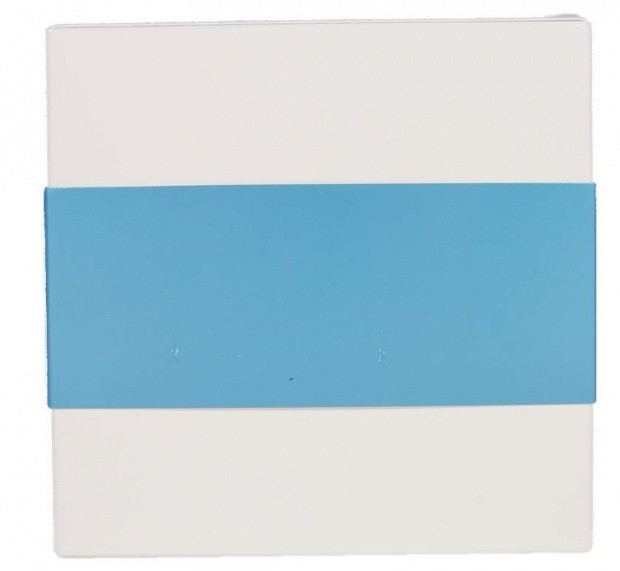 All Crucial has to do is slap a few stickers on this package with some detailed info and we would be all over this package / design.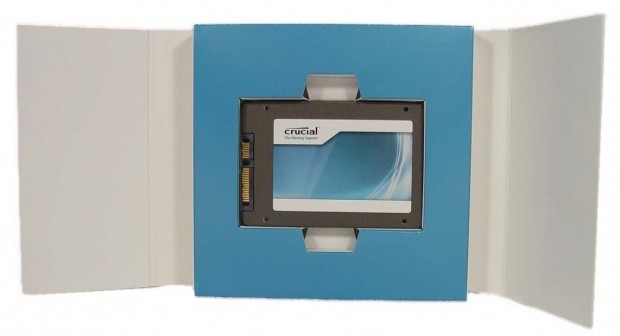 Peek-a-boo!
It's time to get serious and take the drive apart to see what's inside.
The Crucial m4 256GB SSD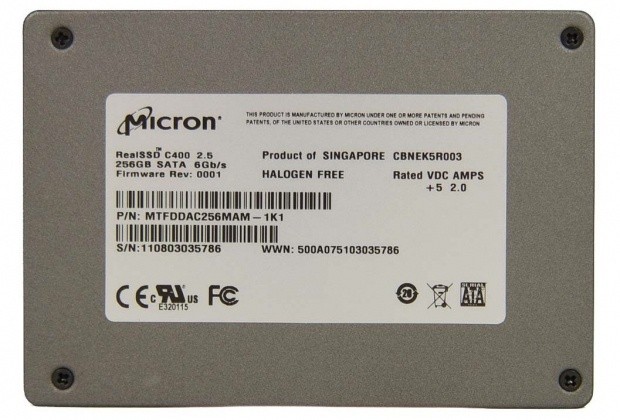 Hot off the presses, the Crucial m4, err, Micron C400. Would a rose by another name still smell as sweet? Don't let the label fool you; the hardware, programming and firmware are the same for both the C400 and m4. The differences rest in the after purchase support.
The case design is the same as what shipped with the RealSSD C300 products, a design we really liked. The labels will be almost identical as well. On one side end users will be able to find their model and serial number as well as capacity information and the firmware revision that shipped with the drive.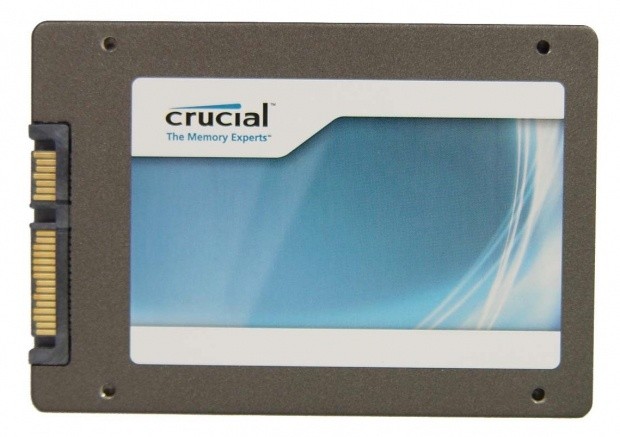 The underside of the drive has the standard mounting locations that allow for installation in most notebooks and desktop adapter brackets.

The side mounting locations are also present on the m4.

SATA power and data connectors are where they should be, so you will not have an issue loading the Crucial m4 into a device with a backplane like a NAS. We've been using the C300 with the same design for all of our NAS server reviews and haven't run into an issue yet.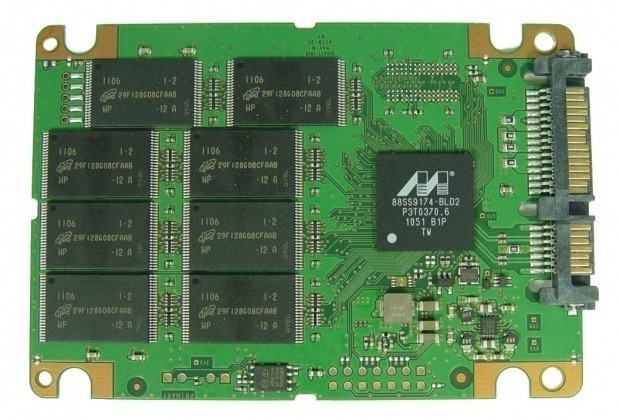 As you may know, Micron has their own NAND flash production factories, so seeing Micron flash isn't a surprise to us. This capability will play out very well for Micron / Crucial, more so than you might imagine. We will get into more detail in the conclusion. The m4 will use new 25nm flash exclusively and it should allow us to see the m4 at prices much lower than what the C300 was offered at initially. We are keeping our fingers crossed on that one. The new 25nm flash does allow for the birth of the first SATA 6G 512GB drive, the Crucial m4 512GB model will make an appearance in 2011; we are crossing our fingers on getting one of those in for a review too.
What did surprise us when we popped the top of the m4 was the new revision to the Marvell controller. Here you see clearly the 88SS9174-BLD2. I asked Crucial about the new controller and was told that it is a minor revision change over the -BKK2 (used in the Intel and LiteON partner products). The answer was quite brief and without explanation.
There are three things that determine how a drive performs; the controller, the programming and the firmware. Some argue the relevancy of each when it comes to order of importance. For me the order given is appropriate. In 2011 we will see flash tossed in the mix with toggle flash, but let's keep it simple for now. So, Crucial is packing a new revision of the Marvell SATA 6G controller, something that will change the landscape of performance beyond controller programming and customized firmware. The Crucial m4, much like the C300, will be its own product and not one of the 'Team', me too varieties.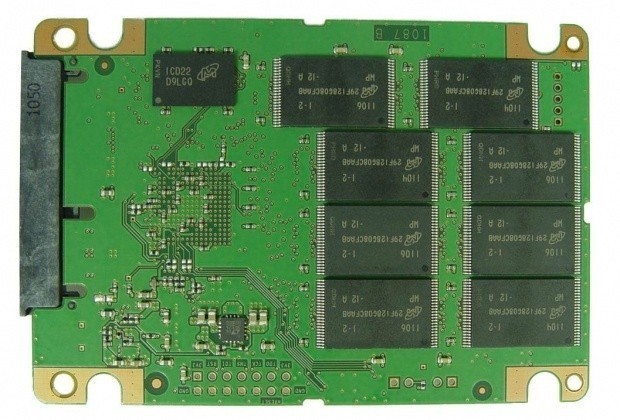 On the back of the PCB we found 8 additional flash modules giving us 16 total. This has some significance as well when compared to the 'Team Marvell' drives that only use 8 modules (four on each side). The Marvell controllers use 8 channels, but our testing over the years has led us to believe that more modules usually lead to higher sustained performance. Also on the back of the PCB is a 256MB Micron cache that feeds the controller.
Test System Setup and ATTO Baseline Performance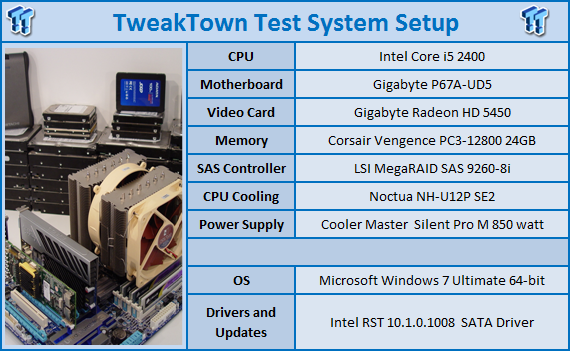 We would like to thank the following companies for supplying and supporting us with our test system hardware and equipment:
AVADirect
,
GIGABYTE
,
Cooler Master
,
LSI
,
Corsair
and
Noctua
.
You can read more about TweakTown's Storage Product Testing Workstation and the procedures followed to test products
in this article
.
To get the most out of your next generation SATA 6G drive you will need a motherboard based on Sandy Bridge. The P67 chipset has native SATA 6G capability, but only two ports. GIGABYTE set us up with the new GA-P67A-UD5 for our next generation SATA 6G testing and we've come to really like what this board has to offer. Intel also sent over their new Core i5 processor to accompany our other class leading products that make up the TweakTown Storage Product Review System.
Today we will focus on the Crucial m4 256GB SSD and compare it to both current and future products. SATA 6G is the future and will enable SSDs to really distance themselves from the traditional platter drives in both potential and real world performance.
ATTO Baseline PerformanceVersion and / or Patch Used:
2.34
ATTO is used by many disk manufacturers to determine the read and write speeds that will be presented to customers.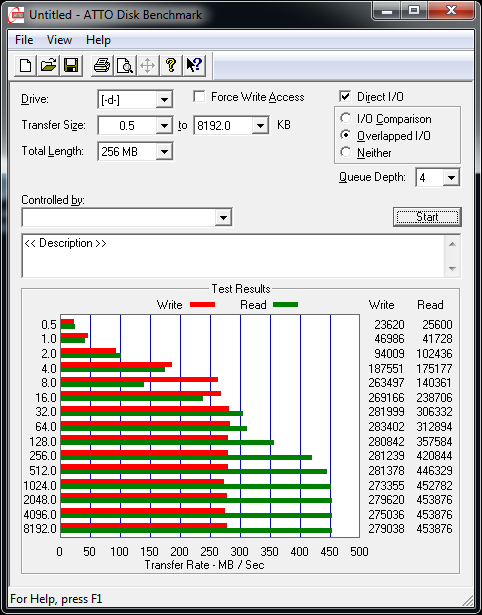 ATTO is globally recognized as the standard in which manufacturers determine their published drive speeds. Here we see that Crucial is really selling the m4 short and conservatively rating the drive at only 415MB/s read, when in fact the 256GB drive we tested delivered a solid 450MB/s. It isn't everyday that we see conservative ratings (especially with 25nm flash). If Crucial would rate the m4 at 450MB/s read I wouldn't object since this is how the rating is generally determined.
The same can be said for the write speed. Our sample produced 280MB/s write and Crucial rates their m4 at just 260MB/s. Our observed 4K writes were measured at nearly 190MB/s; that in conjunction with the increased 4K IOPS means the m4 will be a very fast drive for day to day, desktop performance.
Benchmarks - HD Tune Pro
HD Tune ProVersion and / or Patch Used:
4.00
Developer Homepage:
http://www.efdsoftware.com
Product Homepage:
http://www.hdtune.com
HD Tune is a Hard Disk utility which has the following functions:
Benchmark: measures the performance
Info: shows detailed information
Health: checks the health status by using SMART
Error Scan: scans the surface for errors
Temperature display
HD Tune Pro gives us accurate read, write and access time results and for the last couple of years has been gaining popularity amongst reviewers. It is now considered a must have application for storage device testing.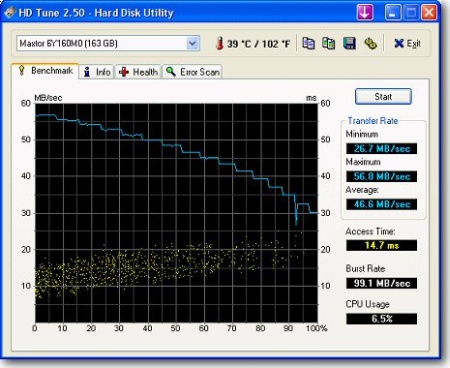 A Note from The Author
: The industry accepted standard for testing HDD/SSDs in HD Tune Pro is with a (default) 64MB block size. Most end users who test with HD Tune at home don't realize there is an option to change the block size; even fewer understand what it does to performance.
A review of the Crucial m4 was published days ago that displayed read speeds in this test well over 500MB/s. We feel this was an inaccurate result. We don't take issue with performing the test differently than what is considered the standard; we take issue with the author not indicating that the test was performed outside of what is considered the standard.
TweakTown goes to great lengths to ensure all products are tested in a uniform manner using methods available to our readers. It troubles us that the new trend in professional reviews is akin to shock jock radio tactics and tests used to determine a products value without documenting the perimeters in which a test in conducted. I say
trend
since others are now using performance traces without releasing their trace files.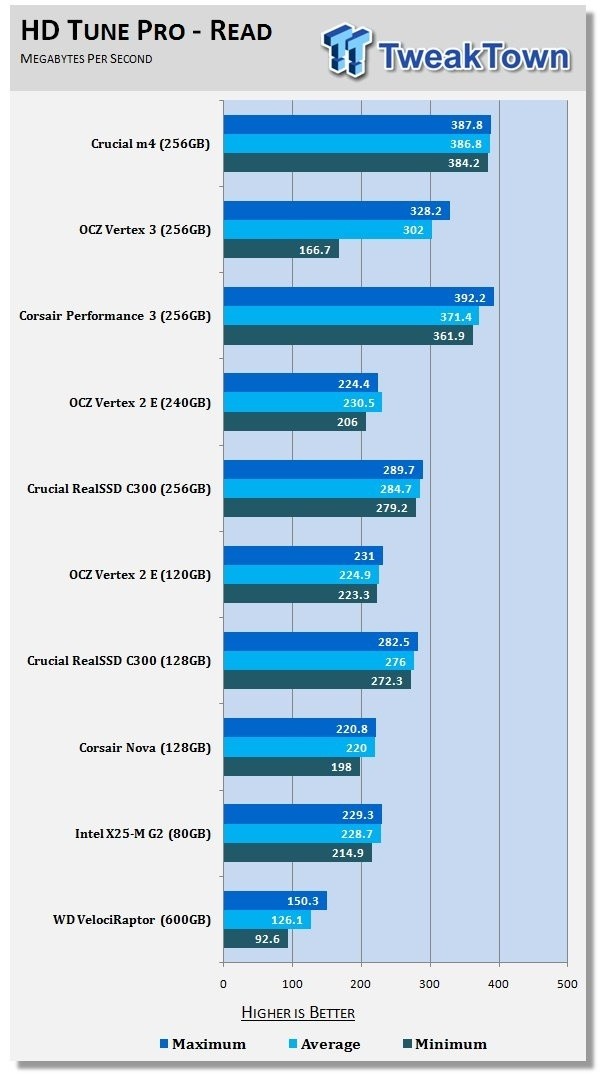 The OCZ Vertex 3 has an impressive lead over the Crucial m4 in ATTO and claimed read / write performance, but in sustained reads across the drive the Crucial m4 outperforms the Vertex 3. The Crucial m4 delivers very tight minimum to maximum speeds, some of the best we've seen to date.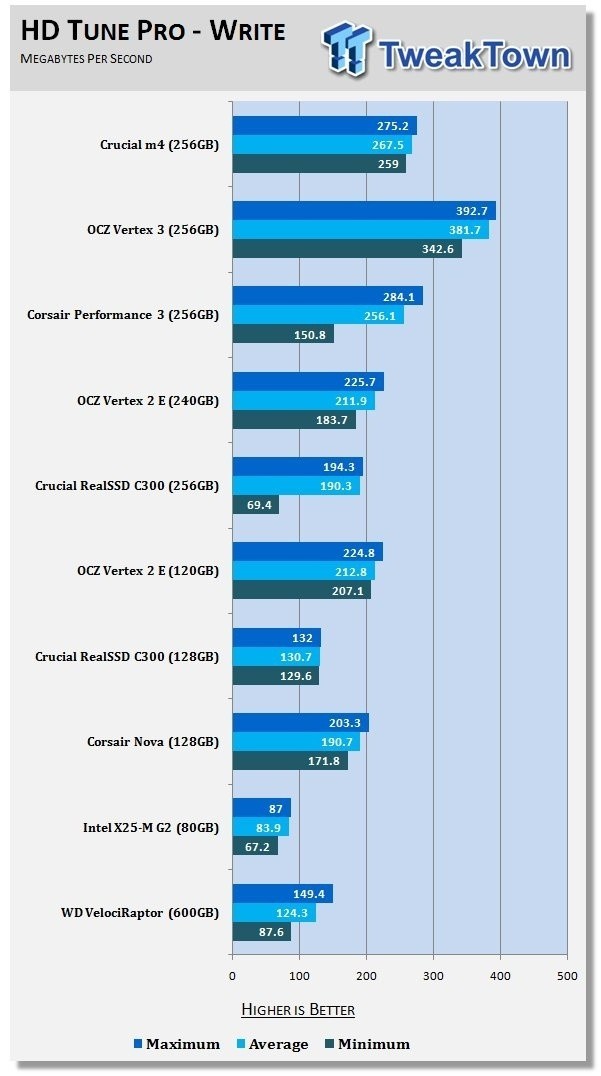 The new Marvell controller used in the Crucial M4 is at a disadvantage to the cacheless SandForce SF-2200 controlled Vertex 3 out of the box. Here we see more than a 100MB/s difference between the two in average write speed across the drive.
Benchmarks - AIDA64 Random Access Time
AIDA64 Random Access TimeVersion and / or Patch Used:
1.60
Developer Homepage:
http://www.aida64.com
Product Homepage:
http://www.aida64.com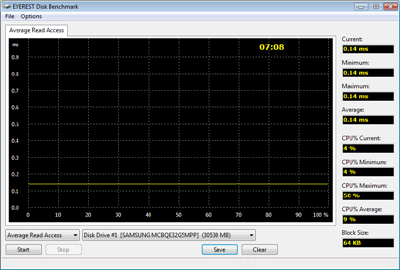 AIDA64 offers several different benchmarks for testing and optimizing your system or network. The Random Access test is one of very few if not only that will measure hard drives random access times in hundredths of milliseconds as oppose to tens of milliseconds.
Drives with only one or two tests displayed in the write test mean that they have failed the test and their Maximum and possibly their Average Scores were very high after the cached fills. This usually happens only with controllers manufactured by JMicron and Toshiba.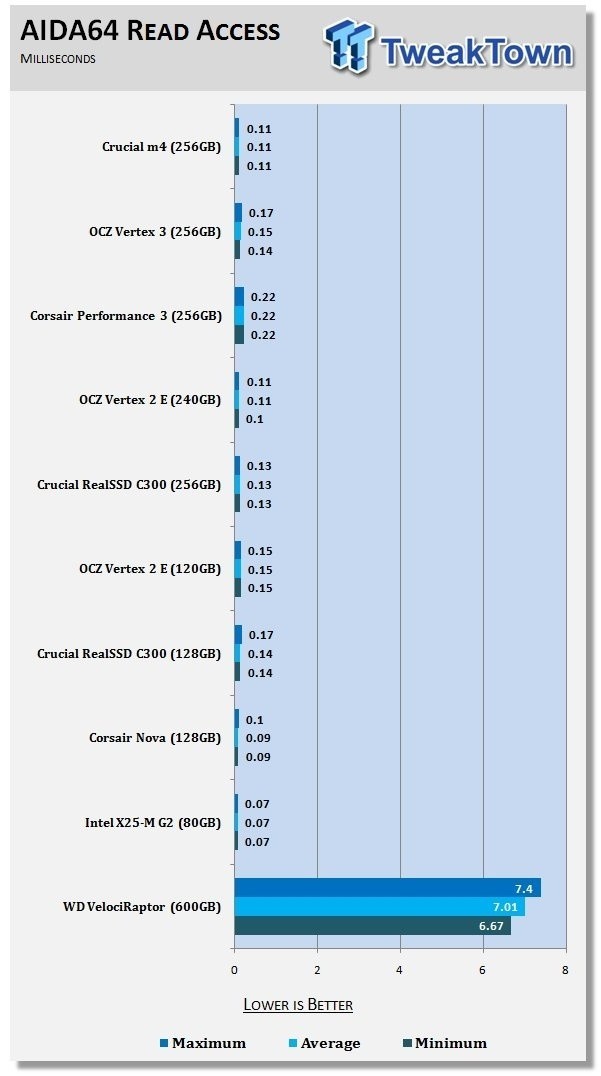 The reason why SSDs feel so fast when doing day to day tasks like opening browser windows and software packages is due to their extremely low read and write access. Traditional platter drives need to locate the files using two moving parts; the platters and the arms that read the platters. SSDs have no moving parts and can read and write data without the overhead of 'finding' the data.
The Crucial m4 improves upon the Crucial RealSSD C300's read access time by a small margin. The minimum, average and maximum read access times were all uniform at 11 microseconds.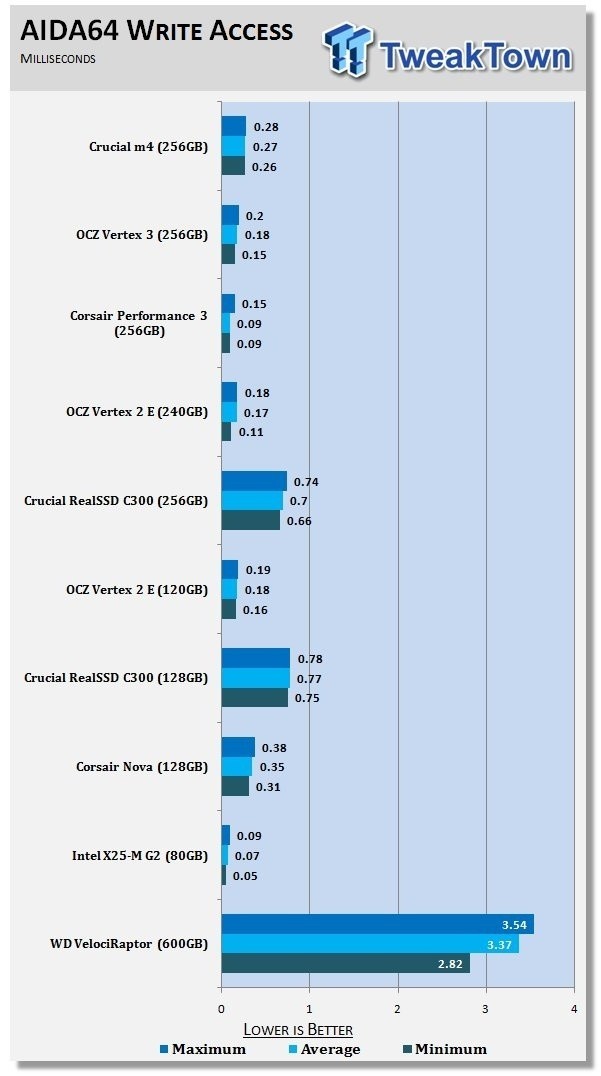 The write access times of the Crucial m4 saw the most improvement, though. Here we found the new Marvell controller with Crucial firmware approaching what OCZ was able to deliver with the Vertex 3.
Benchmarks - CrystalDiskMark
CrystalDiskMarkVersion and / or Patch Used:
3.0 Technical Preview
Developer Homepage:
http://crystalmark.info
Product Homepage:
http://crystalmark.info/software/CrystalDiskMark/index-e.html
Download here:
http://crystaldew.info/category/software/crystaldiskmark
CrystalDiskMark is a disk benchmark software that allows us to benchmark 4K and 4K queue depths with accuracy.
Key Features:-
* Sequential reads/writes
* Random 4KB/512KB reads/writes
* Text copy
* Change dialog design
* internationalization (i18n)
Note:
Crystal Disk Mark 3.0 Technical Preview was used for these tests since it offers the ability to measure native command queuing at 4 and 32.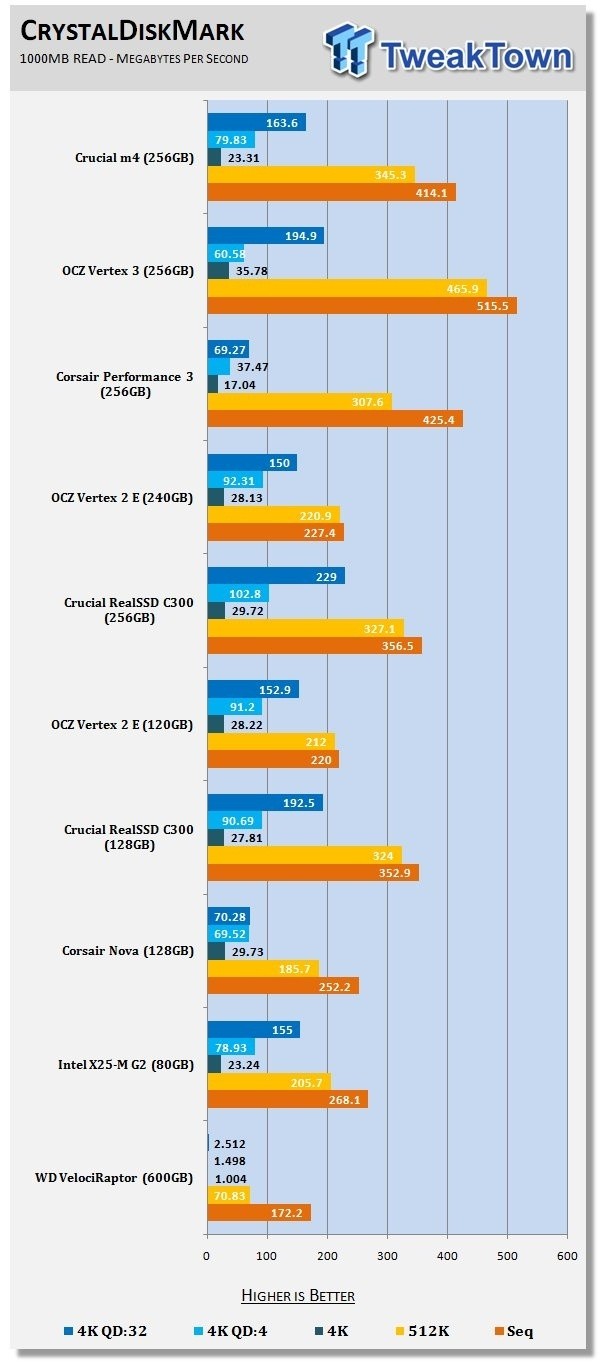 CDM is our last synthetic benchmark and we use it to observe 4K and native command queuing performance.
Both of the new revisions to the Marvell SATA 6G controller (found in the Corsair Performance 3 and Crucial m4 in this chart) have slower 4K read performance than the original RealSSD C300. We know that the version used in the Performance 3 took a little away from this area and used it for better garbage collection / dirty drive performance. The Crucial m4 does a little better job at 4K reads when compared to the Performance 3, and a much better job when NCQing comes into play. Still, in all 4K and 4K NCQing tests, the m4 is slower than the RealSSD C300.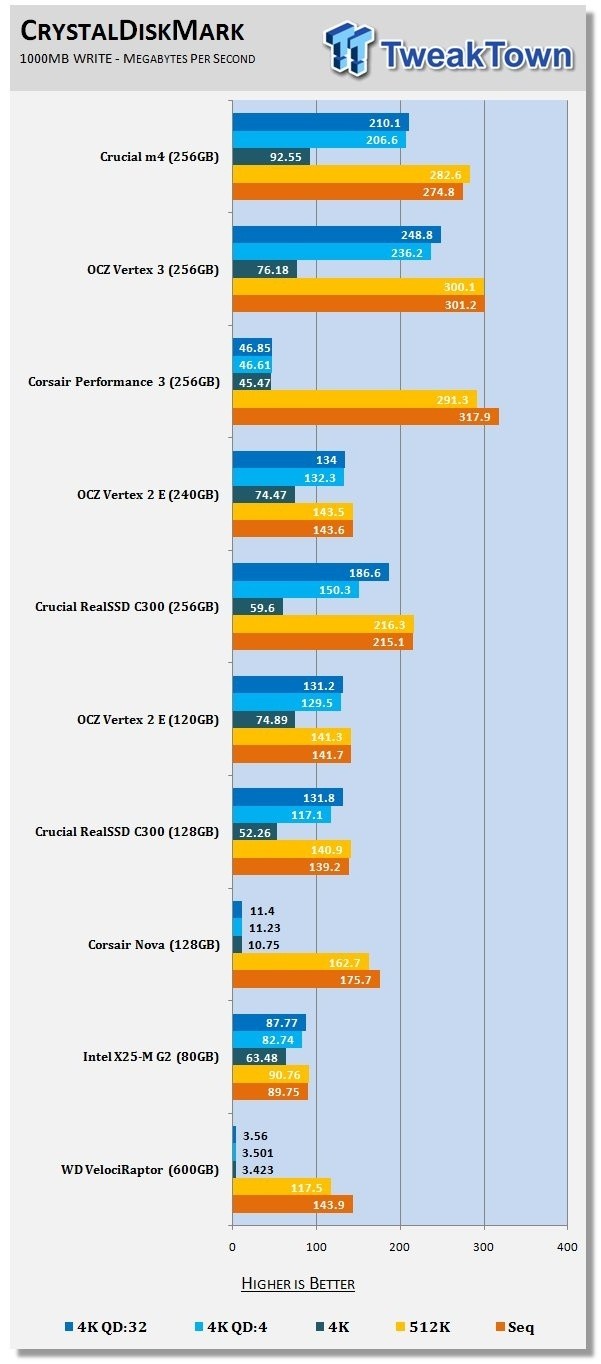 When we previewed the ADATA S501 last June we noticed that NCQing wasn't working while writing data to the drive. The same was also observed with the Corsair Performance 3, but as you can see Crucial managed to not only to get NCQing working, but also increase their QD:1 (single) 4K write speed over what the Vertex 3 offers. At depth the Vertex 3 regained the 4K write lead.
Benchmarks - PCMark Vantage - Hard Disk Tests
PCMark Vantage - Hard Disk TestsVersion and / or Patch Used:
1.0.0
Developer Homepage:
http://www.futuremark.com
Product Homepage:
http://www.futuremark.com/benchmarks/pcmark-vantage/
Buy It Here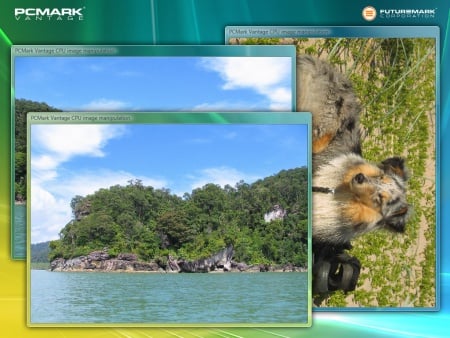 PCMark Vantage is the first objective hardware performance benchmark for PCs running 32 and 64 bit versions of Microsoft Windows Vista. PCMark Vantage is perfectly suited for benchmarking any type of Microsoft Windows Vista PC from multimedia home entertainment systems and laptops to dedicated workstations and high-end gaming rigs. Regardless of whether the benchmarker is an artist or an IT Professional, PCMark Vantage shows the user where their system soars or falls flat, and how to get the most performance possible out of their hardware. PCMark Vantage is easy enough for even the most casual enthusiast to use yet supports in-depth, professional industry grade testing.
FutureMark has developed a good set of hard disk tests for their PCMark Vantage Suite. Windows users can count on Vantage to show them how a drive will perform in normal day to day usage scenarios. For most users these are the tests that matter since many of the old hat ways to measure performance have become ineffective to measure true Windows performance.

HDD1 - Windows Defender
HDD2 - Gaming
HDD3 - Windows Photo Gallery
HDD4 - Vista Startup
HDD5 - Windows Movie Maker
HDD6 - Windows Media Center
HDD7 - Windows Media Player
HDD8 - Application Loading
In the past we've put a lot of emphasis on this test, but our new darling for real world performance has yet to come (just hang tight). In a mildly clean state at this capacity size the Crucial m4 and Vertex 3 go back and forth just like we saw in 2010 with the Vertex 2 and RealSSD C300!
This is very exciting to us because it means that neither Crucial nor Team SandForce can claim an across the board dominant product. Just like in 2010, the type of computing you do will determine which drive you should purchase. The ramifications we saw in 2010 with the Team SandForce and Crucial drives were higher availability and rapid declines in pricing, making SSDs more attractive (and financially available) to end users.
At this time we are not prepared to start claiming which drive you should purchase for which tasks and at what capacities since this is only a preview, we've only seen large 256GB (240GB in the case of the SF-2200) and since we are testing firmware, that may or may not be ready for the big time. These recommendations will come when we get more time to test and have retail products with retail firmware.
Benchmarks - PCMark Vantage - Drives with Data Testing
PCMark Vantage - Drives with Data Testing
I would like to thank my friends for informing me that other review websites have 'stepped-up' their SSD review process (and in some cases, copied ours - they said it, not me). My answer to increased competition is with increased drives to deliver a more accurate review.
As you know, I will not publish results from tests not validated or publically available. For the last month I've spent countless hours building, modifying and validating a test that will accurately display real world performance of an SSD as it is used in your PC. The final version of this test was completed five days ago and then went through an exhaustive series of tests on both HDDs and SSDs. An article will go live soon that details how you can run this same test, with the same files at your convenience. All files are publically available except for Windows 7. You should have that one anyway.
Brief Methodology
SSDs perform differently when used for a period of time and when data is already present on the drive. The purpose of the Drives with Data testing is to show how a drive performs in these 'dirty' states. SSDs also need time to recover, either with TRIM or onboard garbage collection methods.
- Drives with Data Testing - 25%, 50%, 75% Full States
- Files needed for 60 (64GB), 120 (128GB), 240 (256GB)
- 60GB Fill - 15GB, 30GB, 45GB
- 120GB Fill - 30GB, 60GB, 90GB
- 240GB Fill - 60GB, 120GB, 160GB
- Empty but Dirty - a test run just after the fill tests and shows if a drive needs time to recover or if performance is instantly restored.
All test files must be publically available and be a collection of both compressed and uncompressed data.

HDD1 - Windows Defender
HDD2 - Gaming
HDD3 - Windows Photo Gallery
HDD4 - Vista Startup
HDD5 - Windows Movie Maker
HDD6 - Windows Media Center
HDD7 - Windows Media Player
HDD8 - Application Loading
No one said that the chart had to be easy to read. I'm working on a better way to display the data collected.
We are going to avoid the temptation to start at the top, and instead go from the bottom up. The Corsair Performance 3 is also a large reason why we brought this method of testing to light to begin with. The Corsair Performance 3 with the Marvell BKK2 controller revision was designed to keep a steady state of performance even when the drive was filled with data up to at least 75%. The Empty / Dirty is relatively unchanged, but since performance wasn't lost in the tests with data we weren't surprised.
Moving up on the chart to the OCZ Technology Vertex 3, we see the Vertex 3 lose a lot of performance between the results on the previous page and the 25% full state on this page. More performance is lost between the 25% and 50% state, but after 50% performance levels off. When the Vertex 3's contents are deleted performance isn't immediately recovered and the 75% results look a lot like those of the Empty / Dirty state.
Now for the drive we are previewing today, the Crucial m4. Just like with the Vertex 3, the m4 lost a lot of speed with 25% of its capacity taken. The curve kept going down with the 50% tests, but for the most part the 50% and 75% tests showed a steady state of performance. The part that is very impressive for the m4 is how quickly it recovers once the data is cleared. All tests are run back to back in rapid succession and are not given a chance to recover. Once the 25% test is completed more data is sent to the drive and the next test is started.
This has prompted a new string of tests which I'm currently validating now where a 10 minute break is given between each test for the data to 'settle'. Timing constraints will leave those results to be published in the testing methodology article that will go live soon. Testing is being run on drives dating back to the Indilinx Barefoot.
There is a very wide gap in performance between the Performance 3, Vertex 3 and m4 in the dirtiest of states; 75% full with a rapid growth of data without the drives being given the opportunity to clean themselves.
Benchmarks - AS SSD
AS SSD BenchmarkVersion and / or Patch Used:
1.2.3577.40358
Developer Homepage:
Alex Intelligent Software
Product Homepage:
Alex Intelligent Software
Download here:
http://www.alex-is.de/PHP/fusion/downloads.php?cat_id=4&download_id=9
AS determines the performance of Solid State Drives (SSD). The tool contains four synthetic as well as three practice tests. The synthetic tests are to determine the sequential and random read and write performance of the SSD. These tests are carried out without the use of the operating system caches.
In all synthetic tests the test file size is 1GB. AS can also determine the access time of the SSD, the access of which the drive is determined to read through the entire capacity of the SSD (Full Stroke). The write access test is only to be met with a 1 GB big test file. At the end of the tests three values for the read and write as well as the overall performance will be issued. In addition to the calculated values which are shown in MB/s, they are also represented in IO per seconds (IOPS).
Note:
AS SSD is a great benchmark for many tests, but since Crystal Disk Mark covers a broader range of 4K tests and HD Tune Pro covering sequential speeds, we will only use the Copy Benchmark from AS SSD.
- Copy Benchmark

When it comes to copying data to and from a drive SSDs that have the ability to use SATA 6G bandwidth are incredibly fast. In 2010 that field was occupied with only one player, the C300. The Crucial m4 256GB drive has some competition and one of those challenging for the high speed transfer title is the C300.
Benchmarks - Passmark
Passmark Advanced Multi-User TestsVersion and / or Patch Used:
6.1
Developer Homepage:
http://www.passmark.com
Test Homepage:
http://www.passmark.com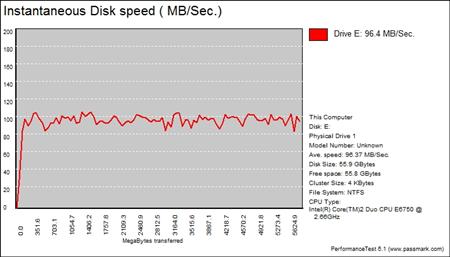 Many users complain that I/O Meter is too complicated of a benchmark to replicate results so my quest to find an alternative was started. Passmark has added several multi-user tests that measure a hard drives ability to operate in a multi-user environment.

The tests use different settings to mimic basic multi-user operations as they would play out on your server. Variances is read / write percentage as well as random / sequential reads are common in certain applications, Web Servers read nearly 100% of the time while Database Servers write a small amount of data.
The Workstation test is the only single user environment and will be similar to how you use your system at home.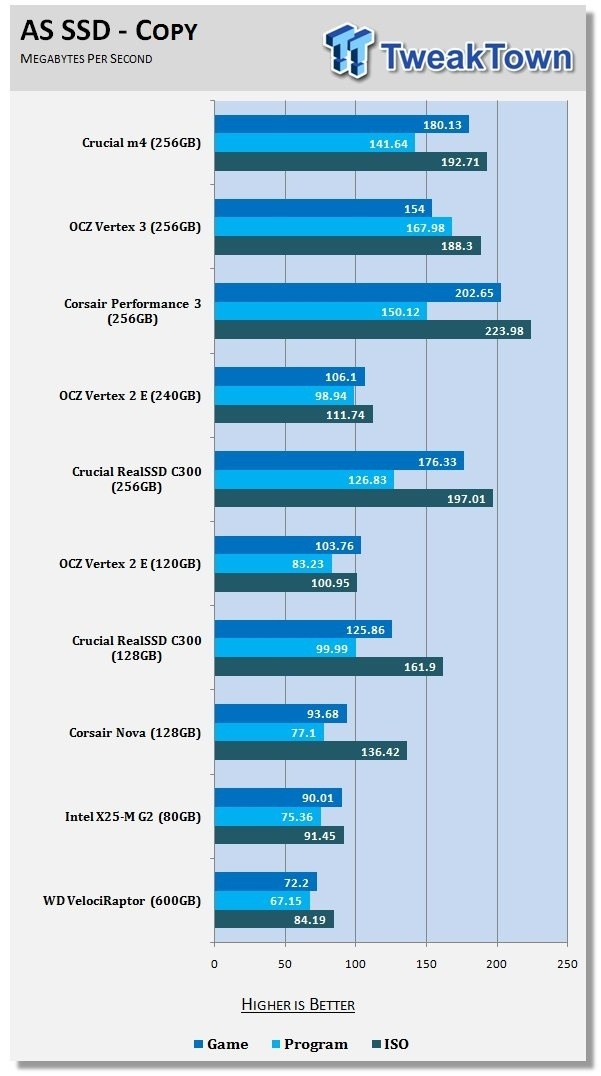 The Crucial m4 is designed to be a consumer product, whereas the SandForce SF-2200 controlled Vertex 3 started development as an enterprise drive. The breeding differences are really shown here in the server tests.
Final Thoughts
In 2010 Crucial enjoyed the title of having the only SATA 6G SSD available on the market. Write speed reductions left the 64GB and 128GB drives to fight it out with the Team SandForce products, but in the 256GB size the Crucial RealSSD C300 dominated all challengers. Fast forward to today and Crucial's dominance is disappearing in this capacity size as SATA 6G capable controllers are starting (well, will be) the norm for enthusiasts and power users. Crucial is taking this challenge head on and is working to make the new m4 as honorable as the C300. Personally I think the competition will pull more out of Crucial in the form of more firmware releases (The C300 only saw one major firmware update) and a lower price point.
In the article we left a couple of things for the conclusion. The first has to do with flash. Micron has their own flash production facilities and will only be using Micron flash. A few of the next generation products we've seen and read about use Toshiba flash. Toshiba has already released a statement saying that they were largely unaffected by the tragedy in Japan, but at this point can anyone say they are unaffected in Japan? - Toshiba's announcement came just a day after the earthquake and a lot has happened since then. If there is going to be an interruption in the flash market everyone without their own flash manufacturing facility is going to be in a pinch. The Corsair Performance 3 is just one example of an SSD using Toshiba flash. Kingston and many others use Toshiba flash and even the OCZ Vertex 3 PRO (the enterprise version) sampled with Toshiba flash. Before the tragedy in Japan some MSRP prices were released on next generation drives, but with everything going on we will need to wait and see if those targets are hit.
The other area we left you to wait for in the review has to do with one of the new Marvell controllers ability to perform at nearly the same speeds at all times; when filled with data or in a clean state and the other, as used in the Crucial m4, not having the same ability. When both the Crucial m4 and the Corsair Performance 3 are populated with data their speeds are nearly identical. The season is still young though and I think this is going to lead to some aggressive firmware releases as Crucial attempts to pull more speed out of their m4 product line.
Be sure to check back in early April for full reviews of the retail drives. By then we will have pricing information, accessory bundle lists and even more data collected from some of our new tests. Look for an article real soon that describes the new testing procedures and the 2011 TweakTown Storage Product Test System.
PRICING: You can find products similar to this one for sale below.

United States: Find other tech and computer products like this over at Amazon.com

United Kingdom: Find other tech and computer products like this over at Amazon.co.uk

Australia: Find other tech and computer products like this over at Amazon.com.au

Canada: Find other tech and computer products like this over at Amazon.ca

Deutschland: Finde andere Technik- und Computerprodukte wie dieses auf Amazon.de
We openly invite the companies who provide us with review samples / who are mentioned or discussed to express their opinion. If any company representative wishes to respond, we will publish the response here. Please contact us if you wish to respond.