With all the notebooks flooding the market it's nice to find one with a grand claim to fame. "The thinnest 2nd Generation Core i7 Notebook", as with all tech titles like that are fleeting, but they are good while they last. The GIGABYTE P2532 multimedia laptop offers a stylish design with a powerful quad-core 2nd generation Intel Core i7 processor.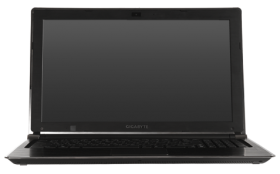 In its 15.6" chassis it sports a full HD display with 1920×1080 resolution and a LED backlight screen. Under the hood we've got a 500GB 7200rpm HDD, 4GB of RAM and NVIDIA GeForce GT550M/ 2GB VRAM with Optimus technology. Taking a look around the unit, you'll find a DVD burner, two USB 3.0 ports, HDMI, and THX Tru Studio Pro technology in its 4 speakers and 1 subwoofer. It's not often you'll find such a large machine with only two USB ports, but they are 3.0, so they'll be super fast.
[img]2[/img]
The other unique feature that this notebook offers is the two huge vents around the back. The issue with making the "thinnest 2nd Gen Core i7" is heat - that CPU is HOT!!! So it's only expected that they've taken serious steps to cool it down.
[img]3[/img]
If you want to get a sense of what this machine is all about, we've shot a hands on video so you'll be able to see it in action. If you are a bit of a wild one, we've also made available cover samples of the black, red, yellow and orange flavors just in case statement devices are your thing.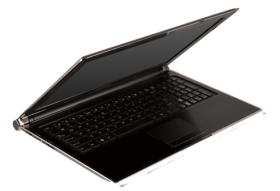 If you're wondering when you'll be able to pick this up, there is no release date or price point available as yet.