Introduction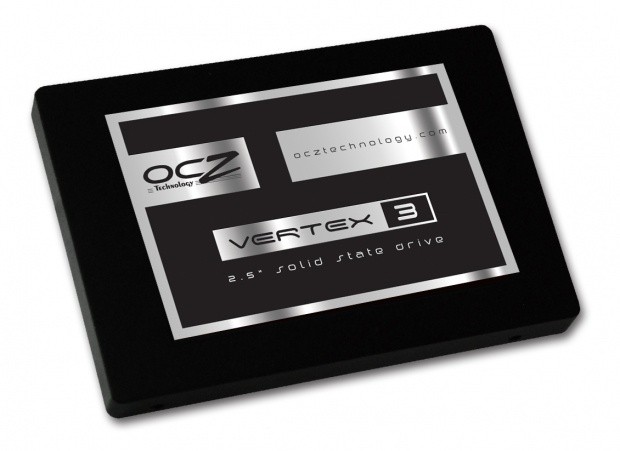 Yesterday we looked at the Corsair Performance 3
, the first retail next generation Marvell - BKK2 controlled SSD to hit our lab. Today we have the Performance 3's, and for that matter every other new consumer SSD's main competitor in house; the OCZ Technology Vertex 3.
OCZ Technology leads all other manufacturers in SSD development. The company has put forth a vast amount of resources in this market and even all but abandoned their memory products that put OCZ on the map. The payoff has been a near two year domination of the SSD market with sales that dwarf all other manufacturers. OCZ is at this point the SSD manufacturer in which all others strive to be.
SandForce is announcing two new consumer class controllers. There's the SF-2200, a high end consumer controller with 16 data lanes (8 accessible at one time) in a 400-TFBGA package capable of reading data at 550MB/s and writing data at 525MB/s. The other one is the new mainstream SF-2100 which has up to 8 data lanes and uses a 256-TFBGA package. SandForce didn't give out a lot of information on the new 2100, but we've working on getting more information. We'll give you a full breakdown on the new controllers tomorrow since not all of the information relates to the Vertex 3.
Yes, today is all about the OCZ Technology Vertex 3. A few websites previewed the Vertex 3
PRO
a few days ago, but the
PRO
model is an enterprise part that costs considerably more than the consumer drive we are looking at today. If you followed our coverage at CES then you already know the Vertex 3 is going to be one of the fastest SSDs released in 2011. The Vertex 3 has been discussed and drooled over in forums all over the world, even though the only real information on the drive has come from a couple of pictures from the OCZ suite at CES. At CES OCZ stated that the Vertex 3 was capable of 550MB/s read and over 500MB/s write speeds. Those speeds are high enough to get me drooling.
If you think the speeds are incredible, then just wait until you see the price. Go to the kitchen and grab a roll of paper towels and let's dig into the specifications then the projected cost of the OCZ Technology Vertex 3.
Specifications, Pricing and Availability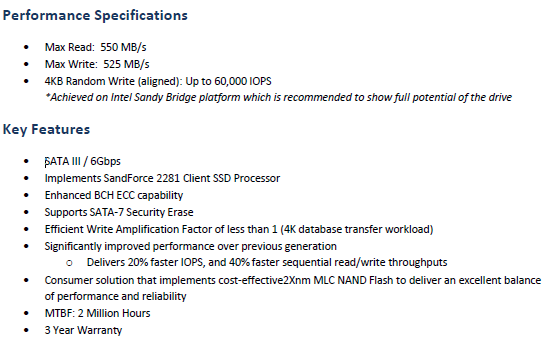 Before we get started, I should point out that the Vertex 3 we are looking at today is a beta sample that may or may not be configured the same as the retail drives. SandForce has given manufacturers quite a bit of flexibility when it comes to the new SF-2200 products. One of the key areas that manufacturers will play around with is the flash since 2xnm, 3xnm and toggle is all supported. The Vertex 3 PRO (enterprise) that a few people tested last week used toggle memory from Toshiba, while our Vertex 3 (consumer) shipped with Micron 25nm flash.
When it comes to the early specifications, the Vertex 3 looks like the most exciting SSD to date. With a maximum read speed of 550MB/s and a maximum write speed of 525MB/s, the Vertex 3 is a huge leap forward from anything we looked at in 2010. Even as I write this I'm not sure what to compare the Vertex 3 to in the benchmarks; a standard set of SSDs or our collection of RAID Report results. At 550MB/s read the Vertex 3 performs about the same as two previous generation SandForce drives paired in RAID 0.
Of course, accessing those unbelievable speeds means you have to build a capable system. At this time the only way for the Vertex 3 to reach its full potential is with a Sandy Bridge motherboard. At CES GIGABYTE told us that their X58 based Gaming Killer line has an updated Marvell SATA 6G setup that is faster than the X58/Marvell boards that are on the market now. The current X58/Marvell boards will only get you to 385MB/s read and 240MB/s write and SATA 3G will limit you to 285MB/s read and 275MB/s write.
When the Vertex 2 launched the 100GB model cost more than 400 USD and the 200GB drive was, well, unobtainable for nearly everyone. The OCZ Technology Vertex 3 should hit e-tailers in April and the MSRP for the 120GB is only 249.99 USD! - The 240GB drive like the one we are looking at today has an MSRP of 499.99. The MSRP for these next generation SATA 6G drives is very close to the current shipping price of the current generation SATA 3G SandForce SF-1200 drives. OCZ Technology is going to be very aggressive with this release and in my opinion consumers will react favorably.
The OCZ Technology Vertex 3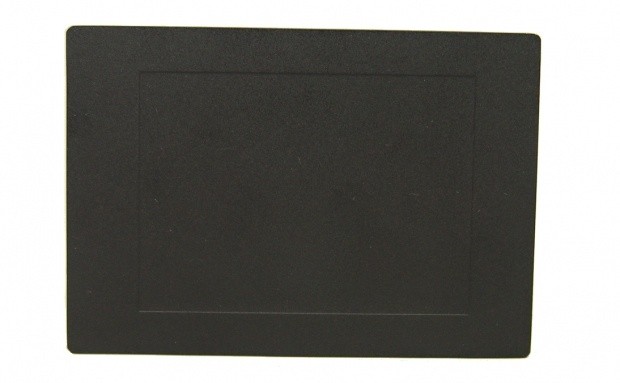 OCZ doesn't have the labels ready just yet, so our early sample arrived as you see it here.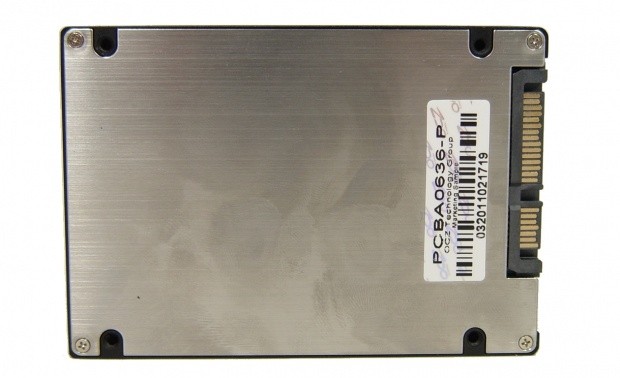 The case is aluminum with an aluminum cover.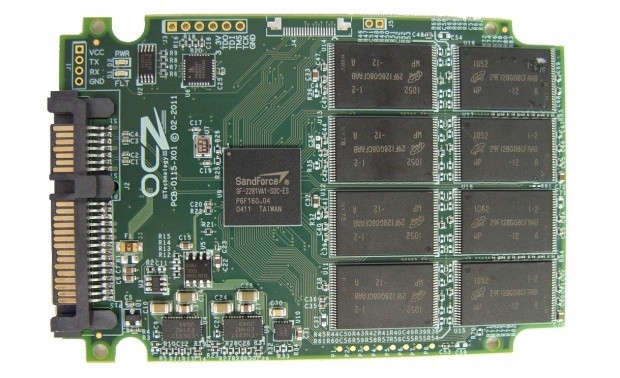 All of the good stuff is on the inside. The Vertex 3 uses the new SF-2200 controller. The PCB doesn't have a place for a supercap like the Vertex 3 PRO PCB. With the Vertex 2 launch both the enterprise PRO and consumer non-PRO shared the same PCB; that doesn't seem to be the case this time around.
We did notice something on the PCB that we weren't expecting to find. At the top of the PCB, in the middle, is what appears to be an opening for a mini USB 3.0 connector.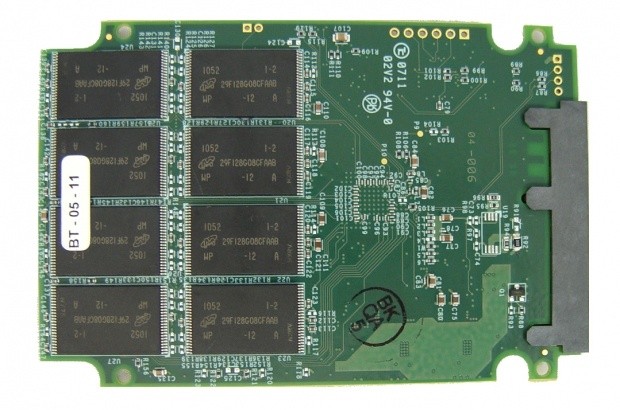 Both sides of the PCB have eight flash modules.
Test System Setup and ATTO Baseline Performance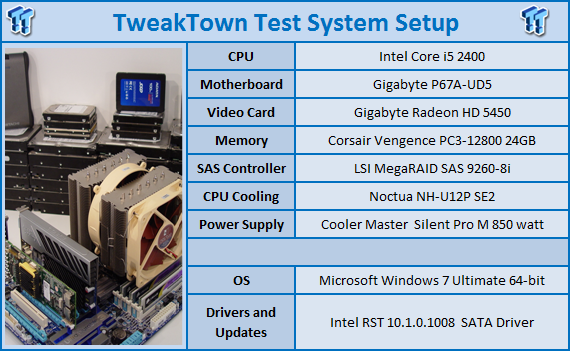 We would like to thank the following companies for supplying and supporting us with our test system hardware and equipment:
AVADirect
,
GIGABYTE
,
Cooler Master
,
LSI
,
Corsair
, and
Noctua
.
You can read more about TweakTown's Storage Product Testing Workstation and the procedures followed to test products
in this article
.
In order to get the most out of your OCZ Technology Vertex 3 you will need an Intel Sandy Bridge motherboard. We worked with GIGABYTE to get in a shiny new P67A-UD5 for our next generation SATA 6G SSD tests and Intel was kind enough to send along a new Core i5 2400.
Since this is a preview, we are only going to look at the Vertex 3's performance on the GIGABYTE Sandy Bridge SATA 6G port, but when the retail drive arrives we will look at performance on the X58/Marvell platform and SATA 3G performance.
ATTO Baseline PerformanceVersion and / or Patch Used:
2.34
ATTO is used by many disk manufacturers to determine the read and write speeds that will be presented to customers.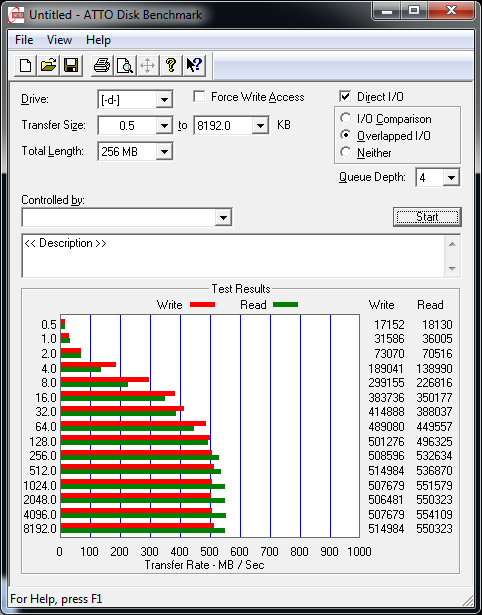 Seeing 550MB/s read and 520MB/s write speed on a single drive for the first time is a magical experience. This is a massive increase over the 285 / 275 performance from the previous generation SandForce consumer offerings.
Benchmarks - HD Tune Pro
HD Tune ProVersion and / or Patch Used:
4.00
Developer Homepage:
http://www.efdsoftware.com
Product Homepage:
http://www.hdtune.com
HD Tune is a Hard Disk utility which has the following functions:
Benchmark: measures the performance
Info: shows detailed information
Health: checks the health status by using SMART
Error Scan: scans the surface for errors
Temperature display
HD Tune Pro gives us accurate read, write and access time results and for the last couple of years has been gaining popularity amongst reviewers. It is now considered a must have application for storage device testing.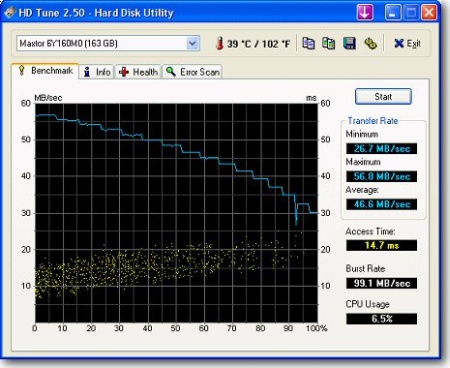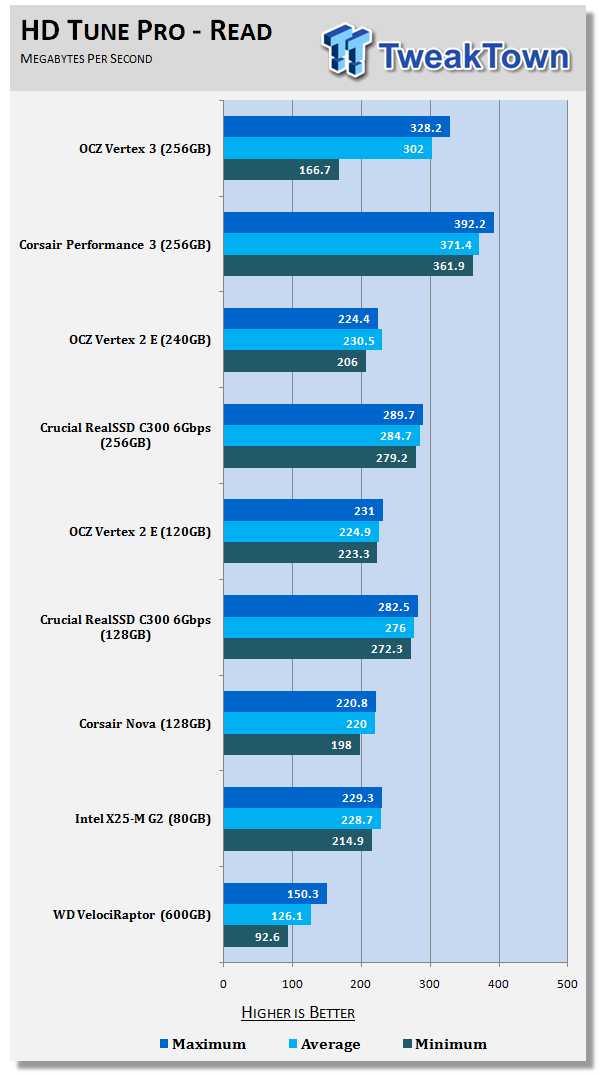 It looks like the Vertex 3 in its current form might have some competition from the Corsair Performance 3 when it comes to read speeds across the disk. The Vertex 3 had a significant drop in performance at the very beginning of the test and we were not able to get rid of this dip, and it only lasted a split second.
The average read speed was still a very impressive 302MB/s. HD Tune isn't a reliable way to determine real world performance, it's just a tool that helps us explain real world performance issues that can pop up.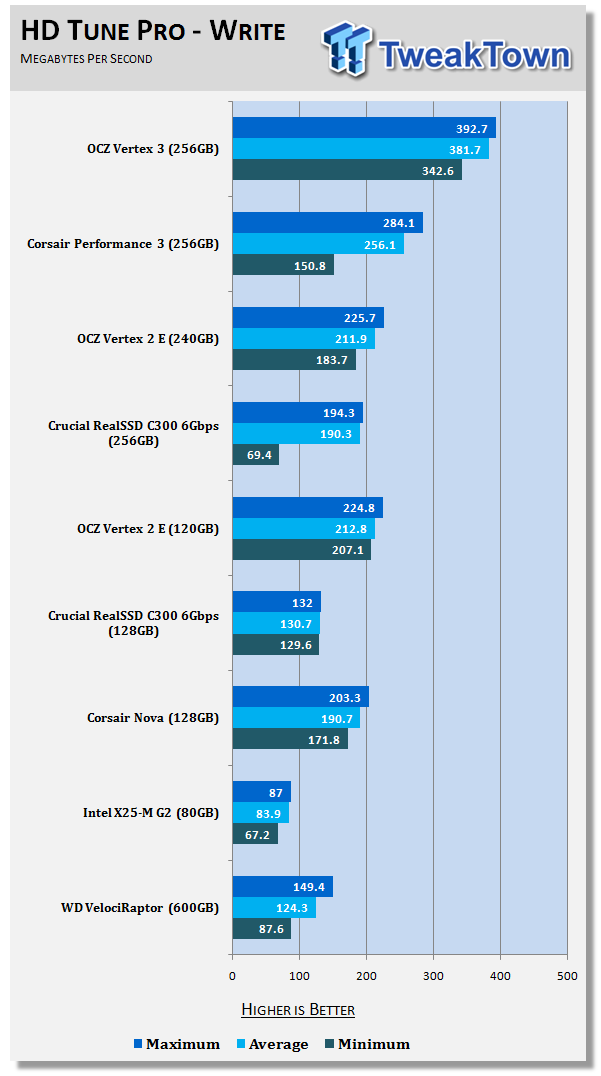 The write speed across the Vertex 3 is remarkable. Here we observed over 380MB/s on average and a peak of 392.7MB/s.
Benchmarks - Everest Random Access Time
Everest Random Access TimeVersion and / or Patch Used:
4.60
Developer Homepage:
http://www.lavalys.com
Product Homepage:
http://www.lavalys.com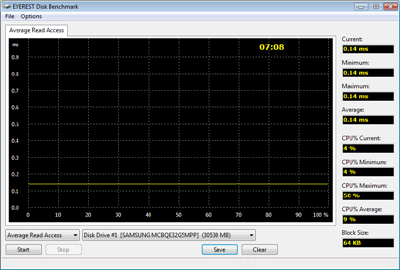 Everest Ultimate and Corporate Edition offer several different benchmarks for testing and optimizing your system or network. The Random Access test is one of very few if not only that will measure hard drives random access times in hundredths of milliseconds as oppose to tens of milliseconds.
Drives with only one or two tests displayed in write the write test mean that they have failed the test and their Maximum and possibly their Average Scores were very high after the cached fills. This usually happens only with controllers manufactured by JMicron.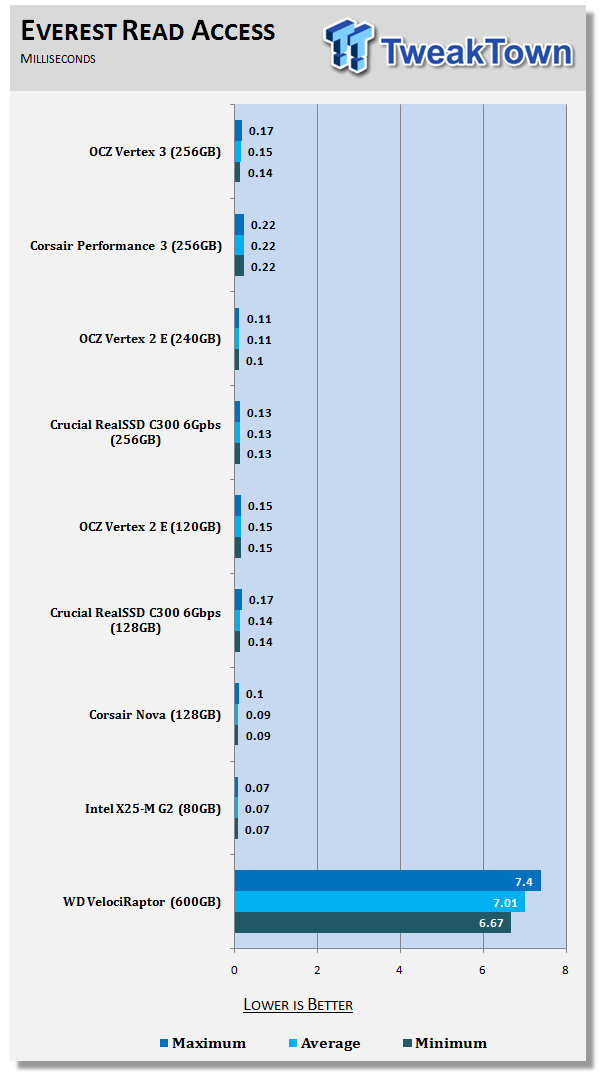 Access times are what make SSDs 'feel' so fast when you are bouncing around between windows, games and multitasking. The Vertex 3 retains the Vertex 2's read access time performance.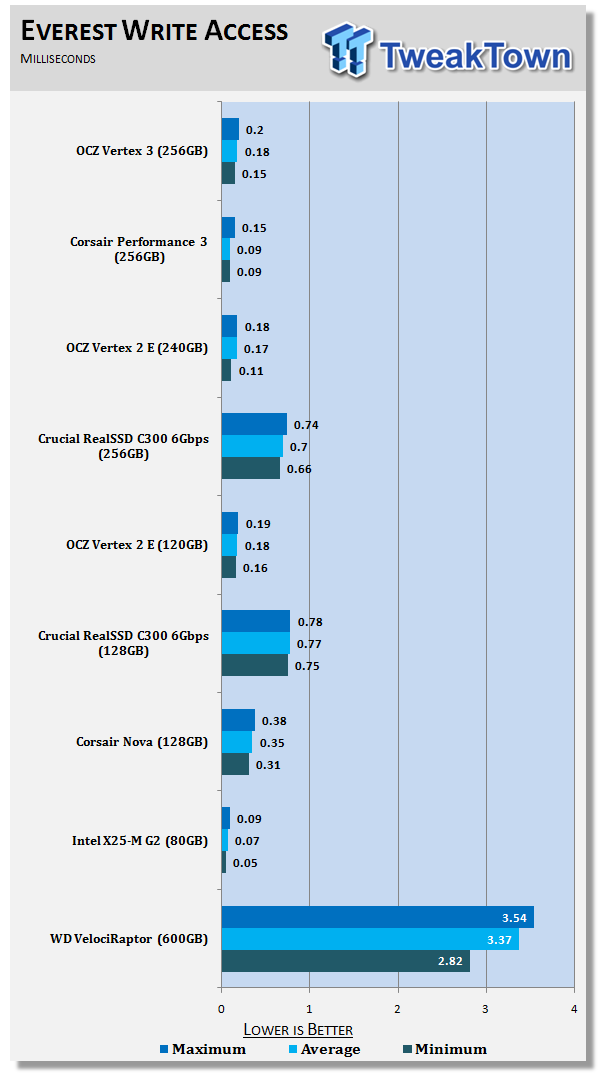 The same is true for the write access time. Even though the Vertex 3 now has even more encryption (256 + 128-bit / Vertex 2 only had 128-bit) the write access times are the same.
Benchmarks - Crystal Disk Mark
CrystalDiskMarkVersion and / or Patch Used:
3.0 Technical Preview
Developer Homepage:
http://crystalmark.info
Product Homepage:
http://crystalmark.info/software/CrystalDiskMark/index-e.html
Download here:
http://crystaldew.info/category/software/crystaldiskmark
CrystalDiskMark is a disk benchmark software.
Key Features:-
* Sequential reads/writes
* Random 4KB/512KB reads/writes
* Text copy
* Change dialog design
* internationalization (i18n)
Note:
Crystal Disk Mark 3.0 is not available to the public yet, but the Technical Preview does allow us to test 4K performance at queue depths of 4 and 32 in addition to 1. The current release Crystal Disk Mark only shows us QD 1.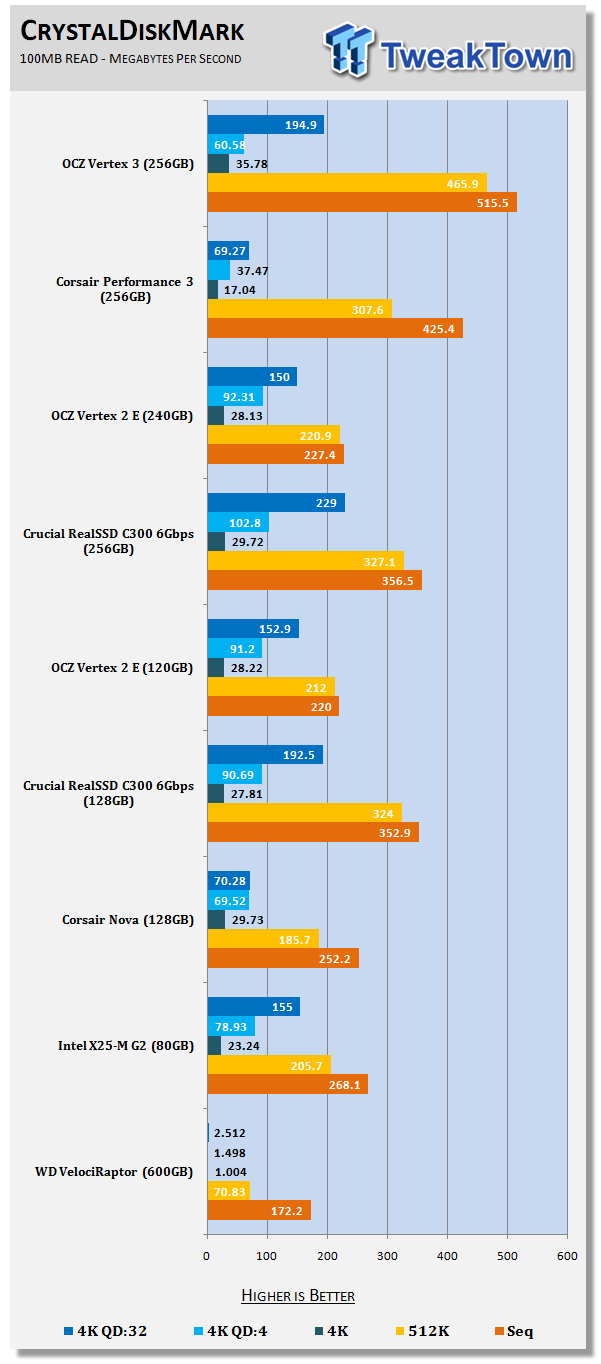 We use CDM to look at 4K and 4K at queue depth (NCQ) performance. The Vertex 3 has just a slight advantage over the Vertex 2 in 4K single command performance but once we start stacking up commands things get interesting. At 4 commands the Vertex 3 is actually slower than the Vertex 2 but at 32 commands the the Vertex 3 takes off and is able to deliver nearly 200MB/s.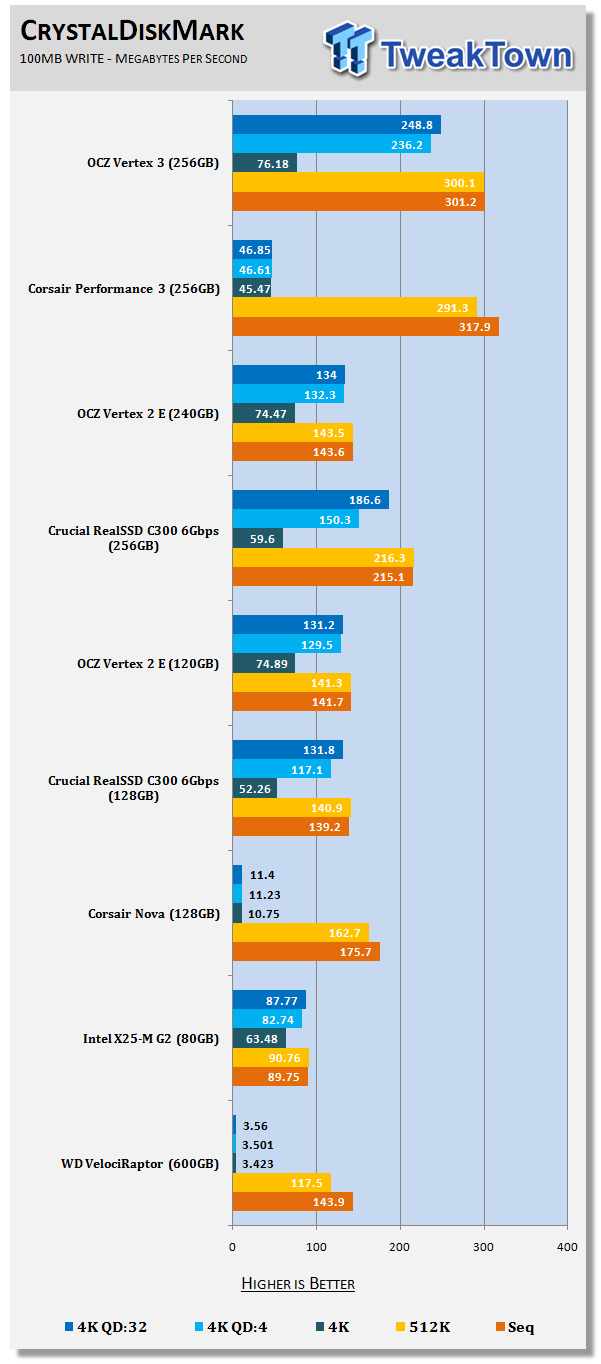 The 4K write performance is nearly the same as the Vertex 2 240GB, but in this case the 4 and 32 queue depth really take off and outshine everything else we've tested before.
Benchmarks - PCMark Vantage Hard Disk Tests
PCMark Vantage - Hard Disk TestsVersion and / or Patch Used:
1.0.0
Developer Homepage:
http://www.futuremark.com
Product Homepage:
http://www.futuremark.com/benchmarks/pcmark-vantage/
Buy It Here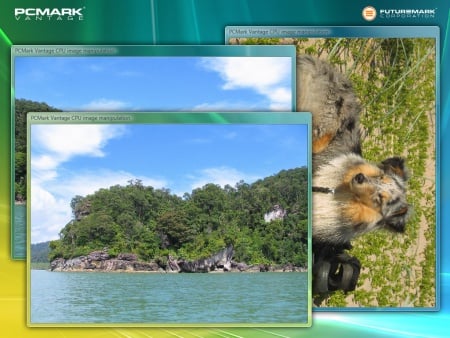 PCMark Vantage is the first objective hardware performance benchmark for PCs running 32 and 64 bit versions of Microsoft Windows Vista. PCMark Vantage is perfectly suited for benchmarking any type of Microsoft Windows Vista PC from multimedia home entertainment systems and laptops to dedicated workstations and high-end gaming rigs. Regardless of whether the benchmarker is an artist or an IT Professional, PCMark Vantage shows the user where their system soars or falls flat, and how to get the most performance possible out of their hardware. PCMark Vantage is easy enough for even the most casual enthusiast to use yet supports in-depth, professional industry grade testing.
FutureMark has developed a good set of hard disk tests for their PCMark Vantage Suite. Windows users can count on Vantage to show them how a drive will perform in normal day to day usage scenarios. For most users these are the tests that matter since many of the old hat ways to measure performance have become ineffective to measure true Windows performance.

HDD1 - Windows Defender
HDD2 - Gaming
HDD3 - Windows Photo Gallery
HDD4 - Vista Startup
HDD5 - Windows Movie Maker
HDD6 - Windows Media Center
HDD7 - Windows Media Player
HDD8 - Application Loading
Our first real world test shows the Vertex 3 taking off for the moon and adding new lines to our chart. Performance like this was previously reserved for multi-drive RAID arrays, but the Vertex 3 is a single drive.
Benchmarks - AS SSD
AS SSD BenchmarkVersion and / or Patch Used:
1.2.3577.40358
Developer Homepage:
Alex Intelligent Software
Product Homepage:
Alex Intelligent Software
Download here:
http://www.alex-is.de/PHP/fusion/downloads.php?cat_id=4&download_id=9
AS determines the performance of Solid State Drives (SSD). The tool contains four synthetic as well as three practice tests. The synthetic tests are to determine the sequential and random read and write performance of the SSD. These tests are carried out without the use of the operating system caches.
In all synthetic tests the test file size is 1GB. AS can also determine the access time of the SSD, the access of which the drive is determined to read through the entire capacity of the SSD (Full Stroke). The write access test is only to be met with a 1 GB big test file. At the end of the tests three values for the read and write as well as the overall performance will be issued. In addition to the calculated values which are shown in MB/s, they are also represented in IO per seconds (IOPS).
Note:
AS SSD is a great benchmark for many tests, but since Crystal Disk Mark covers a broader range of 4K tests and HD Tune Pro covering sequential speeds, we will only use the Copy Benchmark from AS SSD.
- Copy Benchmark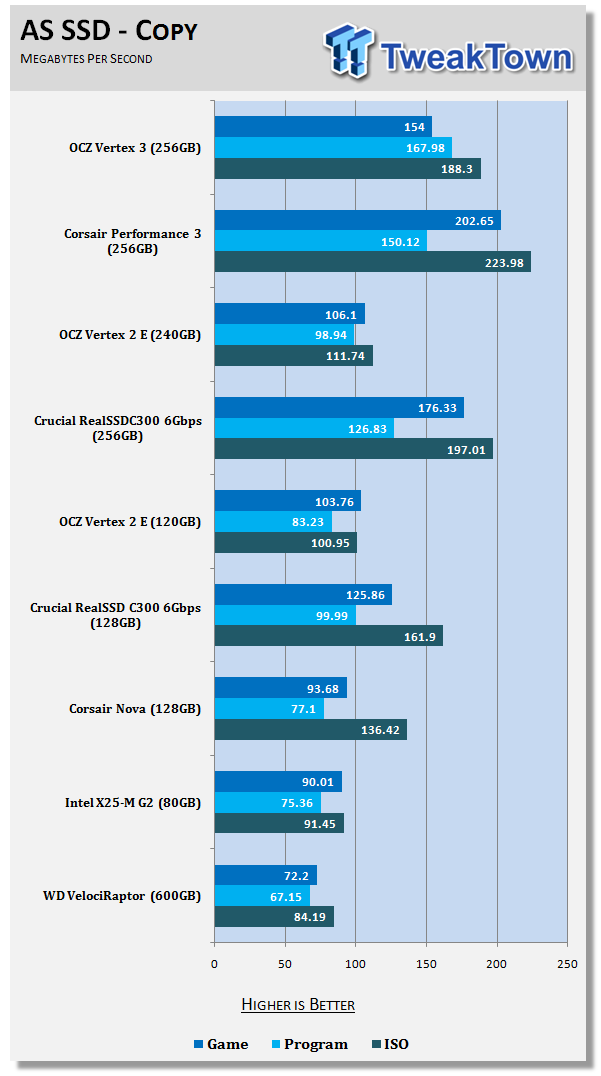 SandForce controllers are designed to store less data to the flash than is actually part of the original file. The compression technology allows the drive to perform very quickly when the file can be compressed, but files that are already compressed are written almost entirely. When you write more data to the flash it takes longer, something we've seen with all SandForce based drives to date.
Here we see that the Vertex 3 writes these compressed files slower than the Corsair Performance 3, but very close to the Crucial RealSSD C300.
Benchmarks - Passmark
Passmark Advanced Multi-User TestsVersion and / or Patch Used:
6.1
Developer Homepage:
http://www.passmark.com
Test Homepage:
http://www.passmark.com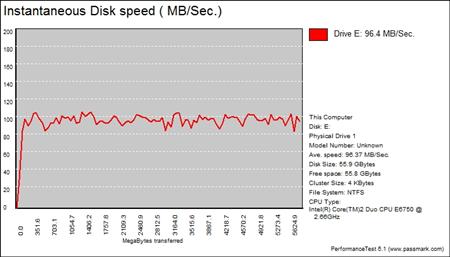 Many users complain that I/O Meter is too complicated of a benchmark to replicate results so my quest to find an alternative was started. Passmark has added several multi-user tests that measure a hard drives ability to operate in a multi-user environment.

The tests use different settings to mimic basic multi-user operations as they would play out on your server. Variances is read / write percentage as well as random / sequential reads are common in certain applications, Web Servers read nearly 100% of the time while Database Servers write a small amount of data.
The Workstation test is the only single user environment and will be similar to how you use your system at home.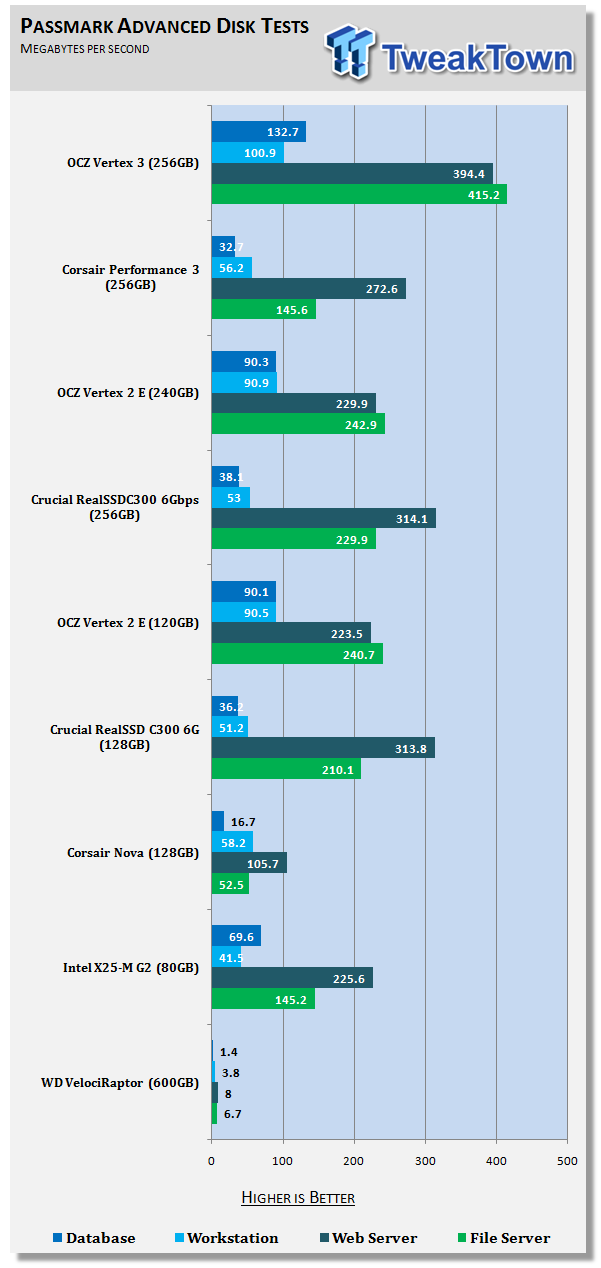 SandForce designs their controllers for the enterprise market first and then starts chipping away features not needed for the consumer products. The Vertex 3, even though it is a consumer product, is very fast in our enterprise tests. These are the highest we've seen from a single drive and in many cases higher than the two-drive RAID array tests.
Final Thoughts
Today we are focusing on the OCZ Technology Vertex 3 based on the SF-2200 controller. Also today SandForce is releasing information on a new, low cost SF-2100 controller. We will cover the SF-2200 and SF-2100 launch tomorrow and get into all of the details, but today we are focusing on the Vertex 3.
The OCZ Technology Vertex 3 is an all around stunner. Either way we look at it, an ultra high performance SSD or a reasonable priced SSD, we are just shocked from both sides. Let's look at the performance first. The Vertex 3 is the highest performing SSD we've ever tested; this even includes some of the benchmark results obtained while running RAID 0. The drive just takes off and doesn't let up. At this point I'm not sure if it's a small evolutionary step or a giant revolutionary step forward. Over the next couple of months I will try to figure that one out and you can guarantee more articles will come before the retail launch.
History is the window to the future. When the Vertex 2 was launched we were talking about 400+ Dollar 100GB drives. These were later moved to 120GB and the cost quickly went down to 350 USD. Before the move to 25nm a 120GB Vertex 2 sold for just over 200 USD and right at 200 USD when on sale. That is a pretty large drop in cost and it took place in less than a year. The 120GB Vertex 3 has an MSRP of 249.99 USD; well, that is the plan.
We know Newegg and other e-tailers raise prices when their supplies are limited and at launch. No matter how many OCZ puts in the market, availability will be limited. If the starting price is 249.99 at the launch, then these drives will sell like crazy. Once the initial offering goes out and stock starts to increase, prices will more than likely start coming down just like with Vertex 2. I don't really see how prices can get much lower, but they will because they always do.
If this was an actual review of the final retail product the OCZ Vertex 3 would be receiving an Editor's Choice Award. I'm tempted to do so now even without a box, 3.5" desktop adapter, SATA 6G cable or anything else OCZ might bundle with the drive. The Vertex 3 is as fast as it gets and even before the launch SandForce's first SATA 6G product gets very close to the limits of SATA 6G. We don't give out final ratings or performance awards for preview releases, but if we did the OCZ Technology Vertex 3 would the highest rating.
Be sure to check back tomorrow for all of the SandForce SF-2100 and SF-2200 details that explain why the Vertex 3 is so fast.