The Star Wars Saga Blu-rays - Will The Force Be With Us?
With the announcement of the Star Wars Saga Blu-ray collection for release later this year, what do we really know will be inside?

Published Sat, Feb 12 2011 6:48 AM CST
|
Updated Tue, Nov 3 2020 7:02 PM CST
The Star Wars Saga Blu-rays - Will The Force Be With Us?
When Writer/ Director George Lucas took to the stage at the latest 'Star Wars Celebration V' fan convention in August 2010 to announce a
Star Wars
saga Blu-ray for release in 2011, fans were surprised. Afterall, he'd already committed to a 3D re-release of all six films starting from 2012. Additionally, 2012 marks the 30th Anniversary of the first film
A New Hope
. Still after the seemingly forever wait for the films to be released on DVD, fans won't complain that the Blu-ray's will have arrived with merciful haste.
In January of this year, Darth Vader and a platoon of Stormtroopers invaded the Consumer Electronics Show to announce that September 2011 would see the release of three separate Blu-ray packages, headlined by the ultimate 9 disc complete collection. We also have pricing ($139.95 SRP AUD). But other than that, details are rather scant.
So let's take a look at what actually is confirmed and what we believe will be part of the
Star Wars
saga boxset.
The Versions
With previous comments by Lucas, I find it extremely unlikely that we will see the original release versions of the film committed to Blu-ray. Instead we will likely see minor additions to the versions of the film that were released to DVD in 2004, which in turn were minor additions to the 1997 'Special Edition' versions.
It has been confirmed that the Yoda puppet from all scenes in
The Phantom Menace
has been replaced with the CG model that was produced for
Attack of the Clones
. Despite tests in 1998 which deemed it technically impossible at that time, this successful test was produced before production of
Attack of the Clones
started. Whilst not previously shown or released on video, a snippet can be seen on 'The Chosen One' documentary from the
Revenge of the Sith
DVD (or YouTube).
It is highly unlikely that any major deleted scenes will be inserted into the films proper, but it is expected that many scenes from all six films will be further tweaked. Think back to the enhancements created for the 'Special edition' as an example. I expect that some of the computer graphics from
The Phantom Menace
and
Attack of the Clones
which have aged poorly will be corrected. This will likely extend to the special edition CG additions to the original trilogy too. As the first time that all six films have been released together, Lucas will want all the films to look more cohesive than ever.
I feel that at the age of what is now approaching 70 years old, Lucas will not make many changes to the films in coming years and I fully expect that these Blu-rays will become the near final, if not definitive version of all the films.
[img]2[/img]
The Transfer
Film restoration company Lowry Digital who restored the trilogy for the 2004 DVD release, which was also the basis for the 1080i transfers broadcast on HD TV channels, have allegedly performed more work for this set. Lowry worked at a bristling pace of just one month per month to restore each of the original films in 2004, which studio head John Lowry commented was some of the worst degradation that he had seen.
"
A New Hope, for example, which was the worst of all, had maybe a million pieces of dirt in the first couple of reels of that movie. Unbelievable.
"
Due to the speed that Lowry had to work at to strike the 2004 transfers, a few errors were introduced in the process, such as wavering colours and errors in colour timing. However, I strongly suspect that Lowry has gone back and rescanned the film in higher resolution, as the corrections to the films for the 2004 DVD's were performed only at 1080p; hardly suitable for future use. Considering that Lucas needs high resolution versions of each film for 3D conversion and exhibition starting from 2012, new high resolution transfers will have to be struck. What we don't know is whether they will be featured on these Blu-rays, but I would tend to think they will be.
It is an absolute certainty that a new transfer will be used for
The Phantom Menace
. The current DVD and HD TV broadcast transfers are an absolute mess which were originally created at sub-par quality, allegedly so as to not look out of place with the original trilogy, which at that point had not been treated by Lowry Digital. Filled with film artefacts, noise and excessive grain, along with seemingly baked in edge enhancement, there is no way that transfer will be used.
[img]3[/img]
The Star Wars Saga Blu-rays - Will The Force Be With Us? - Cont.
Audio
Multiple 5.1 mixes have been created for the original
Star Was Trilogy
over the years, each with minor differences with sound effects and in some instances, lines. I suspect (and hope) that Lucas will take the opportunity to remix the films for 7.1 sound systems, creating the definitive audio track. Errors were introduced in the 2004 5.1 mixes, including issues with the soundtrack volume and flipped music channels which affected
A New Hope
. Due to vocal complaints it is likely these will be rectified, hopefully without introducing other issues.
It's has been rumoured for some years that Lucas would take the opportunity to add elements of soundtrack cues including 'The Imperial March' to the
A New Hope
, but I suspect this will not eventuate.
It remains to be seen whether the films will receive DTS HD Master Audio or Dolby TrueHD audio tracks - Fox favour DTS, whereas LucasFilm has a long standing relationship with Dolby Laboratories and may force the use of the codec for the set, however as both are lossless audio containers, it really does not matter which it is.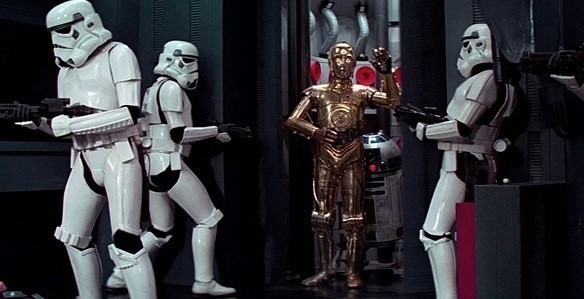 Extra Features
After such a long wait, the complement of extra features which featured on the 2004 DVD was a bit underwhelming, even if it was headlined by an in-depth 150 minute documentary spanning the original trilogy. More impressive were the three discs of extra features that accompany the prequel films, filled with deleted scenes and some great full length documentaries.
Still, with a nine disc Blu-ray set (of which three of these discs will be extra features) there's a lot of space to fill. The press release, which is very scant on details does indicate some "never before seen deleted and alternate scenes" and "much more". Likely candidates for the deleted scenes include the original opening of
A New Hope
with Luke and his friends on Tatooine, and a later catch-up with Luke and his friend Biggs. The original Cantina scene (filled with bargain basement monsters), Wampa scenes from
The Empire Strikes Back
and the sandstorm sequence from
Return of the Jedi
are all likely to appear. George Lucas publically screened one scene which will be part of the set last year; Luke constructing his Lightsabre in a Tatooine cave from
Return of the Jedi
. The crowd went crazy.
Dating previously to the DVD release, LucasFilm eagerly undertook digitisation of assets from the films, including original concept artwork, set designs and behind the scenes photography; works that can never be replaced. Whilst many of these have found their way to book releases including J.W. Rinzlers' epic tomes 'The Making of Star Wars' and 'The Making of the Empire Strikes Back', there is a lot that's still never been seen and I fully expect the LucasFilm archives to be mined once again for use in documentaries and photo galleries. I suspect the line in the press release touting "
an exploration of the exclusive Star Wars archives
" refers to this.
It's likely that the original 2004 Audio commentaries will be back, but it's also possible that new ones will be created. Returning too will be the original theatrical trailers, hopefully restored in 1080p. It is possible, but doubtful that isolated scores will feature, which would please many fans.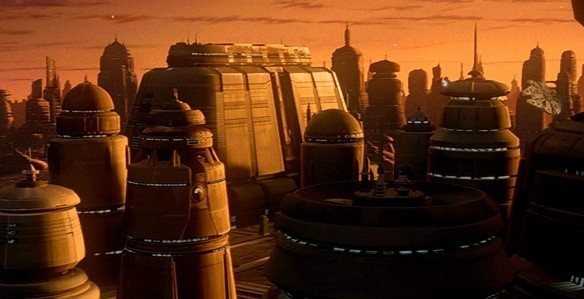 Playing the waiting game
Whilst work on the Blu-ray has been ongoing at LucasFilm for some years (dating back to 2009), there is still some eight months before the collection will see the light of day. However, we expect that a full press release detailing the entire contents will be unveiled at the middle of the year. And we wait for that with baited breath.
PRICING: You can find products similar to this one for sale below.

United States: Find other tech and computer products like this over at Amazon.com

United Kingdom: Find other tech and computer products like this over at Amazon.co.uk

Australia: Find other tech and computer products like this over at Amazon.com.au

Canada: Find other tech and computer products like this over at Amazon.ca

Deutschland: Finde andere Technik- und Computerprodukte wie dieses auf Amazon.de
We openly invite the companies who provide us with review samples / who are mentioned or discussed to express their opinion. If any company representative wishes to respond, we will publish the response here. Please contact us if you wish to respond.