Putting SATA 3.0 to Work with Areca ARC-1880i and Crucial C300 256GB SSDs
We love uber impressive performance. We love pushing standards. Today we do that by putting SATA3 to the test with four Crucial C300 256GB SSDs and an Areca ARC-1880i controller. Rock on!

Published Fri, Nov 19 2010 6:03 AM CST
|
Updated Tue, Nov 3 2020 7:02 PM CST
Introduction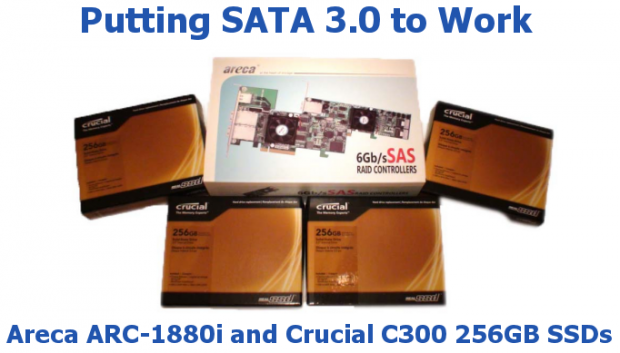 There is just something dandy about having a super fast computer that gets our hearts beating faster than usual. And it's always nice to have access to the latest and greatest new parts to come onto the market to enable our fetish. It's not usually a challenge to say we have the fastest PC on the street; the challenge is coming up with new ways to push things and really put things to work. We want to impress you, our readers, with what is possible with new tech and quite a few dollars - and today we think we will do just that.
Today our focus is on SATA 3.0, the latest computer bus interface for mass storage devices like hard drives and of course solid state disk drives. SATA Revision 3.0 or SATA 6 Gbit/s as it is also known replaced SATA 2.0 with several improvements including importantly for us here today a doubling of the maximum throughput from 375MB/s to 750MB/s per connected device.
What do you do with all that extra bandwidth that is offered by the new bus? You put it to work, of course! We hit up the folks over at Areca about a brand spanking new SATA 3.0 SAS controller that they have started selling and they obliged our request and sent on over one of their new ARC-1880i controllers for the job.
Next up, we needed something to connect up to this shiny new RAID controller and we enlisted the help of the folks over at Crucial for this part of the mission. They were friendly enough to ship over no less than four of their RealSSD C300 256GB SATA 3.0 solid state disk drives.
Now with the arsenal in place to wage a pretty mighty storage war against the other side, we were set to begin and see just what SATA 3.0 is capable of when teamed up with some pretty fierce new hardware.
The Parts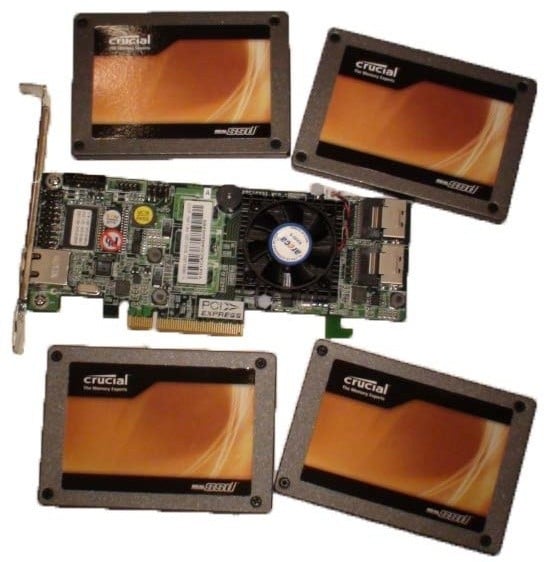 We will start off with the RAID controller. I do want to start off by saying that it is all good and well to have the latest and greatest solid state drives in your hands, but without a good controller to tell them what to do as efficiently as possible, they will never perform as well as they can. While using your motherboard's onboard RAID controller will do the job, you will be missing out on a lot of performance.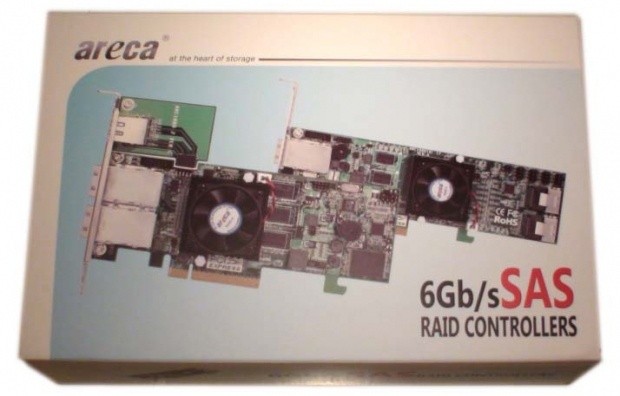 The folks over at Areca were friendly enough to send us on over one of their new ARC-1880i SAS SATA 3.0 RAID controllers. That is quite a mouthful to take in - but be assured it is one of the best storage controllers on the market. Since
our last article
, where we used the ARC-1680i controller, prices have dropped quite considerably.
The ARC-1880i comes with two SFF-8087 mini-SAS connectors that accept a matching cable that spurns off and provides connectivity for up to four SATA drives per port. Don't let the SAS labeling fool you; it also supports standard SATA drives without a hitch.

The controller uses a PCI Express 2.0 x8 connector that is able to provide a pleasurable 4GB/s total throughput in ideal circumstances. Onboard is an 800MHz CPU RAID core and 512MB of DDR2-800 memory for caching. It supports just about every RAID type you can imagine under the sun including 0, 1,1E, 3, 5, 6, 10, 30, 50, 60 and JBOD, and it will work in just about every OS you can imagine too, including Windows 7/2008/Vista/XP/2003, Linux, FreeBSD and so on. If something is to go wrong, you are covered by a three year warranty.
Moving on to the drives, we face yet another encounter with the now famous Crucial RealSSD C300. It was the first SATA 3.0 solid state drive to hit the market and has managed to impress many.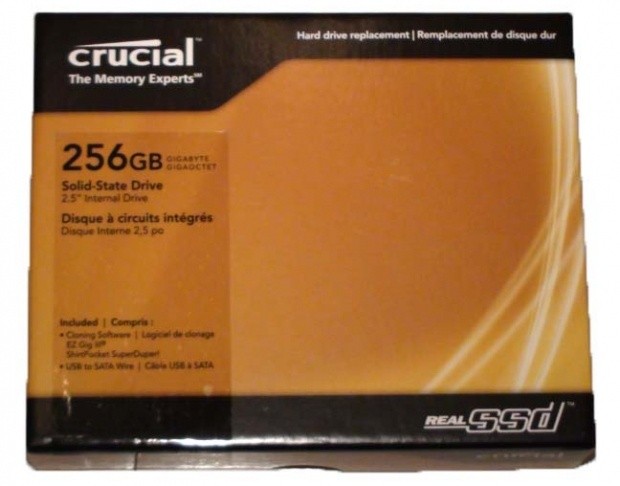 Crucial were friendly enough to send on over four 256GB C300 drives for the purpose of this article. We have already spent a lot of time with the C300 drives and I would encourage you to
head on over here
and check out Chris' review if you want a full run-down on the drives and what they are all about.

For a quick and dirty run-down, the 256GB version of the C300 has a maximum claimed read speed of up to 355MB/s and write of up to 215MB/s. We intend on smashing those numbers today, though, as we are running four of these little suckers in RAID 0.
The Cost, Test System Setup and ATTO Baseline Performance
The Cost
Alright then, now that you've just got acquainted with the parts we are using today, we will nail down and check out the cost of the setup.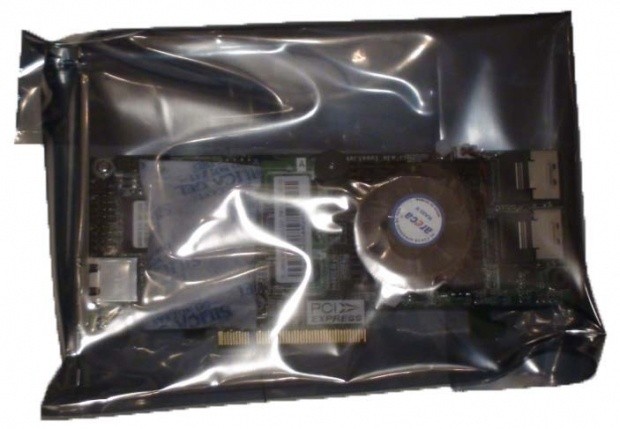 Starting out with the Areca RAID controller, as I said in the introduction, the price has come down a lot. In an older article where
we tested four Kingston X25-E SSDs
, we used the older SATA 2.0 ARC-1680i and it had a rather high price tag attached to it.
Fast forward to today and we check for the latest price of the ARC-1880i SATA 3.0 controller that we are using and we can see that it is going for $599.99 USD at Newegg at the time of writing - that actually makes it around $30 USD cheaper than the 1680i and this is a newer
and
faster model.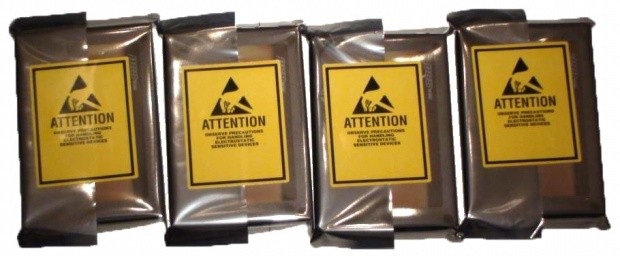 Next up, we have a price check of the Crucial RealSSD C300 256GB and remember we selected four of them. At the time of writing you can pick up one for
$599.99 USD
or $619.99 USD for the version that comes with the handy data transfer kit.
That puts us at a
grand total of $2999.95 USD
for the complete setup. Sure, it's a super expensive storage setup considering you can build a fairly high-end gaming PC for the same money, but let's move on and see what all that expenditure offers us in the all important numbers and performance game right now...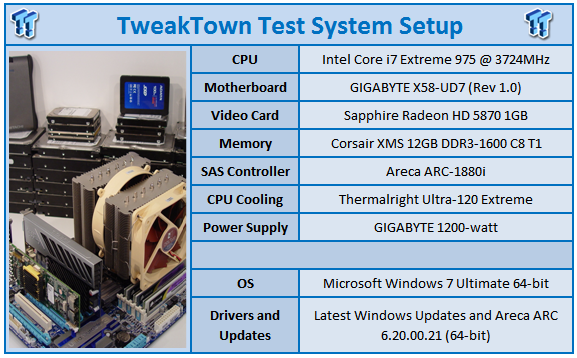 The four Crucial C300 256GB SSDs were setup in RAID 0 on the Areca ARC-1880i SATA 3.0 controller with a block size setting of 128KB. Optimisations such as read caching were enabled, but write caching was disabled in Windows. The controller was slotted into the third PCI Express 2.0 x16 slot on our GIGABYTE X58-UD7 motherboard - that slot provided adequate lanes for maximum performance.
For comparison purposes, we are including results of four Kingston (Intel) X25-E 64GB SSDs also in RAID 0 on the Areca ARC-1880i controller and with the exact same settings and OS. Keep in mind these drives are not brand new and have been used regularly for a year or so. Intel X25-E drives are not known to see major slowdowns in performance over time.
ATTO Baseline Performance
Version and / or Patch Used:
2.34
ATTO is used by many disk manufacturers to determine the read and write speeds that will be presented to customers.
(ARC-1880i with 4 x Crucial C300 SATA3 256GB SSDs)
In our very first test using ATTO we can see there is a maximum write speed of 982MB/s and 980MB/s read. Straight off the bat we can see that this impressive setup has a slightly faster write than read.
(ARC-1880i with 4 x Kingston X25-E SATA2 64GB SSDs)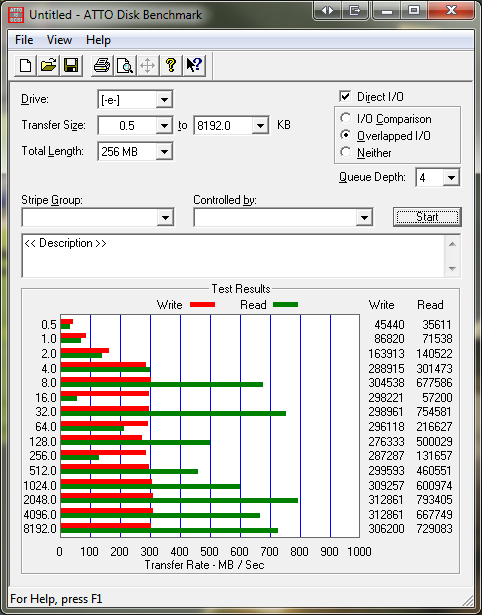 With the four Intel X25-E 64GB drives we can see there is a maximum write speed of almost 312MB/s and 754MB/s read. The results here are still pretty impressive, but the newer SATA 3.0 setup manages to smash it especially in the write speed department by a factor of over three times!
Benchmarks - HD Tune Pro
HD Tune ProVersion and / or Patch Used:
4.60
Developer Homepage:
http://www.efdsoftware.com
Product Homepage:
http://www.hdtune.com
HD Tune is a Hard Disk utility which has the following functions:
Benchmark: measures the performance
Info: shows detailed information
Health: checks the health status by using SMART
Error Scan: scans the surface for errors
Temperature display
HD Tune Pro gives us accurate read, write and access time results and for the last couple of years has been gaining popularity amongst reviewers. It is now considered a must have application for storage device testing.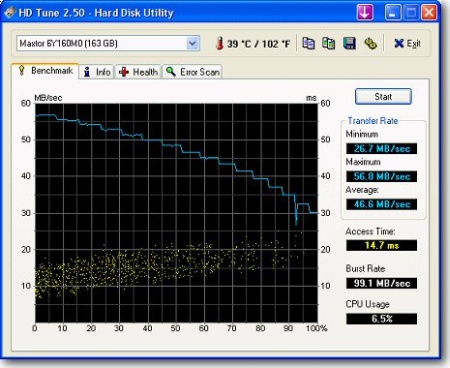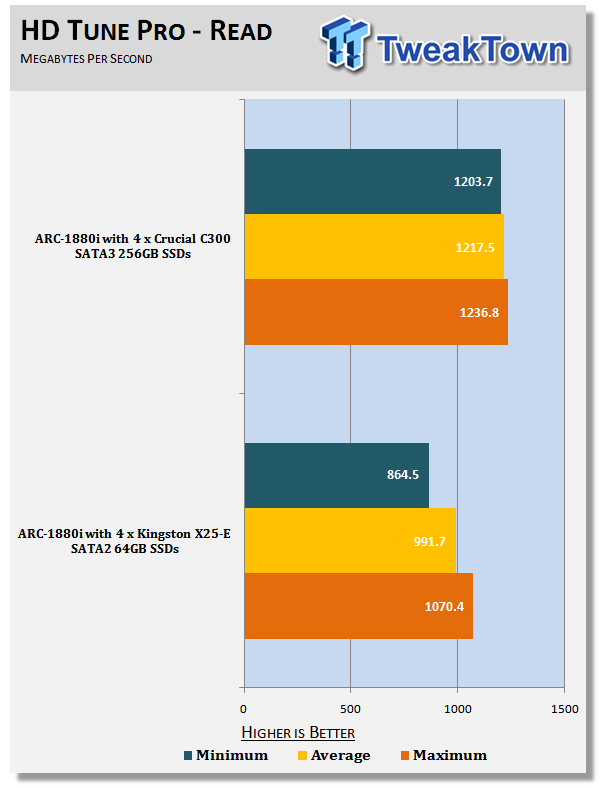 Holy cow! Under HD Tune Pro we see a maximum read speed of 1237MB/s and even the average speed is not too far behind that.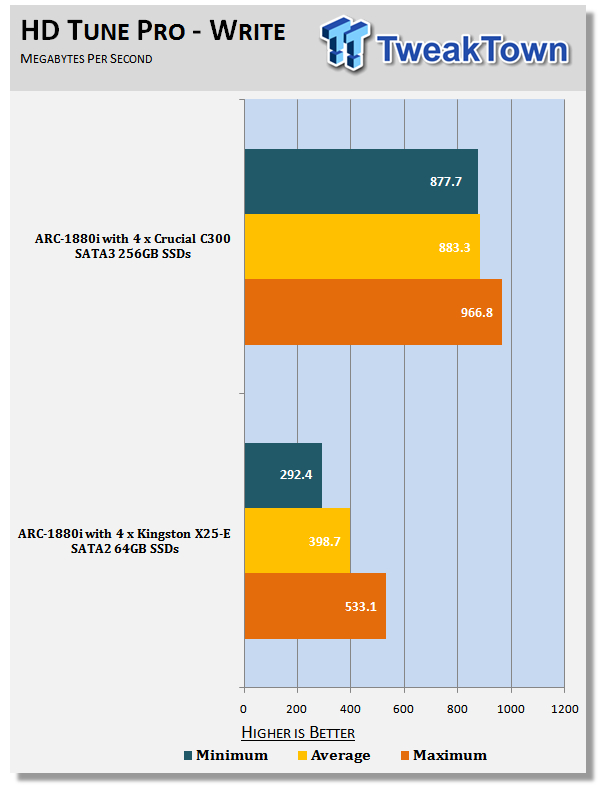 Here is where the Crucial C300 setup really sets itself apart from the SATA 2.0 X25-E drives. We can see a maximum write speed of a really stunning 967MB/s and the average is still extremely healthy at 883MB/s.
When we consider the average write speed, the C300 setup is about 55% faster.
Benchmarks - Everest Random Access Time
Everest Random Access TimeVersion and / or Patch Used:
4.60
Developer Homepage:
http://www.lavalys.com
Product Homepage:
http://www.lavalys.com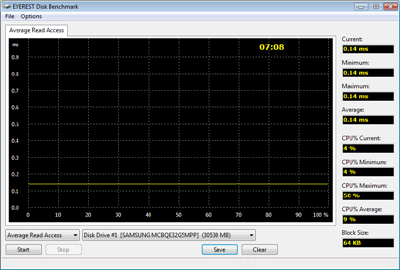 Everest Ultimate and Corporate Edition offer several different benchmarks for testing and optimizing your system or network. The Random Access test is one of very few if not only that will measure hard drives random access times in hundredths of milliseconds as oppose to tens of milliseconds.
Drives with only one or two tests displayed in write the write test mean that they have failed the test and their Maximum and possibly their Average Scores were very high after the cached fills. This usually happens only with controllers manufactured by JMicron.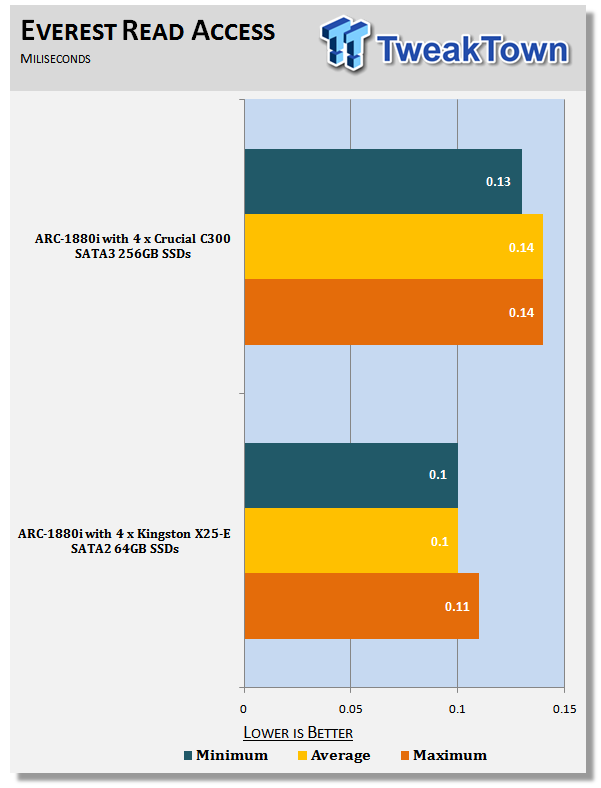 Now we get our first look at some read access times. What is strange is that the X25-E setup saw an almost flawless read access of 0.10ms and the test completed quicker than usual. Chris Ramseyer, our storage guru, told me it is probably due to the fact that the X25-E drives managed to use the controller cache somehow.
Anyway, we can see that the C300 drives offer an impressive read access average of 0.14ms.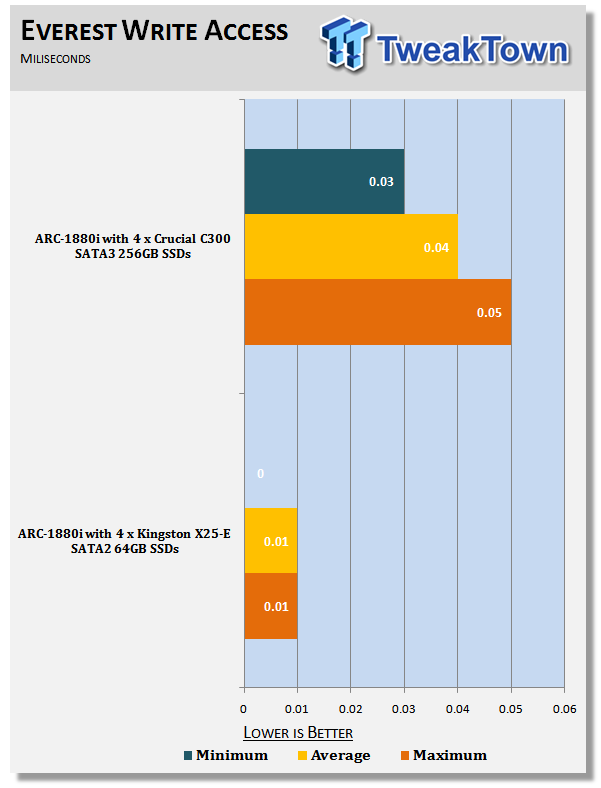 Here when testing write access we see the same issue as above with the caching, but it is more apparent. On the C300 drive setup, we see an average of a super quick 0.04ms.
Benchmarks - CrystalDiskMark
CrystalDiskMarkVersion and / or Patch Used:
3.0 Technical Preview
Developer Homepage:
http://crystalmark.info
Product Homepage:
http://crystalmark.info/software/CrystalDiskMark/index-e.html
Download here:
http://crystaldew.info/category/software/crystaldiskmark
CrystalDiskMark is a disk benchmark software.
Key Features:-
* Sequential reads/writes
* Random 4KB/512KB reads/writes
* Text copy
* Change dialog design
* internationalization (i18n)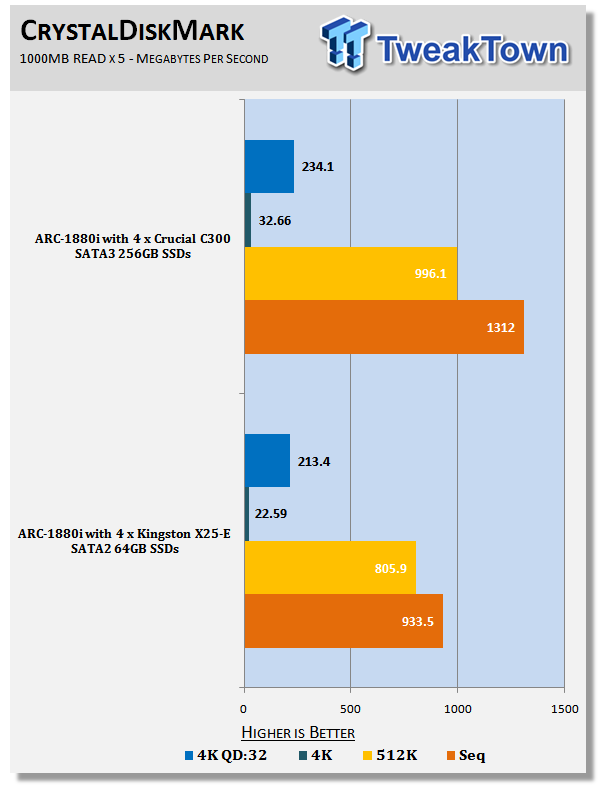 CDM shows the SATA 3.0 C300 drives in RAID 0 hits over 1300MB/s on the read for the first time. Does anything more really need to be said?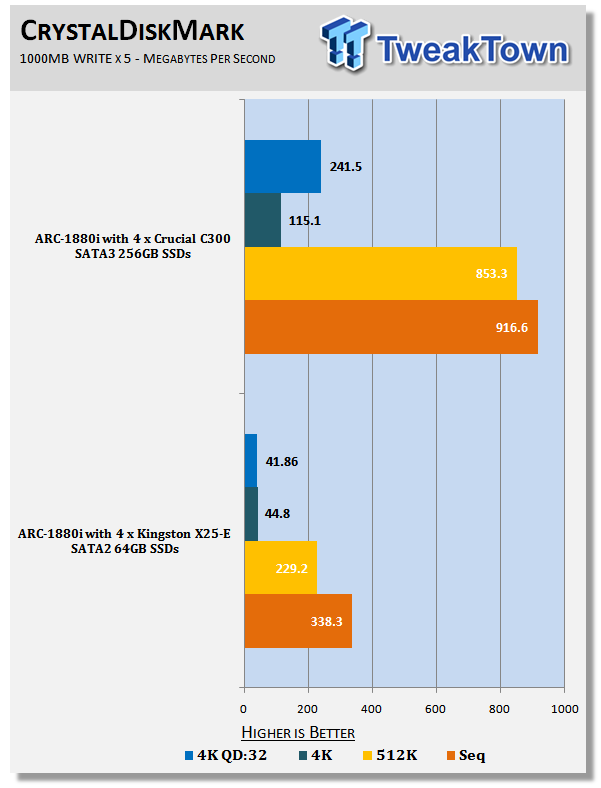 In the write department, the C300 setup loves CDM to bits in every way and shows around a three times speed improvement over the SATA 2.0 SSD setup.
What is really amazing here and something to take note of is the 4K write speed on the C300 setup - 115MB/s!
4K is important because this file size range is used for a lot of OS related programs and tasks and results in an almost instant access to a lot of programs and so forth. The C300 setup "feels" much quicker and snappier than the X25-E setup in Windows and if I had to put a number on it, I'd say it is two to three times faster in that sense. My previous X25-E RAID 0 setup was already very fast, but the C300 takes it to yet a new and improved level.
Benchmarks - AS SSD
AS SSD BenchmarkVersion and / or Patch Used:
1.2.3577.40358
Developer Homepage:
Alex Intelligent Software
Product Homepage:
Alex Intelligent Software
Download here:
http://www.alex-is.de/PHP/fusion/downloads.php?cat_id=4&download_id=9
AS determines the performance of Solid State Drives (SSD). The tool contains four synthetic as well as three practice tests. The synthetic tests are to determine the sequential and random read and write performance of the SSD. These tests are carried out without the use of the operating system caches.
In all synthetic tests the test file size is 1GB. AS can also determine the access time of the SSD, the access of which the drive is determined to read through the entire capacity of the SSD (Full Stroke). The write access test is only to be met with a 1 GB big test file. At the end of the tests three values for the read and write as well as the overall performance will be issued. In addition to the calculated values which are shown in MB/s, they are also represented in IO per seconds (IOPS).
- Copy Benchmark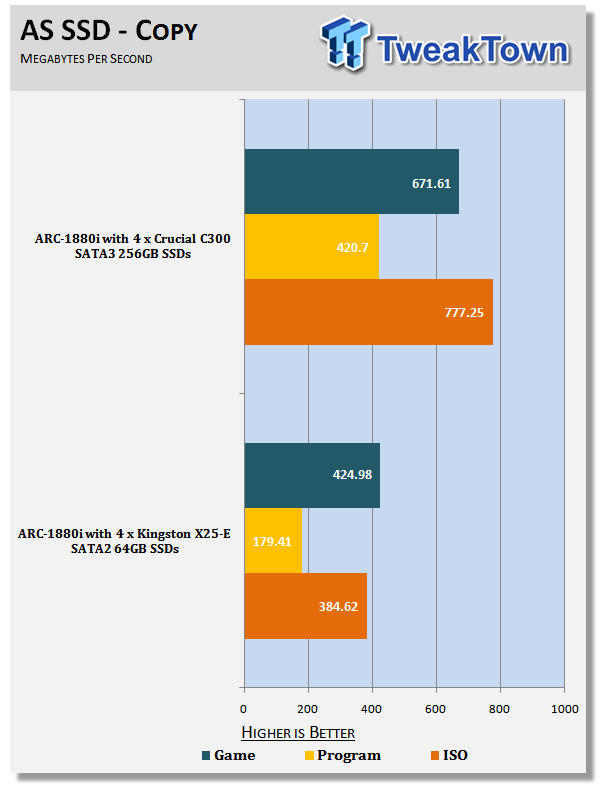 Another benchmark and more super impressive results. We can see that the SATA 3.0 C300 setup manages to beat the SATA 2.0 X25-E setup by a factor of around two times.
Final Thoughts
So, I think we successfully put SATA 3.0 to the test, wouldn't you agree?
With the help of the friendly folks from Areca and Crucial, we managed to build a storage sub-system capable of transferring data at over 1300MB/s. Sure, some may argue and say that this type of performance is over the top and a little ridiculous - but a big "meh" over to you, because that is what we are all about here at TweakTown. Showing you people, our readers, the type of performance one can attain from the right setup and a couple pay checks or so.
While the big numbers like 1300MB/s are impressive, they should really only be considered truly impressive and valuable if one can hit these types of numbers in a real-world environment and not just in a benchmarking session.
You need another drive array or some sort of speedy target at the other end, which is just as fast when transferring data, to see it. Having said that, though, with such great bandwidth at your mercy, your system is never going to slow down, and it will just keep smiling back at you asking for more. For instance, you have numerous simultaneous data transfers on the go to USB 3.0, eSATA and other internal drives and your 1300MB/s of goodness all of a sudden makes sense.
Again, discounting the big numbers for a moment (argh... I keep thinking about them!), let's consider the smaller performance numbers in our tests this time. For example, take a look at the stunning 4K performance of this setup. We saw random 4K writes of 115MB/s, and that is truly incredible, because it blows everything else away we have seen in the past. It provides a desktop experience that is utterly smooth and silky. Everything loads in a snap - kind of like it was already running and sitting in the system cache for quick access the next time around you load the program.
Suffice to say, we really put SATA 3.0 to work today and I hope you enjoyed this article. If you have comments, feel free to post them below. Until next time when we come back and smash these performance storage numbers with the next great setup, probably sometime in 2011!
PRICING: You can find products similar to this one for sale below.

United States: Find other tech and computer products like this over at Amazon.com

United Kingdom: Find other tech and computer products like this over at Amazon.co.uk

Australia: Find other tech and computer products like this over at Amazon.com.au

Canada: Find other tech and computer products like this over at Amazon.ca

Deutschland: Finde andere Technik- und Computerprodukte wie dieses auf Amazon.de
We openly invite the companies who provide us with review samples / who are mentioned or discussed to express their opinion. If any company representative wishes to respond, we will publish the response here. Please contact us if you wish to respond.