Quick Look: AMD Radeon HD 6850 and HD 6870 - What We Can Tell You
We can tell you a little of what to expect from the new AMD cards launching this week.
Published Oct 19, 2010 5:27 AM CDT
|
Updated Tue, Nov 3 2020 7:02 PM CST
So, there was a fancy shindig from AMD earlier this week and it brought with it the information we needed in regards to the new 6000 series from the company We can't tell you everything, mainly in relation to the performance side of things, but there's some information that we're able to give you now.
For starters, the model numbers, as we mentioned in the title, the HD 6850 and HD 6870, are the numbers you need to know this month. The two models aren't direct replacements for anything and nor are they the successors to the 5800 series, as the name would suggest.
It's all a little weird, but AMD did a last minute reshuffle on names. What we thought was going to be the HD 6750 and HD 6770, launching this week is instead the HD 6850 and HD 6870. When people heard this the first thought was that AMD decided to release the higher end single GPU models first. This wasn't true as they instead just renamed the parts. The reason for the name shuffle is because AMD apparently need room; we're getting the impression they need the room for Fusion.
Come Friday the HD 6850 and HD 6870 will launch. Performance wise they seemed to be designed to fit in the gap of the HD 5770 and HD 5850. You might think that was the job of the failed HD 5830, but clearly that didn't work out too well. From Friday we should still see both the HD 5800 series on sale and HD 5700 series with the HD 5700 series being sold for at least the rest of the year.
Let's start off with the HD 6870 and what we can show and tell you about the card. The overall design is very similar to what we've seen in the past from reference AMD cards.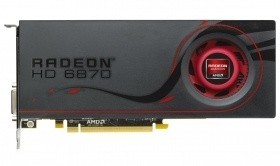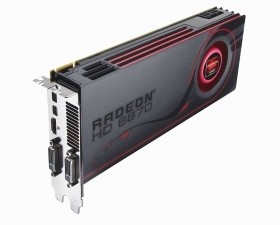 We've got the same black and red color scheme and it's good to see that AMD didn't change this. Across the top tells us a lot of information actually. For starters, the HD 6870 requires two 6-Pin PCI-E power connectors, and secondly we've got only a single Crossfire connector which tells us only two cards are supported; a path that NVIDIA took with their new mid-range cards including the GTX 460 and GTS 450.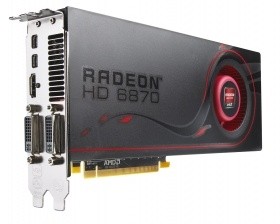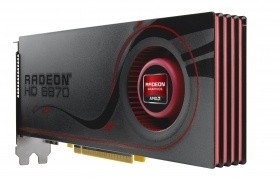 From the start we won't see any different variations of the HD 6870; it seems that everyone will be following the reference design. With that said, there's no doubt between now and the end of the year we'll see companies like Sapphire introduce a TOXIC version and HIS an IceQ or Turbo one, with other companies also putting their spin on the model.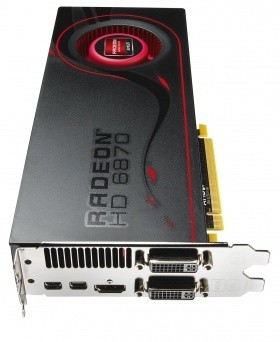 Connectivity is slightly different to previous cards. What we're seeing is a single link and dual-link DVI port, full size HDMI 1.4a connector and a pair of mini DisplayPort 1.2 connectors. DP 1.2 isn't something we're seeing at the moment when it comes to monitors, but since it offers twice the bandwidth of the original 1.1 connectors we'll be able to have higher resolution monitors and higher refresh rates which bring 3D stereoscopic support; something that we'll be seeing AMD push more with this generation of cards.
Also, DP 1.2 will offer us support for three monitors off the one connection via a hub. Information on a whole is a little scarce at the moment, but as the weeks go on and the higher end models of the HD 6000 series come to light, I'm sure we'll see and hear more information on this.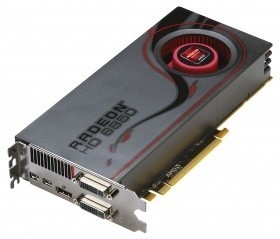 The baby brother to the HD 6870 is the HD 6850 and first glance will show the two cards are very similar. There's more to this model than the HD 6870 in some regards, however. Straight on we really don't see much difference between the two cards.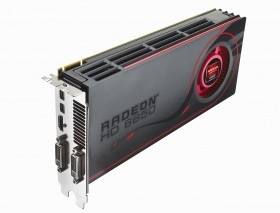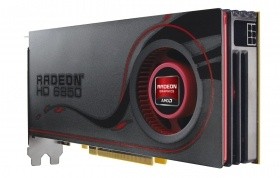 Looking across the top, we see little difference. While we've got the same single Crossfire connector across the top, we don't have any power connectors. Instead we have a single 6-Pin PCI-E power connector at the back of the card.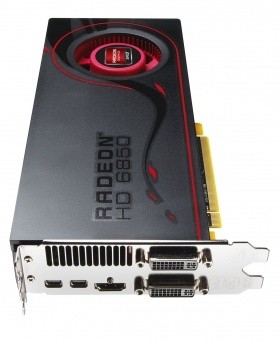 When it comes to connectivity, there's no difference to the HD 6870 when it comes to the reference design. That comprises two mini DP 1.2 ports, HDMI 1.4 port along with two DVI connectors; one single-link the other dual-link.
Come Friday, though, and you're going to see a lot of HD 6850s that don't look like this. The reason for that is because AMD has given its partners free reign on the model from the start. It'll be interesting to see what companies come up with, not just come launch day, but the weeks following.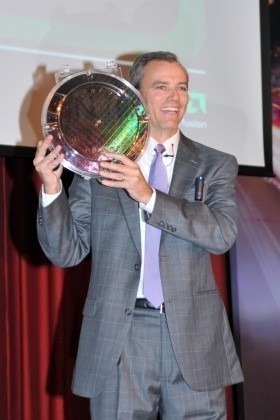 Outside of the new video cards launching this week AMD also had on display 'Llano'. Information on a whole continues to be quite limited on the technology at this point, though. AMD are keeping tight lipped about the technology and while they had the Alien vs. Predator rolling demo on display at default settings and quite a low 1024 x 768 resolution, the frame rate wasn't shown, nor any idea was given on what the clocks of the CPU and GPU were at. Still, at its prototype stage, it's very impressive and no doubt AMD see this as a very big part of computing in the near future.
Just finishing off on the topic of video cards again, there's something that we need to stress. The HD 6850 and HD 6870
aren't
replacements to the HD 5850 and HD 5870. If you're expecting the HD 6870 to be an upgrade for your HD 5870, it's safe to say you'll be disappointed.
Come Friday there's going to be a few questions we want to answer. How does the HD 6850 and HD 6870 compare against the HD 5770, HD 5850 and HD 5870? - How do the two new models compete against NVIDIAs GTX 460 which has become a favourite for many? - Has AMD been able to improve on Tessellation and AA performance with this refresh?
No doubt AMD want to achieve a few things with this refresh; offer us more performance, at a cheaper price and with less power draw. Friday we'll tell you if they have managed to achieve this. Plus we'll answer the gun things like overclocking performance and whether or not Crossfire scaling has improved come the hours and days after launch.
PRICING: You can find products similar to this one for sale below.

United States: Find other tech and computer products like this over at Amazon.com

United Kingdom: Find other tech and computer products like this over at Amazon.co.uk

Australia: Find other tech and computer products like this over at Amazon.com.au

Canada: Find other tech and computer products like this over at Amazon.ca

Deutschland: Finde andere Technik- und Computerprodukte wie dieses auf Amazon.de