Introduction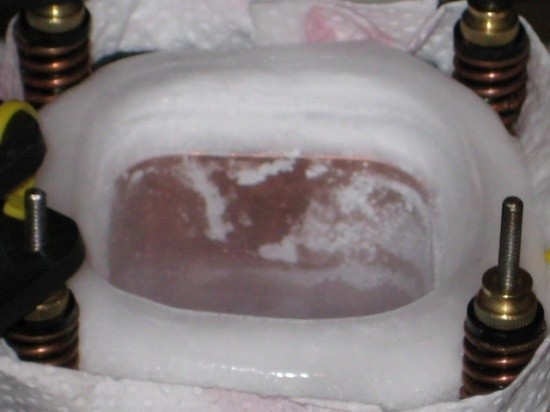 The King is DEAD. All hail the new KING!
That's right guys, the rein of Bloomfield is over and the age of Gulftown closes in.
I've been chomping at the bit to have an opportunity to torture this latest offering. With whispers of massive headroom for overclocking, more tolerance for extreme cooling and performance to die for, it's enough to get any tech-head excited.
For this article we will be torturing this latest offering from Intel over a variety of multi-threaded applications at pre-determined speeds as well as seeing how much further we can push the cooling before we start hitting cold bugs (most Bloomfields stopped operating around -90 to -100 degrees celcius).
Before we get into the testing, let's take a closer look at the hardware that we will be utilizing.
The Gulftown processor will be cooled with a Kingpin Cooling F1 Extreme LN2 Pot.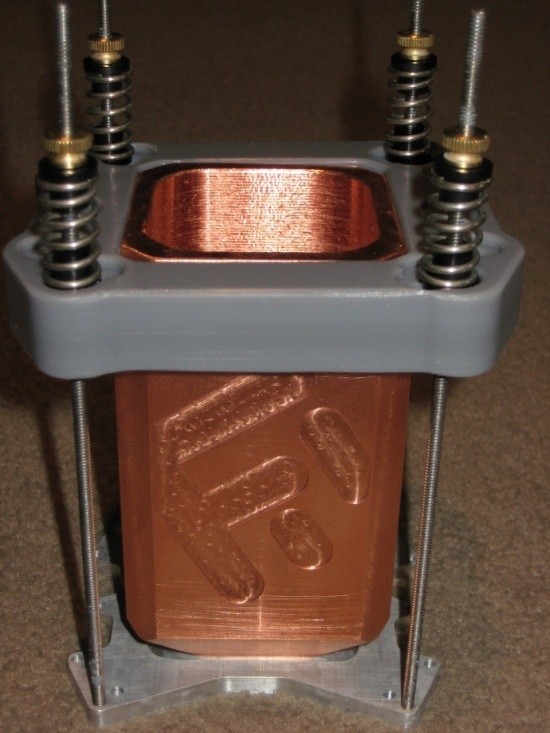 From GIGABYTE we will be using their new flagship motherboard, the EX58-UD7 as the platform for this article.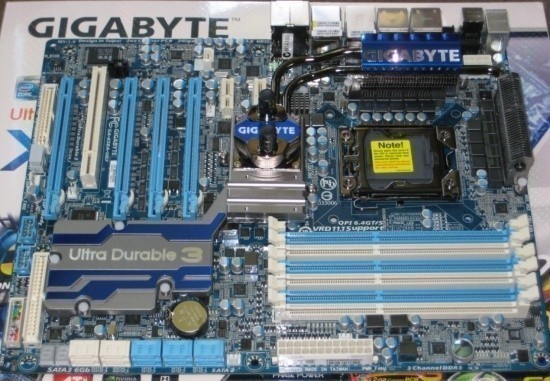 The graphics will be taken care of with a MSI reference 5870 cooled with a Kingpin Cooling Tek9 3.0 GPU Unit and one or two mods.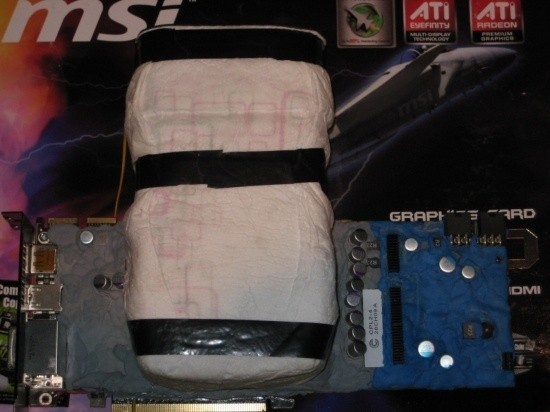 And powering all this is the new monster from Antec, the TPQ-1200-OC.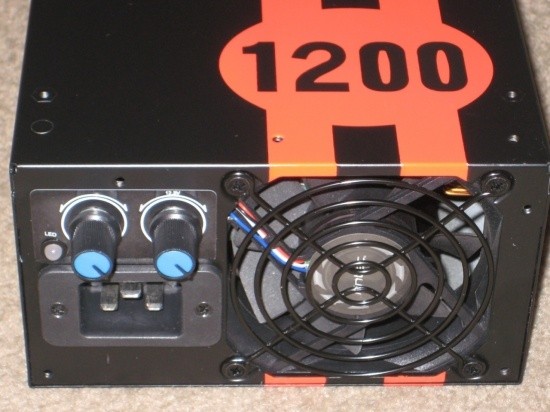 Extreme LN2 Overclocking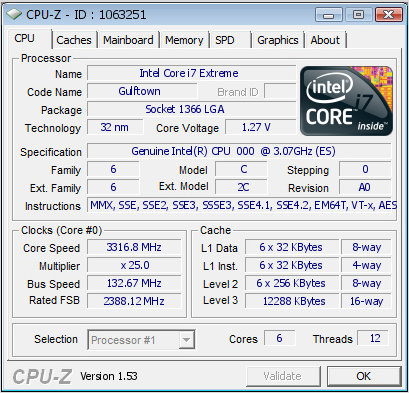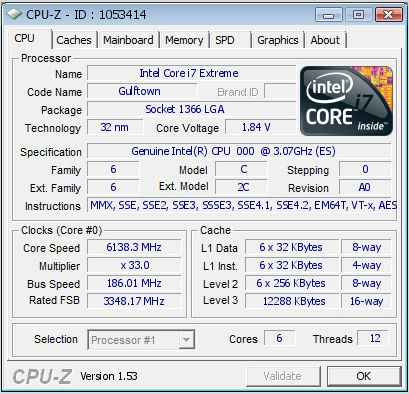 You can see the validation for the
CPU here
.
I've said it before, but what a monster! This thing makes short work of anything you throw at it. No matter what your means of cooling are, this is sure to impress. But if you can, get it sub-ambient as that really kicks it into top gear.
With a bit more time I'm sure there is a lot more to be gained out of this combo, but for now I've shown results at stock, 4, 5 and 5.5GHz with a max screen shot of 6138MHz.
As this is an unlocked CPU (multiplier), the ease in which it can be overclocked in Windows is staggering. Utilizing GIGABYTE's overclocking tool Easytune6 allowed me to do on the fly multiplier adjustments across all cores and threads within Windows.
Important Editor Note: Our maximum overclocking result is the best result we managed in our limited time of testing the motherboard. Due to time constraints we weren't able to tweak the motherboard to the absolute maximum and find the highest possible clock speed, as this could take days to find properly. We do however spend at least a few hours overclocking every motherboard to try and find the highest possible overclock in that time frame. You may or may not be able to overclock higher if you spend more time tweaking, or as new BIOS updates are released. "Burn-in" time might also come into play if you believe in that.
Test System Setup and SiSoft Sandra
Test System Setup
Motherboard
: Gigabyte EX58-UD7 (Supplied by
Gigabyte
)
Hard Disk
: Seagate XT 2TB (Supplied by
Seagate
)
Graphics Card
: MSI 5870 (Supplied by
MSI
)
Cooling CPU
: Dragon F1 Extreme Edition (
KINGPIN COOLING
)
Cooling GPU
: Tek9 3.0 GPU Unit (
KINGPIN COOLING
)
Power Supplie
: Antec TPQ-1200-OC (Supplied by
Antec
)
Operating System
: Microsoft Windows 7 64-bit
Drivers
: ATI Catalyst 10.3 Preview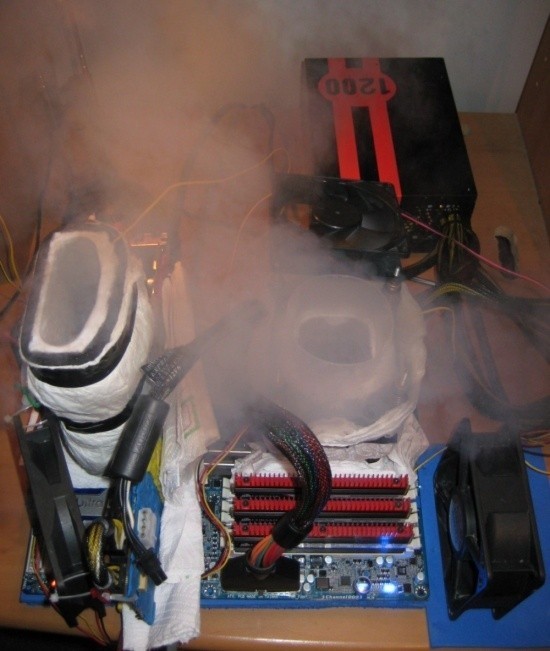 Unlike most test beds we will be utilizing LN2 to freeze the CPU. We will strap on a Dragon F1 CPU pot instead of the standard heatsink and fan.
I've also attached a pot to the video card for the last Vantage run.
SiSoft SandraVersion and / or Patch Used:
2009
Developer Homepage:
http://www.sisoftware.co.uk
Buy It Here
SiSoft Sandra (
S
ystem
AN
alyser,
D
iagnostic and
R
eporting
A
ssistant) is a synthetic Windows benchmark that features different tests used to evaluate different PC subsystems.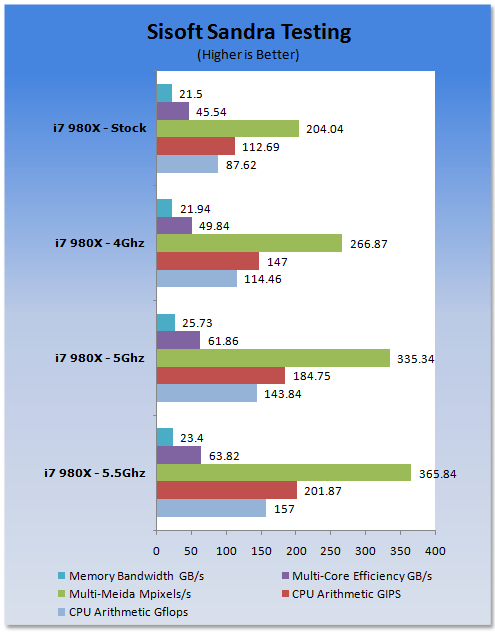 As one would expect, the CPU performed well here. The only noticeable thing to point out was I needed to adjust the B clocks for the 5 and 5.5GHz runs which had an effect on the memory speed dependant on the multiplier that was used. I will leave the memory bandwidth in this article, but note there was a variance in speeds for the last two steppings.
Benchmarks - wPrime
wPrime v1.55Version and / or Patch Used:
1.55
Developer Homepage:
www.wprime.net
Product Homepage:
www.wprime.net
Download It Here
W Prime is a benchmark that is utilized in the competitive realm of overclocking. It can be set to fully load all available cores and threads. Here we run version 1.55 as that is what all competitive results are based off.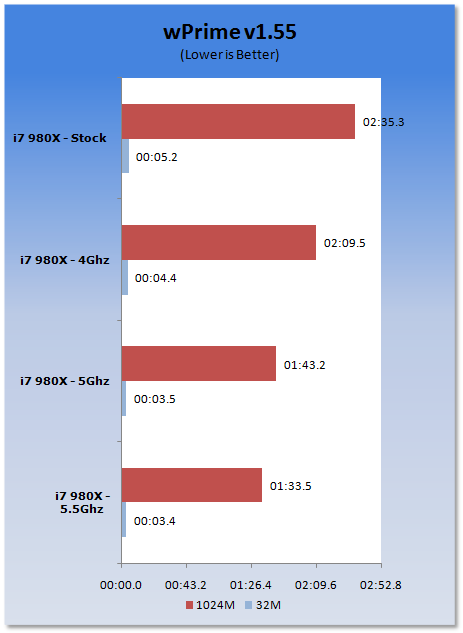 In a benchmark such as this the shear brute strength and the number of cores and threads available make very short work of this application.
Benchmarks - PCMark Vantage
PCMark VantageVersion and / or Patch Used:
1.0.0.0
Developer Homepage:
http://www.futuremark.com/
Product Homepage:
www.futuremark.com
Buy It Here
For overall system performance we use PCMark Vantage; this is run in both x86 and x64 mode to give the best indication of performance.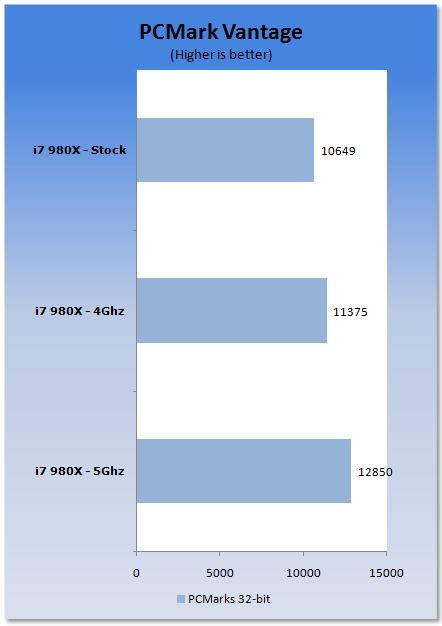 At 24 minutes a run this is not something that would often be used in conjunction with LN2, but here you can see it scaling with the added speed. I capped this at 5GHz due to the length of time and the amount of LN2 required to find the absolute maximum speed for this benchmark.
I also ran into another obstacle; the Seagate XT drive suddenly and without warning failed. Unfortunately it had a number of saved results including the 64-bit runs of the above benchmark. There is insufficient time to source a replacement and as the hard drive affects the end score, it is not suitable to substitute it with another.
Benchmarks - Cinebench R10 x64
Cinebench R10 x64Version and / or Patch Used:
R10
Developer Homepage:
http://www.maxon.net/
Product Homepage:
www.maxon.net
Download It Here
Cinebench is a synthetic rendering tool developed by Maxon. Maxon is the same company that developed Cinema4D, another industry leading 3D Animation application. Cinebench R10 tests your systems ability to render across a single and multiple CPU cores. It also tests your systems ability to process OpenGL information.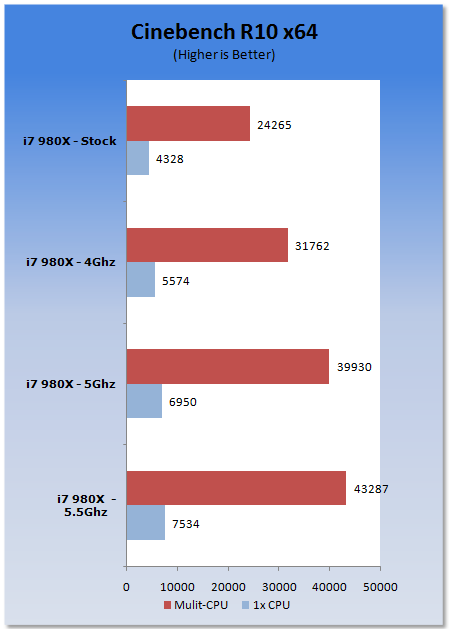 Again we see Cinebench scaling nicely with the added speed as well as a boost in performance in the multi-core test.
Benchmarks - 3DMark Vantage
3DMark VantageVersion and / or Patch Used:
101
Developer Homepage:
http://www.futuremark.com
Product Homepage:
http://www.futuremark.com/products/3dmarkvantage/
Buy It Here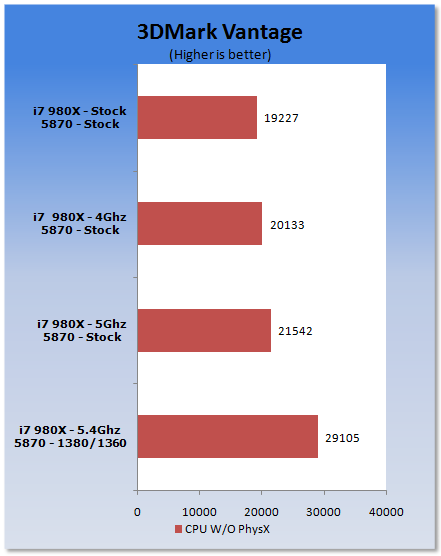 Stock settings were used on the graphics card until the last run where the CPU was set to 5.4GHz and the graphics card was run at 1380 core and 1360 memory while being cooled by liquid nitrogen. We also see a nice boost in the CPU tests over the older Bloomfield processors. The extra threads are being well utilized.
Final Thoughts
If unbridled performance is what you're after, this is the processor for you. It will make short work of even some of the most demanding multithreaded applications (software permitting). Even for a gamer that does not require as many cores/threads, this particular sample clocks extremely well, even on air. Gaming at speeds above 4.5GHz would be no challenge for it while still keeping voltages and heat in check.
It's nice to see an improvement in operational speeds at sub-ambient temperatures. This particular sample in combination with the hardware used has a cold bug of -144 with a cold boot bug on a hard reset of -108. While a lot better than most of the older Bloomfield processors which would bug out before hitting -100, there is still some ways to go before we see the same cold loving tendencies from the rivaling AMD processors.
Over the coming weeks when these processors become readily available there will be very few records that will not fall beneath it in the world of competitive benching. With the right sample, a large amount of liquid nitrogen and a fair bit of time, we will see a lot of benching at 6.5GHz or above and for the lucky few, possibly even 7GHz.
It is also troubling that during the making of this article the Seagate XT drive died completely; not something I expected after only two short months of limited use. Thankfully there was only a limited amount of data lost and could have been a lot worse had it been used as a storage drive.
Oh, and did I mention that this thing is a monster?!