Introduction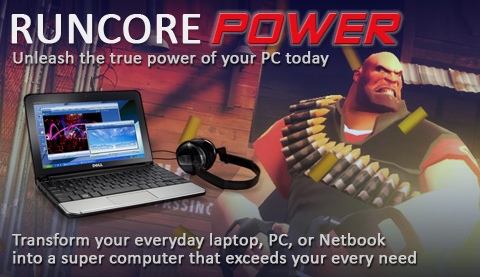 When we first tested the RunCore Pro IV solid state drives we had no idea that the Indilinx Barefoot firmware would be updated more often than your typical motherboards BIOS. Some people may be a little disheartened by this since it can be a pain to update firmware every couple of months, but for the most part enthusiasts welcome the additional features and with them performance advantages that come from the latest in technological achievements.
When it comes to firmware updates for solid state drives, the company that manufactured your drive DOES MATTER! While going back through my collection of drives to update them to the latest firmware, I found several manufacturers that either do not list publically new firmware updates or are so outdated that it isn't even worth the hassle. TweakTown has looked at more SSDs over the past year than any other hardware review site, so we have quite a few to play around with on any given day. The list of offenders is too numerous to publish without backlash from the industry, so before making your purchase do your homework and check out the manufacturers websites and forums for the latest news. In the future we will start adding manufacturer history to new drive reviews and make judgments on new products based on a manufacturers previous firmware performance.
Today we are going to take a RunCore Pro IV 256GB solid state drive that uses the Indilinx Barefoot controller. The RunCore Pro IV
wasn't the first Barefoot controlled drive we looked at
but it did arrive very early in the Barefoot's lifecycle. To this day I still feel that the Barefoot drives offer a tremendous performance to value ratio and with next generation drives hitting the market, the value portion of that statement is going to get even better. In the very near future we are going to see manufacturers start moving the Barefoot into the value product category and that is good news for those that have been holding out on a SSD purchase based on price. You are going to be able to get these drives for a very good price,
good enough to even consider running RAID 0
on a pair of them. But to run RAID you are going to want an updated firmware that will allow the drive to run clean up operations on its own, a term commonly referred to as garbage collection or self imposed garbage collection.
Firmware and Why it is Important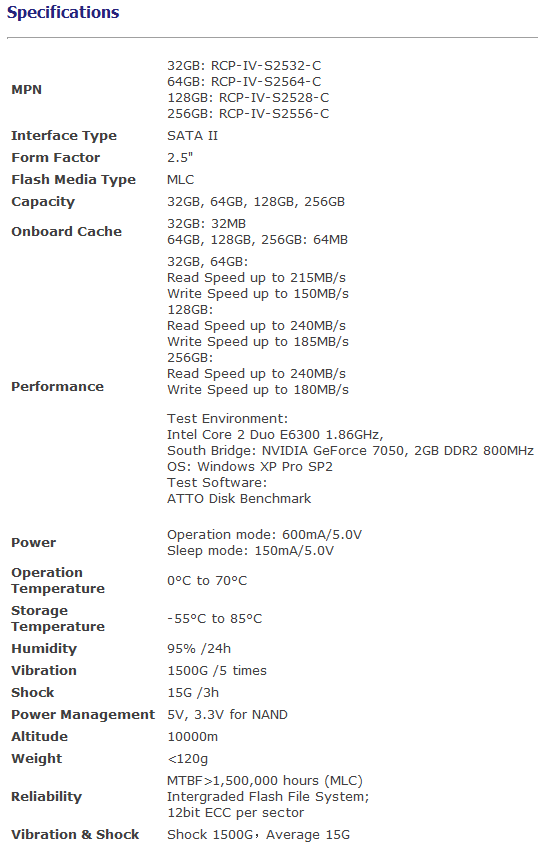 We all know how BIOS and drive updates are able to improve performance for products like motherboards and video cards. The same is true for solid state drives and then some. The updates for the Indilinx Barefoot line of products is equal to ATI coming up with a BIOS and driver update that will allow a DirectX 9 video card to be able to run DirectX 11 without a performance penalty. An achievement like this didn't happen overnight and when the controller was released no one really knew just how far it would come. Even as I write this Indilinx is looking at the firmware and planning even more changes while at the same time working on their next generation SATA 6G controller named Jet Stream.
Today we are looking at three major versions of Indilinx Barefoot firmware. The first was the firmware that came on our RunCore drive at the time of launch, 1571. The second version was released a few months ago and added support for Windows 7's TRIM command, 1819. Our final firmware tested in this article will be 1916, the Garbage Collection release. There have been other firmware releases for Indilinx Barefoot drives, but these are the major releases that added significant features that made them worthy of a full test in our Storage Product Testing Workstation.
When we first reviewed the RunCore Pro IV Series of drives the retail packaging was not completed, so let's go ahead and have a look at what is included in the final retail version. RunCore has manufactured several products based on the Indilinx Barefoot controller and they range from the 2.5" form factor drives like what we have been testing and spread all the way into products for use in specific netbook models where only a one off solution is adequate. Our sample RunCore Pro IV made its way to our test lab through My Digital Discount, the US distributer for RunCore. My Digital Discount is more than just a distributer, the company's owner Matt Dawson is also an investor in RunCore and their Public Relations Director. My Digital Discount also carries solid state drives for netbooks and even products from other manufacturers like OCZ Technology.
The RunCore Pro IV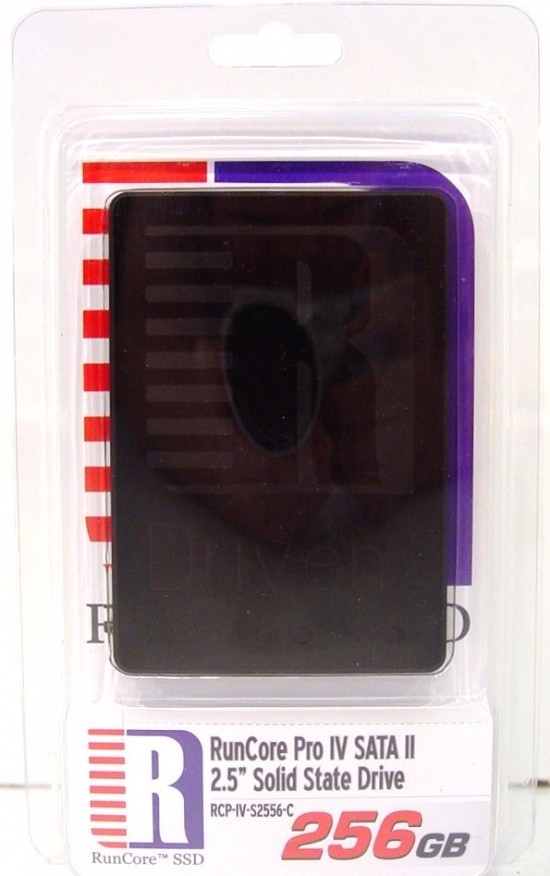 It is always fun to go back and look at a product after a review to get the rest of the story. When we first reviewed the Pro IV it was with drives that just rolled off the factory floor and the package and accessories were just coming out of the design stage.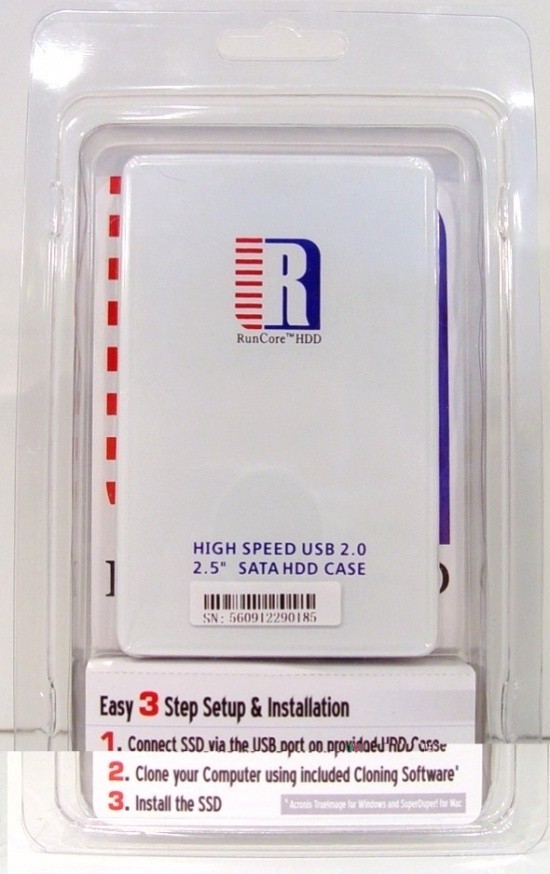 In our first review we noted that RunCore would ship their final product with an external USB enclosure so you could easily clone your current drive and not need to reinstall Windows and go through that hassle. Here we see that the enclosure was included in the retail package.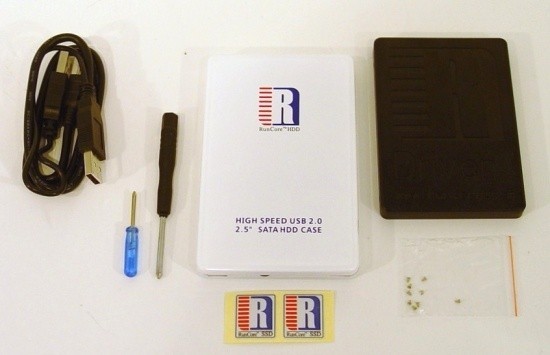 Along with the drive enclosure RunCore also includes a USB cable, screws and even a set of screw drivers that will have you up and running in little to no time.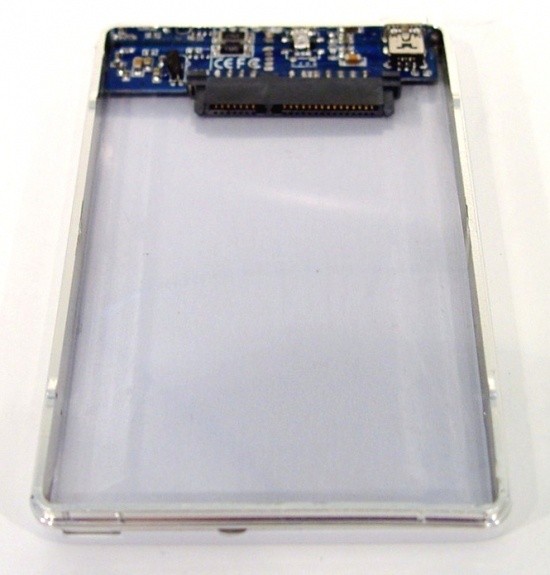 Here we see that the enclosure uses a simple circuit board, but is effective in getting the job done.
Let's get to the heart of the subject and look at the firmware update process.
The Firmware Update Process
There are a couple of paths that you can choose to update your RunCore Pro IV or other Indilinx Barefoot controlled drive. Many manufacturers have made a simple bootable CD ISO image that will let you update the drive with little interaction with the system. Sometimes you really don't want to burn a CD just to update one drive, pun intended, and if that is the case there is always the old tried and true floppy drive method like how we used to update motherboard BIOS files. One of the more popular ways is with a thumb drive.
I chose to use the Thumb Drive process since I have a dedicated thumb drive that is used exclusively for booting to a clean DOS environment. You can find all of the files and instructions for making a USB to DOS thumb drive
here
.
It should be noted that you will need to enter your BIOS and change your settings to IDE for the controller that your drive is attached to. When finished be sure to move the settings back to AHCI before booting into Windows. More information can be found in our
Solid State Drive Optimization Guide
.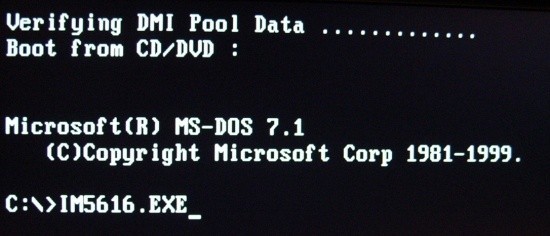 RunCore has published a document that walks you through the update process. In it you will find that each drive based on capacity and memory type uses a different file to update the drive. Our drive uses 256GB of Samsung flash so our executable was the IM5616.exe.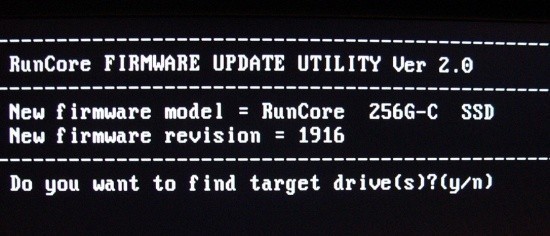 Once the software is started you can confirm that the new firmware is what you are looking for and simply press Y to move along.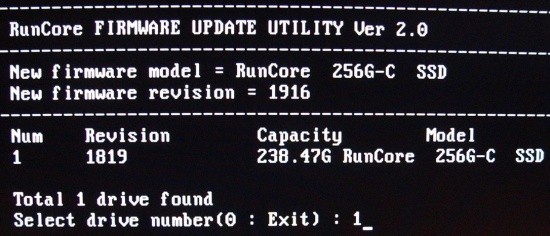 Once the correct drive has been identified you press the number of the drive you would like updated and let the software go to work.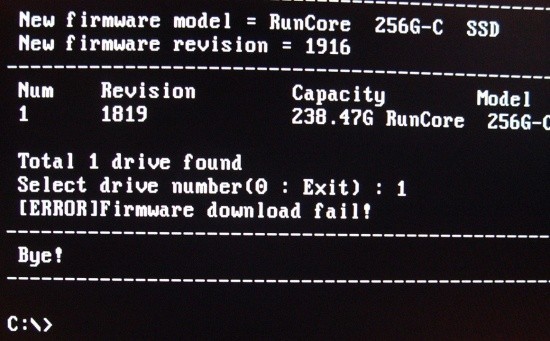 We have updated several Indilinx Barefoot drives and in only one case the software confirmed that the drive was updated successfully. In every other case the software reported a failure. After loading the drive back into a Windows environment we found that the drive was updated successfully even though the software read failure. If you receive a failure notice there is little reason to start running around like your hair is on fire, just take a deep breath and confirm the firmware in Windows with Crystal Disk Information.
Test System Setup
Test System
Motherboard
: Gigabyte X58A-UD7 (Supplied by
Gigabyte
)
Processors
: Intel 975 EE (Supplied by
AVADirect
)
Memory
: Corsair Dominator 1600 MHz Triple Channel Kit
Graphics Card
: Leadtek Quadro FX1700 (Supplied by
Leadtek
)
Enclosure
: Lian Li V2000
Cooling
: Noctua NH-U12P SE2 (Supplied by
Noctua
)
SAS Controller
: LSI MegaRAID SAS 9260-8i (Supplied by
LSI
)
Operating System
: Microsoft Windows 7 Ultimate X64
You can read more about TweakTown's Storage Product Testing Workstation and the procedures followed to test products
in this article
.
Today we are looking at the RunCore Pro IV solid state drive with three revisions of Indilinx Barefoot firmware. Over the last year Indilinx and their partners have worked very hard in getting the best performance and features built into their products.
It is important to remember the features that were implemented with each firmware revision tested and what they do. The 1819 FW added support for Windows 7 TRIM while the 1916 added onboard garbage collection. The entire time Indilinx has kept with their 64 MB of cache and with each new feature the demand on the drives cache system is increased and more of it is dedicated to other tasks like keeping track of the files you have deleted. Garbage collection is a process intensive task and takes place when the drive is sitting idle.
If you are running your drives in a RAID array garbage collection is the only way to keep performance at peak since the TRIM command cannot be sent to each drive at this time.
Benchmarks - HD Tune Pro
HD Tune ProVersion and / or Patch Used:
4.00
Developer Homepage:
http://www.efdsoftware.com
Product Homepage:
http://www.hdtune.com
HD Tune is a Hard Disk utility which has the following functions:
Benchmark: measures the performance
Info: shows detailed information
Health: checks the health status by using SMART
Error Scan: scans the surface for errors
Temperature display
HD Tune Pro gives us accurate read, write and access time results and for the last couple of years has been gaining popularity amongst reviewers. It is now considered a must have application for storage device testing.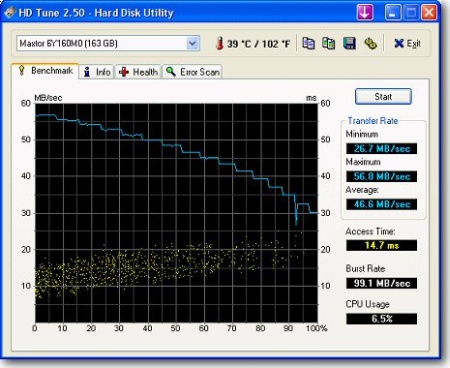 Read Tests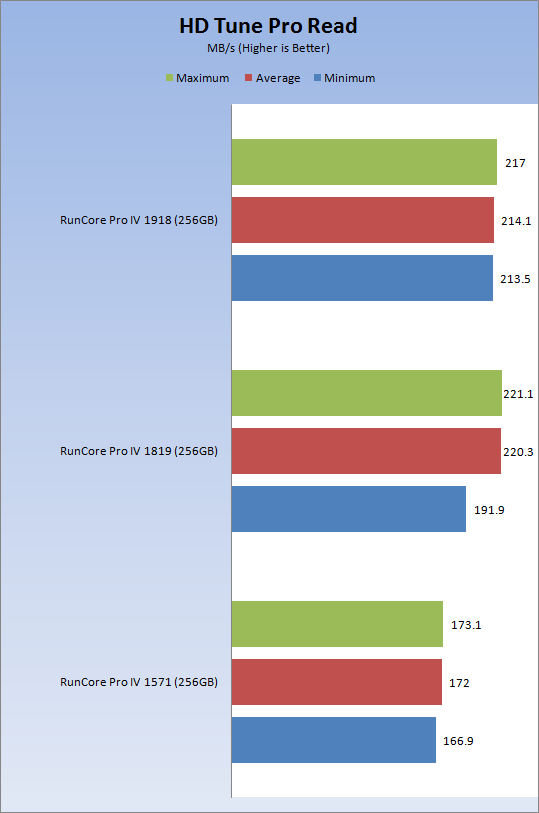 Here we see that the performance increased by a sizable margin with the 1819 firmware. 1918 lowered overall read performance by a small margin, but added onboard garbage collection so you will reach the highest levels of performance faster as regeneration occurs faster from a wear state.
Write Tests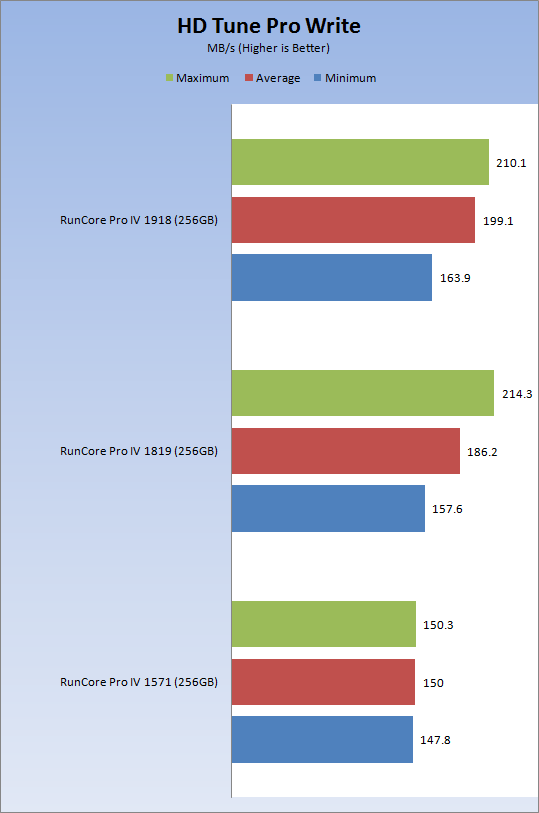 The write performance has increased steadily through the firmware revisions. Here we see that the 1916 writes even faster than the 1819.
Benchmarks - Everest Random Access Time
Everest Random Access TimeVersion and / or Patch Used:
4.60
Developer Homepage:
http://www.lavalys.com
Product Homepage:
http://www.lavalys.com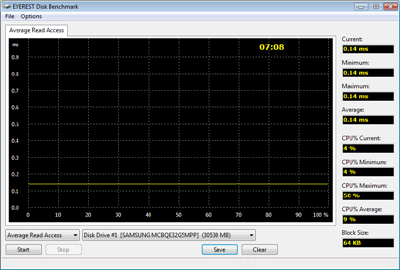 Everest Ultimate and Corporate Edition offer several different benchmarks for testing and optimizing your system or network. The Random Access test is one of very few if not only that will measure hard drives random access times in hundredths of milliseconds as oppose to tens of milliseconds.
Read Tests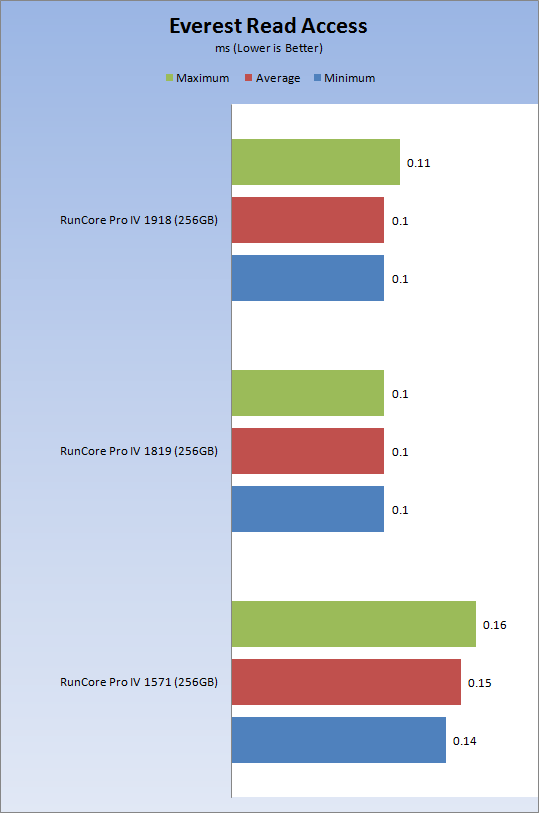 The read access time dropped quite a bit with the 1819 release and stayed steady with the latest release.
Write Tests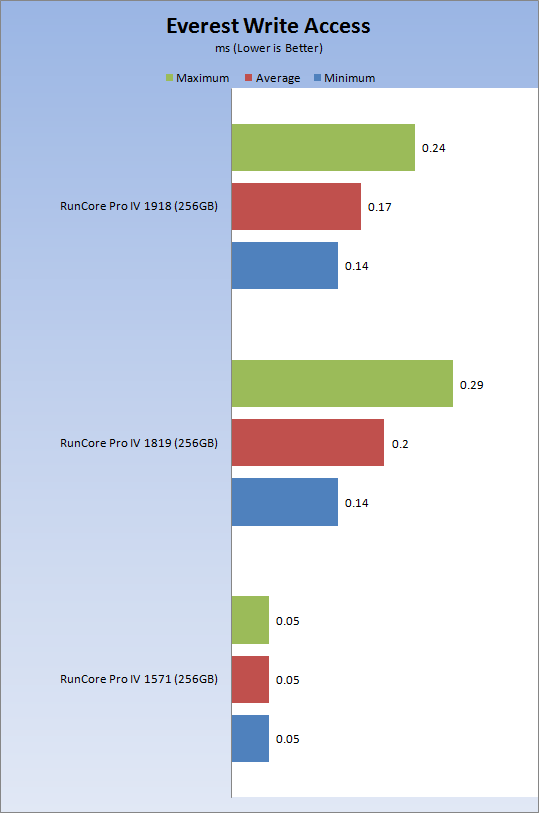 The latest features have taken a small toll on the write access times, but the latest 1916 firmware did start to lower these on average.
Let's see how all of these synthetic benchmarks relate to real world applications.
Benchmarks - PCMark Vantage Hard Disk Tests
PCMark Vantage - Hard Disk TestsVersion and / or Patch Used:
1.0.0
Developer Homepage:
http://www.futuremark.com
Product Homepage:
http://www.futuremark.com/benchmarks/pcmark-vantage/
Buy It Here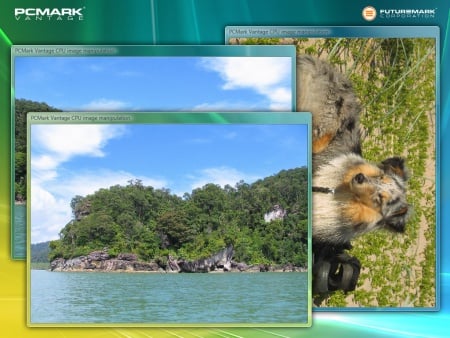 PCMark Vantage is the first objective hardware performance benchmark for PCs running 32 and 64 bit versions of Microsoft Windows Vista. PCMark Vantage is perfectly suited for benchmarking any type of Microsoft Windows Vista PC from multimedia home entertainment systems and laptops to dedicated workstations and high-end gaming rigs. Regardless of whether the benchmarker is an artist or an IT Professional, PCMark Vantage shows the user where their system soars or falls flat, and how to get the most performance possible out of their hardware. PCMark Vantage is easy enough for even the most casual enthusiast to use yet supports in-depth, professional industry grade testing.
FutureMark has developed a good set of hard disk tests for their PCMark Vantage Suite. These tests are based on real world applications that many of us use daily.

HDD1 - Windows Defender
HDD2 - Gaming
HDD3 - Windows Photo Gallery
HDD4 - Vista Startup
HDD5 - Windows Movie Maker
HDD6 - Windows Media Center
HDD7 - Windows Media Player
HDD8 - Application Loading
Typical users running Windows 7 will find this set of benchmarks the most beneficial for determining how a drive will perform in their system. What Vantage doesn't show us is how a drive will perform in a used or "dirty" state. At the time of the Vantage tests each drive has been tested in a number of prior tests that move the drives into a condition that is similar to what an average user would find their solid state drive after a couple hours of medium duty use.
Here we see that 1819 increased the performance in many tests over the first release, 1571. The 1916 release shows a slight performance decrease when compared to the 1819, but giving up a small amount of performance in a snapshot means you will increase your average performance since the drive is able to scrub the data clean faster.
Benchmarks - Passmark
Passmark Advanced Multi-User TestsVersion and / or Patch Used:
6.1
Developer Homepage:
http://www.passmark.com
Test Homepage:
http://www.passmark.com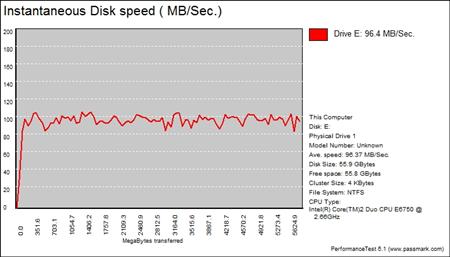 Many users complain that I/O Meter is too complicated of a benchmark to replicate results so my quest to find an alternative was started. Passmark has added several multi-user tests that measure a hard drives ability to operate in a multi-user environment.

The tests use different settings to mimic basic multi-user operations as they would play out on your server. Variances is read / write percentage as well as random / sequential reads are common in certain applications, Web Servers read nearly 100% of the time while Database Servers write a small amount of data.
The Workstation test is the only single user environment and will be similar to how you use your system at home.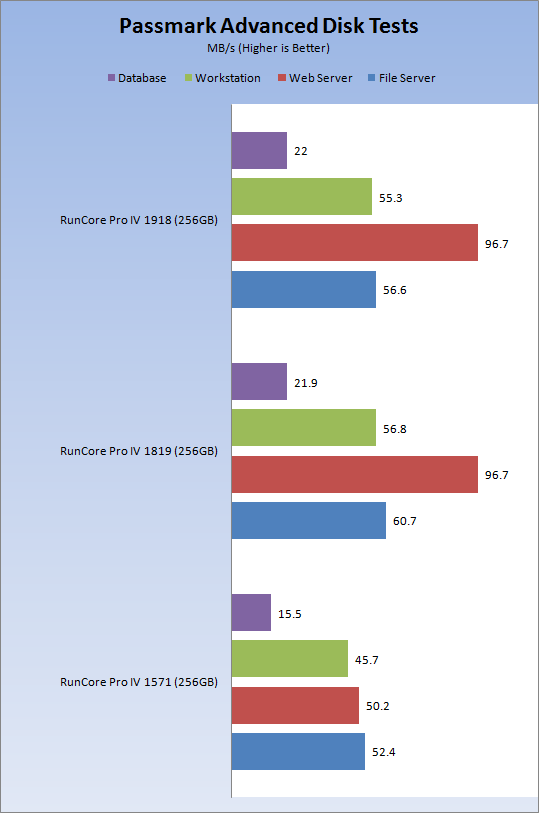 One area that I have observed a high variation in performance with the Indilinx Barefoot firmware revisions was the Web and File Server Tests. The first time I noticed near 100MB/s results in the File Server Test, I needed to run it again to verify what I was seeing.
For the most part performance has stayed steady from the 1819 firmware to 1916. Both perform much faster now than the 1571 firmware that we tested with back in May.
Since most file, web and database servers run in parity RAID like RAID 5 or 6, the latest garbage collection firmware would allow the drives to stay close to out of the box performance with the 1916 firmware.
Final Thoughts
A lot has happened with Indilinx Barefoot drives since we started taking a look at them in early 2009. Adding the TRIM command was only the first step in the evolution, but at the same time Indilinx was able to increase the performance of their products and make them a contender to Intel's X25-M drives. The newest 1916 firmware enables an onboard garbage collection system like that found on the Samsung drives and gives users of RAID arrays the possibility of keeping the same high level of performance they had out of the box.
As we saw today, adding a new cutting edge feature doesn't always equate to an immediate performance improvement in snapshot benchmark tests. The PC Mark Vantage test is a prime example in how some performance may be sacrificed for the overall good of the drive for long term use. For me I would rather have a drive that loses a few benchmark points but runs faster under real world conditions for the long haul.
For many users the long term performance is what has been lacking with solid state drives. Firmware 1916 has brought Indilinx Barefoot drives like the RunCore Pro IV to a point where mainstream adaption can be wide spread without disappointing users three to six months after their purchase. Most mainstream users know little about how a solid state drive works or even the tools used to keep them running at out of the box speeds. To put it simply, they don't care and wouldn't want to deal with the hassles involved with early SSDs. Recently I installed a 128GB Indilinx Barefoot SSD in my mother-in-laws two year old Toshiba notebook that is used mainly for her final stages of becoming a doctor. I can rest knowing that the email stating that her notebook is "running slow again" will be several months to a year away since she has the latest 1916 firmware installed on her drive. Her initial impressions of solid state technology were filled with quite a bit of gratitude to say the least. This is typical for users moving from traditional platter based drives to SSDs as the performance across the board is truly amazing, but in the past keeping that same level of jaw dropping amazement came at the cost of running software tools that kept them out of mainstream computers.
Now that the firmware has allowed Indilinx Barefoot drives to become user friendly and next generation drives will lower the cost, it will be easier for mainstream users to move to higher capacity solid state drives. The Intel X25-M drives offer higher performance but the 80GB capacity limit on the 200+USD drive is a tough pill to swallow for notebook users, a growing number of users for the last ten years. Indilinx Barefoot drives are now hitting the 300 USD mark for 128GB, a price that many consumers limit their component spending to per products. How low will Barefoot drives go, only time will tell, but to stay competitive with next generation drives like the RunCore Pro V and Crucial RealSSD C300, there will need to be reductions in cost and those are coming up very quickly.
If you are interested in reading over every detail of the Indilinx Barefoot change log from each firmware release,
this is a really good document
to look over.