Future ATI Catalyst Drivers - Why you should be excited!
Today we give you a peek at what to expect from the next two sets of Catalyst drivers, the 10.2s and 10.3s.
Published Tue, Feb 16 2010 10:58 PM CST
|
Updated Tue, Nov 3 2020 7:02 PM CST
Introduction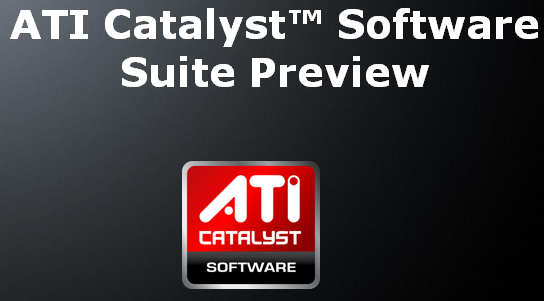 Last month I was a bit harsh on the Catalyst driver suite; they felt a bit rushed and while we don't blame ATI and its driver team for taking time off over the holidays, I got the feeling that the 10.1 driver was only released to keep up with the monthly releases that ATI have been committed to for the past few years.
In saying that, it wasn't a bad driver. It did have a few bug fixes, but outside of that we didn't really see much else. Does the fact that the driver only had a couple of bug fixes warrant a new version? To be honest, if you're playing one of those games and experienced the bug that was present which is now fixed, then yes! It means that you can enjoy what you're playing now and not two, three or four weeks down the track.
In the January Catalyst drivers I made a note that Terry Makedon said on Twitter "10.1 is just a standard release to fix up some bugs, but 10.2 and 10.3 will indeed have some major new features".
To be honest, I was a bit skeptical that "Major New Features" were going to be a bit of marketing fluff. However, I'm here today to tell you it's not. ATI are introducing what they call the 1-2 Punch for the Catalyst 10.2 and 10.3 driver set. Today we're going to run through the new features the next two sets of drivers are going to offer and show why you should be excited about owning an ATI based graphics card.
10.2 New Features
CrossFire Profiles
One of the first features that will be implemented into the 10.2s is that CrossFire profiles will now be removed from the 3D Driver and be in a separate update. The idea behind this is that if a new game comes out, the team at ATI can knock together a profiles update so that CrossFire performs at its peak sooner rather than later.

While the team at ATI already work hard at this, the idea is you'll not have to wait up to a month for the CrossFire performance boost. If we go into a busy stretch of games, it's more than possible that we could see the profiles updated multiple times in a single month.
So while it's not a new feature as such, ATI are reworking the way they do it to make gaming faster and more enjoyable for its CrossFire users sooner rather than later which is fantastic for anyone who has spent the money on an expensive CrossFire or CrossFireX setup.
CrossFireX re-architecture
This is a bit of a funny one. While the technology will be implemented now, it's not something that you'll find yourself using anytime soon. None the less, it's still an important introduction.
The idea behind the redesign of the CrossFireX architecture is that when the new Fusion based APU's come out, users will be able to (hopefully) combine the IGP with a discrete video card.
There's so much more to it, though. ATI will be pulling the Multi-GPU code from the driver and making its own component which is all part of the redesign of it. It's clear that the focus in the future is to take CrossFire to the next level when it comes to performance.
CrossFire Eyefinity

While we've seen it for a while, the 10.2 release will mark official support for the technology. What it does is fairly obvious; it now gives users the ability to run Eyefinity with a CrossFire or CrossFireX setup, letting you enjoy the power that a Multi-GPU setup gives on a multi monitor setup.
10.2 New Features - Continued
Ultra Low Power State
While something that will only cater to CrossFire and CrossFireX users, the idea behind this is that the second card will go into what ATI are calling a "Very Low Power State". When we're just moving around the desktop and not in games, our cards are already in a Low Power mode; this really takes it to the next level with bringing down the power of the cards outside of the main one.

This will automatically be enabled in Windows 7 and Windows Vista and you won't know that it's happening unless you look at your power draw. If you're using a CrossFire or CrossFireX setup, the chances are you're not going to be all that fussed by the feature, but it's no doubt nice to see that ATI are working towards making the technology better in one way or another.
DisplayPort Audio
This is something quite self explanatory really. If you're using a monitor that offers DisplayPort and speakers, you'll be able to get audio through the speakers with the DisplayPort connector.
Again, it's not a major development, but just another way of making things a bit better. While DisplayPort on a whole hasn't really taken off, it's clear that it will become the replacement for DVI in the future. There's nothing wrong with ATI jumping on the bandwagon early and implementing the technology now rather than later.
10.3 New Features - Continued
Catalyst Mobility
This is something that's really cool for laptop users. From March you'll be able to enjoy all the benefits that desktop users get with monthly updated drivers. In saying that, not every laptop user will be able to use the driver.
Let me just give you a quick rundown about this. For starters, this isn't something new; ATI tried this a while ago, but the way they approached it was different. Last time they went down this path of emailing a bunch of laptop manufacturers. What they did was ask if they wanted to be a part of the monthly laptop drivers. The problem was that most companies didn't really get back to them and the feature / idea never took off.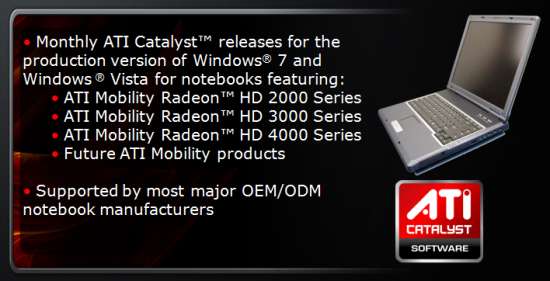 This time ATI thought they'd just tell everyone that they're adding them and if they didn't want to be part of it, to let them know. What this means is that just about everyone is a part of it. The only manufacturers that aren't are Sony, Toshiba and Panasonic. While a bit disappointing, this is in no way ATIs fault.
This is a great feature for ATI Mobility users, especially ones in the higher end segment who do game on their laptop and I suppose it becomes another reason why you might buy an ATI video card based notebook over an NVIDIA or Intel one.
3D Stereoscopic support
While ATI won't be offering their own 3D support like NVIDIA does with its 3D Vision, they will be updating their D3D driver to enable 3rd party middleware vendor support such as iZ3D. They'll be able to offer support for 120 Hz screens and output 60 Hz per eye.
ATI have said they don't want to lock users into only one option like NVIDIA do with 3D Vision. This isn't the first time we've seen ATI say this; in the past they said how they didn't want to lock users into an ATI branded only physics support like NVIDIA do with PhysX.
10.3 New Features - Continued
Eyefinity Bezel Correction
We've wanted it since the release of Eyefinity and now it's here. Due to the bezels on a monitor, an image that's on any form of an angle doesn't line up. The idea behind bezel correction is that you're able to add more pixels to your display to compensate for the bezels.
Now, in Windows this is something that probably won't really interest you or that you'll notice, because really you shouldn't have anything that spans across the multiple monitors. Instead, each monitor will have its own windows. For example, right now I have my word doc on the middle monitor, 1-2 punch power point presentation on the left and Terry Makedons message about the Catalyst preview along with some emails about the drivers on the right.
Because nothing spans across a bezel, I don't need any correction. When I get into a game, though, and I deal with many angled items, they don't line up. With the Bezel Correction running, I adjust a triangle to the point where it lines up perfectly. What this results in is a new resolution.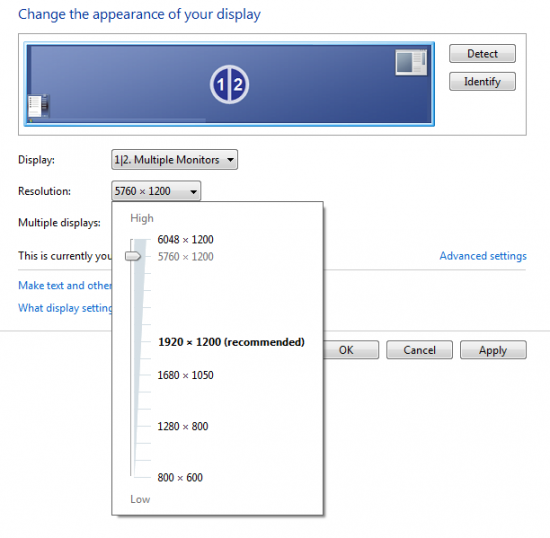 In Windows I now have the option to go from 5760 x 1200 to 6048 x 1200. What the bezel correction process did is add 288 pixels to accommodate for the bezels in my three monitor setup.
When you get into games you'll now have an option to select the standard resolution; in my case 5760 x 1200, along with the new Bezel Correction resolution of 6048 x 1200. If you want to accommodate for the bezels, you select the latter resolution; if not, you select the standard one.
On a whole it's something that's quite difficult to explain unless you really use the technology. To give you an idea, though, if you look at the image below, the first one has the Bezel Correction (6048 x 1200) while the second one doesn't (5760 x 1200).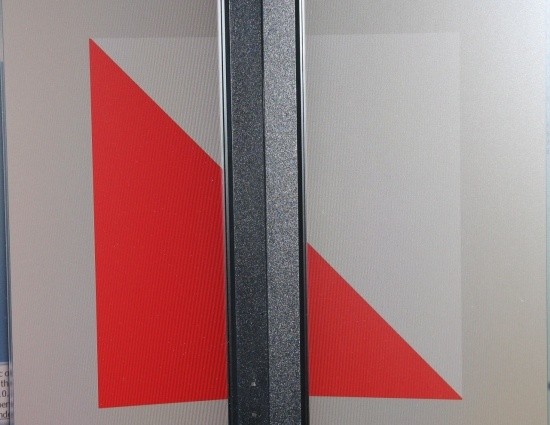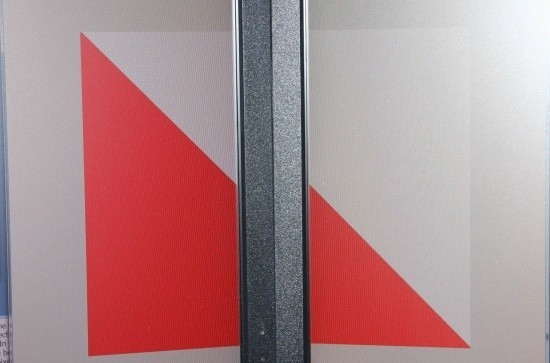 What essentially happens is you can hide things behind the bezels as there are pixels there. The way it all works is pretty cool and a feature that really needed to be added.
10.3 New Features - Continued
Eyefinity Per Display Color Controls
Another Eyefinity option. Like some of the other features, though, it's quite self explanatory. From the 10.3s you'll be able to adjust the color settings like color, brightness and contrast of each monitor.
In the event you've got all the same monitors, this isn't really an issue. If you're using different monitors, this is a great little feature that will no doubt be useful in making sure all your monitors look as close to each other as possible.
Eyefinity Multiple Groups
Profiles are again something that people have been asking for; from the 10.3s you'll be able to run multiple groups and switch between them with ease. From a productivity stand point this is great for people in offices, as you can switch between a span setup, clone one, disable two monitors and more.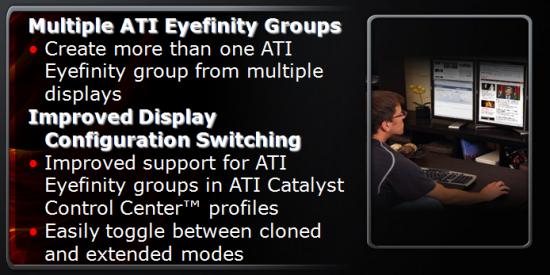 For me, I imagine this would be a great feature for someone with six monitors who likes to game on them. The problem is when you go to play something with a crosshair like a first person shooter, a six monitor setup becomes awful due to the bezels in the middle. What you could do, however, is set up one profile that has your six monitors in span mode and a second profile that disables the top three monitors and makes the bottom three go into span mode so when you fire up an FPS game your crosshair sits nicely in the middle with no interruptions.
Eyefinity Display Configuration Switching
This is really just an expansion of the above feature with you now having the ability to easily toggle between cloned and extended modes and your different profiles. There's really not much more to the feature.
Final Thoughts
While ATI are offering a large array of new features, there's no doubt that not all users will be able to get the advantage of them. The 10.2 driver seems to suit users of CrossFire while the 10.3 driver set is mainly for Eyefinity users and people who have a laptop that has an ATI based graphics card.
In saying that, we're sure that both releases will of course carry with them the normal array of bug fixes for games, be it for use with a single card or more. Also, hopefully we'll see a little bit of a performance jump here or there in some games as well.
Outside of that, though, there are really some fantastic developments happening in the Catalyst drivers. As an Eyefinity user myself, I'm excited about other Eyefinity users getting the chance to make use of some of these fantastic features on offer and for someone who does use CrossFireX, I'm excited about the features that the 10.2 will offer as well.
What this 1-2 Punch preview shows us is that ATI listen to us. They've added the features we want and to be honest, they've done it quite quickly with Eyefinity not being out for all that long.
CrossFire has improved drastically since its release, but it's clear that ATI want to take the technology to the next level and it's clear they're working on it now and preparing the technology for the future.
PRICING: You can find products similar to this one for sale below.

United States: Find other tech and computer products like this over at Amazon.com

United Kingdom: Find other tech and computer products like this over at Amazon.co.uk

Australia: Find other tech and computer products like this over at Amazon.com.au

Canada: Find other tech and computer products like this over at Amazon.ca

Deutschland: Finde andere Technik- und Computerprodukte wie dieses auf Amazon.de