DiRT2 DirectX 11 ATI Radeon HD 5000 Series Comparison
The DiRT2 demo is out and we take the built-in benchmark for a spin with the whole DX11 ATI lineup and see what's what.
Published Tue, Dec 1 2009 7:52 PM CST
|
Updated Tue, Nov 3 2020 7:03 PM CST
Introduction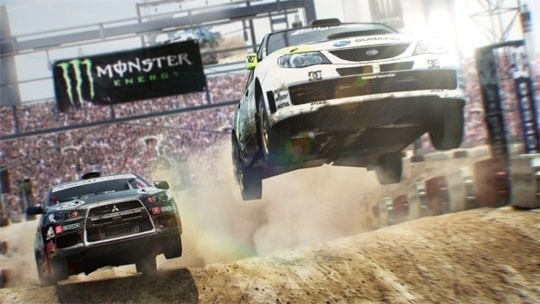 DiRT2 is one of the biggest games of the year for ATI with it being a major DirectX 11 launch title for the company. With the red team raving about it, we take the time to find out how the game runs.
We're not just going to have a look at how the game handles the Radeon HD 5970 and HD 5870, we're going to go through the whole HD 5000 series starting at the HD 5750 to see what's going on with these new DirectX 11 video cards and DiRT2.
The next page will tell you the test system we're using and will also give you a bit more detail on the exact video cards we'll be using today.
We'll then get stuck into benchmarking the game at a number of resolutions to see how each video card performs at different resolutions. So let's not delay, jump over to the next page and see what's going on with DiRT2.
Test System Setup and Benchmarking at 1680 x 1050
Test System SetupProcessor(s):
Intel Core i7 920 @ 3.8GHz (190MHz x 20)
Cooling:
Noctua NH-U12P (Supplied by
Noctua
)
Motherboard(s):
GIGABYTE EX58-UD5 (Supplied by
GIGABYTE
)
Memory:
3 X 2GB Kingston Hyper X PC3-16000 2000MHz DDR CL9 (Supplied by
Kingston
)
Hard Disk(s):
Western Digital 640GB SATA 2.0 HDD (Supplied by
Western Digital
)
Operating System:
Windows 7
Drivers:
ATI Catalyst 9.11 and AMD Catalyst Hemlock Beta Driver
As we mentioned we'll be using the whole ATI Radeon HD 5000 series line up to test the DX 11 capabilities of DiRT2. We'll be starting with the Gigabyte HD 5750 and going to the Sapphire HD 5770.
Moving up higher in the chart we'll be checking out how the game performs with the HIS HD 5850 and Sapphire HD 5870 before we round it all off with the dual GPU video card that is the HD 5970 from Gigabyte.
We'll be testing the game at 1680 x 1050, 1920 x 1200 and 2560 x 1600 in a combination of the high and ultra preset. Depending on the power of the video card will depend on what resolution we test up to when ultra mode is selected.
DiRT2 at 1680 x 1050Version and / or Patch Used:
Demo
Developer Homepage:
http://www.codemasters.com
Product Homepage:
http://au.codemasters.com/games/index.php?gameid=2958/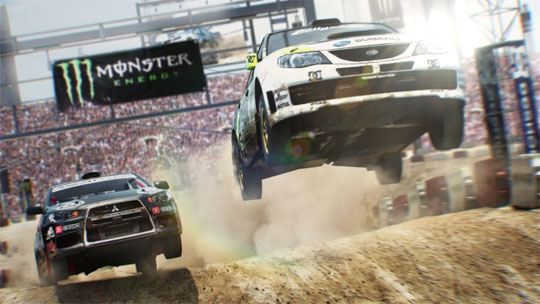 Colin McRae: DiRT 2 features a roster of contemporary off-road events, taking players to the most diverse and challenging real-world environments. This World Tour has players competing in aggressive multi-car and intense solo races at extraordinary new locations, from canyon racing and jungle trails to city stadium-based events.
Powered by the third generation of the EGO Engine's award-winning racing game technology, Colin McRae: DiRT 2 benefits from tuned-up car-handling physics system and new damage engine effects. It also showcases a spectacular new level of visual fidelity, with cars and tracks twice as detailed as those seen in Race Driver: GRID.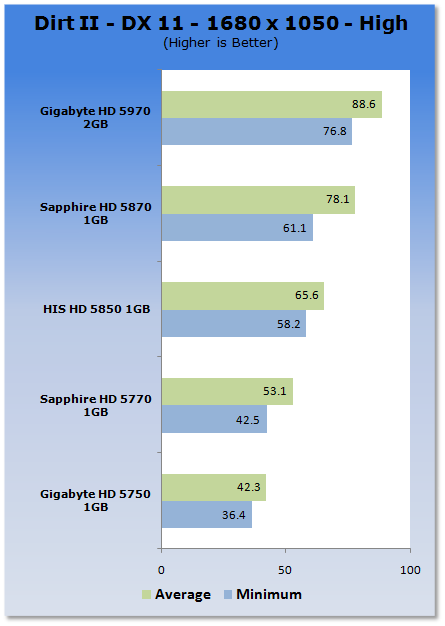 We can see that the HD 5750 doesn't struggle to get over 30 FPS in the minimum department, which means none of our other cards that sit above it run into any trouble.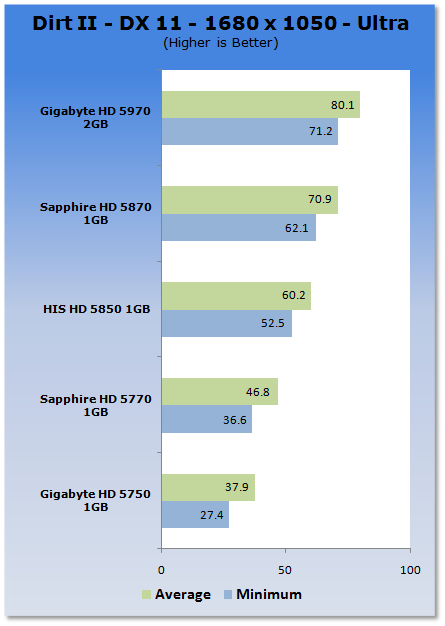 Changing to the Ultra preset we can see that the HD 5750 minimum falls below the 30 FPS minimum that we require. Fortunately the HD 5770 is able to break it, which means that the models above it also don't have any trouble breaking the important 30 FPS minimum.
Benchmarking at 1920 x 1200
DiRT2 at 1920 x 1200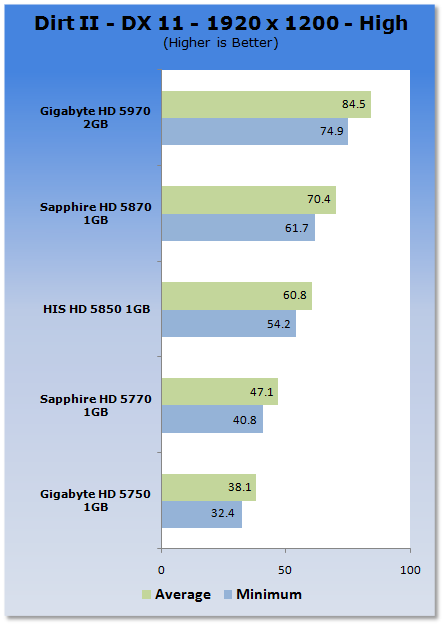 While the HD 5750 struggled at Ultra when testing at 1680 x 1050 if we move back to high and bump the resolution we can see that it doesn't run into any problems breaking that 30 FPS minimum.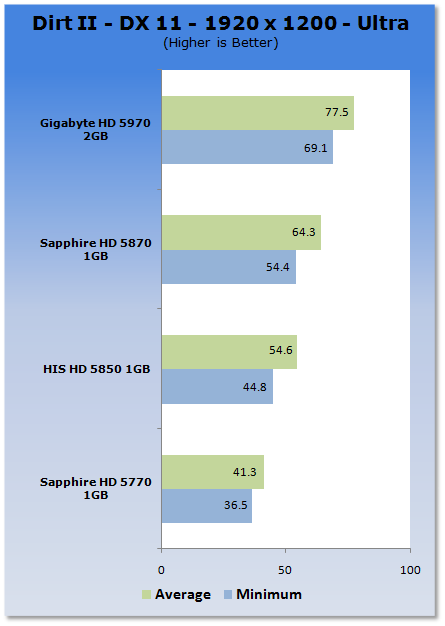 Staying at 1920 x 1200 though but moving to the Ultra preset, we can see that the HD 5770 manages to perform well under here. As you can see though, as we increase the power on offer, we move further and further away from that 30 FPS minimum.
Benchmarking at 2560 x 1600
DiRT2 at 2560 x 1600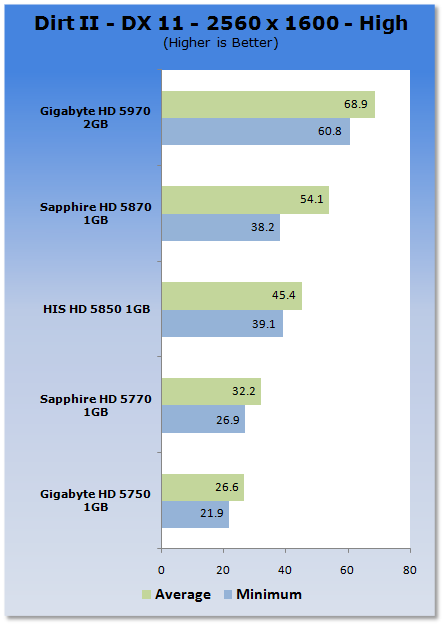 As soon as we move up to 2560 x 1600 the HD 5800 series of models come into play as we can clearly see the HD 5700 struggles at this high resolution on the high preset. While there's little difference between the minimum of the two HD 5800 series cards, we can see that the HD 5870 does pull in a much higher average that equates to about a 20% increase.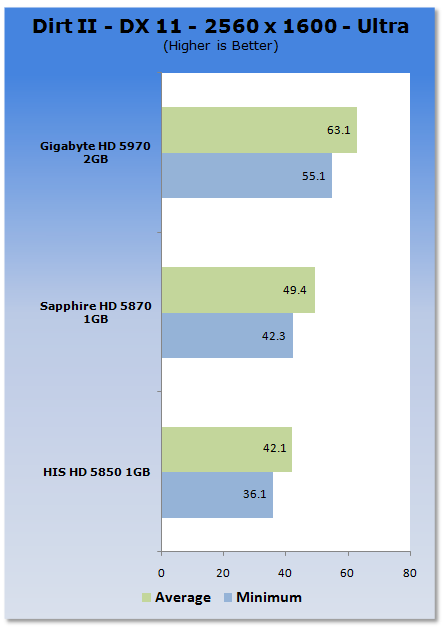 Cranking the preset to Ultra we can see it's all down to the HD 5800 series of cards with the HD 5850 managing to come in a good 20% above the 30 FPS minimum we want to see when we're setup like this.
As we move up in the video card power department though we can see the HD 5870 and HD 5970 really move away from that 30 FPS minimum giving us an absolute load of breathing room.
Final Thoughts
I have to say first up before talking about the performance side of things, it's really quite funny to see a game start up and have a splash screen for AMD which is then followed by one for Intel. While we're sure the AMD one is more related to the video card side of things and the Intel one is for the CPU side, it's no less funny to see both companies' logos show up, all we needed was NVIDIA to show up and it would've been a trio of fun.
The first thing I have to talk about is the performance. It's great to see that the HD 5750 can perform in this game; it manages to break the 30 FPS minimum at both 1680 x 1050 and 1920 x 1200 with the high preset.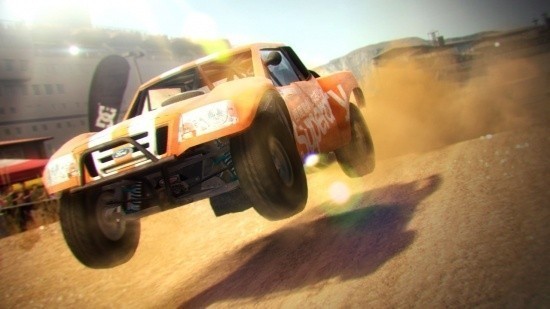 Since some companies have chosen to bundle the game with this mid-range model, there would've been nothing more annoying then downloading it through Steam and being slapped in the face with poor FPS on your new video card. Since the model is mainly aimed at the 1680 x 1050 gamers, you should be pretty happy with the performance you're able to get from the model in the latest DX11 title to hit our computer systems.
The HD 5770 comes in and picks up where the HD 5750 left off; it gets a bit more breathing room in the runs mentioned above, while also being able to offer us a minimum above 30 FPS at the ultra preset at both resolutions as well. Since the model is more suited for 1920 x 1200 gamers, you're again going to find yourself happy with the way the video card performs under this resolution at the high and ultra preset.
The HD 5850 manages to come in and clean up the 1680 x 1050 and 1920 x 1200 setups without any problems. With this video card we're able to see that 2560 x 1600 is an option, which is great news since we consider this a bit of a heavy 1920 x 1200 to light 2560 x 1600 product. Since you're pretty much guaranteed to have a DiRT2 voucher in the box of your HD 5850, you're going to find yourself extremely happy with how the model runs at all resolutions with the Ultra preset also being an option at 2560 x 1600.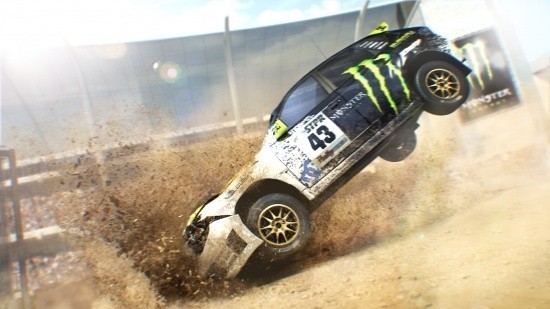 When it comes to the HD 5870 it simply improves upon the performance that the HD 5850 is offering, what this means is that we can play the game at all settings including 2560 x 1600 with the preset at ultra.
The HD 5970 is just the ultimate when it comes to performance though in the end, at 2560 x 1600 and our preset at Ultra, we've got a minimum of 55 FPS which is 30% better than what the HD 5870 offers. What this number gives us is an ultra smooth experience in the game.
What's so great about the game from a performance perspective is that you can get some good numbers at a decent resolution with these mid-range models. What you would be worried about though is that the more expensive models while offering very good frame rates won't really show their value. At 2560 x 1600 though running the game at the Ultra Preset, you quickly feel the happiness flow through your body as you see these slick frame rates, which just makes the experience feel so much nicer. Everything is just smooth, the dirt kicks up in such a smooth fashion, the flags are flapping in a smooth fashion and as you cross that finish line, those fireworks show up in such a smooth fashion. That's not to say that the game isn't smooth when you're getting a 30 or 40FPS minimum, there's just something about being around that 60 FPS minimum mark that sends a tingle down your spine when you go through that perfect corner and just catch a glimpse of how nice everything looks.
On a final note the game looks HOT! To be perfectly honest, we've seen a lot of crap games bundled with video cards over the years, but we're glad to say that DiRT2 isn't one of them. While it feels a bit twitchy with a keyboard, if you find yourself with a good gamepad or even better a steering wheel, you should have a blast!
PRICING: You can find products similar to this one for sale below.

United States: Find other tech and computer products like this over at Amazon.com

United Kingdom: Find other tech and computer products like this over at Amazon.co.uk

Australia: Find other tech and computer products like this over at Amazon.com.au

Canada: Find other tech and computer products like this over at Amazon.ca

Deutschland: Finde andere Technik- und Computerprodukte wie dieses auf Amazon.de