Editorial: Why High-End Radeon HD 5000 series supply is problematic
Shane tells us why he thinks the HD 5800 and HD 5900 series supply is so bad. And it's not because of yields.
Published Wed, Nov 25 2009 3:20 AM CST
|
Updated Tue, Nov 3 2020 7:03 PM CST
Now, before I get started I just want to let everyone know that I don't have any secret inside knowledge, word from a secret source or anything of that stature. My thought process of what I'm about here comes down to being involved in graphic cards heavily for the last few years and dealing with a number of companies all over the world.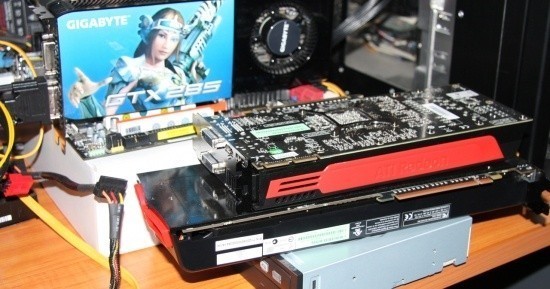 Why is the HD 5800 and HD 5900 series cards so hard to get a hold of? - Ultimately, if you really want one and you're willing to pay for it, getting one of the new high end HD 5000 series models is possible. They're not readily available, though; not like previous cards from ATI and even NVIDIA.
Personally I feel that ATI / AMD have this certain level of respect for NVIDIA and what they're able to achieve. Until September there was no reason for us to think that the GT 300 series from NVIDIA wouldn't be here; the green team had come out many times saying that everything was moving to plan. In the mean time ATI was moving to plan with the HD 5000 series and it looked like both models would launch around a similar time.
So why does this matter? Well, because I personally think that while ATI was confident in the model they were producing, they also felt confident that NVIDIA wouldn't be holding back either. For this reason the company decided not to create as many of the HD 5000 series models because they didn't want to get lumped with them at a high price. This is fair enough and in the business world a smart decision; it all went pear shaped, though, and quickly.
The biggest problem for ATI is that the GT 300 isn't here. The new HD 5000 series kicks ass, which certainly isn't a bad thing, but considering the company wasn't competing against anything except last generation models and word had begun to come around that we wouldn't see NVIDIA release a competing card this side of Christmas, people wanted something now.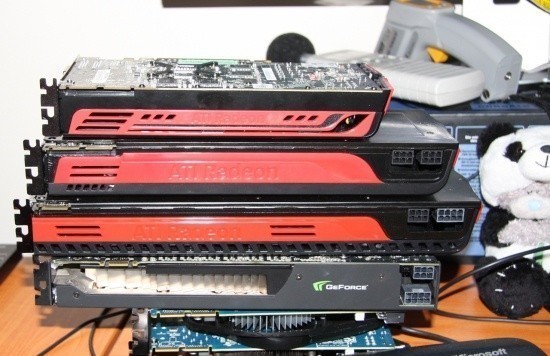 Gamers wanted to go into their holidays with a DX11 card and some new games. With no option from NVIDIA it left them with one choice. And really, with the performance the model is giving us it's hardly a conciliation prize. So what you have is this rush of gamers who want to get their gaming freak on for the holidays and only three models to choose from which all run off the same core in one way or another.
So, with gamers lapping up the models around the world, there's no doubt that the series is going stronger than anyone expected, including ATI. You see, if we had the GT 300 now we wouldn't have this problem; the choice between the green and red team would spread out sales, meaning that if you wanted a HD 5870, getting one wouldn't be a drama and if you wanted a GT 300, the same would apply.
Really, though, it doesn't get any better for ATI. If they now go to ramp up production of high end HD 5000 series cards, by the time they hit the market GT 300 should be here and ATI could be in the situation they tried to avoid.
There's two people who are really hurting by the lack of HD 5000 series models; the first is the gamers that want to get their gaming freak on for the holidays but can't find or don't want to pay the inflated priced for the current HD 5000 series cards. The other is the ATI only partners like Sapphire and HIS. These companies are loyal to ATI and their bread and butter are ATI based products. Instead the company sales staff sits there wishing they had HD 5800s and HD 5900s to sell to customers all over the world.
Now, I could be completely wrong, but you have to admit it does make a fair bit of sense. With all the trash talking going on between ATI and NVIDIA these days, it's hard to remember that the sales of their cards are what pay wages.
While over the years I have found that NVIDIA have a bit more of a balls out approach to graphics cards showing no fear, I think when AMD picked up ATI they needed to be a little bit smarter about making sure the company didn't get stuck with models they couldn't sell. If AMD thought that NVIDIA was going to have the GT 300 around the same time as their HD 5000 series, it could have ended up very messy for someone and with NVIDIAs aggressive performance over the years it would come as no surprise that they where legitimately concerned about what the green team was going to offer us.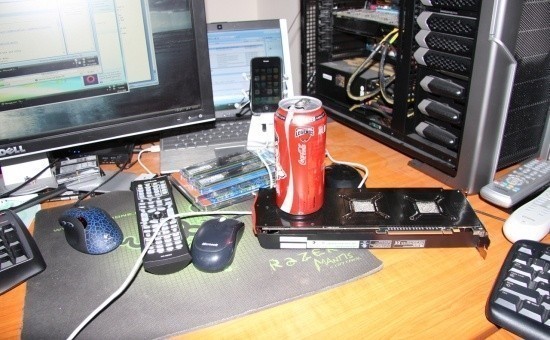 Anyway, I'm going to slot my two HD 5970s back into CrossFire X and use the third one as a coaster for now. Also, I'm on
Facebook
now, so if you want to hear more of my ramblings feel free to add me. If I don't do another editorial before Christmas have a good holiday and new years.
PRICING: You can find products similar to this one for sale below.

United States: Find other tech and computer products like this over at Amazon.com

United Kingdom: Find other tech and computer products like this over at Amazon.co.uk

Australia: Find other tech and computer products like this over at Amazon.com.au

Canada: Find other tech and computer products like this over at Amazon.ca

Deutschland: Finde andere Technik- und Computerprodukte wie dieses auf Amazon.de