ASRock ION 330HT-BD Nettop - Unboxing and Undressing Video
During the Computex Taipei 2009 trade show earlier this year we first got a glimpse of ASRock's NVIDIA ION and Intel Atom based 1080p capable nettop. This is a very stylish and small system which impressed us and our readers greatly, especially considering it was ASRock's first attempt at such a product.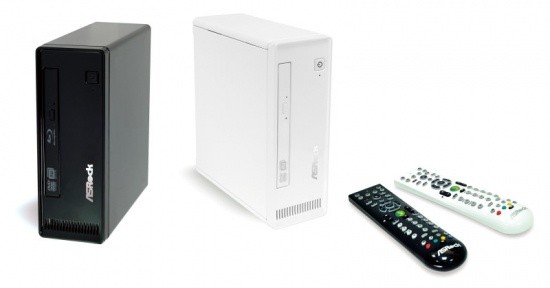 Fast forward several months and ASRock continues on the good thing it has with this product and comes out with the second generation of its ION 330 series of nettop small computers.
What's new? Firstly, we were a little shocked to hear of a second generation, almost a refresh of the first version, we think. The ION 330HT-BD looks the same as the original ION 330-BD on the surface, but it does manage to add in some nice new changes.
On the top of the list is built-in 802.11n wireless as well as a powered eSATA port, DTS Connect for improved audio and EuP 2.0, which is a power saving standard not due to come into play for a few years. On the outside, ASRock also decided to throw in a customized Media Center remote control for good measure. You also get RAID 0 and RAID 1 support if you hook in a second 2.5-inch laptop sized hard drive.
Since performance wise the new ASRock ION 330HT-BD nettop is the same as the original
we reviewed back in June
, we decided not to bore you again with repetitive benchmarks. Instead, we put the new baby on show and put together an unboxing and undressing video to really get up close and personal with the new tiny PC.
Watch the video below:
We are super impressed with what ASRock has done with its series of ION 330 nettop tiny computer systems. Is the new generation "HT" version enough to warrant an upgrade from the previous generation? Not really.
However, if you are looking for an affordable computer system for your lounge room to playback HD movies or a small system for surfing the Internet and basic gaming, there are really few better than the ASRock ION 330HT-BD nettop.