Flash Memory Summit Coverage - Part 1
Flash memory has become a key component to nearly all technology, from cell phones to SSDs.
Published Wed, Aug 12 2009 11:08 PM CDT
|
Updated Tue, Nov 3 2020 7:03 PM CST
Introduction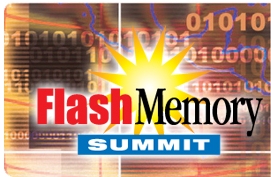 With manufacturers such as Intel, Micron and Samsung leading the charge, flash memory is now in nearly every product we purchase today. Just looking around my office, it is difficult to see a single product that doesn't utilize this wonderful type of silicon. From the telephone sitting on my desk, the SSD in my notebook to the stuffed bear that speaks when you squeeze its hand, flash is there. The technology has come a long way and in doing so it has pushed innovation in nearly everything we use today. When I was a kid my talking bear was really a cassette player with a mechanical mouth that weighed eight pounds and was a great weapon to beat the hell out of my brother with. Flash memory has made it so my kids don't walk away with concussions or black eyes.
The Flash Memory Summit in Santa Clara, California is taking place this week at the Santa Clara Convention Center. This event is the premier expo where expert attendees learn about the latest developments in flash memory, learn to design with the latest flash chips, find new tools for developing flash applications, hear about the latest market trends, find new ways to replace disks in applications, identify new applications for non-volatile memory and find new methods for reducing power consumption.
Our good friend and fellow storage enthusiast Jason Aikins from DVNation is not only speaking at the Flash Memory Summit, but he is also reporting for TweakTown as well. The Day 1 coverage was so detailed and large that we decided to pull it from the news section and make an entire article with the information he provided.
About DVNation
DVNation is located in Texas, USA and is the leading global reseller of solid state storage products. The company carries products from Solidata, Fusion-io, Memoright and Areca to name a few. Jason is also solely responsible for bringing the U.S. PhotoFast products in and DVNation is now the exclusive U.S. distributer for PhotoFast in the States.
Fusion-io
Back in December 2008 the Fusion-io ioDrive humbled traditional solid state devices with its innovative PCIe design.
In our tests the drive showed excellent results
in every test we put it in. Fusion-io brought a speaker from Wine.com to talk about how the ioDrive changed the company's infrastructure for the better.
Their infrastructure was so taxed that people in one department could not be active concurrently with people in another department. Invoicing had to occur at 10:00 pm, after shipments had gone out. They replaced Netapp infrastructure with 2 pairs of 320GB ioDrives and witnessed the following:
- 1200% write performance increase
- 1400% read performance increase
- AQL transaction went from 345ms to 89ms
- Mandatory backups, which slow down the customer experience, went from 8 hours to 10 minutes.
- Read latency went from 12 to 1ms
- Write latency went from 4 to 1ms
- Full database backup went from 2 hrs to 6 minutes
To achieve these gains with other products the projected cost was over 1 Million USD. Wine.com purchased four ioDrive 320GB drives with an MSRP of 14,400 USD (available from DVNation). Each pair was then placed in RAID1 for nearline piece of mind, but the speaker acknowledged that they could have ran RAID 0 for even more performance since the system was being backed up to traditional HDDs.
In our review of the Fusion-io ioDrive we observed similar performance. In the above chart we see the ioDrive compared to three different RAID arrays that used eight Seagate 15K.6 drives and an Intel X25-M. The results were incredible and I can easily see how Wine.com was able to achieve the level of performance they did.
How Far We Have Come
Rob Pegla from Xiotech Corporation, one of the largest private storage array companies talked about how far we have come in thirty years. In his presentation he used an IBM 5150 as an example; the 5150 is a product released 28 years ago.
Since the IBM 5150 CPU, processing power has improved 1000 times and we now have 1 Million times more memory. Storage capacity has gone from 10MB to over 3 Million times more.
Rob noted in his presentation that during a Windows 7 boot process a system has over 1 Million random writes. Note that these are
random writes
and not reads. Oh how times have changed.
Solid State Performance is Good, But...
Korean University Researcher Dr. San-Won Lee is impressed with the performance of solid state drives, but finds their performance to be erratic at times. He noted that Intel's SSDs could write faster than 80MB/s, but Intel chose to artificially limit writes to improve consistency.
Dr. San-Won Lee has recognized that a single SSD is able to outperform ten 15K RPM traditional platter based drives in both price and performance. In the enterprise sometimes just 10% of available HDD space is used to maintain performance. Solid State Drives are able to use their entire capacity without fear of performance drop outs due to rotational latency. When it comes to power, a single SSD uses close to 5 watts and ten 15K HDDs use 704 watts.
Dr. San-Won Lee went further in his presentation and proclaimed that customers should focus on buying IOPS and not performance (measured in MB/s). This takes us back to Rob Pegla's presentation that discussed the boot cycle for Windows 7 and the number of random writes used by the OS just to start the system. By 2012 the cost of IOPS will be 1/10 the price of IOPS of a traditional platter based hard drive!
SSD Form Factors
Why are we stuck with form factors created for platter drives that were designed twenty years ago? For the enterprise, rack storage could be designed to be much more efficient if SSD products broke free from its past and moved on to new frontiers.
Well, the truth is we are starting to see new shapes and sizes when dealing with SSDs. The PhotoFast G-Monster-Promise PCIe uses PCIe, as does the Fusion-io. We already know how these products perform and they are just the start. RunCore has also lead the charge with their upgrade PCIe mini-card devices for netbook applications.
Future trends are being established now. Products like CFast, a Compact Flash evolution is based on SATA and will achieve between 50 and 100 MB/s performance. CUBE / Stacked SSD looks exactly like the name implies. These are 86% smaller than 2.5" drives found in notebooks today and are designed for performance as well as capacity per inch.
Final Thoughts... For Now
Final Thoughts...For Now

Just one day into the event and it sounds like Flash Memory Summit will deliver a lot of useful and entertaining information. Over the next few days Jason will bring us the latest news from the event with news posts and article content. I for one can't wait to see the pictures of all of the products that go on display in Day 2.
We would like to thank Jason from DVNation for donating his time to make reporting from the Flash Memory Summit possible. Please show your support by checking out his e-tail shop at
DVNation.com
. The benchmark section alone is worthy of an hours worth of browsing.
PRICING: You can find products similar to this one for sale below.

United States: Find other tech and computer products like this over at Amazon.com

United Kingdom: Find other tech and computer products like this over at Amazon.co.uk

Australia: Find other tech and computer products like this over at Amazon.com.au

Canada: Find other tech and computer products like this over at Amazon.ca

Deutschland: Finde andere Technik- und Computerprodukte wie dieses auf Amazon.de
We openly invite the companies who provide us with review samples / who are mentioned or discussed to express their opinion. If any company representative wishes to respond, we will publish the response here. Please contact us if you wish to respond.