Four Kingston SSDNow E (Intel X25-E) SSDs in RAID 0 - Win 7
In this technology demonstration we show what type of incredible storage performance is available today and what to look forward to in the future.

Published Thu, Aug 6 2009 12:36 AM CDT
|
Updated Tue, Nov 3 2020 7:03 PM CST
Introduction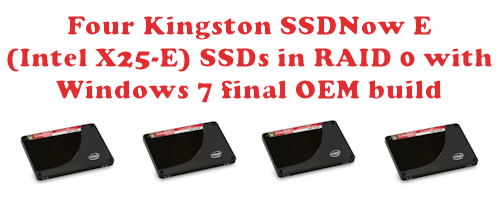 At the start of this year, we
published an article
looking at the performance of four Patriot Warp 2 SSDs in RAID 0 and saw remarkable results. In fact, our best maximum read speed topped out at an amazing 660MB/s. It was kind of a technology demonstration to show just what was possible on the storage front at that time.
Fast forward some eight months to the present day, solid state disk and associated storage technology has continued to mature and gain momentum in the market, as a truly viable alternative to traditional spinning platter based hard disk drives. Based on the performance of those four (and now old) Patriot Warp 2 SSDs in RAID 0, we didn't think things could get much better at the time. However, companies such as Fusion-io, PhotoFast and OCZ continue to push the envelope of what it physically possible with today's extreme flash storage technology and we like it. Some of their products claim to hit maximum read speeds of a mind-blowing 1000MB/s.
What little may know is that this type of technology is not that advanced when you break it all down into parts - the aforementioned companies tend to combine multiple SSD drives into a single unit and attach them in RAID 0 with a small onboard RAID controller chipset from the likes of Jmicron or Indilinx for ultra fast performance.
Today we are providing yet another one of those technology demonstration articles for the ultra high-end crowd. Kingston was kind enough to send over four of their SSDNow E Series 64GB drives and if you didn't know, they are actually relabeled high-end Intel X25-E drives. Even though these drives are not new on the market, they do continue to provide some of the fastest benchmarks in most tests published. In what was impeccable timing, Areca also sent us over its latest ARC-1680-I 8-port PCIe SAS RAID controller, which uses the latest and fastest Intel IOP348 1200MHz chip.
So read on as we see what near on $4000 USD worth of storage equipment can do for us in RAID 0 with the final OEM RTM build of Windows 7 x64 Ultimate. This type of setup is of course out of the reach for the average consumer, but it sure will be interesting to see just what type of performance we get from this setup and what the more average Joe can look forward to in the years ahead.
Hardware Used for the Job
So, in this technology demonstration style article, we need to select the fastest hardware for the job. What's the job exactly? Creating an ultra extreme storage solution, that will knock your socks off!
We hit up the folks over at Kingston Technology for some SSDs - the fastest they sell are the
SSDNow E Series SSD (SNE125-S2) drives
. They get the 'E' in the model since these drivers are actually relabeled Intel X25-E drives. Kingston sent across four 64GB drives for us to put to the test and see just exactly what type of performance we could get out of them. In many benchmarks, time and time again these drives prove to be the quickest or close to the quickest on the market in the standard 2.5-inch size SATA format.
The difference between the X25-E (
Extreme or Enterprise
) and the cheaper X25-M (
Mainstream
) is that the 'E' model uses the fastest available SLC flash memory and the 'M' model uses cheaper and slower MLC flash memory. As we've seen in our SSD reviews by Chris lately, MLC flash memory is rapidly improving and even coming close to the more expensive SLC flash memory in read speed testing in the best implementations that we've seen so far. It is on the write speeds side, however, that the X25-M or other MLC-based SSDs see a slowdown in performance compared to the X25-E that we are using today.
Hence, an alternative to the ultra expensive X25-E SSD drives are the X25-M SSDs and Kingston sell them as the SSDNow M Series.
Each drive comes in a standard brown box.
Inside there is not a lot to get excited about - just a quick start guide and padding.
As for the cost of the SSDs, one Kingston 64GB SSDNow E Series SSD drive will cost you around $800 USD at Newegg. Combine the cost and four of them will set you back $3200 USD.
What is a little more exciting is the RAID controller we used for the job. Since we are using high performance SSD drives, we cannot just use the standard onboard Southbridge on desktop motherboards to control the SSDs. They are just not good enough and will not show the full potential of the drives, especially when put in RAID 0. The Southbridge's used on many desktop motherboards are good quality, don't get me wrong, (and they'll power a standard HDD or two just fine) but they just are not up to the task of powering this setup here today.
Lucky for us and what was amazing timing, the folks over at Areca Technology, a Taiwan based company of premium high-end RAID storage controllers, asked us if we would like to test out its very latest controller card. They sent us their
ARC-1680-I controller
which uses the new and fast Intel IOP348 1200MHz processor. This controller will be perfect for the job since it has enough power 'under the hood' to power the four X25-E SSDs to their full potential.
As for the cost of the Areca ARC-1680-I controller, it is actually cheaper than we expected. Since this particular model supports only eight drives (included are two SFF-8087 SAS connectors, which support four drives per cable) the cost is lower than many other high-end controllers and cheaper than the Areca ARC-1231ML RAID controller that we used in the previous RAID Performance with four Patriot Warp 2 SSDs article we published earlier this year. Newegg is asking around $670 USD for one of these controllers.
Combine the total cost of the hardware used for the job, and you are looking at around $3870 USD. And yes, we know it's not cheap and hardly practical for end-users, but the idea here today is to show you what current and readily available technology can do at the ultra high-end of the consumer spectrum.
Test System Setup and ATTO Baseline
Test System Setup
Processors
: Intel Core i7 920
Motherboard
: GIGABYTE GA-EX58-UD5
Memory
: G.Skill F3-12800C8 2GB x3 in Triple Channel (Supplied by
G.Skill
)
Graphics Card
: Palit Radeon HD 4670 512MB (Supplied by
Palit
)
SATA Controller
: Areca ARC-1680-I (Supplied by
Areca
)
Operating System
: Microsoft Windows 7 Ultimate x64 final OEM build (RTM 7600) with latest updates and drivers
Not only is the selection of the storage equipment for today's article cream of the crop, but the test system is also modern and rather fast. It will easily provide enough power to fully exploit the full performance of the four Kingston X25-E SSD drives in RAID 0.
We were lucky enough to get hold of Windows 7 Ultimate x64 and before you ask, yes - we are using the final shipping build. It's actually the OEM build, but it is the final RTM 7600 that will go out to customers soon. Microsoft spent a lot of time optimizing Windows 7 for SSD drives, with features such as the all important TRIM command. It is unclear whether or not those optimizations will work with the SSDs in RAID (the OS needs to know that the RAID array is actually a bunch of SSDs), but we'll find out more on that later as we dig deeper into the new OS and just how it treats SSDs in the near future.
The Areca ARC-1680-I RAID controller uses a PCI Express x8 interface and we plugged it into the second PCI-E x16 slot on the GIGABYTE X58 motherboard, which electronically operates at the full 16 lanes, so no problems there providing full bandwidth to the controller. We have provided results with all four drives in RAID 0, two drives in RAID 0 and single drive performance for comparison.
ATTO Baseline Performance
Version and / or Patch Used:
2.34
ATTO is used by many disk manufacturers to determine the read and write speeds that will be presented to customers.
FOUR DRIVES in RAID 0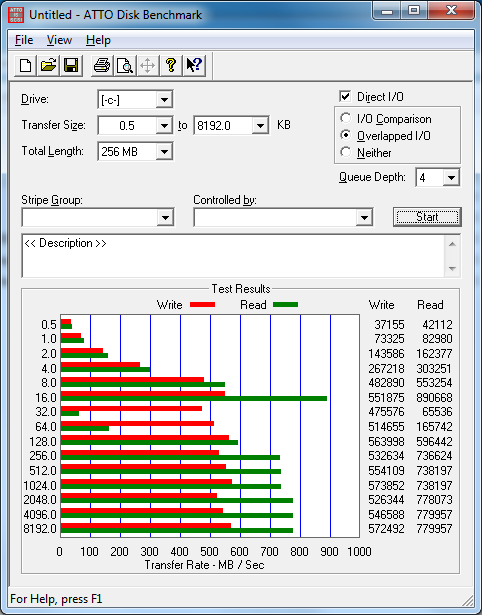 Here we can see ATTO proving a whole bunch of results. The 890MB/s read speed is impressive, but we think that it is actually measuring the 512MB of cache on Areca controller rather than actual SSD performance.
Having said that though, we see consistent results up to around 780MB/s on the read and a maximum write speed of around 572MB/s. Wow!
TWO DRIVES in RAID 0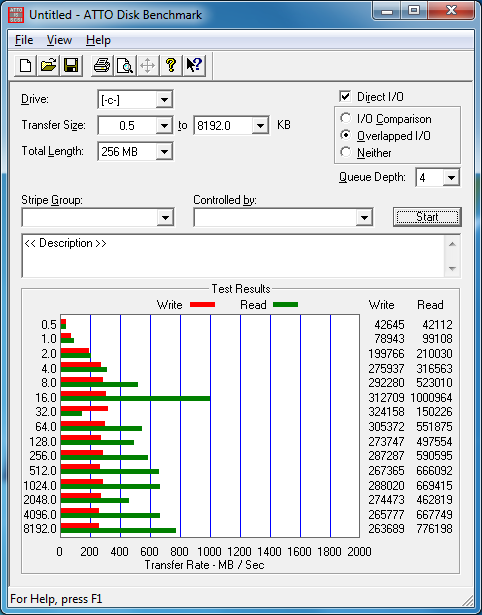 Taking out two of the drives, things naturally slow down. The cache test in this result is more evident, but even still we see a maximum read speed around 667MB/s and a maximum write speed around the 288MB/s range.
SINGLE DRIVE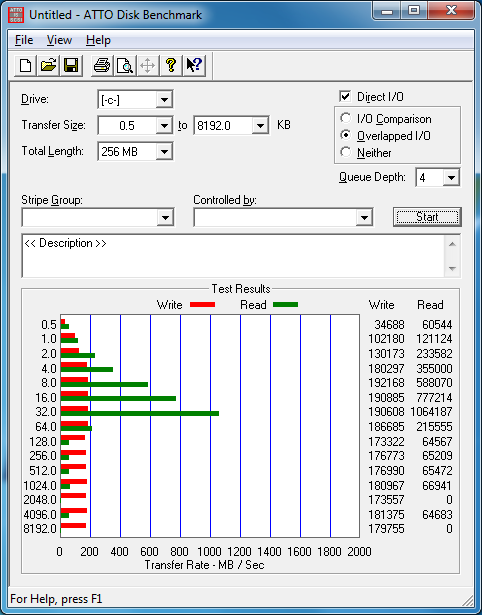 When we look at single drive performance, which is still quite respectable, we see a maximum read speed 215MB/s although it's clear the test as a little all over the place testing the cache memory and not being all that consistent, even after multiple runs of the benchmark. Don't pay too much attention to these read speeds. However, the write speed seems to be accurate showing a maximum speed of around 180MB/s.
Benchmarks - HD Tune Pro
HD Tune ProVersion and / or Patch Used:
3.00
Developer Homepage:
http://www.efdsoftware.com
Product Homepage:
http://www.hdtune.com
HD Tune is a Hard Disk utility which has the following functions:
Benchmark: measures the performance
Info: shows detailed information
Health: checks the health status by using SMART
Error Scan: scans the surface for errors
Temperature display
HD Tune Pro gives us accurate read, write and access time results and for the last couple of years has been gaining popularity amongst reviewers. It is now considered a must have application for storage device testing.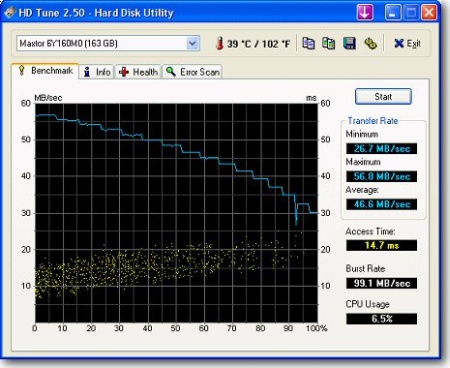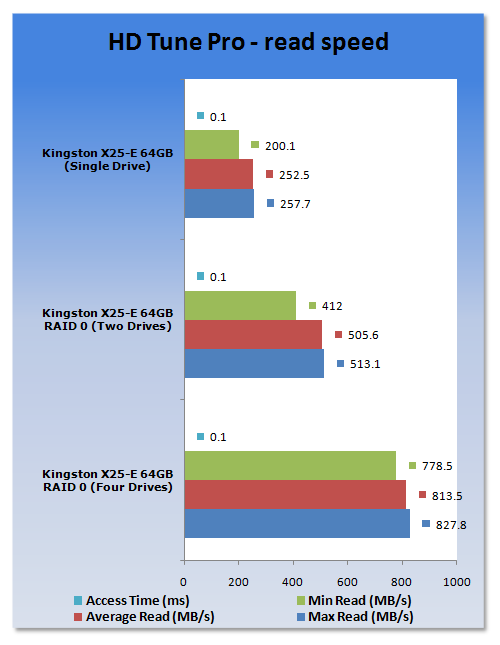 In my opinion, HD Tune Pro is probably the best benchmarking software for testing SSDs. It doesn't seem to take the cache into consideration and influence results - except for burst speeds, which we didn't include in the graph above, for that very reason. For interest sakes, I tried testing with Crystal Disk and HD Speed and both showed read speeds of 1400MB/s and that is obviously testing the cache memory and not the flash memory on the SSDs.
As we can see above, the four Kingston X25-E drives in RAID 0 manage to score a truly stunning maximum read of 827.8MB/s, average of 813.5MB/s and a minimum of a crazy high 778.5MB/s. Access time is also extremely healthy showing a result of an impressive 0.1ms. The minimum read speed between all three setups scale almost perfectly, but the average and maximum read speeds are a little off showing that you don't get exactly double the performance by increasing the same amount of drives.
Compare these results to the Fusion ioDrive PCI Express solid state drive we tested earlier this year and even the PhotoFast G-Monster-PROMISE PCI Express solid state drive that we tested recently and this homemade setup entirely kills them by a factor of around two times or so.
Sure, this setup costs more, but we're going for the best performance we can get at the current day, remember? I love technology!
Benchmarks - PCMark Vantage
PCMark Vantage - Hard Disk TestsVersion and / or Patch Used:
1.0.0
Developer Homepage:
http://www.futuremark.com
Product Homepage:
http://www.futuremark.com/benchmarks/pcmark-vantage/
Buy It Here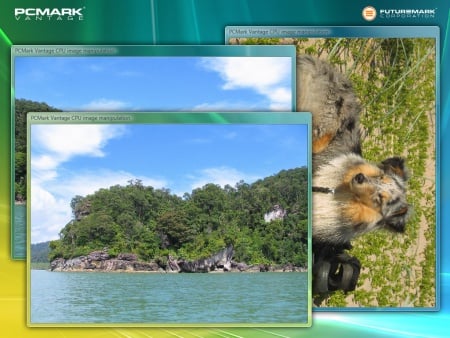 PCMark Vantage is the first objective hardware performance benchmark for PCs running 32 and 64 bit versions of Microsoft Windows Vista. PCMark Vantage is perfectly suited for benchmarking any type of Microsoft Windows Vista PC from multimedia home entertainment systems and laptops to dedicated workstations and high-end gaming rigs. Regardless of whether the benchmarker is an artist or an IT Professional, PCMark Vantage shows the user where their system soars or falls flat, and how to get the most performance possible out of their hardware. PCMark Vantage is easy enough for even the most casual enthusiast to use yet supports in-depth, professional industry grade testing.
FutureMark has developed a good set of hard disk tests for their PCMark Vantage Suite. These tests are based on real world applications that many of us use daily.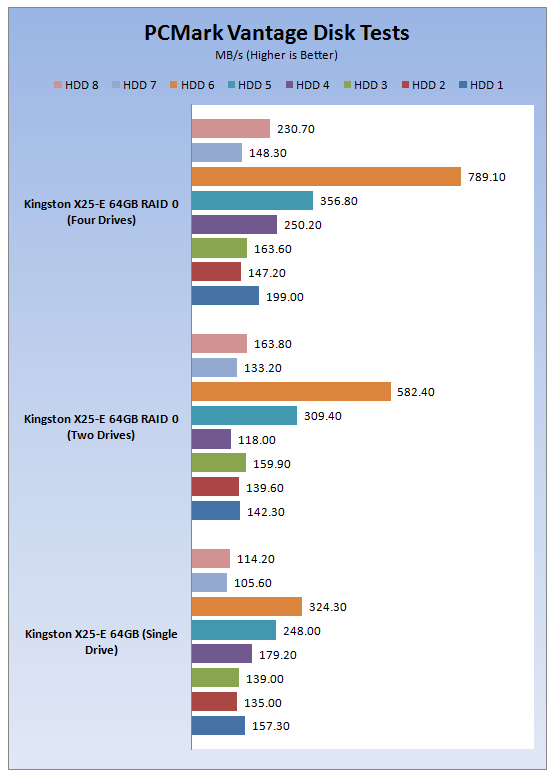 HDD1 - Windows Defender
HDD2 - Gaming
HDD3 - Windows Photo Gallery
HDD4 - Vista Startup
HDD5 - Windows Movie Maker
HDD6 - Windows Media Center
HDD7 - Windows Media Player
HDD8 - Application Loading
Here we get a look at the performance of the Kingston drives under the hard disk test section of PCMark Vantage.
No real surprises here, but it does give you a look at how each aspect of the operating system performs with each SSD setup.
Benchmarks - Boot Up and Shut Down Time
Boot Up and Shut Down Time
In our final test we thought it would be interesting to time just how long it takes for Windows 7 Ultimate x64 to boot up and also shut down.
We have even recorded a short video to show the incredible boot and shut down performance of all four Kingston X25-E SSD drives in RAID 0 with the Areca controller.
Damn cool, huh?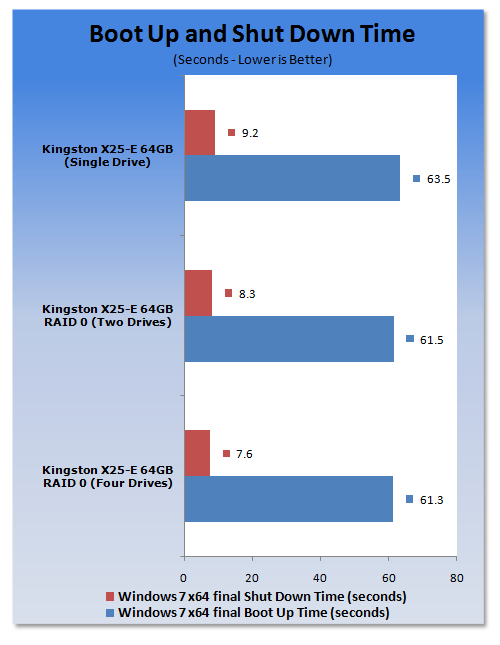 Above you get a look at the actual times in seconds for each SSD setup.
Keep in mind that the Areca controller is actually quite slow at initializing and we hope that they can work on the time that it takes during POST.
Once the POST is complete though, it's amazing to see how Windows 7 was able to load with these four SSDs in RAID 0. If you take a close look at the video we uploaded above, it takes about 8 - 9 seconds from the end of the POST screen to when the hour glass stops loading on the desktop.
Final Thoughts
Yeah, so I'm the lucky guy who gets to use this insane four disk RAID 0 Kingston SSDNow E Series SSD drive plus Areca RAID controller configuration in my personal system from now on. And
wow wow wow
, it is just as good as or better than I thought it would be when coming up with the article idea.
It took us some time to get what we considered a reliable test result, since most of the benchmark applications fancied testing the controller cache memory, rather than the actual flash memory, on the SSDs. We decided on using HD Tune Pro, as it provided the most accurate result, but even it used the cache memory when providing the burst speed results, hence why we left that part of the test out from our benchmarks.
Once we did get this under control, we saw truly amazing storage performance out of this storage setup - HD Tune Pro showed a maximum read speed of close to 830MB/s and even the average and minimum read speeds were really close to the maximum speed and that's just stunning, in a really, really good way!
As far as write speeds go, we used ATTO to measure the performance and with the four drives in RAID 0 we saw results nearing on 580MB/s. Putting both these incredible read and write speeds into prospective, it is the fastest storage setup we've ever tested at TweakTown and we get brand new SSD drives into our labs almost daily. It completely kills what the Fusion ioDrive and PhotoFast G-Monster-PROMISE PCI Express solid state drives are capable of producing by over two times or so. Windows 7 Ultimate x64 final OEM managed to boot in mere seconds after it passed the POST stage of the system boot process - the first login screen at the Windows boot you don't even see properly, as it races past it at record pace.
Would the average consumer buy a storage setup like this? Well, I'm sure every tech enthusiast would want it, but at a cost close to $4000 USD just for the storage part of the system, it is out of reach of many. However, it is very interesting to see in this technology demonstration what storage technology today is capable of at the ultra high-end and what consumers can expect in the years ahead.
We would like put out a big thanks to Kingston Technology and Areca Technology for providing the hardware for this article. You guys know how to make some damn fast hardware!
PRICING: You can find products similar to this one for sale below.

United States: Find other tech and computer products like this over at Amazon.com

United Kingdom: Find other tech and computer products like this over at Amazon.co.uk

Australia: Find other tech and computer products like this over at Amazon.com.au

Canada: Find other tech and computer products like this over at Amazon.ca

Deutschland: Finde andere Technik- und Computerprodukte wie dieses auf Amazon.de
We openly invite the companies who provide us with review samples / who are mentioned or discussed to express their opinion. If any company representative wishes to respond, we will publish the response here. Please contact us if you wish to respond.