Corsair Performance Series Solid State RAID Report
Corsair loved our Intel vs. Indilinx RAID testing and wanted us to put their Performance Series to the test. So here we are today with results in.
Published Sun, Jul 26 2009 10:19 PM CDT
|
Updated Tue, Nov 3 2020 7:03 PM CST
Introduction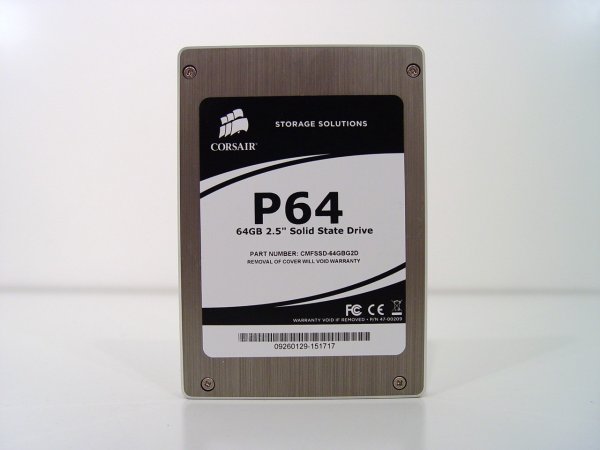 A few months ago we were able to test the Intel X25-M and RunCore Pro IV drives in RAID 0 and published an article about our findings. The Intel controller is responsible for controlling drives from Intel, Kingston, Buffalo Tech and a few others. The Indilinx controller is used in nearly a hundred products from companies like Crucial, RunCore, OCZ, Solidata and even Corsair's latest SSD offering, the Extreme Series.
A couple of weeks ago we started playing with the Samsung S3C29RBB01 controller that is found in the Corsair Performance Series and Samsung PB22-J solid state drives. We were impressed with the Corsair P256's cost per gigabyte and found that it was a very good performer as well. The drive was able to win a couple of our benchmark tests and more surprisingly they were tasks that you would use on a daily basis, something that surprised us since our first generation Samsung drive we reviewed was heavily optimized for server orientated tasks.
One area that we just glanced over in our review was Samsung's Self-Healing feature. Today we are going to talk about this exclusive technology that is built right into the drive. Let's get right along with it and have a detailed look at Self-Healing to see what it does and why it is such a hot topic.
Samsung's Self-Healing, Defragment for the Modern Age
I have talked a lot about the differences between Single-Level Cell (SLC) and Multi-Level Cell (MLC) technology extensively in other reviews, so I will only give a brief recap here. Up until a few months ago SLC drives were kicking the expletive out of MLC drives in write speeds. One of the reasons for this is that MLC drives need to perform an extra operation before writing a block of data. To those of us without a masters degree in whatever type of engineering this would fall under, we call it erase.
Let's say you had a file on your desktop that you no longer needed. You right click on it, delete it and then delete it from your recycle bin. In Windows it is kind of like moving from one house to another, the name on the mailbox has been removed but the house still stands. For MLC drives, before a new house can be built the old house has to be bulldozed and this takes time.
The early J-Micron controlled drives had a real problem with this since they only had 16KB of cache to buffer incoming data. Luckily the latest round of Samsung controllers has 128MB of cache, making the stuttering problem a thing of the pppppaassssstttt. Even though modern drives have a sufficient amount of cache, the underlying issue remains, the block has to be erased.
In our testing we found that no matter the controller, be it Intel, Indilinx or Samsung, if a block has been occupied with data the next write operation can only achieve between 70 and 80 MB/s. That is a long ways from the highest performing drives claimed write speeds of 200+ MB/s.
Many companies are trying to stay silent about the issue and are anxiously waiting for Windows 7 to be released since it is claimed to have a TRIM feature built into the operating system. Samsung is a big company with deep R&D resources and they decided that they didn't need to wait for Microsoft to release Windows 7 to fix an issue in their house.
Samsung's Self-Healing feature is not found in a DOS application, Windows executable or any other user activated program. Self-Healing is built into the second generation Samsung controller and automatically trims the fat from the SSD bone. The only real down side that I was able to find with Self-Healing is that it happens when the system is idle. Then again, when I am working or surfing on YouTube I don't really want my drive searching out useless data. Windows Defender seems to be doing that all the time already.
Since Self-Healing is handled by the drive itself, the technology is active, even in RAID arrays. This is a feature that should work out well for power users who are taking SSDs and putting them in blazing fast RAID arrays, like we are doing here today.
Test System Setup
Test System
Processors
: AMD Opteron 2356 (2.3GHz Quad-Core) x2
Motherboard
: Tyan S2915-E (Supplied by
Tyan
)
Memory
: Kingston KVR667D2S4P5/2G x4 (Supplied by
Kingston
)
Graphics Card
: XFX 8800 GTX (Supplied by
XFX USA
)
Enclosure
: Lian Li V2000
Cooling
: Noctua NH-U12DO (Supplied by
Noctua
)
SATA Controller
: Areca ARC-1231ML (Supplied by
Areca
)
SAS Controller
: Areca ARC-1680i (Supplied by
Areca
)
Operating System
: Microsoft Windows Vista Ultimate X64
The Areca 1231ML SATA RAID controller will be handling the arrays for the Intel / Kingston X25-M, RunCore Pro IV and Corsair RAID 0 arrays. Areca makes some of the fastest controllers on the market and the included 256MB cache module really helps increase RAID 5 and 6 write speeds.
The RunCore Pro IV drives that we used for this test use the Indilinx Barefoot controller. The Barefoot has many design wins and it seems like just about every company sells a product that uses this controller.
The Intel / Kingston combination both use identical Intel controllers and firmware. The X25-M Series has proven to be a well rounded drive that achieves great performance in nearly all tasks.
Benchmarks - HD Tune Pro
HD Tune ProVersion and / or Patch Used:
3.00
Developer Homepage:
http://www.efdsoftware.com
Product Homepage:
http://www.hdtune.com
HD Tune is a Hard Disk utility which has the following functions:
- Benchmark: measures the performance
- Info: shows detailed information
- Health: checks the health status by using SMART
- Error Scan: scans the surface for errors
- Temperature display
HD Tune Pro gives us accurate read, write and access time results and for the last couple of years has been gaining popularity amongst reviewers. It is now considered a must have application for storage device testing.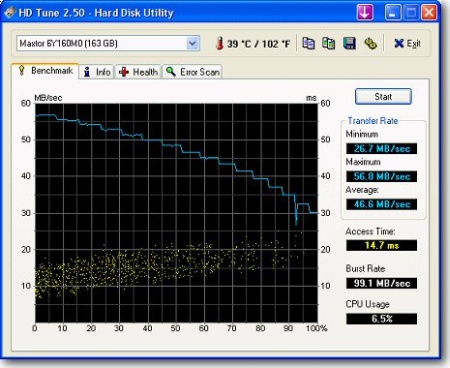 Read Tests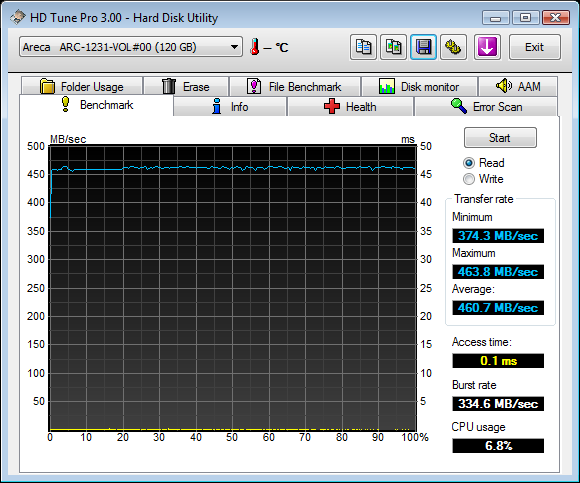 Corsair P64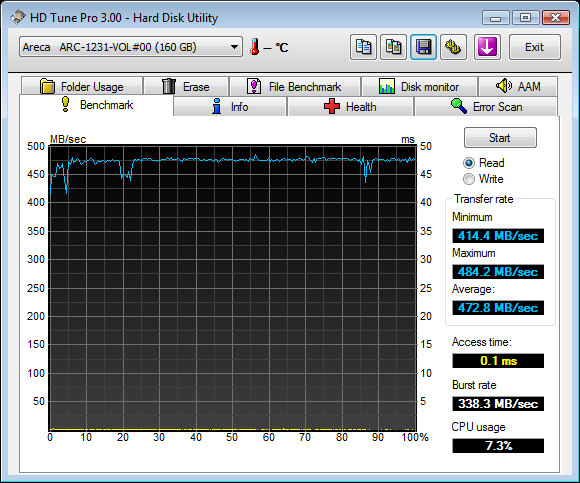 Intel X25-M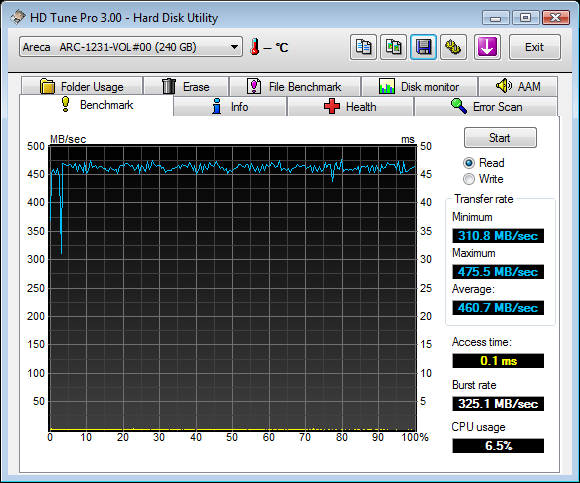 Runcore IV Pro
The average read performance of the three array groups is very close. Only 12 MB/s separate the Intel X25-M and the Corsair P64.
Write Tests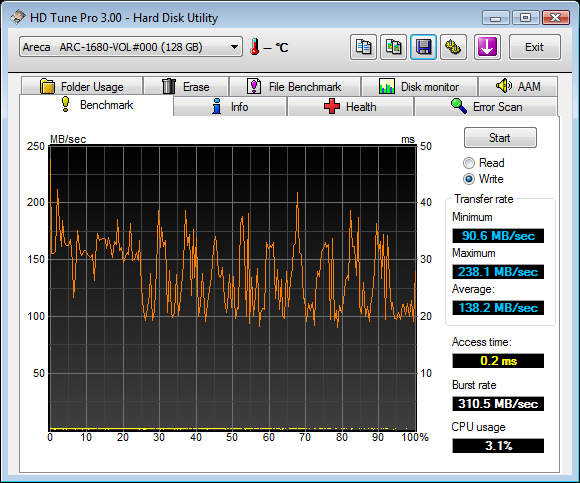 Corsair P64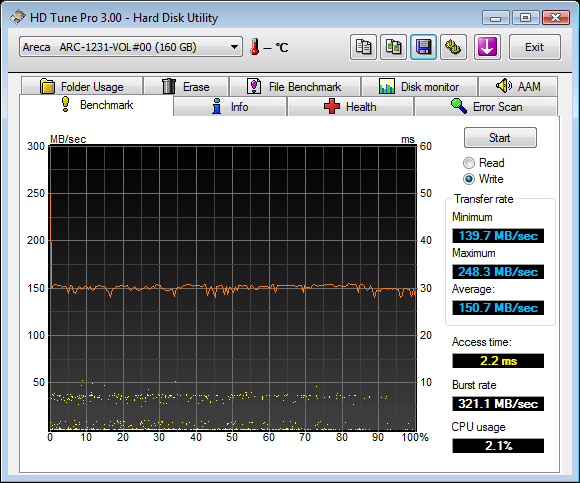 Intel X25-M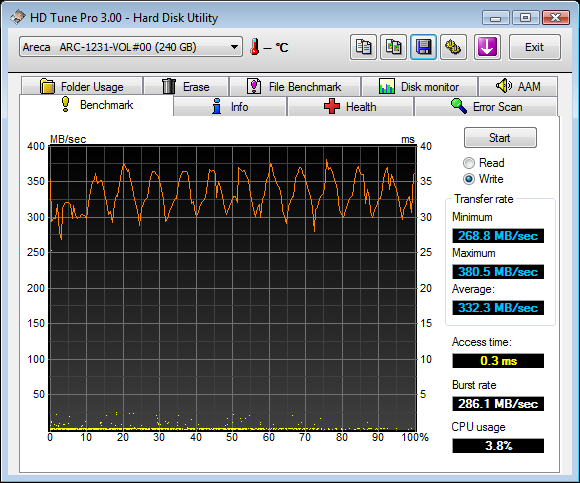 Runcore IV Pro
The Indilinx Barefoot controller in the RunCore Pro IV has a strong advantage in the synthetic write test. The Intel and Samsung controlled drives are very close in average performance.
Benchmarks - EVEREST Random Access Time
EVEREST Random Access TimeVersion and / or Patch Used:
4.60
Developer Homepage:
http://www.lavalys.com
Product Homepage:
http://www.lavalys.com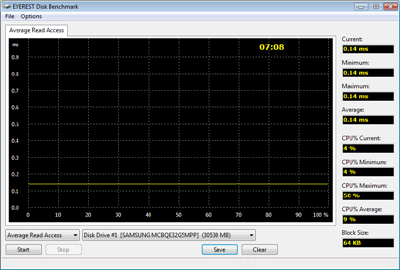 EVEREST Ultimate and Corporate Edition offer several different benchmarks for testing and optimizing your system or network. The Random Access test is one of very few if not only that will measure hard drives random access times in hundredths of milliseconds as oppose to tens of milliseconds.
Read Tests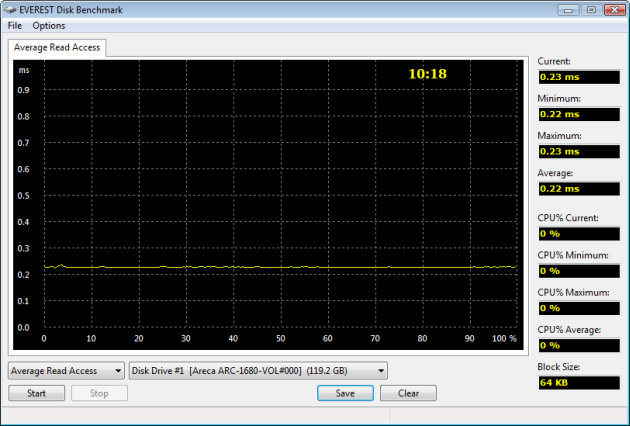 Corsair P64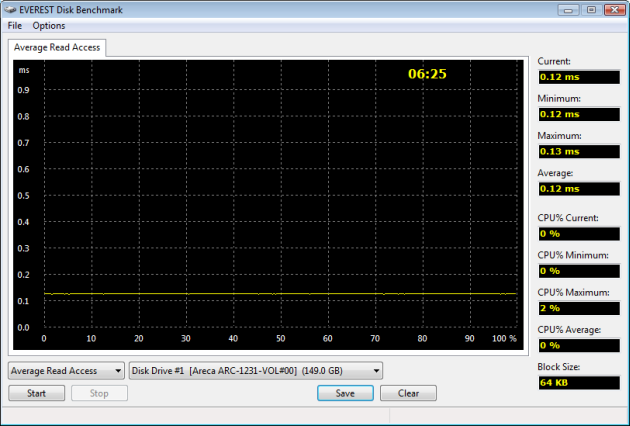 Intel X25-M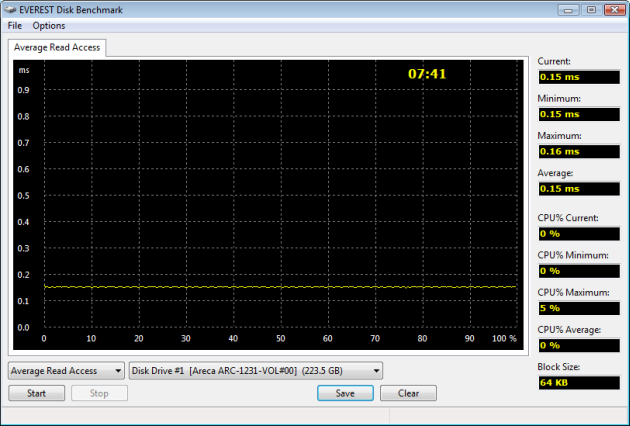 RunCore IV Pro
The Corsair P64 has a little higher access time than the Intel and Indilinx controlled drives, but not enough for us to worry about.
Write Tests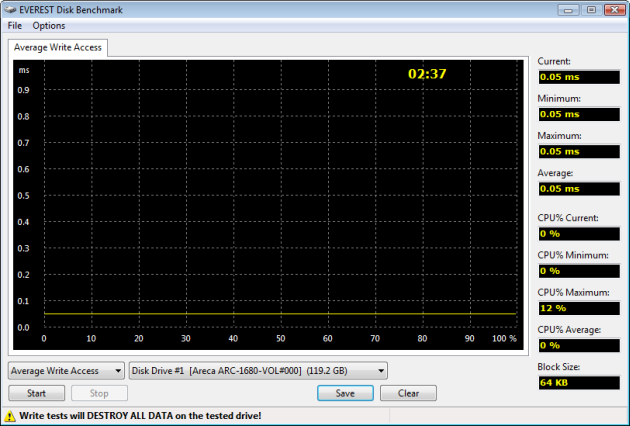 Corsair P64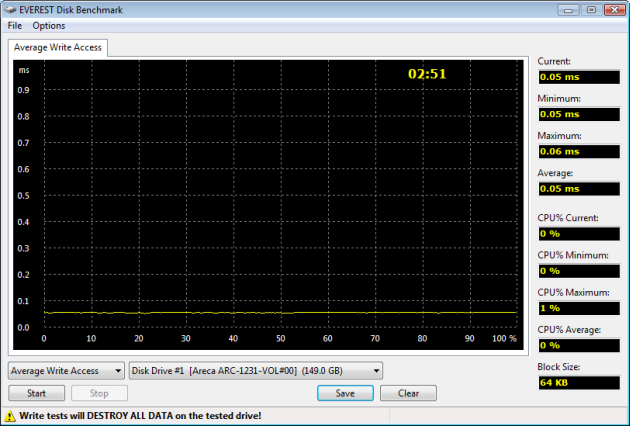 Intel X25-M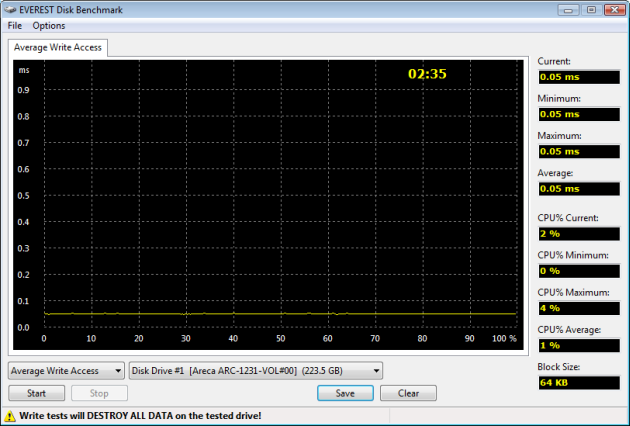 RunCore IV Pro
The write access times of all the arrays are identical.
Benchmarks - PCMark Vantage Hard Disk Tests
PCMark Vantage - Hard Disk TestsVersion and / or Patch Used:
1.0.0
Developer Homepage:
http://www.futuremark.com
Product Homepage:
http://www.futuremark.com/benchmarks/pcmark-vantage/
Buy It Here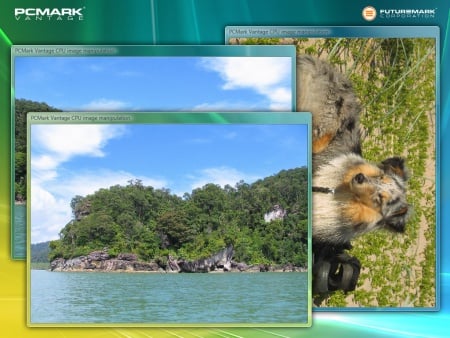 PCMark Vantage is the first objective hardware performance benchmark for PCs running 32 and 64 bit versions of Microsoft Windows Vista. PCMark Vantage is perfectly suited for benchmarking any type of Microsoft Windows Vista PC from multimedia home entertainment systems and laptops to dedicated workstations and high-end gaming rigs. Regardless of whether the benchmarker is an artist or an IT Professional, PCMark Vantage shows the user where their system soars or falls flat, and how to get the most performance possible out of their hardware. PCMark Vantage is easy enough for even the most casual enthusiast to use yet supports in-depth, professional industry grade testing.
FutureMark has developed a good set of hard disk tests for their PCMark Vantage Suite. These tests are based on real world applications that many of us use daily.

HDD1 - Windows Defender
HDD2 - Gaming
HDD3 - Windows Photo Gallery
HDD4 - Vista Startup
HDD5 - Windows Movie Maker
HDD6 - Windows Media Center
HDD7 - Windows Media Player
HDD8 - Application Loading
In our real world tests we see the Corsair P64 array walking away with the performance crown in the Movie Maker tests. The array fairs very well against our RunCore and Intel arrays and really gets in there to dice it up for second place overall.
Benchmarks - Passmark
Passmark Advanced Multi-User TestsVersion and / or Patch Used:
6.1
Developer Homepage:
http://www.passmark.com
Test Homepage:
http://www.passmark.com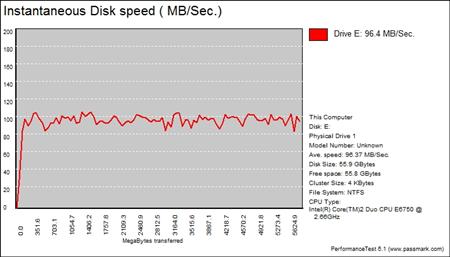 Many users complain that I/O Meter is too complicated of a benchmark to replicate results so my quest to find an alternative was started. Passmark has added several multi-user tests that measure a hard drives ability to operate in a multi-user environment.

The tests use different settings to mimic basic multi-user operations as they would play out on your server. Variances is read / write percentage as well as random / sequential reads are common in certain applications, Web Servers read nearly 100% of the time while Database Servers write a small amount of data.
The Workstation test is the only single user environment and will be similar to how you use your system at home.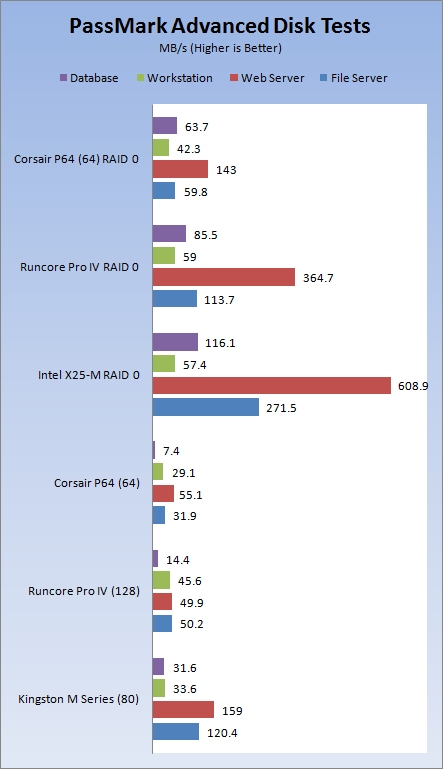 In our review of the Corsair P256, the larger capacity version of the P64, we observed that the drive was not well suited for server orientated tasks. With that said, the Performance Series is much faster than the fastest platter drive on the market (Seagate 15K.6) but as we said in the P256 review, this is not the market Corsair is looking to target.
For power users the Workstation test is an accurate test for multitasking. In that test we see the Corsair Performance drive keeping up with the RunCore and Intel drives.
Final Thoughts
This is actually a review that I have been looking forward to writing for some time now. Desktop users have something that notebook users rarely get the opportunity to do, run RAID arrays. One of the biggest drawbacks for platter drives in RAID arrays is the increase of latency. Since solid state drives have hardly any latency to speak of to begin with, latency is not a problem.
With latency issues taken off of the table and your system chassis already having more slots for HDDs than your PSU has SATA power plugs, for lower capacity SSDs in RAID 0 this makes for an interesting proposition. When it comes down to it you can purchase two 64GB drives for nearly the same price as a single 128GB drive and in many cases two 128GB drives for less than a single 256GB SSD. Using the Corsair Performance Series as an example, a single 256GB drive from Newegg currently sells for close to 700 USD while a single 128GB from the same series sells for 345USD.
Our tests show that SSDs scale very well in RAID 0, not exactly double the performance but pretty darn close, depending on the test you are running. Keeping that level of performance is the key and the hardware Self-Healing feature that is only found in the current likes of Samsung / Corsair drives. This makes a very strong case for shifting my bias to the Corsair Performance Series drives for use in high performance desktop RAID arrays.
PRICING: You can find products similar to this one for sale below.

United States: Find other tech and computer products like this over at Amazon.com

United Kingdom: Find other tech and computer products like this over at Amazon.co.uk

Australia: Find other tech and computer products like this over at Amazon.com.au

Canada: Find other tech and computer products like this over at Amazon.ca

Deutschland: Finde andere Technik- und Computerprodukte wie dieses auf Amazon.de
We openly invite the companies who provide us with review samples / who are mentioned or discussed to express their opinion. If any company representative wishes to respond, we will publish the response here. Please contact us if you wish to respond.