Introduction

When speaking to a few ATI partners, the word was that ATI had been quite lenient with the clock speeds on the new HD 4890. Since ATI ultimately needed this card to be as fast as possible, it seemed weird that they would hold back slightly on clock rates.
With this in mind, we thought we would take the time to overclock the card. At first we tried Rivatuner but that didn't want to play along with the new card and ATITool had the same issue.
In a last minute attempt, we decided on trying the ATI Overdrive utility built into the Catalyst driver suite. Fortunately, this was perfect for us and away we went on our overclocking venture. Increase, benchmark; increase, benchmark; increase, crash; decrease, benchmark.
What did we eventually end up with? - Well, you're going to have to jump forward to the next page to find out.
Test System Setup and 3DMark Vantage
Test System SetupProcessor(s):
Intel i7 920 @ 3.8GHz (190MHz x 20)
Cooling:
Noctua NH-U12P (Supplied by
Noctua
)
Motherboard(s):
GIGABYTE EX58-UD5 (Supplied by
GIGABYTE
)
Memory:
3 X 2GB OCZ Technology PC-12800 DDR-3 8-8-8-24 (OCZ3G1600LV6GK)
Hard Disk(s):
Western Digital 300GB Velicorapter (Supplied by
Western Digital
)
Operating System:
Windows XP Professional SP2, Windows Vista SP1 64-Bit
Drivers:
ForceWare 182.06, Catalyst 9.2, Catalyst 8.14.10.0647 (HD 4890)
With a bit of time taken to find the highest stable ceiling, we ended up with the clock rates that you can see below in the GPU-Z screen shot.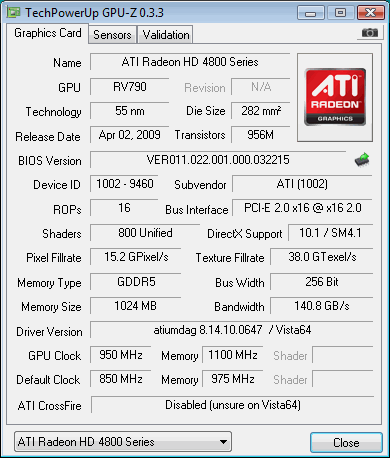 We were able to move the default core clock from 850MHz to 950MHz, and we moved the default memory from 975MHz or 3800MHz QDR to 1100MHz or 4400MHz QDR. This is a pretty impressive overclock on both the core and memory; hopefully it will translate to a nice little performance increase in our benchmarks here today.
3DMark VantageVersion and / or Patch Used:
1.0.1
Developer Homepage:
http://www.futuremark.com
Product Homepage:
http://www.futuremark.com/products/3dmarkvantage/
Buy It Here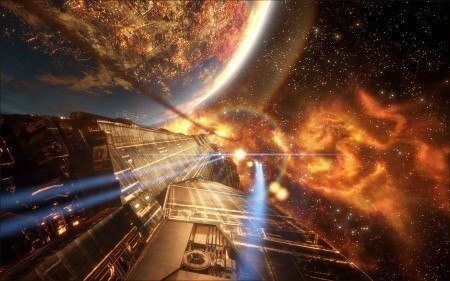 3DMark Vantage is the new industry standard PC gaming performance benchmark from Futuremark, newly designed for Windows Vista and DirectX10. It includes two new graphics tests, two new CPU tests, several new feature tests, and support for the latest hardware.
3DMark Vantage is based on a completely new rendering engine, developed specifically to take full advantage of DirectX10, the new graphics API from Microsoft.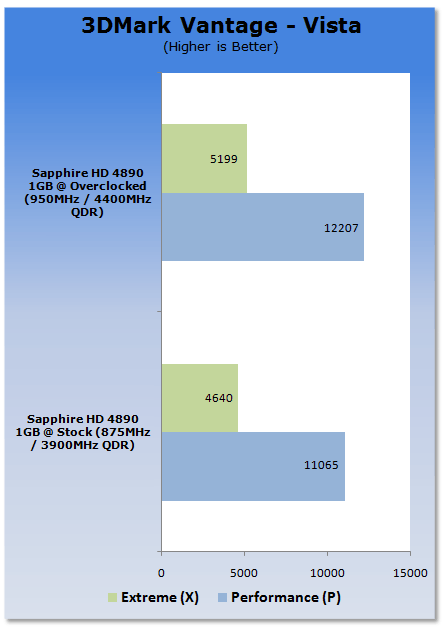 In our first test we can see straight away that the overclock gives us a nice healthy increase in both the Extreme and Performance setup.
Benchmarks - PT Boats: Knights of the Sea
PT Boats: Knights of the SeaVersion and / or Patch Used:
Benchmark Demo
Developer Homepage:
http://en.akella.com/
Product Homepage:
http://www.pt-boats.net/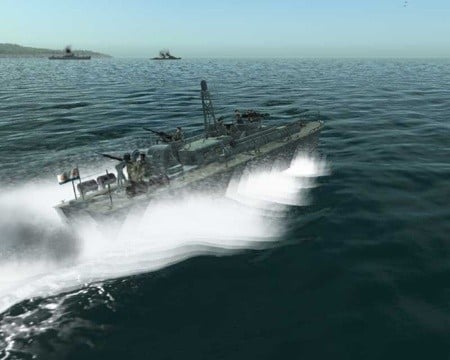 PT Boats: Knights of the Sea is a naval action simulator that places gamers in charge of a mosquito fleet of the Allied Forces, Russia or Germany during the height of World War II.
Using the latest Direct X 10 technology PT Boards - Knights of the Sea manages to apply a lot of stress to the components of today which in turn gives us quite an intensive benchmark.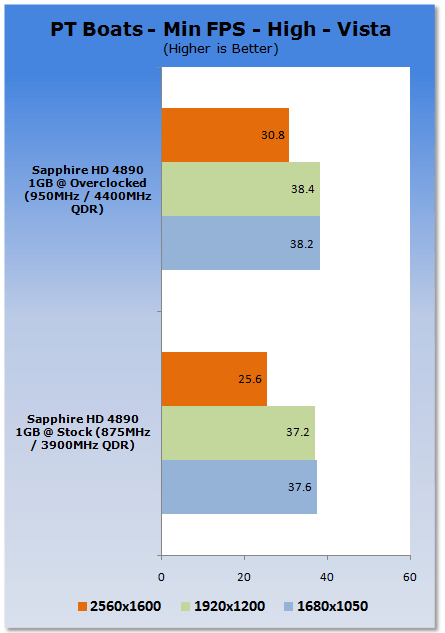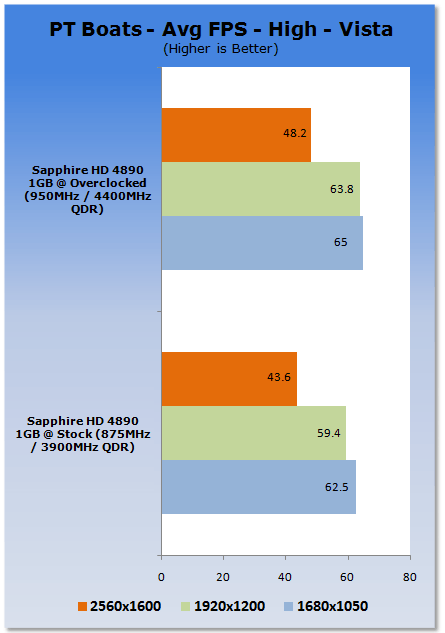 PT Boats sees some good gains at the higher resolution; the difference with the overclock is the game being playable and not playable at 2560 x 1600.
Benchmarks - CINEBENCH R10
CINEBENCH R10Version and / or Patch Used:
Release 10
Developer Homepage:
http://www.maxon.net/
Product Homepage:
http://www.maxon.net

CINEBENCH is a real-world test suite that assesses your computer's performace capabilities. MAXON CINEBENCH is based on MAXON's award-winning animation software, CINEMA 4D, which is used extensively by studios and production houses worldwide for 3D content creation. MAXON software has been used in blockbuster movies such as Spider-Man, Star Wars, The Chronicles of Narnia and many more.
MAXON CINEBENCH runs several tests on your computer to measure the performance of the main processor and the graphics card under real world circumstances. The benchmark application makes use of up to 16 CPUs or CPU cores and is available for Windows (32-bit and 64-Bit) and Macintosh (PPC and Intel-based).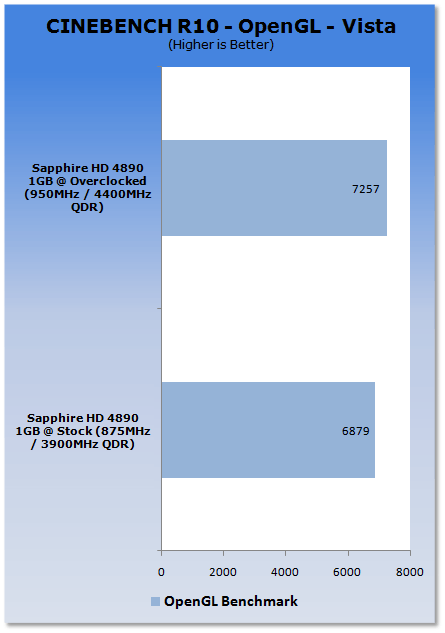 CINEBENCH, like our other tests, so far manages to see a nice little performance increase with the card overclocked.
Benchmarks - World in Conflict
World in ConflictVersion and / or Patch Used:
1.0.0.5
Timedemo or Level Used:
Built-in Test
Developer Homepage:
http://www.massive.se
Product Homepage:
http://www.worldinconflict.com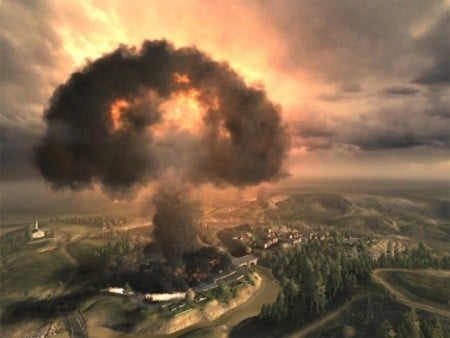 World in Conflict is a real-time strategy video game by Massive Entertainment and to be published by Sierra Entertainment for Windows (DX9 and DX10) and the Xbox 360.
The game is set in 1989 where economic troubles cripple the Soviet Union and threaten to dissolve it. However, the title pursues a "what if" scenario where, in this case, the Soviet Union does not collapse and instead pursues a course of war to remain in power. It is an intensive new game is sure to put plenty of stress on even the latest graphics cards and we use the built-in benchmarking for our testing.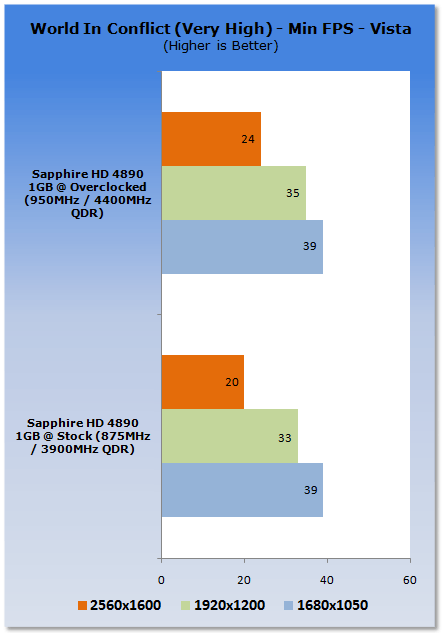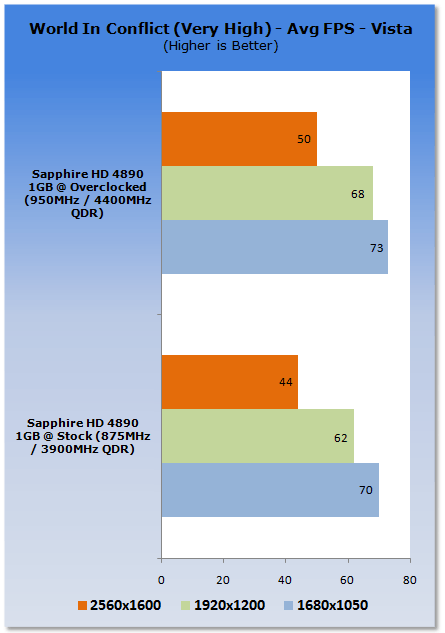 Under WIC we can see gains of up to 20% with the new clock speeds.
Optimum Setup-
Unfortunately the overclock doesn't increase 2560 x 1600 enough to make it playable, so we would be sticking to 1920 x 1200 here.
Benchmarks - Crysis Warhead
Crysis WarheadVersion and / or Patch Used:
unpatched
Timedemo or Level Used:
Airfield
Developer Homepage:
http://www.crytek.com
Product Homepage:
http://crysiswarhead.ea.com/
Buy It Here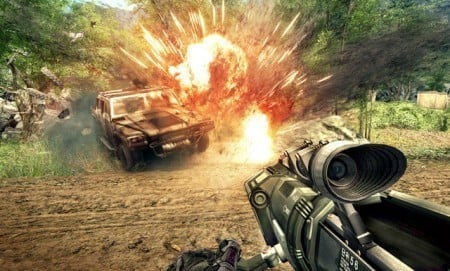 Crysis Warhead updates and refines the gameplay of the original game through a sidestory plot involving Psycho, one of previous protagonist Nomad's allies. The game is a parallel story that follows Sergeant Michael "Psycho" Sykes, a character from the original Crysis, as he faces his own trials and challenges on the other side of the island during the time period of the first game.
It also showcases a new, enhanced and optimized version of CryEngine 2 using full DX10 extensions and is the first game developed by Crytek's Budapest studio.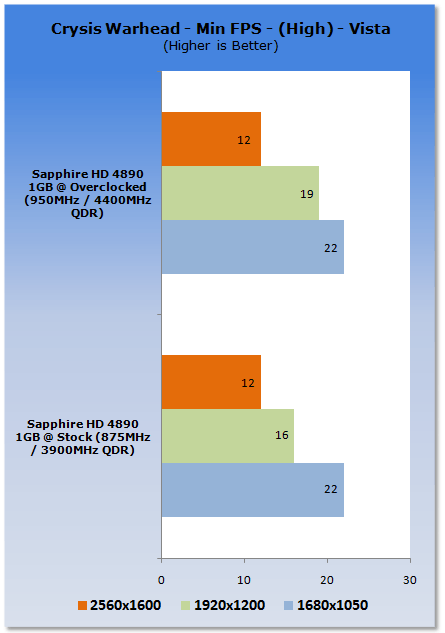 Warhead sees a bit of movement in the minimum department, but the best gains are seen in the average.
Optimum Setup-
The game ultimately does very little for ATI cards; dropping the setting at 1680 x 1050, though, will give you a playable setup.
Benchmarks - Far Cry 2
Far Cry 2Version and / or Patch Used:
1.01
Timedemo or Level Used:
Ranch Long
Developer Homepage:
http://www.ubi.com/
Product Homepage:
http://www.farcry2.com/
Buy It Here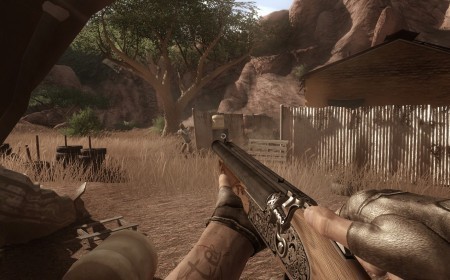 The Dunia Engine was built specifically for Far Cry 2 by the award-winning Ubisoft Montreal development team. It delivers the most realistic destructible environments, amazing special effects such as dynamic fire propagation and storm effects, real-time night-and-day cycle, dynamic music system, non-scripted enemy A.I. and so much more.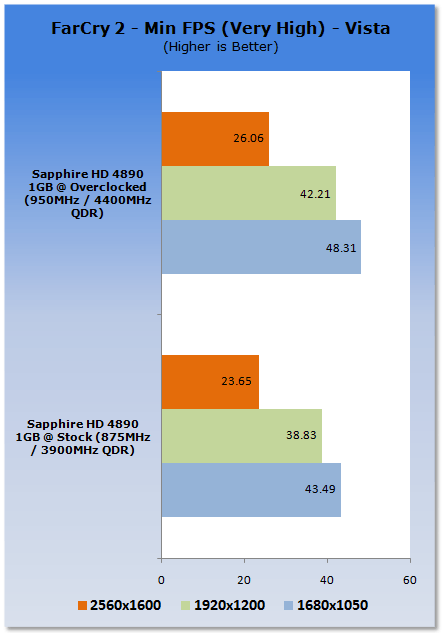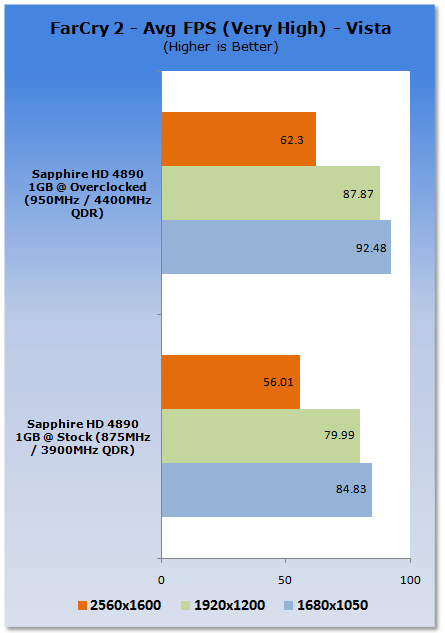 Across the board we see very good gains from the overclocked card with the results equating to more than 15% at times.
Optimum Setup-
While we do see good gains, the extra FPS at 2560 x 1600 is unfortunately not enough for us to move to that resolution. We could drop the detail to high or medium, but if you want to play at Very High 1920 x 1200 is the sweet spot.
Benchmarks - S.T.A.L.K.E.R. - Clear Sky
S.T.A.L.K.E.R. - Clear SkyVersion and / or Patch Used:
1.5.07
Timedemo or Level Used:
Custom Timedemo
Developer Homepage:
http://www.gsc-game.com/
Product Homepage:
http://cs.stalker-game.com/en/
Buy It Here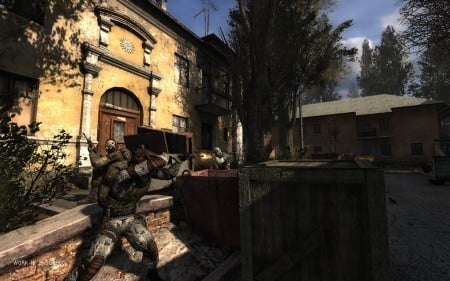 S.T.A.L.K.E.R.: Clear Sky, is the stand-alone prequel for S.T.A.L.K.E.R.: Shadow of Chernobyl, a first-person shooter computer game by Ukrainian developer GSC Game World.[3] The game consists of a roughly 50/50 mix of new areas and old, remodeled areas from the previous game. The X-ray graphics engine has been updated to version 1.5 and includes DirectX 10 support (later patch 1.5.06 included DirectX 10.1). Additionally, the AI received an overhaul to accommodate the new faction wars feature.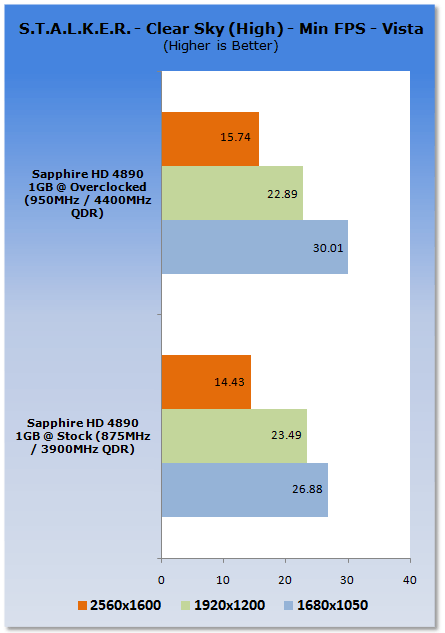 Like our other games, performance is also up in Clear Sky with gains exceeding 15% at times.
Optimum Setup-
The boost in FPS makes 1680 x 1050 playable at high settings.
Benchmarks - Left 4 Dead
Left 4 DeadVersion and / or Patch Used:
Latest Steam Update
Timedemo or Level Used:
Custom Timedemo
Developer Homepage:
http://www.valvesoftware.com/
Product Homepage:
http://www.l4d.com/
Buy It Here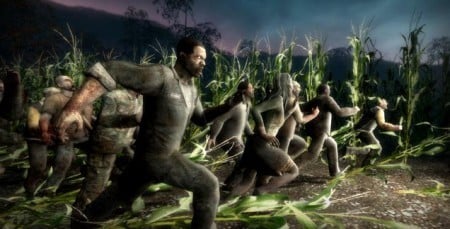 Left 4 Dead uses the latest version of Valve's Source engine, with improvements such as multi-core processor support and physics-based animation to more realistically portray hair and clothing, and to improve physics interaction with enemies when shot or shoved in different body parts. Animation was also improved to allow characters to lean realistically when moving in curved paths.
Rendering and artificial intelligence were scaled up to allow for greater number of enemies who can navigate the world in better ways, such as climbing, jumping or breaking obstacles. Lighting has been enhanced with new self-shadowing normal mapping and advanced shadow rendering that is important to convey information about the environment and player actions.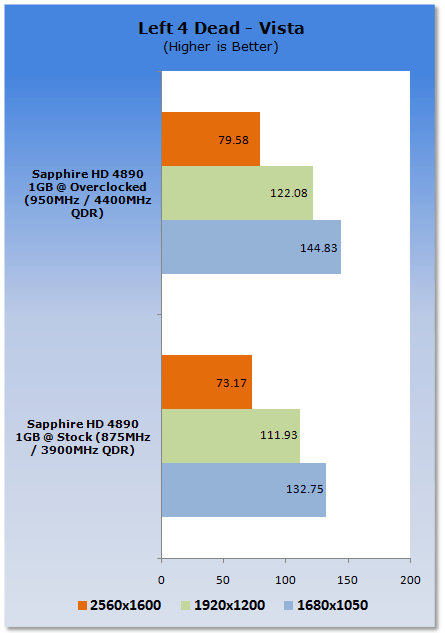 Across the board we see good gains here, but the increase don't really effect performance with the HD 4890 already pulling out big numbers under Left 4 Dead.
Optimum Setup-
Like our non-overclocked setup, 2560 x 1600 isn't going to be a problem.
Benchmarks - High Quality AA and AF
High Quality AA and AF
Our high quality tests let us separate the men from the boys and the ladies from the girls. If the cards weren't struggling before they will start to now.
Far Cry 2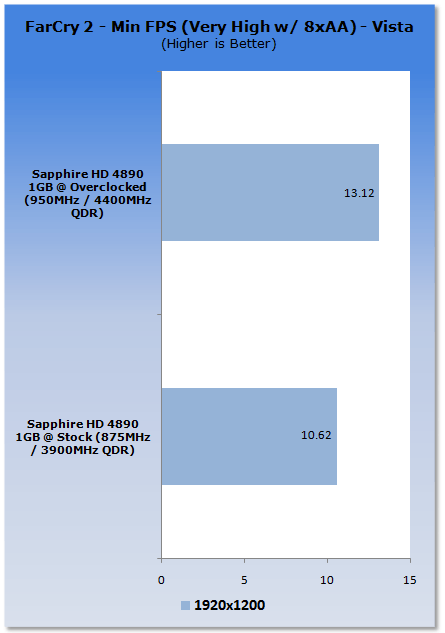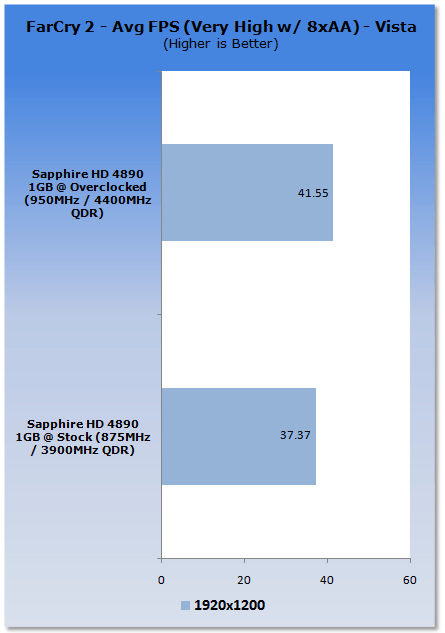 While we see a good gain that equates to 30%, the performance numbers we're seeing aren't enough to let us play the game at these settings.
World In Conflict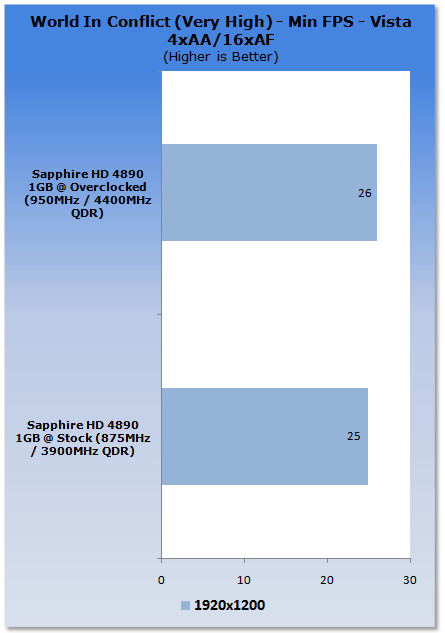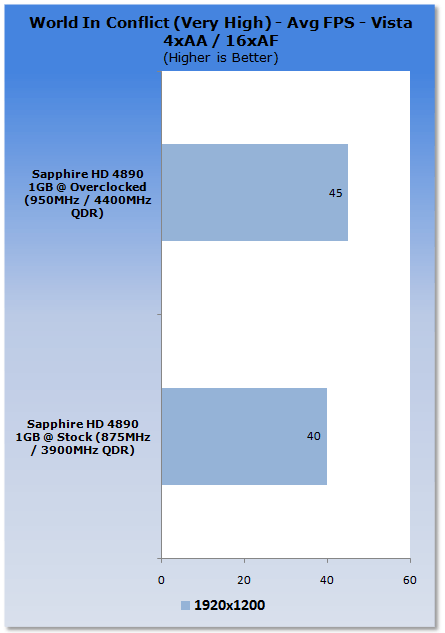 We see a slight bump in the minimum department, but the average has shot up 10%. Like Far Cry 2, we can't play with these settings, but we're pretty close. Ease off slightly on the AA and drop the AF and you're still going to have a great looking game that will run smoothly.
Left 4 Dead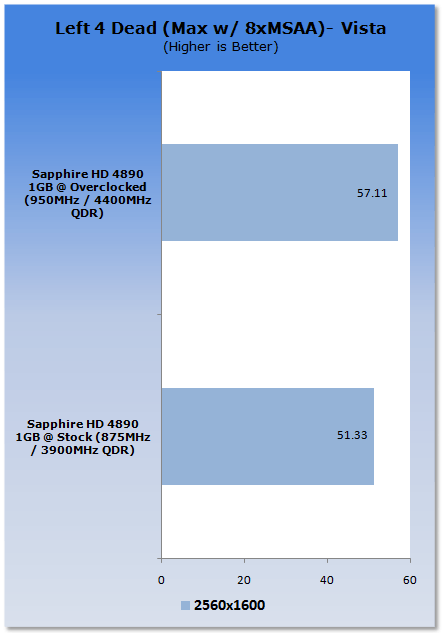 Finally we leave with L4D that sees another good 10%+ increase; there's a fair bit of power there with the HD 4890 when we start increasing the clock rates.
Final Thoughts
You can see today that there is clearly more power behind the HD 4890. So, should ATI have increased the core clocks and memory clock on the cards further? - Yes and no really. For starters, we don't know what the yield rate on a 950MHz core would be; it could significantly drop the rate and increase the price of the card.
Secondly, by moving to these clocks there would be no room for OC models and we know how much companies love to do them. We have already seen GIGABYTE increase the core and memory clock; albeit, not this high.
Where ATI could have probably increased the clock, though, was with the memory. The 975MHz is very weird; they should have just gone for the straight 1000MHz clock. The other thing about having the card clocked higher would have been the difference between the card beating the GTX 260 more often and at a higher rate than its current scores against it.
With everything said and done, though, there seems to be some serious room for overclocking and once we see companies move to aftermarket cooling, there should be even more room again.
It will be exciting to see what companies like Sapphire do with TOXIC and ATOMIC models, while ASUS mix it up with the TOP series and HIS bring out an IceQ4 version with some new clocks.
What's going to be even more interesting is when we slap two of the overclocked cards together. Performance should be extremely strong and the setup should become quite attractive to a lot of people.
ATI ultimately have a really good product here and like I've said before, while it's not next generation, the name doesn't suggest it ever was going to be. It really is a HD 4870 on steroids and while we would have loved more, the price point of the card and the performance it can offer makes it a great card for people.