Windows 7 BETA vs Windows Vista SP1 SSD Performance Compared
MS is promising a faster experience with Windows 7 and the way it handles solid state drives. We put that to the test with the public BETA release.

Published Thu, Jan 15 2009 11:00 PM CST
|
Updated Tue, Nov 3 2020 7:04 PM CST
Introduction
Windows 7 BETA vs. Windows Vista SP1 SSD Performance Compared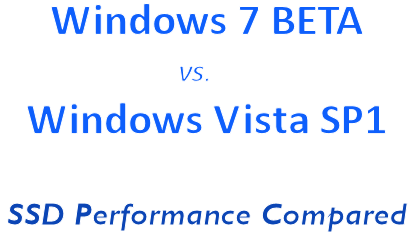 Continuing on with our early Windows 7 beta coverage, we move onto Solid State Drive (SSD) performance.
The topic of SSDs itself is rather interesting, but when you team up the increasingly popular flash memory technology with Microsoft's next operating system, Windows 7, things move up to the next notch on the excitement level - for us around here, anyway - but probably you too, if you are reading this.
Microsoft made some fairly bold claims during its WinHEC conference last year that Windows 7 (W7) would include optimizations that are designed to improve the performance and reliability of SSDs. The operating system is supposed to be able to detect the use of SSDs and once identified, change some settings, compared to the way traditional magnetic hard disk drives are handled.
One of the first changes upon detection is turning off defrag. Because SSDs store data differently, defrag tools will have little to no effect on performance improvements. This is also especially because SSDs are much faster than normal hard drives. The second optimization is the "Trim" feature, which is designed to keep the SSDs unused storage area as free as possible, hence creating more room for device wear leveling. There are probably other subtle tweaks under the hood of W7 as well, but we haven't got all the details in as yet.
We have gotten hold of the Windows 7 BETA and today we are going to compare the performance of single SSD as well as RAID 0 SSD in W7 and Vista SP1. Keep in mind this is just a first look; Microsoft may still and probably will provide further performance optimizations for SSDs under the final shipping version of W7 and this is merely a look at the performance difference so far. We didn't even install any new drivers on our W7 beta install - just ran with what was built-in, so it is a good raw look at things currently as they stand.
Read on and find out if your SSD experience is going to be improved or not under Windows 7. It has been a hot subject in the storage world lately and hopefully we can find out some answers today!
Test System Setup
Processor(s):
Intel Q9450 quad-core @ 3.2GHz
Motherboard(s):
MSI X48 Platinum (Supplied by
MSI
)
Memory:
2 x 2GB Patriot DDR3 1600MHz
Hard Disk(s):
2 x Western Digital 300GB VelociRaptor in RAID 0 (Supplied by
Western Digital
)
Operating System:
Windows Vista SP1 64-bit and Windows 7 BETA 64-bit
Drivers:
Latest Windows Updates (Vista), Intel INF 1.1.15 (Vista)
We installed Vista SP1 with all the latest updates and Windows 7 BETA (stock standard - no driver changes from install) on a more than capable system, which is ready to compare SSD performance.
We would have preferred to use a standalone RAID controller, but the one we have here from Areca did not work properly under Windows 7 with the standard Vista drivers. Instead, we plugged the drives directly into the MSI X48 motherboard and they were powered by the Intel ICH9R Southbridge chipset.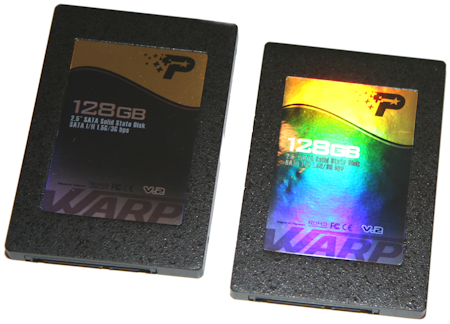 This chipset is far from ideal when it comes to SSD, since it is not able to show the maximum potential of the Patriot Warp2 128GB SSD SATA drives, which we used for testing in this article. On the other hand, though, not everyone can afford a separate high-end RAID controller worth around the four figure mark and this will give us a look at what the more-average Joe consumer will be using hardware-wise.
We also wanted to note that testing was completed on a fresh install of each operating system and no SSD specific performance tweaks were applied at all. There are a bunch of Vista SSD tweaks out there, but we wanted to provide a raw look at SSD performance on each OS.
Let's move on now and examine the results.
HD Tune Pro - SSD Read Performance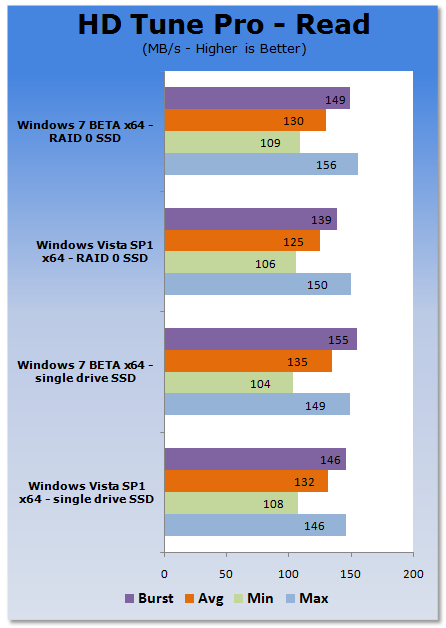 Our first test puts HD Tune Pro into action and we look at read performance.
Starting with single drive performance, we can see that Windows 7 has the edge over Vista in all tests besides minimum read speed, which slipped for some reason. Burst speed is a good deal quicker and we can see the average speed manages to edge out Vista by a little.
When it comes to RAID 0 performance we can see that the ICH9R controller struggles to support the SSD drives properly, since it was designed for slower mechanical hard disk drives. Nevertheless, we see Windows 7 well out in front here, beating Vista SP1 in every test.
The results are close, but it is important to remember that Windows 7 is still in BETA and that we are using early drivers. As the official launch of W7 draws closer, we will see actual W7 drivers released and they should improve performance, as well as other changes Microsoft make under the hood of its OS.
HD Tune Pro - SSD Write Performance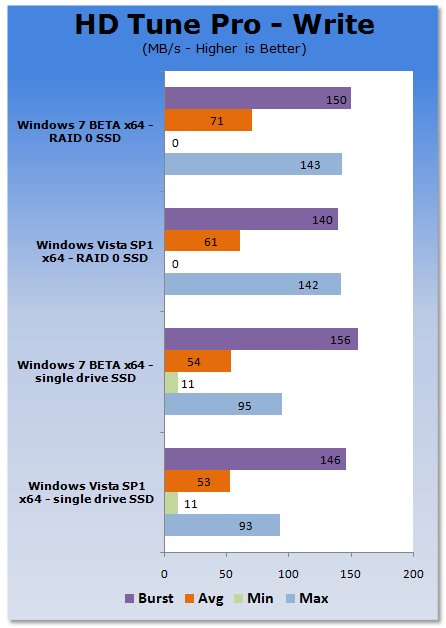 Now we come to SSD write performance and starting off with RAID 0, you can see the ICH9R really struggles with minimum write speeds, hitting 0MB/s - ouch.
Besides that, though, Windows 7 has another good jump on Windows Vista here and things are looking positive for Windows 7 and SSD.
Moving on to single drive performance, the results are closer, but Windows 7 still has the edge; this is more great news for SSD users.
A note on Access Time and CPU Usage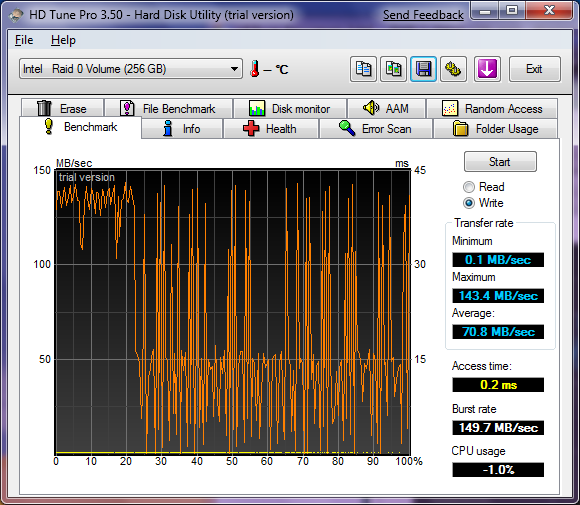 The above result from HD Tune Pro is of the SSDs in RAID 0 under Windows 7.
We wanted to note that every single configuration (read and write) saw an access time of 0.2ms and that is a great result.
When it came to CPU usage, however, there seems to be a discrepency with the info reported under Windows 7. In every test we saw a CPU usage of -1%. This is clearly an error of some kind, most probably due to the software not yet fully supporting the Windows 7 operating system. Under Windows Vista, CPU usage ranged from 2 - 4%.
That is more good news on the W7 + SSD front!
Final Thoughts
Today we have provided a quick and simple look at SSD performance in Windows 7 BETA and Vista SP1. It is far from conclusive, we know, but it was only designed to be a quick look at the numbers so far and what users may be able to expect from a standard desktop system.
Based on our testing, we can see that obviously Microsoft have spent some time improving SSD performance under Windows 7, as it managed to beat out Vista in all but one test and that might have only been a slip up.
Access time is also very impressive under W7, but when it came to CPU usage we weren't really sure on just how well it fared here as it was consistently scoring -1% usage under every test, which as mentioned earlier is likely a compatibility error with HD Tune Pro that we will see resolved with an update down the track.
We hope you enjoyed the quick look at SSD performance under Windows 7 so far. We will be back with more at a later date as new drivers and so forth come out.
PRICING: You can find products similar to this one for sale below.

United States: Find other tech and computer products like this over at Amazon.com

United Kingdom: Find other tech and computer products like this over at Amazon.co.uk

Australia: Find other tech and computer products like this over at Amazon.com.au

Canada: Find other tech and computer products like this over at Amazon.ca

Deutschland: Finde andere Technik- und Computerprodukte wie dieses auf Amazon.de
We openly invite the companies who provide us with review samples / who are mentioned or discussed to express their opinion. If any company representative wishes to respond, we will publish the response here. Please contact us if you wish to respond.