Introduction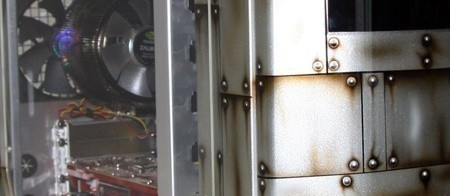 Just the other day, I was talking about how the HD 4870 X2 is a great card for P45 users. When I tested HD 4870 in CrossFire a few months back on both the P45 and X48, we noticed that the x8 / x8 configuration present on the P45 actually gave us a bit of a hit in performance. You can see the full article
here
.
What's great about the HD 4870 X2 is that we should get the HD 4870 CF performance that's present on the X48, on the P45, thanks to the card using only a single slot which is getting full x16 bandwidth.
So, what we're going to do today is chuck a pair of Sapphire HD 4870s into a P45 board and do a bunch of tests. We're then going to pull those two cards out and stick in a single HD 4870 X2. We will run the same tests and proceed to compare. Since we've already looked at the cards themselves, we're just going to get stuck straight into the benchmarking side of things. Let's begin by taking a quick look at our testbed we're using today, before getting stuck straight into the benchmarks.
Test System Setup and 3DMark06
Smooth Creations Test System SetupProcessor(s):
Intel Core 2 Extreme QX9650 @ 3.9GHz
Motherboard(s):
Foxconn P45-A
Memory:
2 X 4GB G.Skill MQ 6-6-6-18
Hard Disk(s):
Western Digital Raptor 150GB
Operating System:
Windows Vista SP1
Drivers:
Catalyst 8.7 & R700 Only Driver
We couldn't let that beast of a
Smooth Creations system
rest for too long, so we've placed the power cord back in, hooked up our keyboard, mouse and 30" monitor and cranked the CPU up to 3.9GHz.
What we've done is run through our Vista benchmarks to see how we go with the two setups. Let's find out how we go and if my thought process was correct in wrapping up the HD 4870 X2 the other day.
3DMark06Version and / or Patch Used:
Build 110
Developer Homepage:
http://www.futuremark.com
Product Homepage:
http://www.futuremark.com/products/3dmark06/
Buy It Here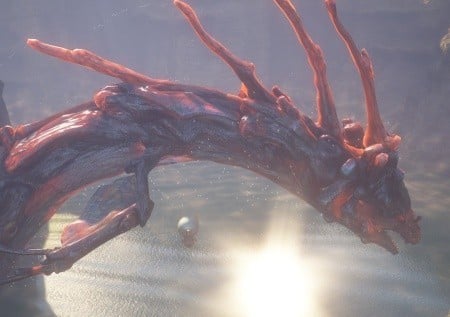 3DMark06 is the worldwide standard in advanced 3D game performance benchmarking. A fundamental tool for every company in the PC industry as well as PC users and gamers, 3DMark06 uses advanced real-time 3D game workloads to measure PC performance using a suite of DirectX 9 3D graphics tests, CPU tests, and 3D feature tests.
3DMark06 tests include all new HDR/SM3.0 graphics tests, SM2.0 graphics tests, AI and physics driven single and multiple cores or processor CPU tests and a collection of comprehensive feature tests to reliably measure next generation gaming performance today.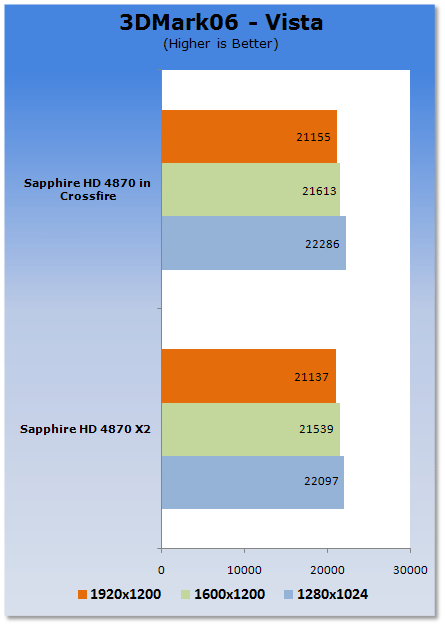 Under 3DMark06 we can see that the two setups barely show any difference across all resolutions.
Benchmarks - 3DMark Vantage
3DMark VantageVersion and / or Patch Used:
1.0.1
Developer Homepage:
http://www.futuremark.com
Product Homepage:
http://www.futuremark.com/products/3dmarkvantage/
Buy It Here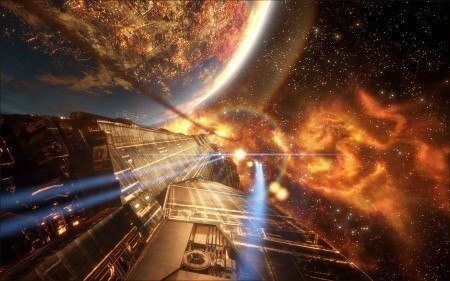 3DMark Vantage is the new industry standard PC gaming performance benchmark from Futuremark, newly designed for Windows Vista and DirectX10. It includes two new graphics tests, two new CPU tests, several new feature tests, and support for the latest hardware.
3DMark Vantage is based on a completely new rendering engine, developed specifically to take full advantage of DirectX10, the new graphics API from Microsoft.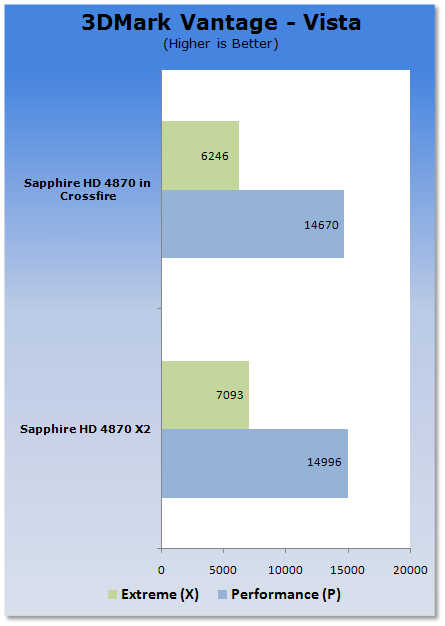 Here we can see under the extreme load setting, the single HD 4870 X2 offers a good performance increase over the Crossfire configuration. This is exactly what I was talking about when summing up the HD 4870 X2 the other day.
Benchmarks - PT Boats: Knights of the Sea
PT Boats: Knights of the SeaVersion and / or Patch Used:
Benchmark Demo
Developer Homepage:
http://en.akella.com/
Product Homepage:
http://www.pt-boats.net/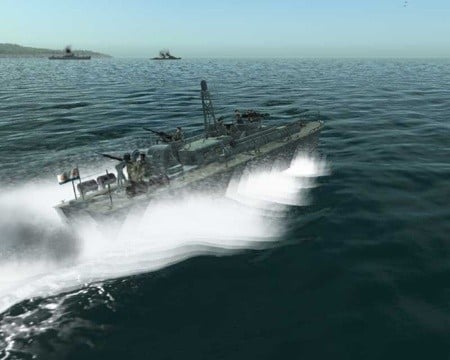 PT Boats: Knights of the Sea is a naval action simulator that places gamers in charge of a mosquito fleet of the Allied Forces, Russia or Germany during the height of World War II.
Using the latest Direct X 10 technology PT Boards - Knights of the Sea manages to apply a lot of stress to the components of today which in turn gives us quite an intensive benchmark.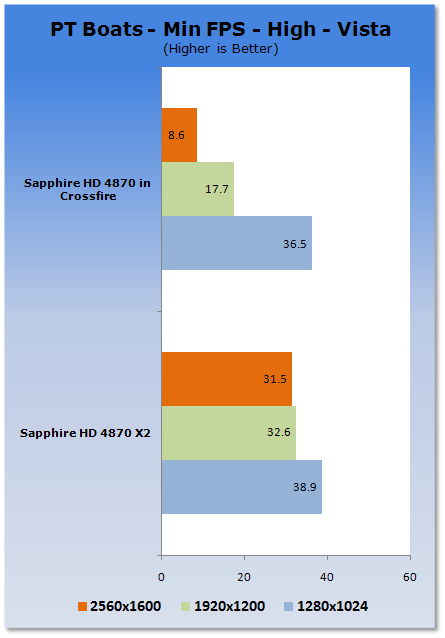 We can see across the board the HD 4870 X2 manages to wipe the floor of the HD 4870 in Crossfire. The HD 4870 CF setup consistently showed the low results while the X2 continued to show higher ones.
Benchmarks - CINEBENCH R10
CINEBENCH R10Version and / or Patch Used:
Release 10
Developer Homepage:
http://www.maxon.net/
Product Homepage:
http://www.maxon.net

CINEBENCH is a real-world test suite that assesses your computer's performace capabilities. MAXON CINEBENCH is based on MAXON's award-winning animation software, CINEMA 4D, which is used extensively by studios and production houses worldwide for 3D content creation. MAXON software has been used in blockbuster movies such as Spider-Man, Star Wars, The Chronicles of Narnia and many more.
MAXON CINEBENCH runs several tests on your computer to measure the performance of the main processor and the graphics card under real world circumstances. The benchmark application makes use of up to 16 CPUs or CPU cores and is available for Windows (32-bit and 64-Bit) and Macintosh (PPC and Intel-based).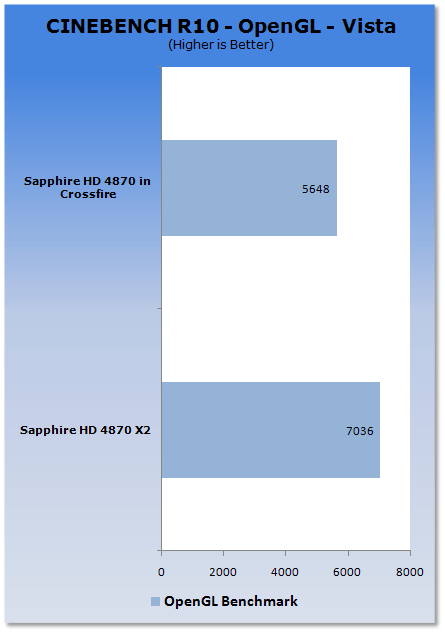 Here under CINEBENCH we see that the HD 4870 X2 comes out considerably faster than the Crossfire solution.
Benchmarks - World in Conflict
World in ConflictVersion and / or Patch Used:
1.0.0.5
Timedemo or Level Used:
Built-in Test
Developer Homepage:
http://www.massive.se
Product Homepage:
http://www.worldinconflict.com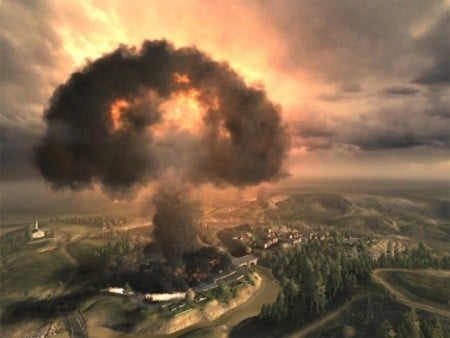 World in Conflict is a real-time strategy video game by Massive Entertainment and to be published by Sierra Entertainment for Windows (DX9 and DX10) and the Xbox 360.
The game is set in 1989 where economic troubles cripple the Soviet Union and threaten to dissolve it. However, the title pursues a "what if" scenario where, in this case, the Soviet Union does not collapse and instead pursues a course of war to remain in power. It is an intensive new game is sure to put plenty of stress on even the latest graphics cards and we use the built-in benchmarking for our testing.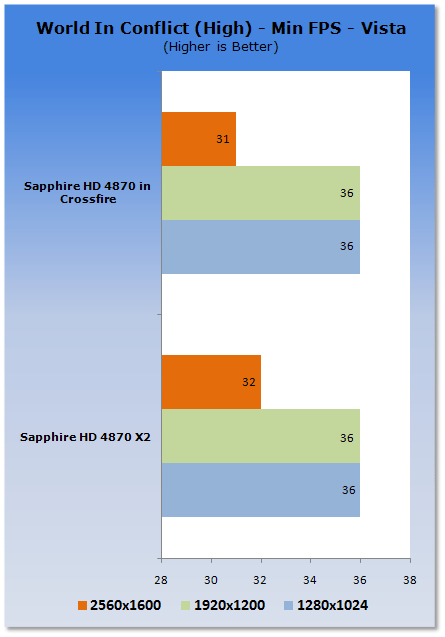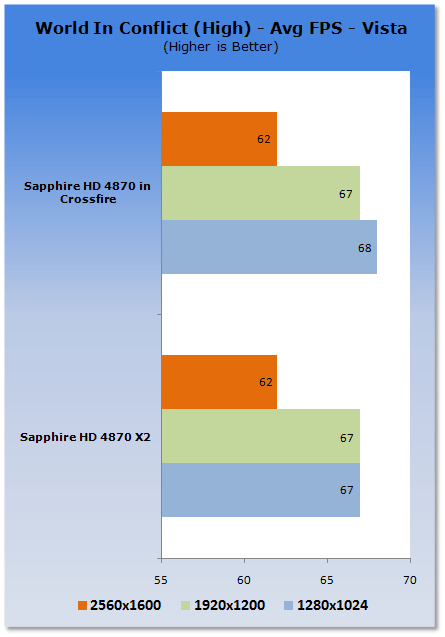 Under World In Conflict, the two setups don't show any real difference.
Benchmarks - Unreal Tournament 3
Unreal Tournament 3Version and / or Patch Used:
1.1
Timedemo or Level Used:
Developer Homepage:
http://www.epicgames.com/
Product Homepage:
http://www.unrealtournament3.com/
Buy It Here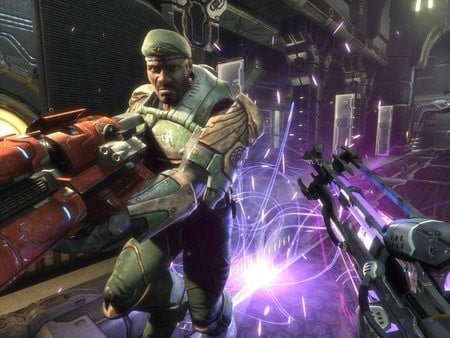 Following the formulae that made Unreal Tournament so great the third installment to the series has hit us recently with better than ever graphics. The games uses the latest Unreal Engine which like most modern day games when maxed out puts the pressure on our lineup of graphics cards.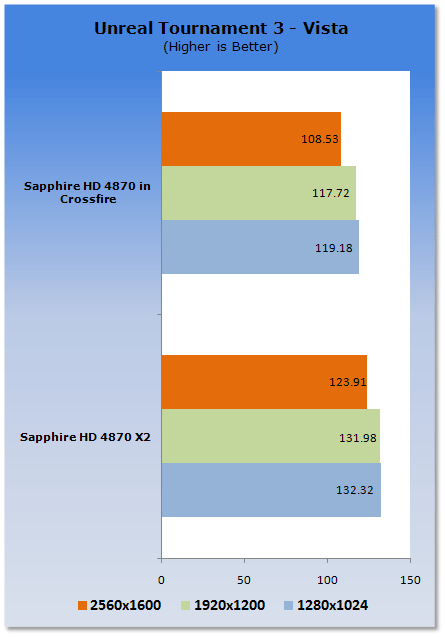 Under UT3 we see across the board the single X2 solution is quicker than the HD 4870 in Crossfire.
Benchmarks - High Quality AA and AF
High Quality AA and AF
Our high quality tests let us separate the men from the boys and the ladies from the girls. If the cards weren't struggling before they will start to now.
3DMark06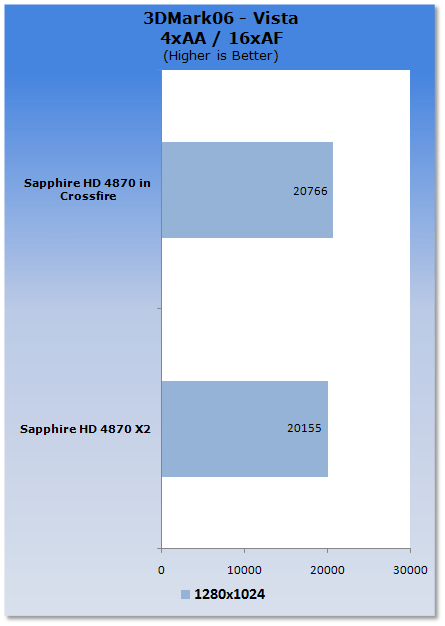 Under 3DMark06, we again see both setups quite close together with the CF solution being slightly ahead.
World In Conflict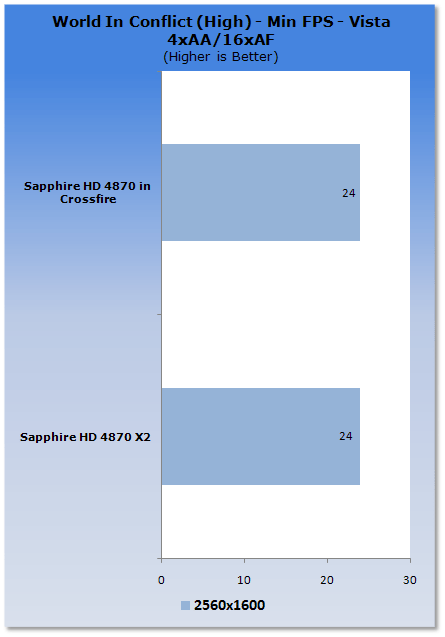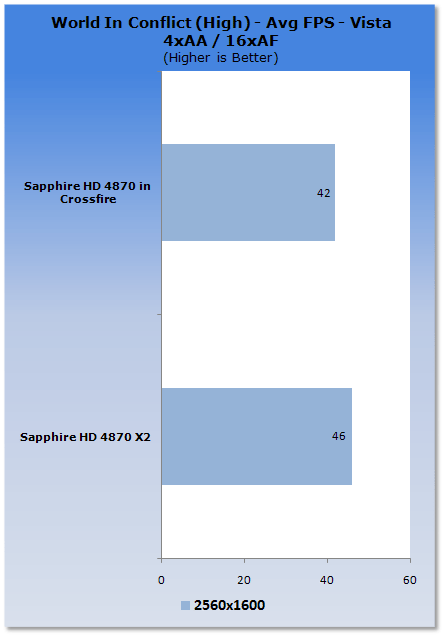 While the minimum doesn't show any difference, the average has a good 10% on the Crossfire solution.
Final Thoughts
A single HD 4870 X2 thrown into a heavily overclocked P45 board is going to run like an absolute dream. 3.5GHz + isn't really all that uncommon these days and here we really get to see the HD 4870 X2 shine, even more so than before.
Compared against the HD 4870 Crossfire solution on the P45 board, we see the HD 4870 X2 either performing similar, like we saw in our older
P45 vs. X48 testing
, or it manages to get a good 10% jump on the setup.
You would really have to be a bit on the side of crazy to purchase a pair of HD 4870s over a single HD 4870 X2 when looking for some real GPU power. We can see under intensive load situations, the lack of bandwidth going to the Crossfire configuration does have an impact on performance.
Before we finish off, though, let's have a quick look at some of the results we obtained out of the Smooth Creation 3.9GHz system against our 3GHz testbed.
With the HD 4870 X2, we saw our Vantage performance score move up from 12496 to 14996.
Talking real world, World in Conflict performance is way up. 2560 x 1600 yields a minimum of 24 FPS and an average of 46 FPS on our 3.0GHz testbed. On the heavily overclocked Smooth Creations system, we saw the minimum move to a very important 32 FPS and the average sky rocket to an impressive 62 FPS.
This gives you a real idea of just how CPU bottle necked these cards are. All I can say is, "Bring on i7!".