The State of Solid State
Production is going up and prices are going down; how long till you get solid?
Published Sun, Jul 13 2008 11:00 PM CDT
|
Updated Tue, Nov 3 2020 7:04 PM CST
Introduction
The word is out and every enthusiast dreams of the day they get to install a shiny new solid state drive into their notebook or desktop. We have all seen the videos of a pair of notebooks booting into Windows; the solid state drive boots like it is coming out of hibernation and the platter drive, well, you know how that goes. Just as impressive are the claims of 30% more battery life for those on the go.
In our recent reviews, TweakTown has documented just how quickly the technology has come down from the clouds and landed right in the laps of enthusiasts. For users, the only thing that has held back wide spread adoption of solid state drives has been the enormous costs associated with the innovative technology.
In February, Samsung announced they would begin ramping up production of 64GB drives and the fruits of their effort are starting to pay dividends. It is now possible to purchase a 64GB solid state drive that uses lower cost Multi-Level Cell (MLC) for less than 400 U.S. Dollars. This week Samsung made a similar announcement committing to aggressively raise the production of 128GB drives with 256GB production increasing later in the year.
Samsung is aggressively expanding its SSD market offerings. It introduced a 64GB SSD in the second half of 2007, and plans to begin producing a 256GB at the end of this year. Samsung's mass production of 128GB SSDs helps it to maintain its position as the leading producer of SSDs in the world, with capacities ranging from 32GB to the highest available today.

Samsung expects sales of SSD units to increase 800 percent between now and 2010, keeping SSDs on pace to be the largest growth segment in the NAND flash market over the next few years.
The above statement was taken straight from Samsung's latest
press release
and if history repeats itself, we should start to see 128GB drives start to drop a significant amount within three months. The second paragraph shown from the press release shows that Samsung expects users to quickly take notice.
Reading between the lines, Samsung is saying that they are ready to make a large push with their NAND flash memory and customers will adopt it at a significant rate. Even ten years ago customers were not paying ten Dollars per Gigabyte of storage, and Samsung knows that an 800% increase is not possible at even half that price.
The Big Break
Currently, there are two competing technologies lumped together under the SSD banner. For most users the difference is like that of Plasma vs. LCD; both have an advantage over the other in certain areas, but when it comes down to it, you wouldn't think of going back to a CRT, or in this case a platter based drive.
The first technology is SLC or Single Level Cell. Once the oil separates from the water, SLC will stay where it is at; the upper echelon of storage, which is what you presume SSD is all about; wicked fast read and write speeds with near non-existent access times and a price that will remain wicked, for the next six months anyway.
MLC or Multi-Level Cell is emerging as a lower cost SSD technology and the direction many manufacturers are moving towards. In the past, read speeds have been a bit slower than SLC and write speeds have been right at the half way mark. Access times are still very low at less than 1ms, but not quite the sub millisecond that SLC can achieve when paired with an exceptional controller. For this article we are going to focus on MLC technology as it is the technology most likely to make its way to the masses this year.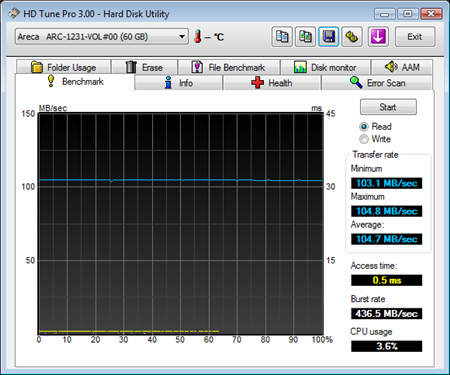 Super Talent MasterDrive Read Benchmark
Just like a controller you see on the bottom of your hard drive now, SSDs also need a chip to give them instructions. The controller is just as important as the type of memory used in a solid state drive; having a good controller can make or break your drives performance.
Solid state controllers are evolving rapidly, so fast that even the Super Talent MasterDrive MX
I reviewed
just days ago will be updated this coming Monday with what amounts to a firmware update. I was told this update improves the write speeds of the drive by a factor of two, making the drive write data within 10-15% of the much higher priced SLC drives.
To put this on a timeline to show just how quickly the product evolved, a sample request was issued. Just two days later the drive shipped out, and within a weeks time the article was posted. The day after, I received word about the update and an announcement is set to be made in the next two business days.
The Super Talent MasterDrive MX 60GB we looked at has a retail price of under 400 U.S. Dollars and doubles the capacity of many 32GB SLC drives we tested, costing over two times as much. The drive, post update will perform within 10% of the median speed of the SLC drives.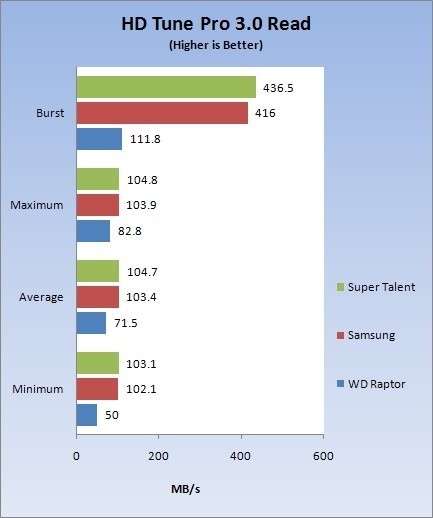 Super Talent and Samsung SSDs vs. Raptor 150GB Read Speed Test
Samsung and Super Talent are not the only companies diving down the cost of solid state drives. OCZ Technology, based in Sunnyvale, California, announced on July 1st an even higher performance, low cost drive. The OCZ Technology Core Series specs out at an incredible 120-143 MB/s read speed and 80-93 MB/s write speed. You already know SSDs are fast, but the real story is in the price.
Core series SSD drives are available in capacities of 32GB, 64GB, and 128GB and deliver incredible 120-143 MB/s 80-93 MB/s read/write speeds and seek times of less than 0.35ms, making the Core series up to 10x as fast on a seek-time basis and up to 40% faster on a R/W basis that the best performing 2.5" HDDs on the market, all while consuming 50% less power. MSRPs at time of launch are USD $169, $259 and $479 for 32GB, 64GB and 128GB models respectively.
Neither the
press release
nor the
product home page
specify if the Core Series will use SLC or MLC memory, but given the low price I am going to go out on a limb and say MLC; though it is clear that the lines are starting to blur when it comes to performance.
The Wrap Up
Solid state drives are not going to hit one day, cause mass hysteria and have people waiting in lines outside of their local Apple Store like some products. Even at the 300 Dollar price point for a 64GB drive, enthusiasts and business users will be the first to take advantage of the new, lower prices.
Over the next few months, big box builders will start to offer solid state drives in more of their middle class notebooks, and if big memory manufacturers like Samsung are not able to meet demand, the prices will rise again. Thankfully, these manufacturers appear to be ready to meet demand or at least know they need to ramp up production quickly.
It is my belief that upgrading your platter based hard drive to an SSD will produce the most significant change to your computing experience for a modern computer. I am neither talking frames per second nor calculation from a benchmark, but your overall, real world 'I use my computer everyday' tasks. The difference is similar to running an eight year old 20GB, 512KB cache drive with Vista installed and then moving to a new SATA II drive.
Over the next 30 days, I will run my Lenovo T61 notebook with the Super Talent MasterDrive MX and give a detailed report of my experiences dealing with the battery life, losing 40GB of storage space and the overall system feel. This isn't a shelf notebook that is used on the weekend; my T61 goes with me everywhere and twelve hours on my lap a day is not uncommon.
PRICING: You can find products similar to this one for sale below.

United States: Find other tech and computer products like this over at Amazon.com

United Kingdom: Find other tech and computer products like this over at Amazon.co.uk

Australia: Find other tech and computer products like this over at Amazon.com.au

Canada: Find other tech and computer products like this over at Amazon.ca

Deutschland: Finde andere Technik- und Computerprodukte wie dieses auf Amazon.de
We openly invite the companies who provide us with review samples / who are mentioned or discussed to express their opinion. If any company representative wishes to respond, we will publish the response here. Please contact us if you wish to respond.