Kingston APAC Media Tour 2007 in Taiwan
We were kindly granted entry into Kingston's factory yesterday and were allowed to check out their production methods.
Published Thu, Oct 18 2007 11:00 PM CDT
|
Updated Tue, Nov 3 2020 7:04 PM CST
Introduction and New Products
Yesterday Kingston held a media tour for the APAC press and TweakTown was there to bring you the latest news from Kingston as well as a look into how they manufacture memory modules, flash memory and USB keys. Kingston is currently celebrating its 20th anniversary and the company is thriving. Kingston is one of the more well known memory manufacturers in the world, although the company doesn't actually make its own memory chips.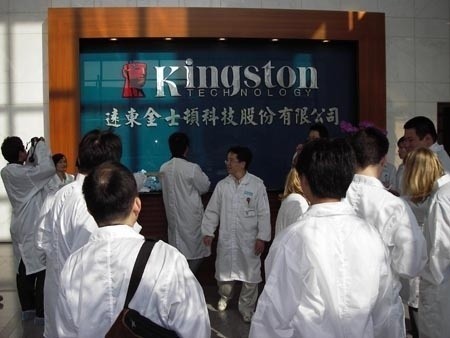 This might seem like a bad strategy in a market with fluctuating prices, but apparently due to the quantities of memory chips the company is purchasing, it's generally not affected too much as they have long term contracts with several different manufacturers. Kingston also said that they're not affected by chip manufacturers that also sell memory modules or flash memory and this is due to a different market strategy from the company.
What you might not know is that Kingston is the biggest retail brand for DRAM modules in the world, with some 18.1 percent of the market in 2006 with its nearest competitors not having more than about 5 to 5.5 percent. Companies such as Crucial and Corsair has less than four percent market share and most of the high-performance module manufacturers aren't even on the top 10 list according to data from iSupply.
But this is only one part of Kingston's market and with the flash memory market growing exponentially year on year, this is a very important part of Kingston's product range. Kingston actually ships more flash based products than DRAM based products, which should tell you something about how important this market is for Kingston. With 2GB NAND based flash chips becoming mainstream early next year we should see larger capacity memory cards and USB drives at even lower prices than today.
Kingston sees the biggest growth in the flash memory market in mobile phone memory expansion cards over the next three years, especially as the market share of mobile phones with integrated memory card slots are meant to more than double by then. According to data from Gartner, Kingston was the world's fourth biggest flash memory card manufacturer last year, but Kingston said it expects to be number two this year.
The market for USB drives are apparently changing as well with Kingston's customers going for what they call smart USB drives; these include things such as U3 or Migo drives, or those with encryption or backup features. For the first time earlier this year, Kingston shipped more of this type of drive than its traditional plain USB keys. In 2006 Kingston was the second largest manufacturer next only to Sandisk of USB flash drives, but according to Kingston they surpassed Sandisk in Q1 this year and hope that they will continue that trend for the rest of the year.
Kingston is projecting a 170 percent growth in the flash memory market this year, which is an insanely high number. With lower pricing and more storage space on the various flash products it's not hard to see that this could happen.
Kingston also talked about a few upcoming products and the company just launched a 266x Compact Flash card which comes with recovery software in case you delete an image by mistake. These cards are only available at up to 8GB in size, but Kingston has a slower 133x card which will launch later this month in sizes up to 16GB. On the SD card side the biggest news is a new adaptor for Kingston's micro SD cards which allows you to use them with devices that takes Memory Stick Pro Duo cards and it will be sold in a bundle with a micro SD card ranging from 1-4GB, this product will launch on the 29th of this month.
In terms of USB flash drives, Kingston is working on a new HyperX DataTraveler drive which should be their fastest USB key to date and this will launch some time in Q1 next year. At around the same time, Kingston will also launch a Migo compatible DataTraveler which will allow you to store and run applications directly from your USB key. For the more corporate clients Kingston is about to launch its DataTraveler BlackBox in December which comes with 256-bit hardware data encryption among other features. In the budget end of the market is the DataTraveler 101 which has already launched in some countries, but which will be available worldwide later this year. It has a swivel cap so you don't have to worry about losing it and it comes in 1 and 2GB sizes.
A couple of other products will also launch, these include the DataTraveler CRC which is a new version of Kingston's DataTraveler CR which has a built in card reader. The new model will support micro SD and Sony M2 cards and comes in sizes ranging from 1-4GB, it will again be available some time in Q1 of next year. Kingston will also launch a new memory card reader which will be available in November. It has a new design and it will be compatible with standard memory card formats on the market apart from xD and SmartMedia from what we understand.
The next big thing Kingston was talking about was SSD and it expects that by 2010 some 32 million SSD drives will ship in notebooks. Kingston is being conservative and is waiting for market prices to drop until it will launch its own range of SSD drives, but this should happen sometime in Q1.
Kingston also launched two new products during the media tour, the KHX14400D3 which is available as a single 1GB module or a kit of two. This is Kingston's latest high-speed DDR3 module which is clocked at an insane 1,800MHz with latencies of 8-8-8-24. The second product is the KHX130003LL which is a "low latency" module, again available as a single 1GB module or a kit or two. It's clocked at 1,625MHz and has a latency of 7-7-7-20 which we find a bit hard to call low latency. Both modules operate at 1.9V.
But let's move on to the bit you've all been waiting for, the factory tour.
Inside the Factory
Rather unusually, Kingston actually allowed us to take quite a few pictures inside its factory, something which is generally not allowed during a factory tour of this type. We even shot a few short videos of some of the machines that Kingston has custom built, although some of the really cool ones weren't allowed to be photographed. Kingston's factory in Taiwan produces both DRAM modules and flash memory products and Kingston also has a factory in Shanghai and Shenzhen in China as well as one in Penang in Malaysia and a small facility in California in the US.
We won't be going into too much detail about each step, as the pictures will tell you most of the story, but let's start with a short video of a machine that checks for defected memory PCBs.
The light you see flashing works sort of like an X-Ray machine to check that all the traces in the PCB are within spec and that everything is located where it should be. Next the PCB goes into a machine that adds all the SMT components, which is every single component when it comes to memory modules, unlike motherboards where a lot of the components are fitted manually. The modules which in this case happened to be SO-DIMMs then go into a bit soldering oven which secures all the components onto the PCB, and you can see the modules on their way into the oven on the picture below.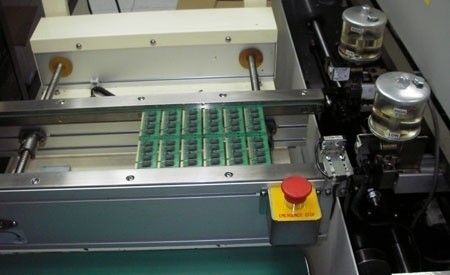 Next up is a machine that optically checks that all the components have been fitted correctly onto the PCB. This time you're looking at a row of FB-DIMM modules on the screen.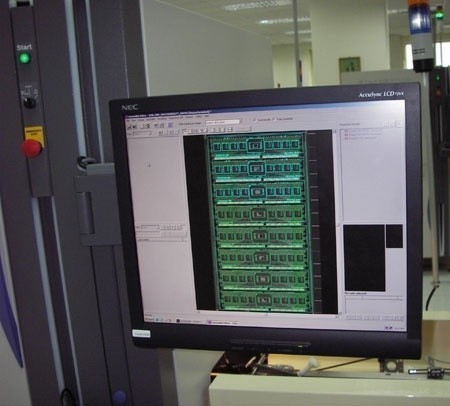 Next, the modules are cut out from the excess PCB which is used to hold them during manufacturing and moved onto SPD programming. This is all done by inserting the modules in a special SPD programmer which is connected to a standard PC or as in this case, an open motherboard.
Once this has been done, the modules are tested. When asked why this wasn't done by an automated process, the answer was that it was too expensive as the machines had to be changed too often. As you can see from the picture below, Kingston is a very good ASUS customer.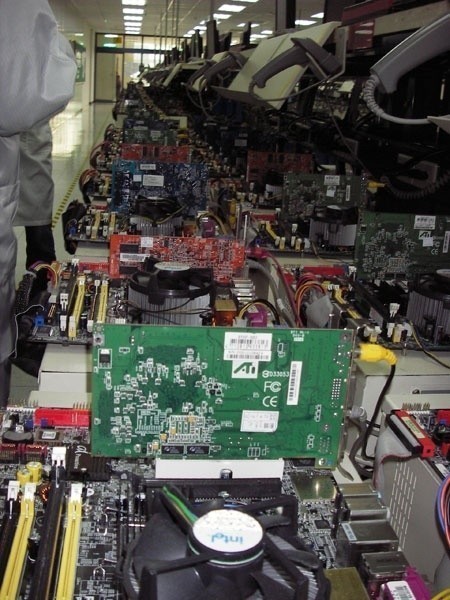 Kingston are currently using a riser card to prevent damage to the memory slots on the motherboards, but apparently this is becoming a problem with increasing memory speeds and they're looking into other solutions for this problem.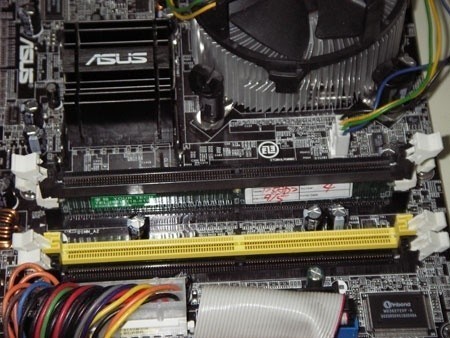 Some of you might laugh at the picture below seeing as it is that Kingston still has Slot-1 and Socket-370 test systems, but since the company provides memory for a wide range of customers and when you take into consideration that the embedded PC market has a 5-7 year life span, then it's suddenly not all that strange any more.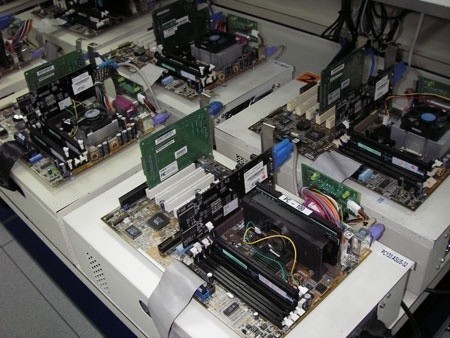 Once all these tests have been passed the modules are packed and shipped out. Next we were shown the SD, Compact Flash and USB key manufacturing, but we were only allowed to take a few pictures in this area. However, the PCB part is done exactly the same way as the various DRAM modules.
From the picture below you can see that Kingston makes a few USB keys a day and that was only a small batch. Again each drive is manually tested. There was a really cool automated test system for Compact Flash cards, but we weren't allowed to take any pictures of it.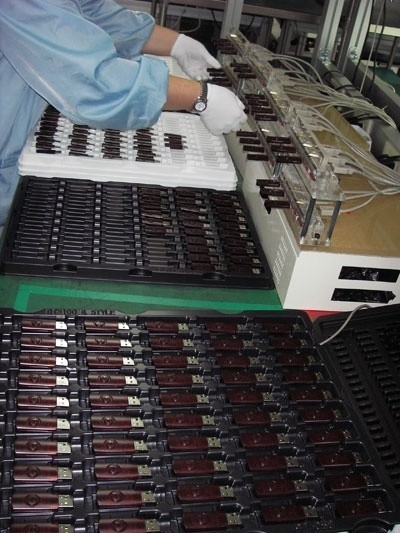 Another cool machine we were allowed to photograph was the laser engraver, this machine is used for engraving the model number, serial number and size of the USB drives onto the USB port and it actually looks really quite insane as you can see from the video.
Finally we got to see a machine that assembled the SD cards, but again we weren't allowed to take any pictures here. What we do have is a short video of another machine which puts the labels onto the SD cards, but this one isn't quite as cool as the one that puts the plastic onto each side of the PCBs.
So there you go, that's how Kingston manufactures and tests memory. We'd like to thank Kingston for taking us along and for the insight they've been able to provide into the process of different types of memory manufacturing.
PRICING: You can find products similar to this one for sale below.

United States: Find other tech and computer products like this over at Amazon.com

United Kingdom: Find other tech and computer products like this over at Amazon.co.uk

Australia: Find other tech and computer products like this over at Amazon.com.au

Canada: Find other tech and computer products like this over at Amazon.ca

Deutschland: Finde andere Technik- und Computerprodukte wie dieses auf Amazon.de
We openly invite the companies who provide us with review samples / who are mentioned or discussed to express their opinion. If any company representative wishes to respond, we will publish the response here. Please contact us if you wish to respond.