Corsair vs. Super Talent - 1800MHz+ RAM
Today we crank up some high-end DDR3 memory modules from Corsair and Super Talent to see which comes out on top.
Published Thu, Sep 13 2007 11:00 PM CDT
|
Updated Tue, Nov 3 2020 7:04 PM CST
Introduction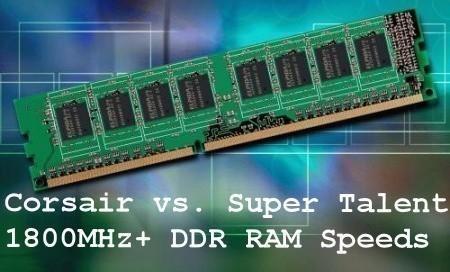 The PC memory market has been one of the biggest growing in the industry for the past six or so years. DDR memory saw the introduction of a fast reliable memory that simply wasn't what Intel wanted to see. Intel's hopes and dreams lied with another type of (inferior) memory called RDRAM; they basically put all their eggs into one basket by hooking themselves up on a joint venture with RAMbus.
DDR soon showed us that it wasn't just able to counter the RDRAM memory, but when putting it into a dual channel configuration similar to what RDRAM worked on would give out more performance and at a cheaper price. Despite all of Intel's efforts to keep RDRAM alive, it was impossible now that DDR had entered the mass market with clear advantages.
Intel, while being beat back on RDRAM, did however make the big push on DDR2 memory, a higher clocked version of DDR RAM with a few extra features. The only issue that (eventually) surfaced with DDR2 memory was that we saw it hitting a wall at speeds of 1200MHz.
DDR3 memory is now the new big memory standard to come from the JEDEC group. DDR3 memory once again builds on the technology that DDR and DDR2 first laid down. DDR3 is still a parallel architecture rather than the serial nature that RDRAM tried to bring in. Like all of the DDR memory we have seen, the technology is derived from the old SDRAM modules that were so popular back when Socket 7 and Pentium II / III were at their peak.
Today we have some of the highest availably clocked DDR3 memory modules. We have 1800 MHz modules from Corsair and 1866 MHz modules from Super Talent. Today we hope to see just how far we can push them to and who will be king.
The Modules - Super Talent DDR3-1866
Super Talent DDR3-1866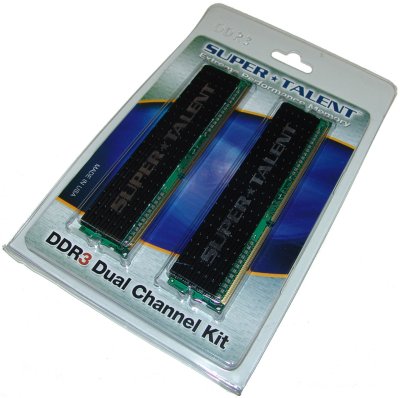 First on the chopping block is the Super Talent memory modules. Super Talent is a new company to us, we have only had the pleasure of reviewing a couple of their module kits and to say they were anything but high quality is an understatement. The kit we were sent for review uses the highest clocked modules we've seen in our labs. Super Talent places the modules in a 2 pack split blister which can be hung from the shelf hooks at your local PC retailer. The front of the modules has absolutely no info showing, no stickers or anything.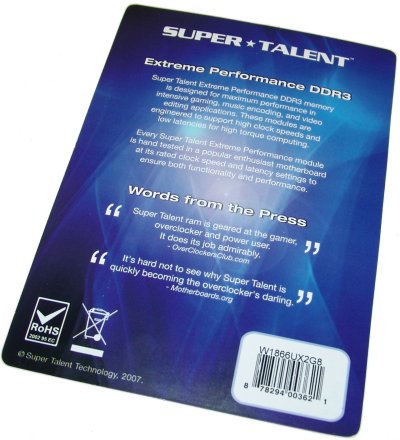 The back is just as confusing, there is no info on the size of the modules you're getting, no stickers to denote the speed of the memory or anything. The only way you can tell that the kit is 2GB is to read the barcode at the bottom, that's where you'll find the only bit of info on these particular modules..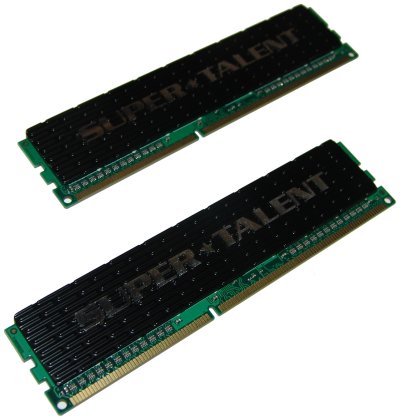 As we unpack the modules themselves, we are very surprised at how well Super Talent has done. Unlike some modules, these weigh very little. The heatsink is only on the front of the modules, and we'll explain why now.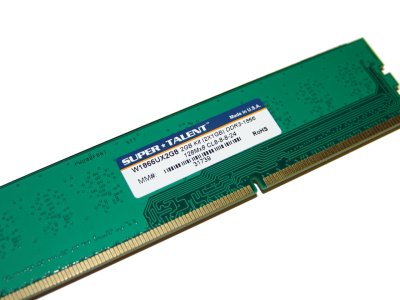 The reason that the modules only have a heatsink on the front of them is that they do not have any modules on the back of the PCB. That's right! Super Talent has managed to get 1GB of memory modules onto a single side, reducing the need for redundant heatsinks like we see on most other modules. On the back you get a sticker with info on the module's size, operating speed and latencies. If Super Talent made this visible through the blister pack rather than placing a marketing hype card in there, this would have saved a black mark for them.
The Modules - Corsair Dominator DDR3-1800
Corsair Dominator DDR3-1800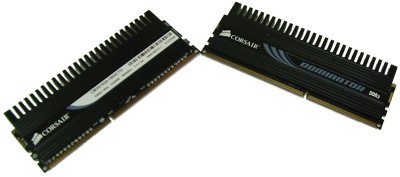 Now we come down to our second player, Corsair. When we think of overclocking memory, Corsair has been up on the top of the list for some time. Corsair was one of the first companies to introduce 133MHz SDRAM well before it was even considered a standard; they were able to help people get the most out of the old 440BX chipset from Intel and their Pentium 3 and Celeron processors. Corsair didn't send us their modules in a retail package, just a while box with the Corsair logo on it. When we opened the box we were greeted with the mean looking Dominator memory modules.
The two modules look identical to any of the other Dominator modules that Corsair sells, only the sticker on the heatsink gives it away that it's a DDR3 module type.

On one side of each of the modules is a sticker with the full info on the modules. The speed rating, size and latencies are all clearly visible. The other side contains just a simple sticker with the Dominator logo.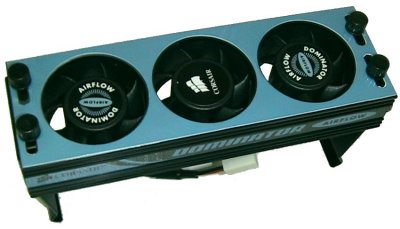 Lastly, the thing that makes the Dominator modules so unique is the 3-fan cooler that you can mount on top of the modules to provide active cooling. This becomes especially useful as the temps inside a case can be in the mid to high 30's, with active cooling on the modules, your not relying on a small amount of air, but you get a big blast with these.
Overclocking the Modules
Overclocking the Memory
As always, overclocking is dependent on quite a number of things. Firstly, a good board is needed with plenty of voltage options. GIGABYTE's P35T-DQ6 fits this bill but there are quite a few others out there like the ASUS P5K3 range of boards which also offer exceptional overclocking features. While we strive to give as good a results as we can, yield rates also play a big part in overclocking results. Some people might get the end of a line, giving very little overclocking; others are lucky to get in the middle, where yields are high and overclocking is supreme.
Super Talent
All we can say is WOW. Over 2000MHz DDR3 speeds reached. We did this on our GIGABYTE board using a 1:2 memory ratio divider and a voltage of 2.1. This was quite high for DDR3 and if you don't have good case air flow, don't even thing about trying for this amount as the modules got quite hot during the process. We didn't have to change any of the memory timings, the modules were quite happy to run 905MHz with their default timings.
Corsair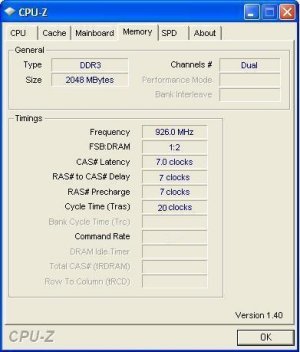 Corsair on the other hand was a bit of a disappointment; while able to run its 1800MHz with a timing setup of 7-7-7-20, overclocking turned out to be a big bust. We only managed to get 1855MHz out of it using 2.1v, and this was with the cooler mounted. Lowering timings and adding more voltage still didn't help us here.
Important Editor Note: Our maximum overclocking result is the best result we managed in our limited time of testing. Due to time constraints we weren't able to tweak the motherboard / memory to the maximum for the purpose of finding the highest possible result as this could take days to find properly. We do however spend at least a few hours overclocking to try and find the highest possible overclock in that time frame. You may or may not be able to overclock higher if you spend more time tweaking or as new BIOS updates are released. "Burn-in" time might also come into play if you believe in that.
Test System Setup and Everest
Test System SetupProcessor
: Intel Core 2 Extreme X6800 (Supplied by
Intel
)
Motherboard
: GIGABYTE P35T-DQ6 (Supplied by
GIGABYTE
)
Hard Disk
: 500GB Seagate 7200.9 (Supplied by
Seagate Australia
)
Graphics Card
: MSI GeForce 8800GTS 640MB (Supplied by
MSI
)
Cooling
: GIGABYTE Neon775 (Supplied by
GIGABYTE
)
Operating System
: Microsoft Windows XP SP2
Drivers
: Intel INF 8.3.0.1013, Forceware 162
Our test platform has not changed since we did our DDR3 shootout. We have kept the P35T-DQ6 motherboard which has shown so much promise in overclocking as well as flexible voltage options.
Today we have done tests with the memory running at 1066MHz, 1333MHz and also at the memory's top overclocked speeds. The Intel P35 chipset with DDR3 support only officially supports 1066MHz DDR3 memory, but using a 333MHz FSB (or 1333QDR) we are able to run 1333MHz on the memory. Our 1066MHz and 1333MHz results are all with the CPU at 3GHz using a 9x multiplier and 333MHz FSB.
Our overclocked results work out to be using a 506MHz FSB and a 7x multiplier for the Super Talent. Our Corsair ran with 463MHz and a 7x multiplier. Both sets were running their default SPD programmed latencies of 7-7-7-20 for the Corsair and 8-8-8-24 for the Super Talent.
EVEREST Ultimate EditionVersion and / or Patch Used:
2006
Developer Homepage:
http://www.lavalys.com
Product Homepage:
http://www.lavalys.com
Buy It Here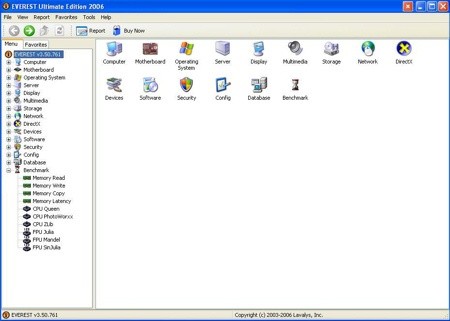 EVEREST Ultimate Edition is an industry leading system diagnostics and benchmarking solution for enthusiasts PC users, based on the award-winning EVEREST Technology. During system optimizations and tweaking it provides essential system and overclock information, advanced hardware monitoring and diagnostics capabilities to check the effects of the applied settings. CPU, FPU and memory benchmarks are available to measure the actual system performance and compare it to previous states or other systems.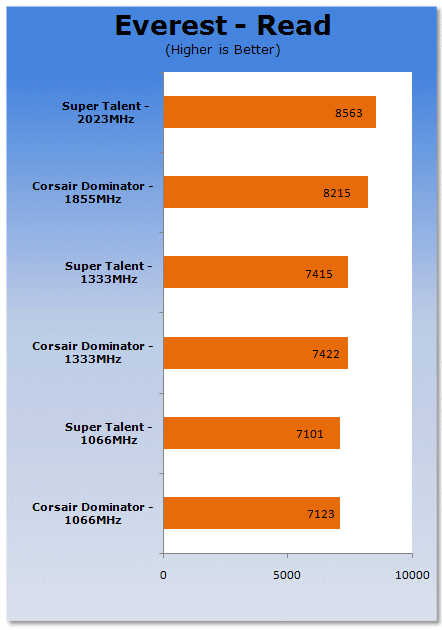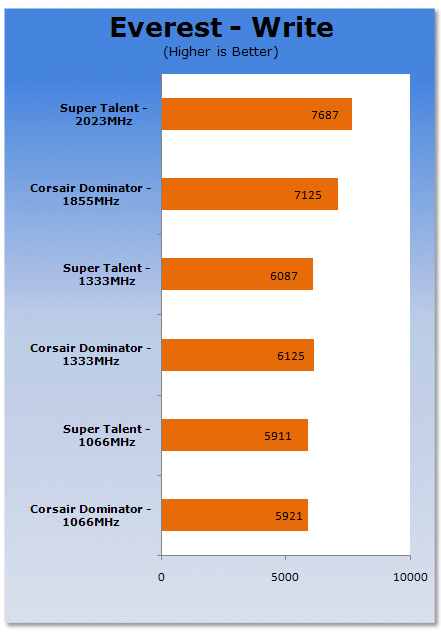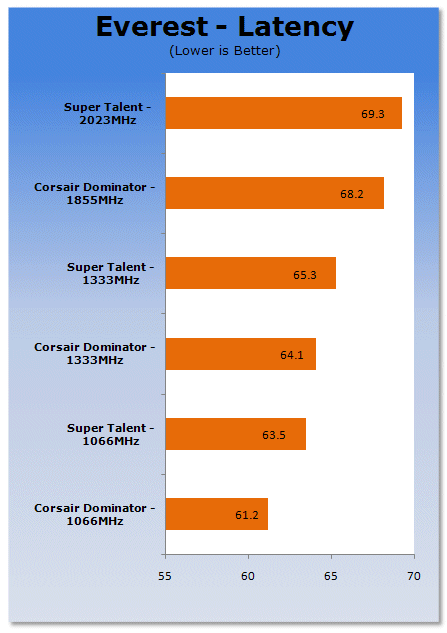 Starting at 1066MHz and 1333MHz Corsair manages to sneak in front because of its lower latencies across the board. When we started to overclock the memory the Corsair falls well behind because of its inability to go much past 1800MHz.
Benchmarks - PCMark05
PCMark05Version and / or Patch Used:
1.2.0
Developer Homepage:
http://www.futuremark.com
Product Homepage:
http://www.futuremark.com/products/pcmark04/
Buy It Here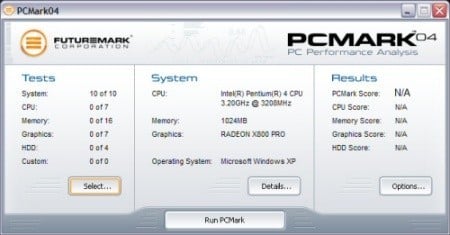 PCMark is a multipurpose benchmark, suited for benchmarking all kinds of PCs, from laptops to workstations, as well as across multiple Windows operating systems. This easy-to-use benchmark makes professional strength benchmarking software available even to novice users. PCMark consists of a series of tests that represent common tasks in home and office progRAMs. PCMark also covers many additional areas outside the scope of other MadOnion.com benchmarks.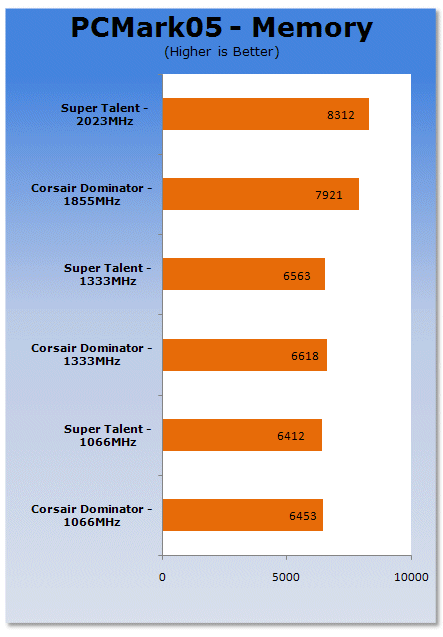 PCMark being synthetic in nature really puts the memory to the test; 1066MHz and 1333MHz gives the win over to Corsair. However, when overclocked the Super Talent pulls well ahead.
Benchmarks - Sciencemark
ScienceMark 2.0
ScienceMark 2.0 is a mathematical progRAM designed to stress the memory subsystems of both desktop/workstation and server environments to determine the read/write latency as well as the overall memory bandwidth available between the CPU and the memory controller.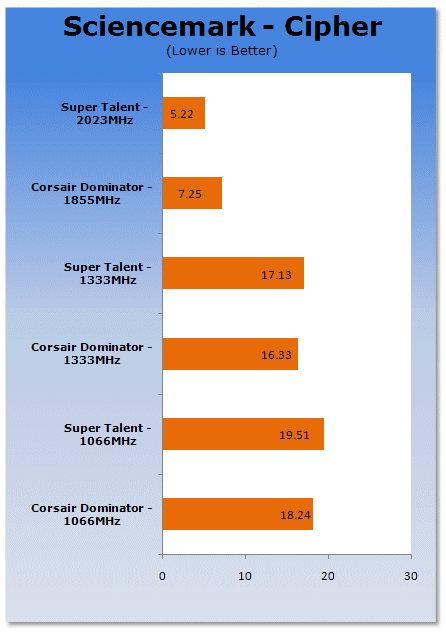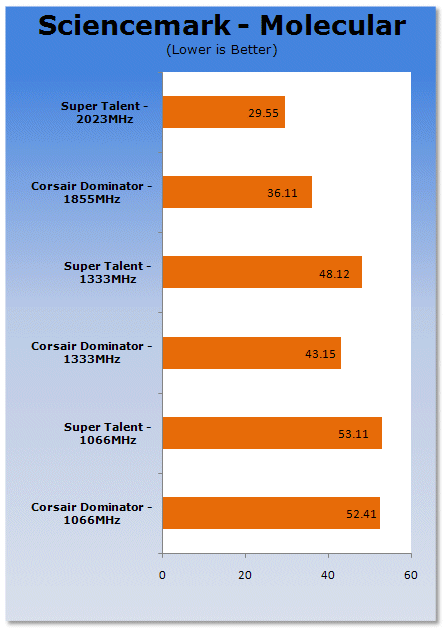 Sciencemark puts a lot of stress on the memory in terms of access latencies. Corsair managed to win at 1066MHz and 1333MHz but its lower latencies can't help it when overclocking results come in.
Benchmarks - Adobe Premiere Elements
Adobe Premiere Elements 2.0Version and / or Patch Used:
2.0
Developer Homepage:
http://www.adobe.com
Product Homepage:
http://www.adobe.com/products/premiereel/
Buy It Here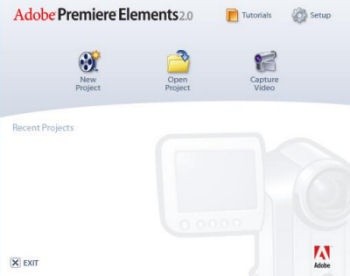 Our test with Adobe Premiere Elements 2.0 is performed with a raw two hour AVI file. It is then compressed into DivX format using the latest version codec. We measure the time it takes to encode and then record CPU usage.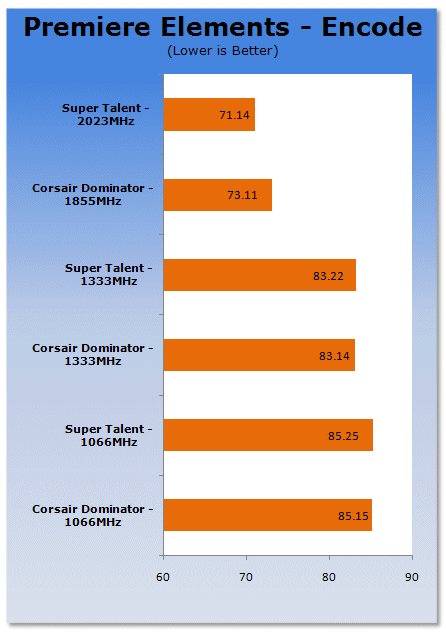 Premiere Elements in its encoding stage really loves the bandwidth. With the lower latencies though, Corsair manages to just (and we mean JUST) sneak a win at 1066MHz and 1333MHz. Overclocking the memory really helps reduce encode times and Super Talent has clock speeds in spades.
Benchmarks - Prey
PreyVersion and / or Patch Used:
1.2
Timedemo or Level Used:
Hardware OC Demo
Developer Homepage:
http://www.humanhead.com
Product Homepage:
http://www.prey.com
Buy It Here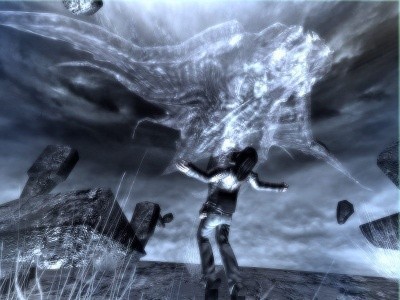 Prey is one of the newest games to be added to our benchmark line-up. It is based off the Doom 3 engine and offers stunning graphics passing what we've seen in Quake 4 and does put quite a lot of strain on our test systems.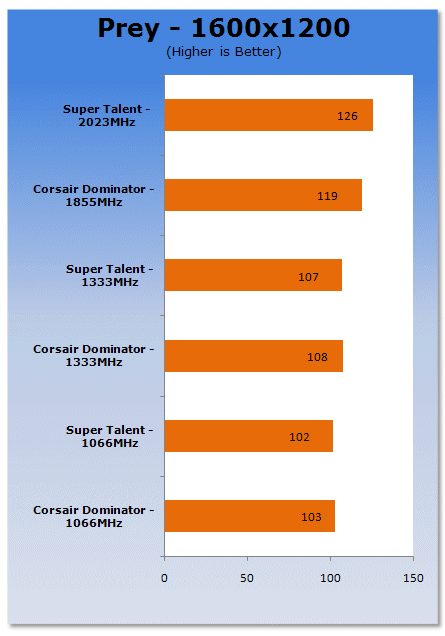 Lastly, we did a real world gaming test to see what happens. At 1066MHz and 1333MHz both modules are identical in score, the lower latencies don't help here. When overclocking we see Super Talent take the win, but since the Core 2 isn't able to take full advantage of the memory bandwidth we didn't get the results we were hoping for.
Final Thoughts
When all is said and done, DDR3 is going to be the way of the future for quite some time. Though while it has shown early promise, there is a few things we'd still like to see changed. Firstly, in order for DDR3 to become as good as it can be, we need to see Intel move away from the traditional FSB architecture. Intel's FSB can't really take full advantage of the memory bandwidth, the CPU is only able to use around 10GB/s and the rest sits idle; if the rest of the system devices need a chunk then it's free for them.
AMD's memory architecture is much more optimized with the memory controller on the CPU; just about every bit of that bandwidth can be used by the CPU as there is no FSB to go through, just a simple SQI that AMD has designed.
With that said, Intel is looking at moving from FSB to CSI or Common System Interface, a new connection architecture that will result in far greater bandwidth to and from the CPU. If the memory controller remains off the CPU, let's hope that the CSI can use over 20GB/s of bandwidth which DDR3 is likely to generate.
Corsair
While the Dominator memory looks mean, that's about as far as Corsair really went. Reaching their rated speed is a definite must, but we would have liked to have seen more. If you're going to spend some hard earned dollars on something you'd like to be able to push it just that bit further. For the price you're better off going with Super Talent.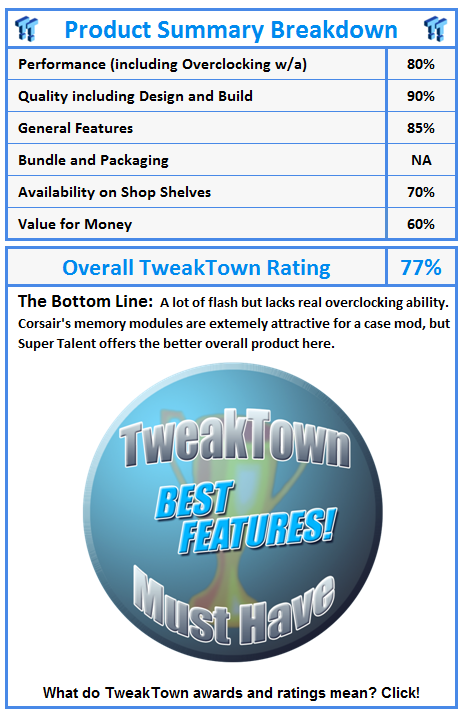 Super Talent
In a nut shell Super Talent's DDR3 1866MHz memory was absolutely a dream to use. We managed to break 2000MHz which we were hoping to see DDR3 do, and with the headroom still there we can only hope to see 2000MHz modules on the market before long. While the packaging did let the Super Talent down we have no other option to give this a Must Have recommendation.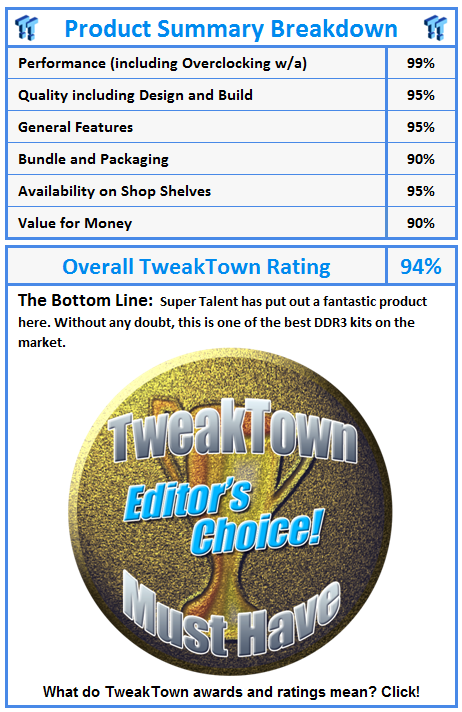 PRICING: You can find products similar to this one for sale below.

United States: Find other tech and computer products like this over at Amazon.com

United Kingdom: Find other tech and computer products like this over at Amazon.co.uk

Australia: Find other tech and computer products like this over at Amazon.com.au

Canada: Find other tech and computer products like this over at Amazon.ca

Deutschland: Finde andere Technik- und Computerprodukte wie dieses auf Amazon.de
We openly invite the companies who provide us with review samples / who are mentioned or discussed to express their opinion. If any company representative wishes to respond, we will publish the response here. Please contact us if you wish to respond.