Solid State put to the test - Team 16GB 2.5-inch IDE Solid State Drive
Team Group 16GB 2.5-inch IDE Solid State Drive (SSD) Tested
If you have ever experienced data loss on your computer, please put your hand up in the air now. Keep your hand raised, if the data you lost were so critical, that it almost made you pull the hair out of your scalp. Most of us who have been using computers for an extended amount of time have probably more than likely experienced hard drive failures or complete death, at least one time before.
But why does it keep happening and why does it seem to happen so often? We cannot really blame it on the hard drive companies, as they are restricted by certain technological constraints. At the same time though, consumer demand for storage capacity and speed is increasing and that adds extra pressure and stress, on current mechanical drive technology, as spindle speeds increase and transfer speeds get faster and faster. You are not likely to experience hard drive death if you go out and buy a drive today, but after long periods of use or without adequate cooling, you should probably start preparing for disaster.
As hard drives become bigger and bigger (Hitachi has a 1TB drive on the market now), they also become heavier. Add four 750GB Seagate drives to your case and you are talking over 3kg (or about 7 pounds) of extra weight. With more platters being squeezed inside regular 3.5-inch hard drives to increase capacity and provide faster transfer speeds, the drives are operating at higher temperatures - and it does not take a rocket scientist to figure out heat is the worst enemy of any electrical component. We do not need to mention (
crap, too late!
) IBM's previous and quite shocking "Deathstar" range of drives several years ago, of which almost all died consistently after only about 2,000 hours when used without active cooling.
Several years ago companies started releasing USB pen drives which have reinvented the way stored data could be transported. USB pen drives (and other flash products, such as memory cards used in your digital camera) use NAND non-volatile flash memory, which is able to store and retain data even without power, making this type of memory very versatile. Pen drives were expensive at first release but now you can pick up a 1GB drive for just a few dollars, and flash memory prices are constantly decreasing. Not too long ago, some smart chap had the idea of replacing the aging hard disk drive bound with problems such as heat, size, weight, noise and mechanical failure with solid state technology. Instead of using a hard drive with moving parts, why not create a new type of drive, which is solid state and more reliable, using flash memory chips?
It has been said that, within the next ten years, SSD (Solid State Drives) will replace the aging hard drive, and in the interim HDD / SSD hybrids are likely to increase in popularity as the storage technology of choice. Today we get our first look at SSD technology as we check out Team Group's 16GB 2.5-inch notebook solid state disk. At 16GB the drive is not a monster when it comes to total storage capacity, but as we take a look at this pre-production product it should give us a good introduction to the potential of SSD technology.
SSD Technology by Team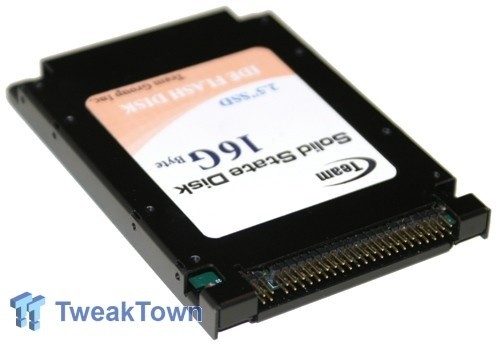 The first solid state drive to enter our labs is Team Group's 16GB solid state disk. It is based on the Ultra ATA-6 interface and notebook 2.5-inch form factor measuring 100mm (length) x 69.85mm (width) x 8.45mm (depth) - in practical terms, a little longer and wider but not as thick as a deck of cards.
Based on notebook drive standards, it uses a 44-pin connector which passes not only data but also power. After some hassle, we managed to get hold of a 44-pin to 40-pin IDE connector (with Molex power connector attached) to test in a desktop computer - after which we were up and running, just as if we were installing a regular IDE hard drive. Of course, this SSD is designed for notebooks, so it will just plug straight into any notebook which supports IDE Ultra ATA 2.5-inch drives. You will also notice four extra pins near the 44-pin connector for jumpers to choose between Master and Slave settings - without any jumpers, Cable Select is enabled by default. Being designed for notebooks, there is little to no need to have jumpers. However, if you are interested and it works for your requirements, you will be able to eventually buy these drives at retail, and, like a regular IDE hard drive, you will be able to set them up in RAID configurations, if that pushes your buttons.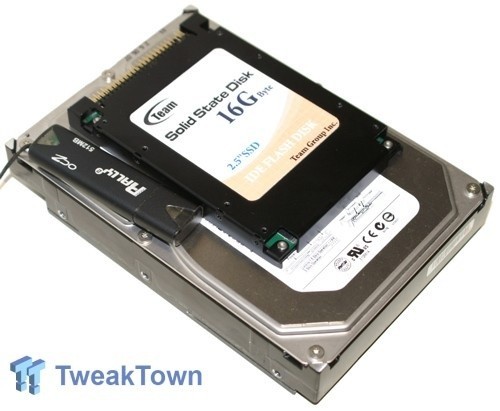 As far as weight goes, the drive is very light. We held the Team SSD in one hand and a Seagate 320GB SATA drive in the other, and found that it is like comparing a large rock and a pebble. The Team SSD comes in at just a few grams and you can imagine that if you had the option of carrying around a notebook equipped with an SSD versus a regular hard drive you would start to appreciate the lighter load. Sure, there is a vast difference in the two storage capacities but it does not really matter from a technology perspective.
As flash memory chips and controllers improve and storage capacities increase, SSDs will still only weigh about the same as they do now as the density of the flash chips will just grow greater. Team's SSD weighs just several grams yet the 320GB Seagate drive weighs much more at 635 grams - over 120 times as much. Sure, notebook drives are much lighter than desktop drives but even the smallest 40GB Momentus 5400.3 from Seagate is about 20 times heavier than the Team SSD at 98 grams. It is fairly obvious why we are seeing notebook-sized solid state drives appear first and it all has a lot to do with weight especially with notebook companies fighting against each other to make their notebooks lighter than those of the competition.
Since there are no moving parts inside an SSD, the reliability and operating shock resistance is much higher than those of hard disk drives. The Team SSD is able to withstand up to 1000G of operating shock whilst most notebook drives are only able to withstand 300G. This means an SSD can theoretically take up to almost four times as much shock (for example drops to the ground) than a notebook hard disk drive. Is it pretty obvious that, despite industry improvements in this area, if you drop a regular notebook on the ground from any sizable distance, it will be a miracle if your hard drive is not harmed in some way. An SSD can stand up to that type of rough treatment much better. Moreover, since there are no moving parts inside an SSD, wear and tear is virtually nil and that also means little to no heat being generated by the drive. Workable operating temperatures are also improved - for instance, Seagate's current notebook and desktop drives are able to operate between 0 and 60-degrees Celsius while Team's SSD is able to operate from as low as -40 to more than 85-degrees Celsius, improving its status yet again as a very versatile storage medium.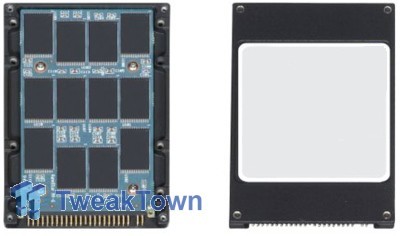 Team's SSD is constructed using black coated aluminum which is used to protect the SLC (single layer cell) flash chips inside - that is right, Team uses higher grade and more expensive SLC compared to MLC (multi layer cell) chips, which are not as fast and cannot handle as many total read and write cycles. Team decided to use Samsung SLC NAND flash and inside there are a total of 16 x 8Gb chips, which make up a total of 16GB unformatted capacity, 15.5GB typical once formatted. While we are a little unclear on details at the moment, we are told that the chips are arranged in a method similar to RAID 0, which will result in improved performance.
Team will also sell SSD drives ranging from 4GB up to 32GB, and a 128GB IDE model is scheduled to be released later in 2007, just before Christmas. There is no word yet about SATA models or desktop versions but Team is working on them (SATA) as we speak, so they cannot be too far away. When asked if Team would sell the drives into the channel (on shop shelves), it was mentioned that drives would first be seen in consumer products such as notebooks but other brands have already began selling into retail outlets for early adopters.
SSD Technology by Team continued
While 16GB is a much smaller capacity compared to the largest notebook drives today at around 250GB, solid state is still very much a maturing technology and the flash chip and controller companies are working hard to increases chip capacities. As we mentioned previously, by the end of this year Team should be selling a 128GB SSD and as time goes on, sizes will only increase. Team mentioned to us that roadmaps which it has seen show that chip companies are working very hard on increase chip capacities - it seems like the focus is capacity, and transfer speeds come second.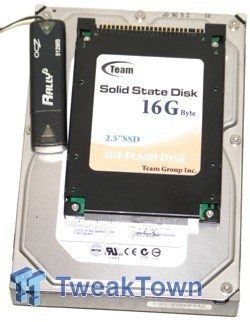 When we first started testing the Team SSD, we expected it to max out the Ultra ATA 100 interface but it did not. Read and write speed figures aside though, since we are using flash chips, things like seek and access times are improved dramatically over normal hard drives. Also since there are no moving parts inside, there are of course no inherent issues with spin-up requirements. The drives are instant-on in a sense, providing even more performance advantages over hard disk drives. Additionally, since SSDs use flash chips, seek time is consistent, at basically nothing or at least very minimal. And if that was not enough, you have got no issues with fragmentation either.
As far as power consumption goes and that is a very important thing when it comes to notebooks with battery life being such a priority, the Team SSD does not disappoint. Team Group told us that the most its SSD will use is just 0.5 watts. Compare that to regular notebook drives that use between 2 - 3+ watts. If you take a look at Seagate's 7200.10 line of 7,200-rpm hard drives you will notice that they have an operating average power consumption of 13 watts, which is 26 times more than the SSD we are looking at today. Not only is SSD going to help with longer battery life but it is bringing some bonuses to the environment.
Team claim sustained write endurance of 80 or more years and read endurance of two million hours (or over 200 years). Funnily enough though, data retention is set at 10 years, which means your 1s and 0s might go a little fuzzy after that time but then again, the average computer user would have gone through two or three new computers by then.
One of the other advantages of SSD is noise - there is none, period. This is great news for notebook users concerned with noise levels although remember that most notebook drives do not put out much more than 4dBA, so they are barely noticeable anyway. Compare the 0dBA of the SSD to something like Western Digital's high performance Raptor X hard drive and you have a different story though - it hums away full seek at 46dBA, which is very noticeable indeed.
While the benefits and advantages of SSD are certainly there, it is not all happy days for the new technology. At time of publishing, if you are buying a regular hard disk drive, (depending on brand) it will cost you around US$0.25 to US$0.40 per GB and prices continue to drop. You can expect the Team 16GB IDE SSD to set you back about US$25 per GB, if not more. Of course as flash technology improves and more people start buying SSDs, prices will drop.
While access times are fantastic and many times better than hard drives, actual read and write speeds are slower. Most current non-RAID hard drives are able to offer 2 to 3 times better read times and usually at least twice as fast write speeds compared to NAND flash SSDs. We asked Team Group if they see flash IC technology improving to accommodate faster read and write speeds; its opinion is that flash chip companies are more interested in increasing capacities at this stage - transfer speeds are of course important but second priority to density.
Now that we have finished covering the technology side of things, let us move onto the installation section.
Installation of an SSD
Since we are working with an SSD and it is our first time plus more than likely the first time you have ever had a chance to see SSD in action, we thought it only made sense to cover installation and just what exactly is involved.
As we mentioned earlier, Team's SSD is a notebook drive and complies with those standards. Hence, it uses a 44-pin notebook IDE connector with carries data
and
power as opposed to a regular desktop IDE connector (which in a modern system today operates things such as a DVD burner or ROM) which only has 40-pins and just carries data with a separate and external Molex power connector to the data cable.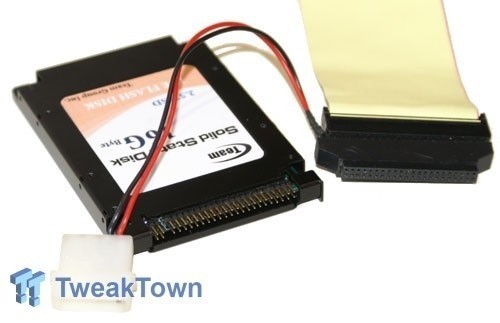 After chasing up a 44-pin to 40-pin IDE connector cable, we were in business. After connecting the cable up to the SSD, we plugged the other end into a spare IDE port on our test Gigabyte DQ6 motherboard (JMicron controller). We then provided power to the SSD by hooking up the Molex connector coming off the IDE cable to the system power - it is as easy as that. Just be sure to power down your system before installing the drive as it is not hot-pluggable like SATA and although you probably would not do any damage to the drive, it is not a good practice.
After we turned on the system, the drive was detected without any issues, just as if it were any other IDE type device. Being a pre-production sample, it was detected as "YUAN1026" on IDE channel 4 Master - probably just a friendly engineer's name from Team, we'd say.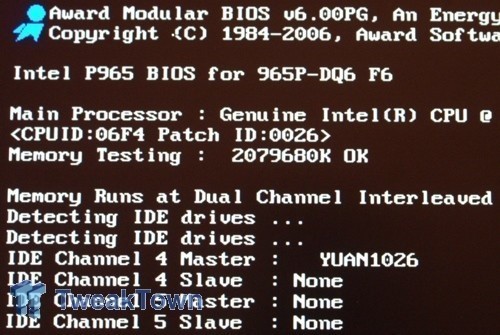 Interested to know if you could boot from the device and install Windows and other operating systems, we headed into the BIOS and checked hard drive boot priority. Sure enough, we could select it as primary boot device without any issues. Here it did not display any name.

We are not quite out of the woods yet. Using even Windows Vista, we had no issues with installing the drive and getting it up and running - it did not need any drivers but we kind of expected that since it is just like a normal hard drive only with the fanciness factor of being solid state. After a quick visit to the storage section of Administrative Tools (in Control Panel), the drive was formatted and displaying correctly under (My) Computer.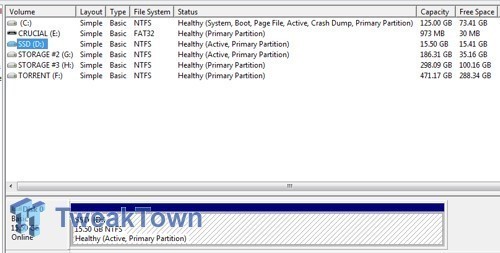 Interestingly enough, after installing all of the latest Windows Vista drivers for the IDE controller, the SSD drive changed and was detected as a SCSI drive under disk drives in Device Manager.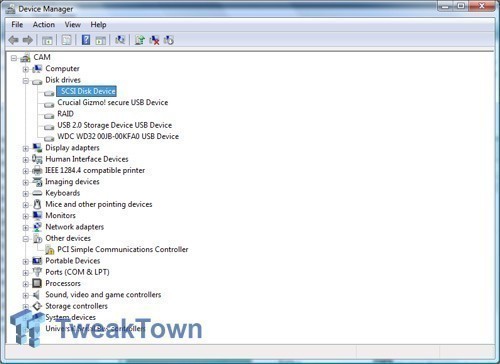 We had no issues at all with installation of the Team SSD and if you ever installed an IDE hard drive or optical drive before, you will not have any problems installing this solid state drive.
Test System Setup
Processor
: Intel Core 2 Duo E6700 @ 2.66GHz (266MHz FSB x 10 at 1:1) (Supplied by
Intel
)
Motherboard
: Gigabyte P965-DQ6 (Supplied by
Gigabyte
)
Memory
: 2x 1GB Kingston DDR2-1000 Hyper-X @ DDR-800
Hard Disk
: 4 x Seagate 7200.10 320GB SATA II (16MB cache buffer) in RAID 10
Graphics Card
: XFX GeForce 7900GS (Supplied by
XFX
)
Operating System
: Microsoft Windows Vista Ultimate Edition
Drivers
: Latest Vista updates, Intel INF 8.1.1.1010 and JMicron R1.17.11
When we first started testing the SSD, we thought we were experiencing some issues not initially knowing what type of read and write speeds to expect.
We were expecting to max out the Ultra ATA 100 interface of 100MB/s or at least come close to it but we found the drive came well off the mark. After contacting Team Group for some clarification, we were told that the flash modules and controller chip inside are limited in read and write speeds. Team said we should expect around 20 to 25MB/s in most benchmarks, which is far shy of the 100MB/s that the bus interface is capable of delivering. So, even if we were testing with the faster SATA interface, it is unlikely that we would see any performance increases. Nevertheless, we updated all the hard disk controllers in the test system with the latest drivers. It did not make much difference and we noted the same speeds when testing on a Windows XP system.
The thing to remember with SSD is that while the read and write speeds are not as impressive as regular hard disk drives, access and seek times are basically nil. This means that any system application which is not dependent on fast read and write transfer speeds, is going to see a good boost in performance, but that is difficult to test and prove in benchmarks. Windows boot times are quicker with SSD and it is emphasized further with no spin up time. Since the access time of data is so quick, things feel much snappier. For instance, if you would place the swap file on an SSD, which is not so dependent on read and write transfer speeds, you will see performance improvements.
We tested using a number of hard drive benchmarks such as SiSoft Sandra, HD Speed, HD Tach and so on but they all delivered consistent results. As such, we have only used HD Tach which is able to show us not only transfer speeds but also burst speed, random access time, and CPU usage. We also threw in a file copy test for good measure that demonstrates real-world performance figures.
If you trust Windows transfer speed calculations (which you should not) it would indicate that the Team SSD is capable of write speeds of around 16 to 17MB/s, as you can see above.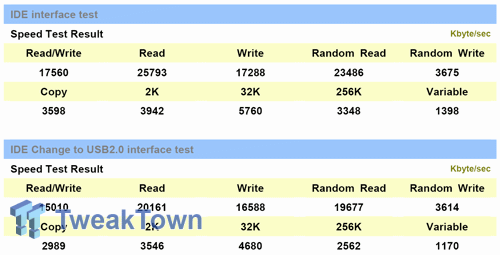 Above are some performance figures which were recently tested by Team engineers. Take note that read speeds are considerably faster than write speeds (something which is always attributed to flash memory) and when the IDE interface is changed to USB 2.0, we see a reduction in transfer speeds. That is interesting considering that Hi-Speed USB is capable of 480Mb/s (or 60MB/s).
With all that out of the way and with a brand new SSD in hand for the very first time, let us move onto our own benchmarks and see what we have here. For comparison we will be comparing against a Seagate 7200.10 320GB SATA desktop hard drive (single config, non-RAID connected to Intel ICH8R southbridge) and Hi-Speed USB 2.0 pen drive from Crucial, which is the fastest pen drive that we have tested. Our previous tests show the Seagate Momentus 5400.3 notebook hard drive as being around 35% slower than the Seagate 7200.10 at read speeds.
HD Tach
Version and / or Patch Used:
3.0.1.0
Developer Homepage:
http://www.simplisoftware.com
Product Homepage:
http://www.simplisoftware.com/Public/index.php?request=HdTach
Buy It Here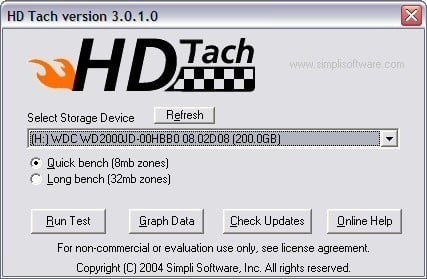 HD Tach has been around for a long time and is excellent when it comes to testing hard drive performance. It is also a very handy program when it comes to testing the controller used on particular motherboards. Tests such as Read, CPU Utilization and Burst are available at the click of a button and give you a good idea of how the hard drive can perform from system to system.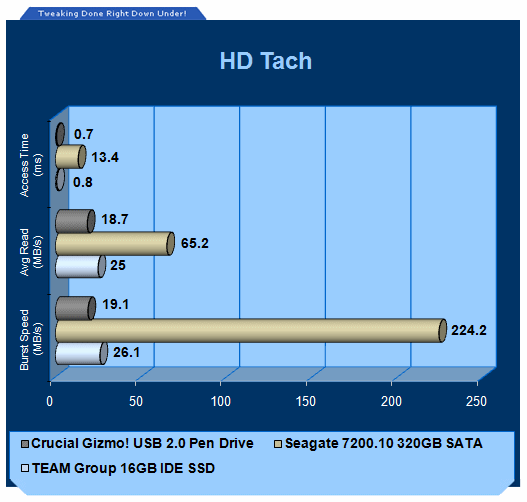 Straight off the bat we can see that the regular Seagate hard disk drive has a clear advantage. Average read speeds are at least twice as fast as the Team SSD and burst speeds do not need any explanations. Based on previous testing, a Seagate 5400.3 notebook drive scored around 40MB/s in read speeds on a similar platform.
What is interesting though is the random access time of the SSD - it varied between 0.5 and 0.8ms during our testing. This drive is super quick at accessing the data, far quicker than any desktop or notebook hard disk drive. Much faster than the quickest and most expensive 15,000-rpm server hard drives on the market, which claim to be around 3 to 4ms. The Crucial pen drive, which is the fastest we have ever tested out of any pen drive, was able to beat it, slightly, but this drive is also only 1GB in size, which will most likely make a difference.
As far as CPU utilization goes, it was 0% for the Team SSD, 7% for the Crucial pen drive and the Seagate hard drive was more respectable at 3%. That basically means that the CPU is does little to no work to assist the Team SSD in crunching your 1s and 0s.
X-Bit Labs File Copy Test
Version and / or Patch Used:
0.5.3
Developer Homepage:
http://www.xbitlabs.com
Product Homepage:
http://www.xbitlabs.com/articles/storage/display/fc-test.html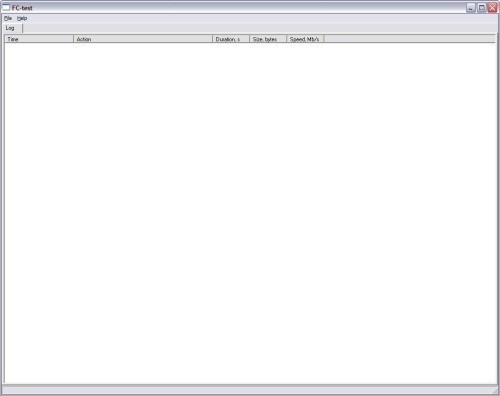 X-Bit Labs File Copy Test is a real-world benchmark used to measure the performance of IDE subsystems. In this test, we time how long it takes to copy 523MB worth of data (various downloaded setup files) from one place to another with File Copy Test program optimizations disabled to help provide the most accurate time possible.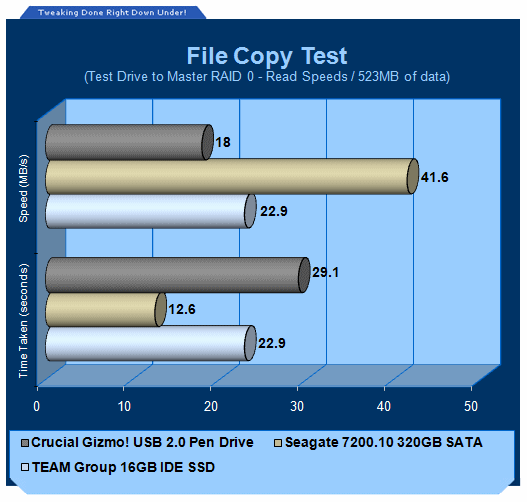 In our first real-world test demonstrating read speeds, the Seagate desktop hard disk drive continues to lead.
It is interesting to note that in a real-world situation, the lead has been shrunk to about 45% whereas HD Tach was showing about a 62% performance advantage in favor of the Seagate hard drive. The Team SSD manages to continue its lead over the Crucial pen drive.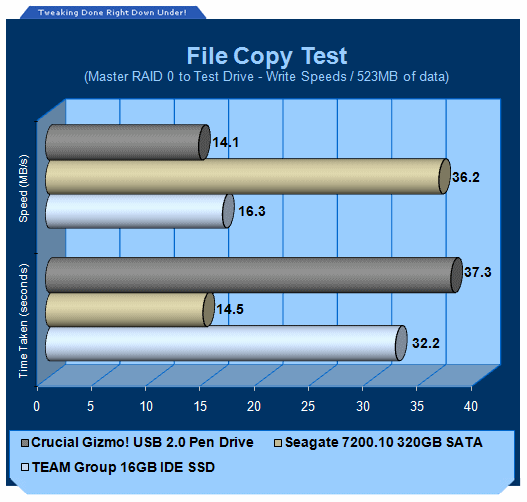 Our final test is a demonstration of real-world write speeds, something which flash memory is known for being slower at compared to hard disk drives.
When we copy data from the master drive RAID 0 array, we see that the Seagate hard drive is able to write over twice as fast as the Team SSD but the SSD is still able to maintain its lead over the high-end USB 2.0 pen drive.
Final Thoughts
Alright, there we have it - we have just finished testing our very first solid state drive from Team Group. Considering that we are working with a pre-production sample, which will see further refinements before it reaches the consumer, we are quite impressed with what we see from the new storage technology so far.
SSD has many clear advantages over a regular tried and tested hard disk drive. Since there are no moving parts inside, heat is a non-issue. During our testing, we did not notice the Team SSD heat up at all. That is one of the most wonderful things about solid state, especially for a person who has seen his good share of hard drive issues over the years. If you are the type of person concerned with noise you have got no worries here, either because there are no mechanical moving parts inside the drive. SSDs also reduce the chances of mechanical failure from wear and tear. While you would not want to make a habit of doing it on purpose, solid state drives are much less susceptible to drops on the ground with a far higher operating shock resistance. Since there are fewer sensitive parts inside an SSD (like lack of platters and drive motor) which do not react nicely at all to drops and shock, SSD is more durable.
Besides the silence of electricity moving data back and forth, it is completely silent measuring a 0dBA volume rating. As for size, it is the same dimensions of a regular 2.5-inch notebook drive but since there is only flash memory, PCB and a controller chipset inside, it weighs a fraction of a normal hard disk drive. While notebook drives are not that heavy at all, when it comes to notebooks and portability, every bit of weight reduction counts and SSD passes with flying colors.
The advantages continue when we start to discuss power consumption, which is always crucial, when it comes to notebook battery life. Team told us that the most its SSD will use is 0.5 watts - regular notebook drives use between 2 - 3+ watts. Seagate's 7200.10 line of 7,200-rpm hard drives have an operating average power consumption of 13 watts, which is 26 times more than the SSD. Not only is SSD going to increase battery life but, it also shines greener.
Since the Team SSD is using high-grade Samsung SLC NAND flash, accessing data is super quick. During testing we noted random access times of anywhere from 0.5 to 0.8 milliseconds. Compared to most current desktop or notebook hard drives, the performance difference is astounding at around 13 to 14 milliseconds versus around 0.8 milliseconds. As long as you are not dependent on read and write speeds, SSD is going to allow you to access data much quicker than a regular hard disk drive providing big benefits to applications such as swap files and data that needs to be accessed quickly.
As far as read and write speeds go though, this is where the SSD does not look as good as a regular hard disk drive. Right now most flash memory (even the highest grades available) are limited in performance when it comes to transfer speeds and the controller chips also need to be improved. Most flash memory is limited to fewer than 20MB/s and under in write speeds but the Team SSD comes close to that, hitting speeds at 16 to 17MB/s. It is a good result considering flash memory is still maturing but our 7,200-rpm hard drive was able to write at a much more impressive 36MB/s (or 55% faster). Read speed results were a little different though with the Team SSD only being about 45% slower than a desktop hard drive. Even though we used a desktop hard drive for comparison, we can deduce from previous tests that a current notebook hard drive will be around 35 to 40% faster in transfer speeds than the Team SSD.
All things considered, we very much like where solid state drive technology is going with plenty of concrete advantages over hard disk drives but there are still a few issues to consider. Capacity is an issue at the moment with only 32GB SSD models (some higher from other companies but not readily available) be available but by the end of the year 128GB versions should be for sale, which bring them much closer to the largest notebook hard drives currently on the market. While access times are very impressive, read and write speeds need to be improved. This will happen eventually but from what we have been told, the flash memory companies are concentrating more on higher density - as SSD becomes more popular with consumers, you will more than likely see speeds improve. The final disadvantage that we can see is the cost of SSD - right now it will cost you about you US$0.25 to US$0.40 per GB (HDD). You can expect the Team 16GB IDE SSD to set you back around US$25 per GB, if not more.
So, is SSD for you? Probably not just yet but as transfer speeds improve and cost per GB comes more in line with regular hard drives, it will slowly but surely start to dominate the aging hard drive over the following years. Nevertheless and it is probably obvious to tell, we are impressed with what we are seeing so far.