Gigabyte and XFX - GeForce 8600GT graphics cards go head-to-head
Nvidia's 8600GT GPU may save $$$ but does it cost more in performance? We take cards from Gigabyte and XFX and find out.
Published Wed, Apr 18 2007 11:00 PM CDT
|
Updated Tue, Nov 3 2020 7:04 PM CST
Introduction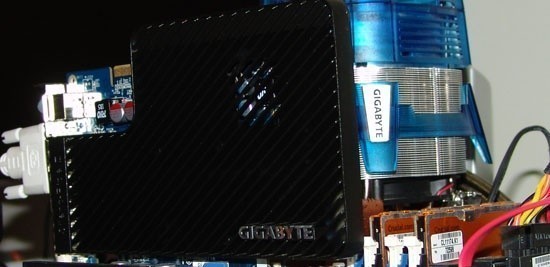 You find yourself wanting to get into DirectX 10 gaming but with only a 17" or 19" LCD you cannot justify spending excessive dollars on an overpowered card. If you are not a huge detail junky, and technology like AA and AF does not bother you, then even the Nvidia GeForce 8600GTS is probably overkill for you.
With users like this in mind, Nvidia has come out with the 8600GT, a mid-range card at about 2/3 the price of a standard 8600GTS. A 1/3 price drop equates to AU$100 (US$80), a significant saving for anyone. Two versions are with us today, a silent passive-cooled offering from Gigabyte and an overclocked XXX version from XFX, a company who pleasantly pleased us with its 8600GTS in an earlier review.
We will have a quick look at each card's package and then get stuck into benchmarking. So sit back, relax and see if the 8600GT is the card you have been waiting for.
Gigabyte 8600GT - The Package
Initially when I opened the box I was not sure if Gigabyte had made a mistake and sent me a copy of Supreme Commander instead of a new 8600GT graphics card. Gigabyte have been doing the same setup for quite a while now, and it is nice too see something a little different.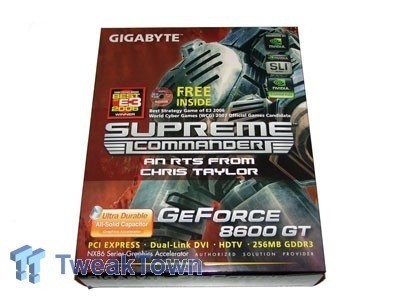 Apart from the giant Supreme Commander image on the front of the box we have our normal lineup of information, 256MB DDR3, dual-link DVI, HDTV and PCI Express. We can also see some awards that Supreme Commander has earned, including Best Strategy Game of E3 2006.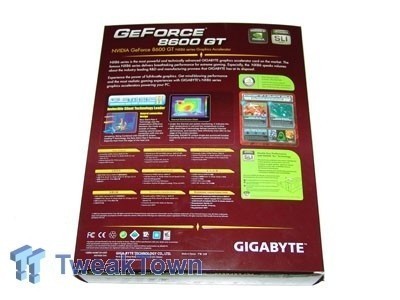 Turning the box over we get some more detail on the card along with some of its main features. The 2 biggest parts on the back of the box include some blurb on the Silent-Pipe II that the card utilizes along with information on Supreme Commander.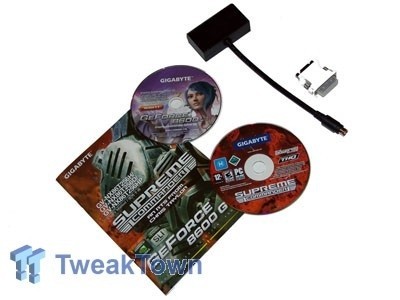 Diving inside, the package seems a bit on the light side with just a single DVI-VGA connector and a breakout box for the TV-out functionality. A manual and driver CD are also included, as you would expect, along with the full copy of Supreme Commander mentioned already.
The package is well above average but we have to say it would have been nice for Gigabyte to include some of the cables needed to make use of TV-out, even if it was just a simple RCA or S-video cable. A second DVI-VGA connector would have also been welcome but it is good to see at least one is included.
Gigabyte 8600GT - The Card
Moving on to the actual card, the whole front is practically taken up by a very cool and kick ass looking heatsink. Gigabyte is really on the ball these days with the Silent-Pipe cards and continues to release good quality and effective products.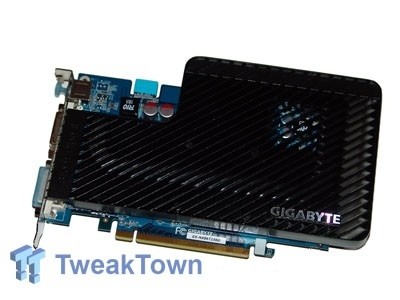 While the cooler might not look like much outside of the aluminum that you see on the front of the card there is a strip of copper that runs throughout the whole cooler which helps with the cooling process.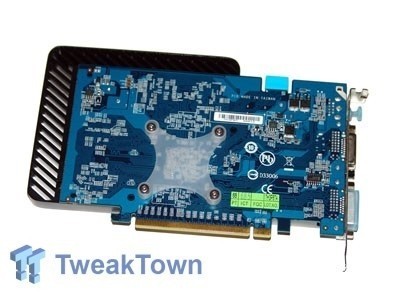 The back of the card shows that the 8600GT does not look as complex as some of the other mid-range cards, we can also see 4 screws that hold the heatsink in place along with a plastic cover that helps prevent the screws from scratching the PCB.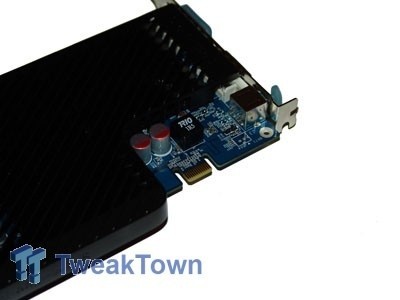 As far as clock speeds go, the Gigabyte GeForce 8600GT comes slightly overclocked compared to reference stock speeds with 570MHz core clock and 1400MHz DDR memory clock. For whatever reason, the sample we got from Gigabyte is running at 600MHz core clock and 1440MHz DDR on the memory - we'll try and find out why and come back to you ASAP. Testing was performed at 600 / 1440.
With no PCI Express power connector required, outside of the SLI connector found on the top of the card there is not a whole lot more to see.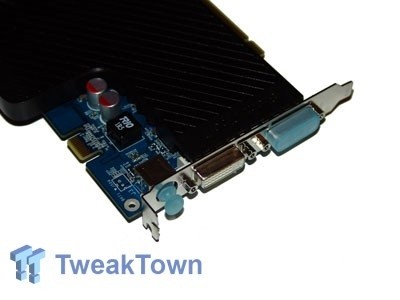 The I/O side of things gives us 2 dual-link DVI connectors and a TV-out port that connects to the breakout box. We can also see the little covers that Gigabyte use on their cards to help prevent damage to the connectors.
XFX 8600GT - The Package
One card down and another to go. Here we see that XFX is using the same X-design box it used in its GTS variant which is a great looking package. The front, again like the GTS, has the big, mean looking wolf man with lots of detail.
We also see some of the key features in regards to the card like 256MB of DDR3 memory, as with the Gigabyte, and an overclocked core speed of 620MHz which is why this model is marketed as a XXX version.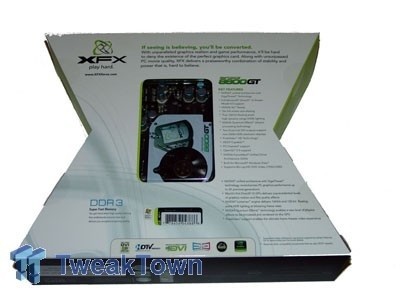 Turning over gives us some key features and in the middle we have a cutout window that lets us see the actual card. Across the bottom we also have a number of logos including dual-DVI, dual-link DVI and HDTV ready.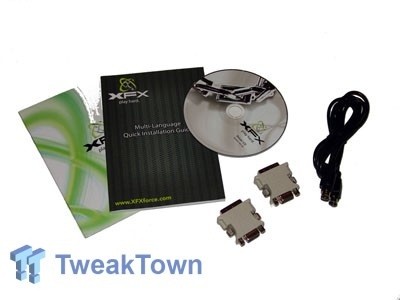 This is quite a light package though we do receive 2 DVI-VGA connectors and an S-video cable. The only other extras are the obligatory driver CD, manual, and quick install guide.
Although it is nice to have a second DVI-VGA connector, there are some key components that should have also been included since the price tag of this XFX card will sit close to that of the Gigabyte one. We would have liked to have seen a game, maybe Ghost Recon Advanced Warfighter like the GTS, along with some component HDTV cables. The 8600GTS was a move in the right direction but it unfortunately looks like XFX has stepped back again with the GT model.
XFX 8600GT - The Card
Looking at the front of the card it appears similar to XFX's previous mid-range offering the 7600GT. Thanks to the smaller heatsink and fan, unlike the Gigabyte, we can see most of the surrounding bits and pieces on the front of the card.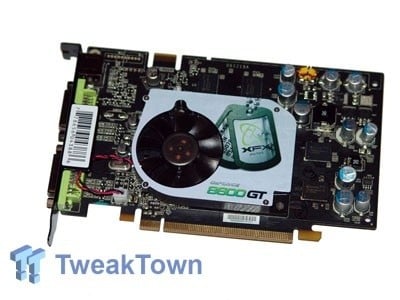 We can see our DDR3 modules along with a sexy looking black PCB. Not that these things really matter, push come to shove, as you hopefully be spending more time looking at the new DX10 visuals, not the hardware itself.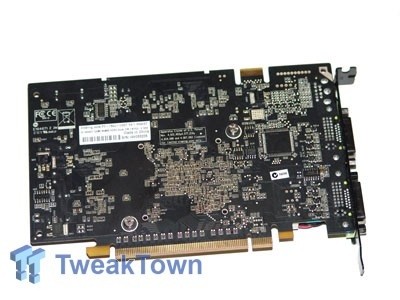 Turning the card over we see 2 screws that hold the small heatsink in place, it is nice to see more companies using screws even for smaller coolers as they just make it feel more sturdy and is overall safer when shipping from overseas.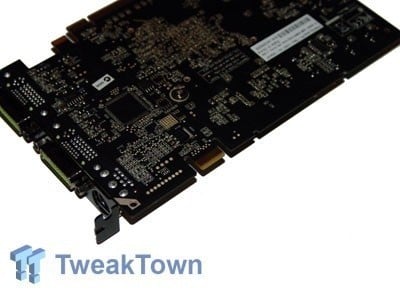 Like the Gigabyte we do not have an extra power connector and the only other piece on the card to make mention of is the SLI connector, while we will not be utilizing that today, we do intend to in the coming weeks.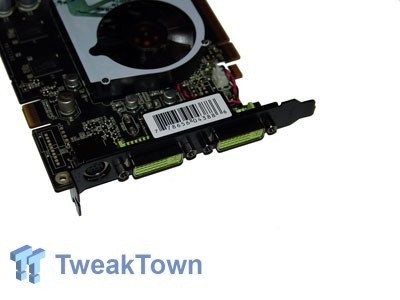 We have our dual dual-link DVI connectors on the side along with a TV-out port, unfortunately XFX has not included a S-video to component connector so you may have to buy one separately.
Overall the card looks good and the chances are we will find most of the offerings from companies utilize the standard heatsink and fan even though after seeing the Gigabyte heatsink it does not quite look as cool. Looks aside, in usual XFX style they've pumped up their XXX model clock speeds to 620MHz on the core and 1600MHz DDR on the memory, which should provide a nice performance boost.
Benchmarks - Test System Setup and 3DMark05
Test System SetupProcessor(s):
Intel Core 2 Duo E6600 @ 3.33GHz (366MHz x 9 and FSB 1:1)
Motherboard(s):
ABIT IN9 32X-MAX Wi-Fi (Supplied by
Universal ABIT
)
Memory:
2 X 1GB Crucial PC8000 5-5-5-15 (Supplied by
Crucial
)
Hard Disk(s):
Hitachi 80Gig 7200RPM SATA 2
Operating System:
Microsoft Windows XP Professional SP2
Drivers:
Nvidia ForceWare 158.16 (8600GT/GTS) / ForceWare 93.71 (7600GT)
With the two 8600GT cards in hand we benchmarked them against our single 7600GT alongside the reference clocked 8600GTS to see just how much slower the GT is when compared to its bigger brother.
The particular model 7600GT we use is the Fatal1ty version from XFX which comes with increased core and memory clocks. The standard 7600GT comes clocked in at 560/1400MHz DDR while the XFX Fatal1ty comes in significantly higher at 650/1600MHz DDR, the price is almost on par with the 8600GT from Palit which utilizes stock clocks like the Gigabyte here today. We will be putting this into consideration throughout our article.
It's also worth mentioning that the XFX XXX 8600GT has a big advantage over the Gigabyte 8600GT in the clock speed department. The XXX is running at 620MHz / 1600MHz DDR while the Gigabyte card is running at 600MHz / 1440MHz DDR - keep this in consideration when looking at the benchmarks. The XFX XXX is also going to have a price premium over the Gigabyte card of around US$30.
3DMark05Version and / or Patch Used:
Build 130
Developer Homepage:
http://www.futuremark.com
Product Homepage:
http://www.futuremark.com/products/3dmark05/
Buy It Here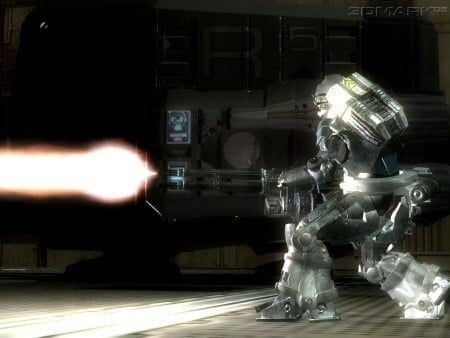 3DMark05 is now the second latest version in the popular 3DMark "Gamers Benchmark" series. It includes a complete set of DX9 benchmarks which tests Shader Model 2.0 and above.
For more information on the 3DMark05 benchmark, we recommend you read our preview
here
.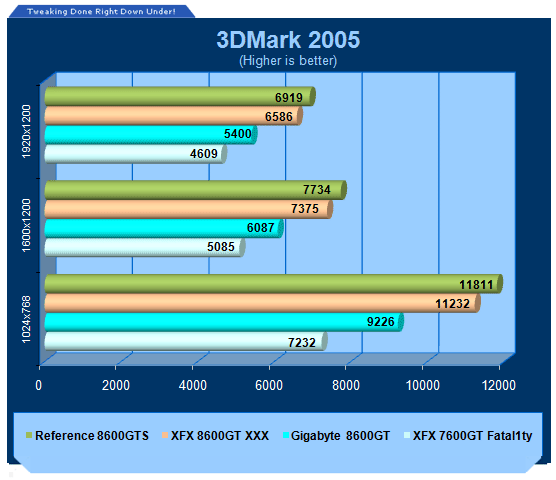 We can see both 8600GT cards come in well above the 7600GT offering. What is interesting is again the huge performance jump the XFX give us. We saw a large jump with the GTS XXX version in our earlier article.
Benchmarks - 3DMark06
3DMark06Version and / or Patch Used:
Build 110
Developer Homepage:
http://www.futuremark.com
Product Homepage:
http://www.futuremark.com/products/3dmark06/
Buy It Here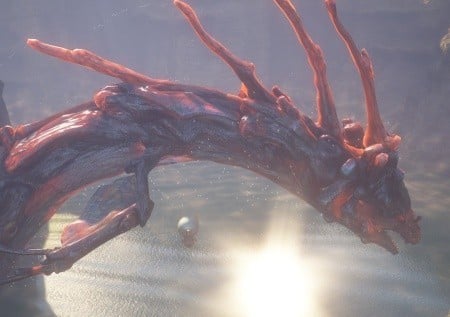 3DMark06 is the very latest version of the "Gamers Benchmark" from FutureMark. The newest version of 3DMark expands on the tests in 3DMark05 by adding graphical effects using Shader Model 3.0 and HDR (High Dynamic Range lighting) which will push even the best DX9 graphics cards to the extremes.
3DMark06 also focuses on not just the GPU but the CPU using the Ageia PhysX software physics library to effectively test single and Dual Core processors.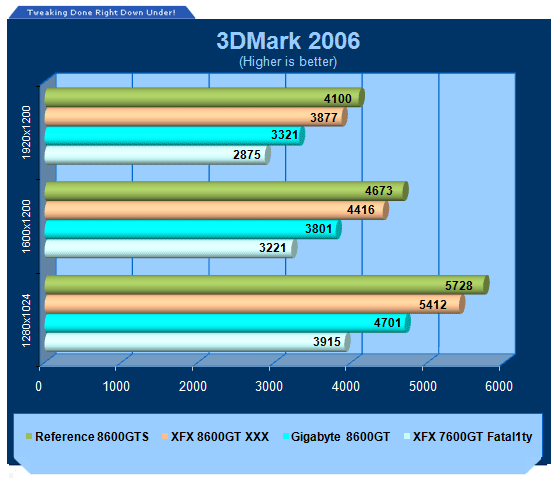 3DMark06 continues to show us the same information, the XXX GT is only just behind the bigger GTS reference model.
Benchmarks - Half Life 2 (Lost Coast)
Half Life 2 (Lost Coast)Version and / or Patch Used:
Unpatched
Timedemo or Level Used:
Custom Time demo (Demo.dem)
Developer Homepage:
http://www.valvesoftware.com
Product Homepage:
http://www.half-life2.com
Buy It Here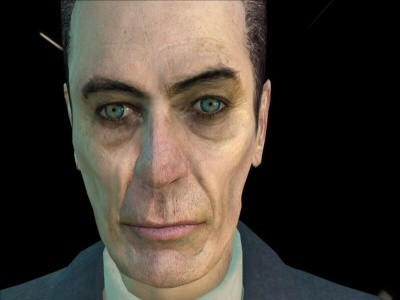 By taking the suspense, challenge and visceral charge of the original, and adding startling new realism, responsiveness and new HDR technology, Half-Life 2 Lost Coast opens the door to a world where the player's presence affects everything around him, from the physical environment to the behaviors even the emotions of both friends and enemies.
We benchmark Half Life 2 Lost Coast with our own custom timedemos as to avoid possible driver optimizations using the "record demo_name" command and loading the timedemo with the "timedemo demo_name" command - For a full list of the commands,
click here
.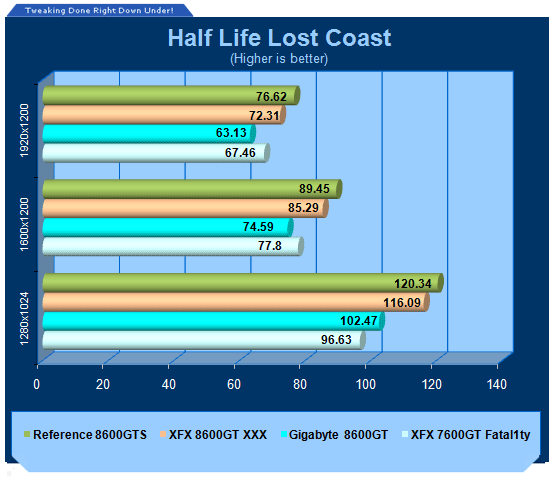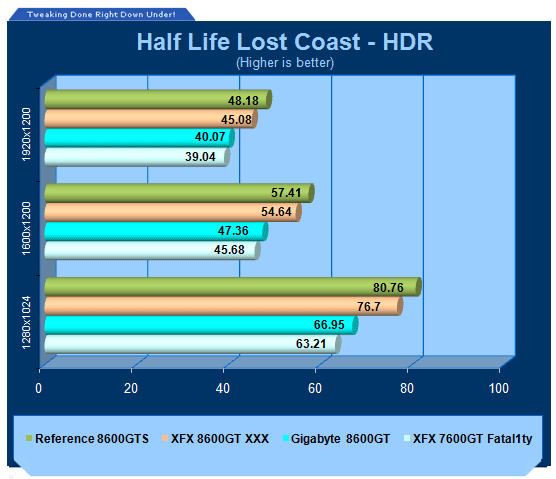 Lost Coast performance shows us that the 8600GT is slightly faster than the 7600GT though again we see the huge gains that the XFX offers, bringing performance almost to the levels of the 8600GTS.
Benchmarks - Prey
PreyVersion and / or Patch Used:
Unpatched
Timedemo or Level Used:
HardwareOC Custom Benchmark
Developer Homepage:
http://www.humanhead.com
Product Homepage:
http://www.prey.com
Buy It Here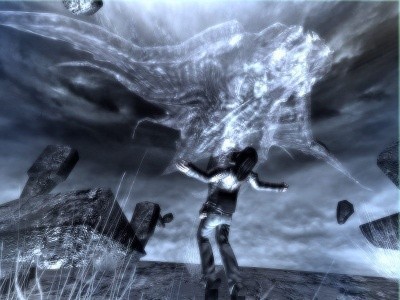 Prey is one of the newest games to be added to our benchmark lineup. It is based off the Doom 3 engine and offers stunning graphics passing what we have seen in Quake 4 and does put quite a lot of strain on our test systems.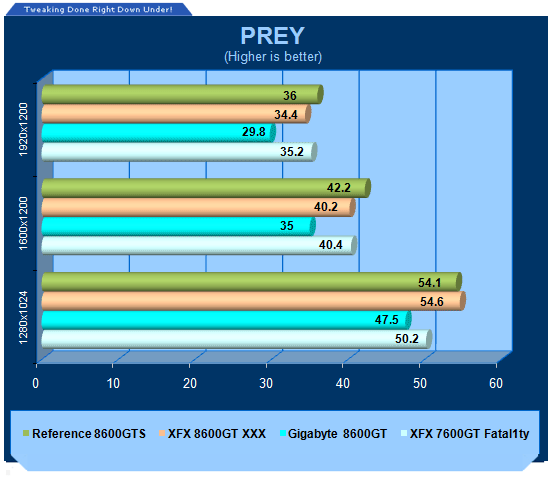 Prey is the first game that shows us the 8600GT falls behind, like we mentioned thought this particular 7600GT is quite heavily overclocked, the overclocked 8600GT on the other hand beats the 7600GT at the lower resolutions.
Benchmarks - F.E.A.R.
F.E.A.R.Version and / or Patch Used:
Unpatched
Timedemo or Level Used:
Built In Test
Developer Homepage:
http://www.vugames.com
Product Homepage:
http://www.whatisfear.com/us/
Buy It Here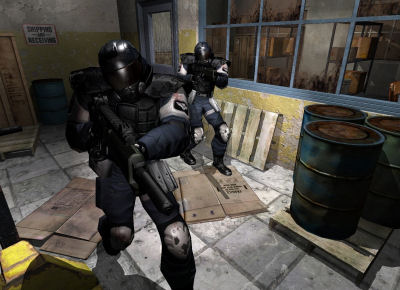 F.E.A.R. (First Encounter Assault Recon) is an intense combat experience with rich atmosphere and a deeply intense paranormal storyline presented entirely in first person. Be the hero in your own spine-tingling epic of action, tension, and terror...and discover the true meaning of F.E.A.R.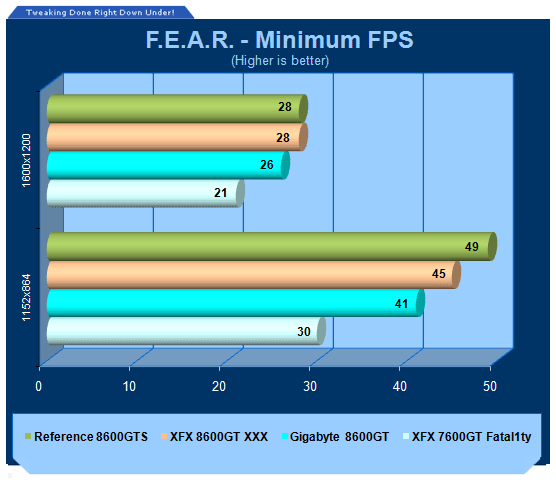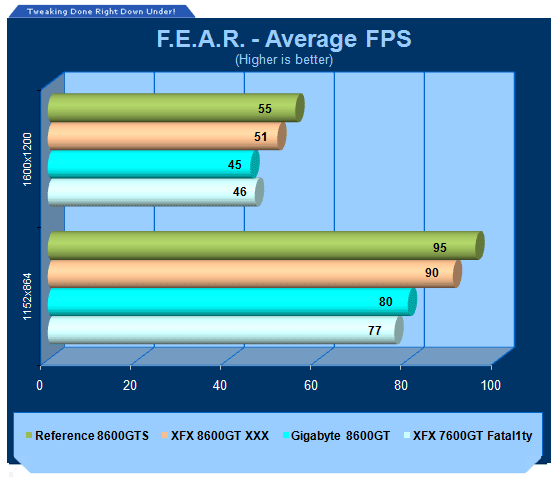 While the averages are quite close together we can see significant gains in minimum FPS. 30FPS to 41FPS is a gain of almost 40%.
Benchmarks - Company of Heroes
Company of HeroesVersion and / or Patch Used:
Demo
Timedemo or Level Used:
Built-in Test
Developer Homepage:
http://www.relic.com
Product Homepage:
http://www.companyofheroesgame.com
Buy It Here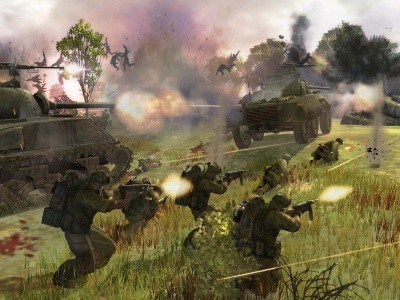 Company of Heroes, or COH as we are calling it, is one of the latest World War II games to be released and also one of the newest in our lineup of benchmarks. It is a super realistic real-time strategy (RTS) with plenty of cinematic detail and great effects. Because of its detail, it will help stress out even the most impressive computer systems with the best graphics cards - especially when you turn up all the detail. We use the built-in test to measure the frame rates.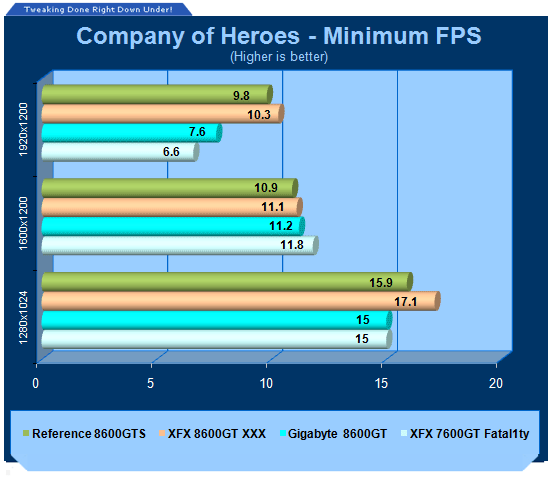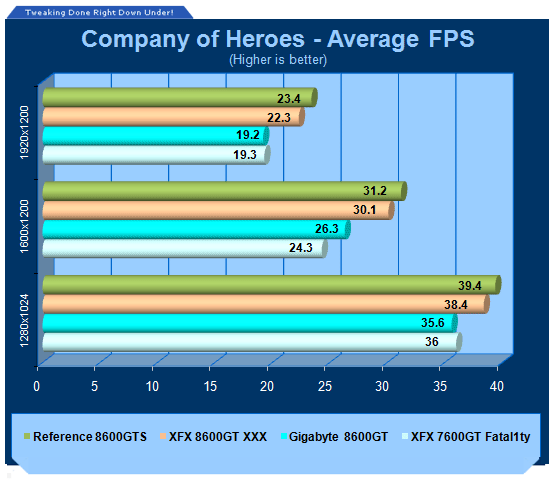 The Gigabyte 8600GT has similar performance to the overclocked 7600GT though the overclocked XFX 8600GT gives us almost as better performance than the reference 8600GTS.
Benchmarks - High Quality AA and AF
High Quality AA and AF
Our high quality tests let us separate the men from the boys and the ladies from the girls. If the cards were not struggling before they will start to now.
3DMark06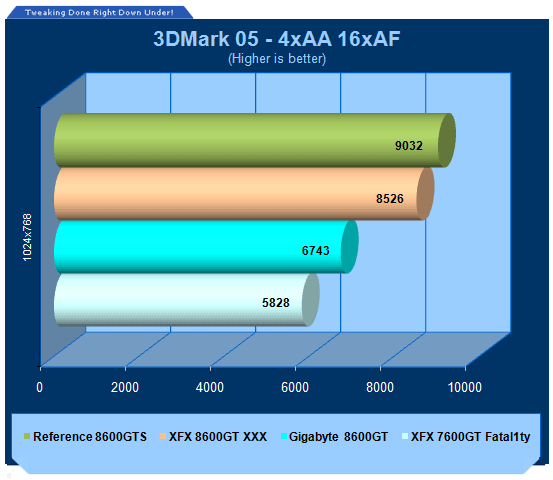 Like our non AA and AF tests we see that we have a bit of a reverse staircase effect. The XXX 8600GT from XFX comes in only just behind the reference 8600GTS.
Half Life 2 (Lost Coast)
With increased settings the 8600GTs really take a hit, to be honest though you are not going to be gaming at these settings on any of the cards here.
Prey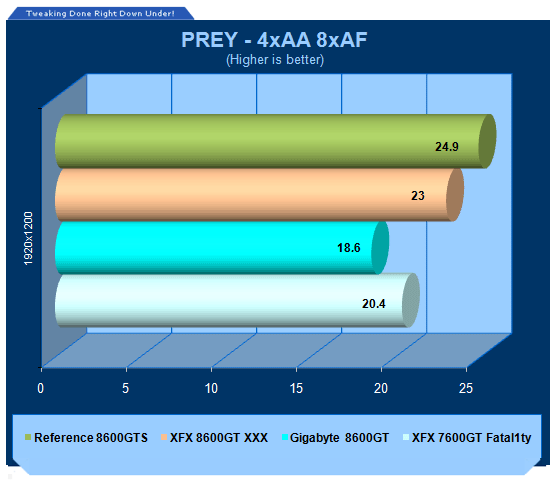 The overclocked 7600GT has the edge on the Gigabyte 8600GT thought the XXX XFX does pull ahead and gives us numbers closer to the GTS than the 7600GT.
Benchmarks - Overclocking
Overclocking
Our next step on the list is overclocking. We fired up our favourite utility ATI Tool and got things under way.
With the Gigabyte card using a silent cooler we didn't expect to see much of an increase, the clocks used are 600MHz core and 1440MHz DDR memory. Pleasantly surprised we got 10% on the core taking it to 660MHz and a bump of 120MHz DDR on the memory taking us to 1560MHz DDR.
The XFX on the other hand already utilizes quite a nice speed bump already of 620MHz core and 1600MHz DDR memory clock. Not expecting a huge overclock like the GTS which seemed to be maxed out we were surprised to say the least when we achieved a core speed of 710MHz and a memory speed of 1720MHz DDR.
Let's go ahead and see what type of difference this makes to the overall performance in a sample of tests
3DMark06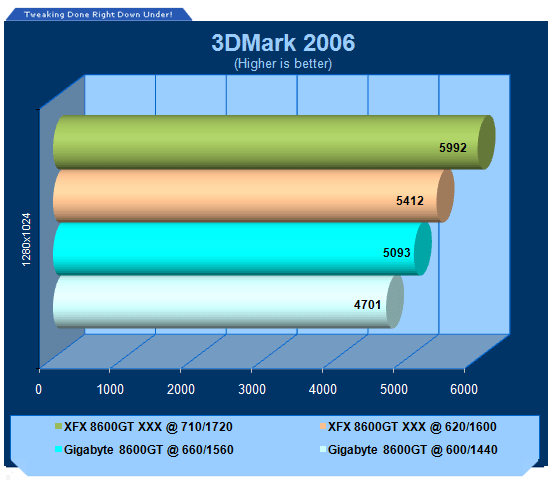 While the overclock did not do loads for the Gigabyte offering, XFX received huge gains in 3DMark06.
Prey
Prey gets a small bump on both cards but nothing to write home about.
Company of Heroes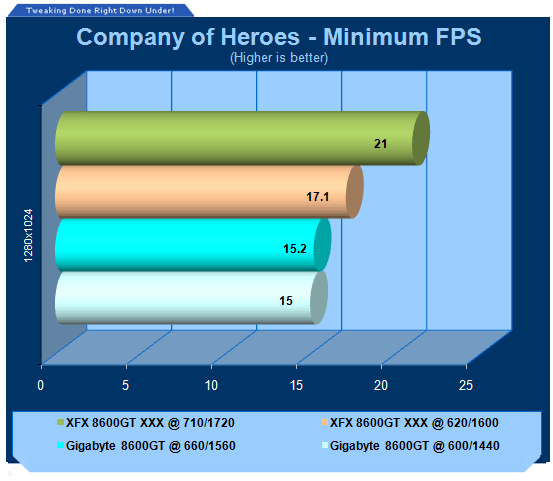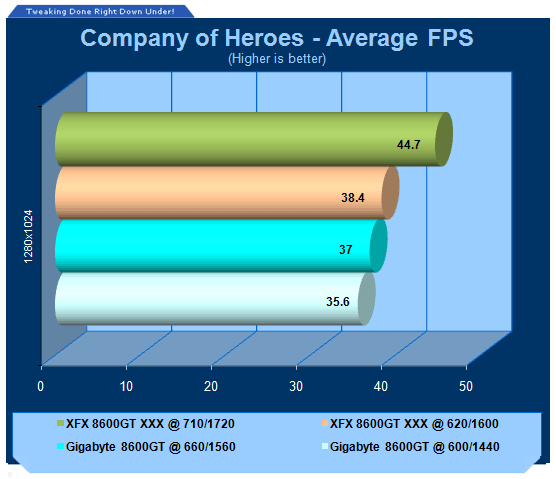 Like 3DMark06 the XFX gives us huge performance gains, however, the Gigabyte does not have as much luck.
Final Thoughts
Overall, on a whole the 8600GT seems to be a great little card. It performs most the time greater than the heavily overclocked 7600GT model we have here today and is going to be great for a gamer who does not want to break the bank and get something to accommodate that smaller screen.
This is probably going to be the better bang for buck card priced at around the AU$200 (US$167) mark. The only thing we really need to confirm now is if the overclocking capability is across the board or just on the XFX. It is hard, and a little unfair, to compare overclocking on the XFX against the Gigabyte as one has active cooling and the other passive.
Final Thoughts - Silent but Violent Gigabyte Offering
Maybe it is not that violent but for people who are on a budget the chances are it is going to be compared to what they have been using. The cooler on this card...what can we say? It kicks butt. It is heavy, feels high-quality and even lets us overclock.
What is our biggest gripe with the card? We could mention the lack of HDCP, but that is only on this model, of the 3 models on offer, 2 give us HDCP so that is not really a problem. You should not be forced to pay for HDCP if you are not going to use it. We could complain about only a single DVI-VGA connector but at least there is 1 and that probably is all you really need. We guess the biggest annoyance would have to be the lack of video cables, which might not be an issue for some readers.
- Pros
Excellent quality
Full version game
Capable of overclocking
Silent passive-cooling
- Cons
No video cables
Rating - 9 out of 10 and TweakTown's "MUST HAVE" Best Features Award!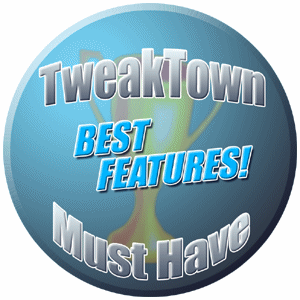 Final Thoughts - XFX XXX Incarnation
The XFX is a bit like a dog with rabies, all crazy looking (great performance) but not a lot to look at (small package). It comes out the gate growling and just wants to perform as much as possible. Then when you overclock it is like taking the dog off its leash.
Performance wise the card has a lot going for it from the 8600GT perspective, we know it is not an 8800GTX. While the Gigabyte left a little off the package the XFX really seemed to miss a chunk, lack of HDTV cables and no game really disappoint. In a solo review it may not have seemed as bad but when you look over at Gigabyte including Supreme Commander, a game that is quite recent, you have to feel slightly bummed out by the meager XFX offering.
I cannot bring myself to give the XFX an award simply because I feel that we may see cards that are cheaper, offer a full version game, and overclock just as much. The XFX is a great card nonetheless but with the increased price tag it is likely to carry, you may be better off looking towards a GTS card and overclocking that.
- Pros
All performance
Great overclocker
- Cons
Lackluster bundle
Rating - 8.5 out of 10
PRICING: You can find products similar to this one for sale below.

United States: Find other tech and computer products like this over at Amazon.com

United Kingdom: Find other tech and computer products like this over at Amazon.co.uk

Australia: Find other tech and computer products like this over at Amazon.com.au

Canada: Find other tech and computer products like this over at Amazon.ca

Deutschland: Finde andere Technik- und Computerprodukte wie dieses auf Amazon.de