CeBIT 2007 coverage from Taiwan (Part 2) - Bearlake, MCP73 and 8800OC
We're back with Part 2 of our CeBIT 2007 coverage from Taiwan looking at Bearlake, nVidia MCP73, 8800OC and much more!

Published Tue, Mar 13 2007 11:00 PM CDT
|
Updated Tue, Nov 3 2020 7:04 PM CST
CeBIT 2007 coverage from Taiwan - Part 2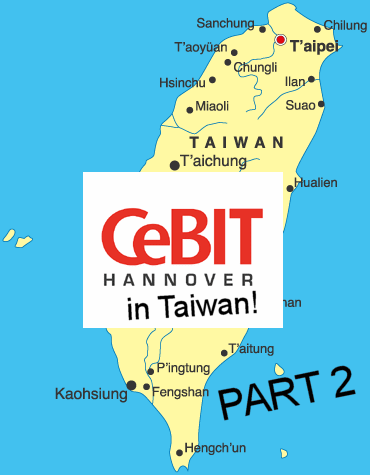 Yesterday we posted part 1 of our CeBIT 2007 coverage from Taiwan and as promised, we are back today with the second installment. CeBIT is still a full 24 hours away before its doors officially open and we're back again to give you the scoop from here in Taiwan on some of the interesting products you would see if you travelled all the way to Germany for the trade show.
In this part of our CeBIT coverage we include all information that was not in the first installment including things such as Bearlake chipset information and photos, a range of new consumer electronic products from MSI including photos of their upcoming nVidia MCP73 motherboard, ASUS's new line of interesting graphics related products including XG Station and AiGuru S2 wireless skype phone and Foxconn's highly overclocked GeForce 8800GTX, just to mention a few.
Without delaying any further, let's get this show on the road and see what we have here from several of the largest Taiwanese computer manufacturers!
Intel Bearlake spotted!
Intel Bearlake Motherboards spotted!
One of our first stops was at Gigabyte and Universal ABIT where they told us about their plans for their upcoming Intel Bearlake motherboards.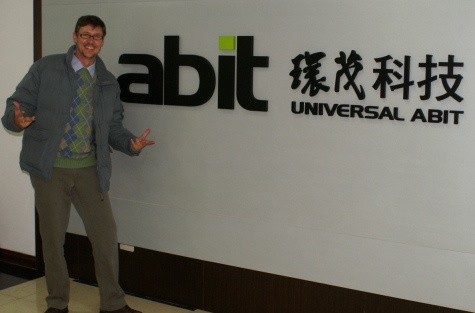 (Peter from Universal ABIT getting funky)
With information provided by other online sources and roadmaps seen by TweakTown, during this time we managed to learn quite a lot about Intel's plans for their Bearlake chipset program. The first chipset to be launched using the Bearlake core is the Intel P35. It will be the mainstream motherboard designed to replace the popular Intel P965 chipset and should also be similar in price. It will be sold into retail markets towards the end of May or early June. Being the mainstream chipset it has reduced PCI Express lanes (but will retain a single full-speed x16 slot for graphics cards) and as a result dual graphics technology will not be supported from either AMD Crossfire or nVidia SLI.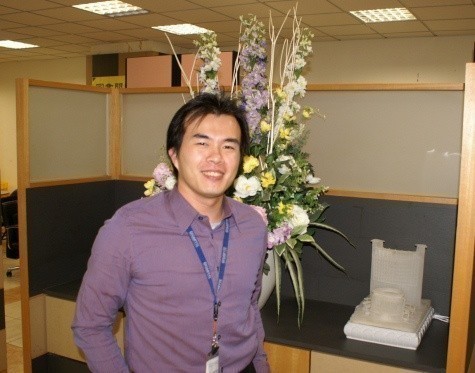 (Rockson from Gigabyte posses with the beautiful flower arrangement)
The big thing with the new Bearlake series is native support for 1333MHz FSB (to support Intel's upcoming range of E"50" processors) which will provide a slight boost in performance at relative CPU clock speeds. Although probably the most major point of Bearlake is the fact that it is the first chipset to be released that has support for new DDR-3 system memory as well as a faster memory controller.
Most of the major memory companies have DDR-3 memory ready and it's being validated by Intel currently since Intel are the only people who have the motherboards to test the RAM. From our talks with the Taiwanese motherboard companies, Gigabyte for one will produce a whole range of Bearlake motherboards using only DDR-2, combo DDR-2 and DDR-3 and later DDR-3 only. It will all depend on the market and the production and supply of DDR-3 modules but everything is looking on sum so far from what we have seen and heard.
So we've established that we'll see P35 Bearlake motherboards hit the retail market in the May - June timeframe and we're quite confident that will happen as we already have some Bearlake motherboards in our labs. In early August or in the Q3 timeframe you'll start to see X38 Bearlake motherboards in the market which are designed to replace the high-end Intel 975x chipset. Being the high-end motherboard, it will be more expensive packing more PCI Express lanes (dual full-speed x16 PCI Express slots for graphics) and embedded wireless as well as the new ICH9R chipset which includes more ports and some other new HDD technology (disabling SATA ports remotely over a network) which wasn't disclosed fully to us but keep in mind old PATA IDE ports will not be supported like the ICH8 series Southbridge.
Intel Bearlake continued
Intel Bearlake continued!
As far as onboard graphics solutions goes, Intel will also be launching two new chipsets based on the Bearlake core. The first will be the G33 which will come out in May and support hardware DX9 graphics. The second and most spectacular will be the G35 which will come out sometime in Q3 with hardware DX10 graphics. There is no word on 3D performance yet but you'd expect that a DX10 part should be required to offer half decent performance and with Intel said to be producing their own discrete graphics chipsets sometime next year, we should start to see things in the 3D area rapidly improve from Intel.
Intel's range of Bearlake chipsets will be produced using .65nm process technology which means more usable chipsets per wafer. As a result, this enables Intel to provide more chipsets to their partners at a better price which in turn enables them to tighten their grip on AMD and try and consolidate on their already strong Core 2 platform position. Not only that but Intel intend on massive price cuts to their Dual Core processors with a clear push to Quad Core which will mean Dual Core will become mainstream, hence the massive price drops. Some sources have claimed that the upcoming 3GHz E6850 (like X6800 but with 1333 FSB) will cost just $266 USD which is a 75% price drop for a slightly faster CPU.
We'll leave you with some pictures of ABIT's upcoming and working P35 motherboard called abit IP35. Keep in mind this is a very early revision and the cooling will may well change to a fancier heat pipe solution - take note of the single PCI Express x16 slot.
Clearly Intel are looking like they'll end up posting great revenue figures for 2007 and 2008 is shaping up to me yet another good year for Intel as they attempt to push the sword deeper into AMD's chest.
MSI shows off CE products
MSI held a CeBIT press conference in Taipei this week for Taiwanese press. The presentation was in Chinese, so I was only able to understand about 10% of what they were saying. Nevertheless, our contacts from MSI were on hand to show us some of the key products that'll be showing in Germany at CeBIT.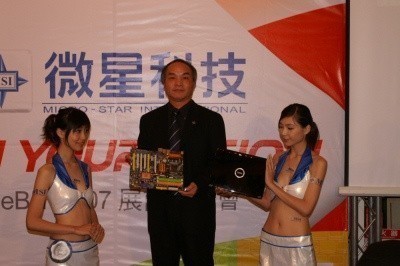 Unfortunately MSI didn't have any Bearlake motherboards on display as they had already been shipped off to Germany but nevertheless they had quite a few interesting products to show us all. Much of the presentation focus was on Vista and their latest mainstream motherboards such as the impressive nForce 680i which has onboard Creative Xi-Fi audio. Instead we are going to focus on more of their consumer electronic related products, which we found interesting.
First up is MSI's HATO notebook seemingly designed for doctors and for use in hospitals and what not. It comes with some very interesting hardware and software which allows you to measure your heart rate. Once you are all hooked up to the machine, it will report your heart rate and possible other vitals in software and on the small LCD panel next to the mouse area. It doesn't use USB for connectively but a non-standard port supposedly designed by MSI.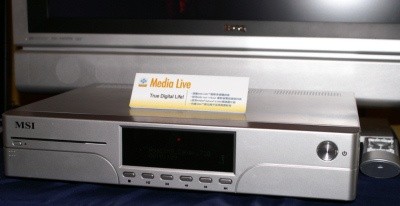 MSI were also showing their Media Live home theater PC which is based on AMD Live! technology. It comes with the usual HDMI port as you would expect along with AMD Cool'n'Quiet technology and even a 12-in-1 card reader. We're looking forward to getting this unit in for further testing as it definitely shows some potential.
MSI for a long time has been a company who has wanted to get their nose a little dirty in the consumer electronics business. Last year they launched their D310 Pocket TV which allows you to watch digital TV on the move. Not only that, it allowed you to watch backed up movies or download movies using flash memory via the onboard card reader.
MSI were showing off their brand new D320 Pocket TV device which is actually quite similar to the older D310 except that it has some small new tweaks. The most important change is that you are now able to stream digital TV to the device while you are travelling in a vehicle up to 120 km / hour (or 75 miles / hour). As long as you are not a speed freak, you shouldn't have any issues as long as you are in an area with good TV reception.
There are some other changes such as a friendlier user interface and a firmer and more solid stand. We'll endeavor to get one of these in for review as it could be quite an interesting product!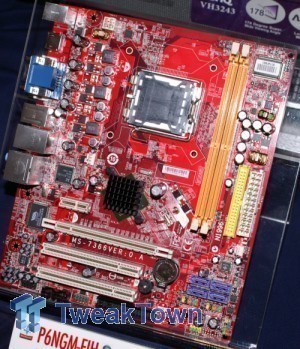 While MSI were showing off a whole bunch of their new AMD and Intel motherboards, our focus is on the new P6NGM-FIH. This is a new smaller than usual motherboard from MSI that is based on nVidia's upcoming MCP73 with Northbridge and Southbridge all in one. It's designed for home theater computers and as such comes with an HDMI port along with embedded hardware DX9 GeForce 7100 graphics which will be a direct competitor to Intel's upcoming G33 chipset which should both end up releasing around the same time in May of this year.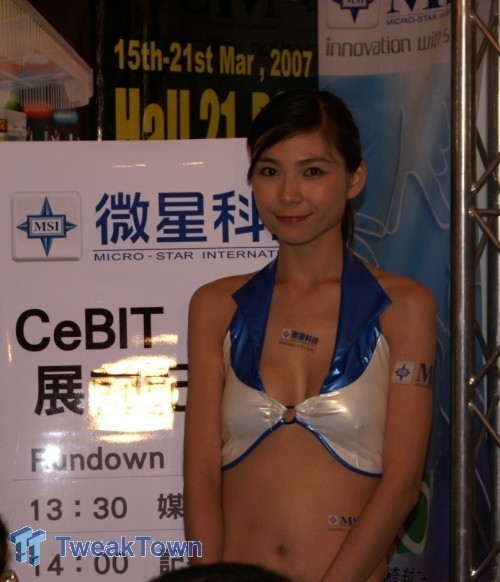 What is computer trade show coverage without at least some babes? :)
ASUS mini CeBIT @ Taipei
Similar to MSI, ASUS very recently held a "mini CeBIT @ Taipei" event at their headquarters here in Taiwan. Located on their onsite basketball court for staff, they showed off a bunch of their latest products - some old and some new, but still quite interesting to us.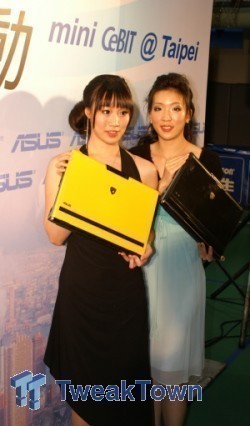 ASUS showed many of their latest notebooks and it's clear that is one of their major focuses. However, since we're not entirely interested in notebooks, we'll cover the other products that ASUS had on show. Unfortunately they didn't have any Bearlake motherboards on display (that's not to say that ASUS won't be showing anything in Germany) but they did have quite a few interesting products which are a little outside of the square, which makes for a nice change.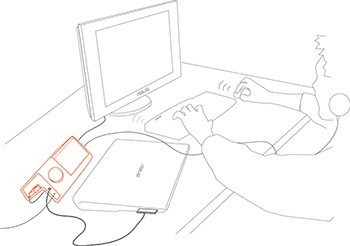 We met up with Sean from ASUS and he first introduced the ASUS XG Station to us. It was actually announced by ASUS back at CES earlier this year but it's the first time we've actually been able to see it up, close and personal. XG Station is a very unique device which allows consumers to upgrade the 3D graphics capabilities of their notebook computer, which is usually impossible, unless of course you know what you are doing. ASUS made the comparison of internal graphics from Intel's 945GM chipset to nVidia's GeForce 7900GS providing almost 10 times increase in 3D performance - which seems about correct to us.
It is a standalone device that connects via your notebooks express card slot but it does require external power. It also includes a couple USB 2.0 ports and an onboard audio chip which provides sound support for Dolby Headphone. Moreover, the front LCD panel provides a wealth of information such as current game frame rate, fan speed and even GPU temperature. From the front of the device you can also adjust GPU clock speed by turning the volume knob, change fan speed as well as adjust volume levels.
Initially ASUS will begin shipping this product either just before or just after Computex (sometime in June) and it will come installed with a GeForce 7900GS graphics card from ASUS. When asked if ASUS would ship XG Station without graphics card, allowing consumers more freedom of choice, they commented that would be unlikely since ASUS are trying to also sell their own graphics cards. Later ASUS intend on releasing newer versions with HDMI + HDCP graphics cards inside for users wanting to add HD DVD or Blu-ray playback capabilities to their notebook or connect up to their new large HDTV LCD screen. Stay tuned as we'll try and get a sample for testing shortly!
Even though it was also announced sometime ago, ASUS were showing off their new EN8800GTX AquaTank/HTDP/768M graphics cards which brings factory installed water cooling to the GeForce 8800GTX. Using cooling designed by ThermalTake, they've been able to not only increase clock speeds by 11% but also decrease operating temperatures by 12C.
The default clock speed of all 8800GTX cards is 575MHz on the core and 1800MHz DDR on the memory but ASUS has managed to increase this to 630MHz / 2060MHz DDR.
Finally from ASUS we spotted their upcoming range of AiGuru S2 wireless Skype phones. We recently checked out the first revision S1 and it was received quite well considering the price. The new S2 version is set to be released shortly with improvements of color LCD screen as well as higher resolution. Besides the internal changes, ASUS has done great things with appearance - S2 looks sexy!
Quick Bits - Overclocked Foxconn 8800GTX
Massarow from Foxconn was also kind enough to send along some information about their upcoming GeForce 8800GTX graphics cards which comes factory overclocked.
The default clock speeds of a normal 8800GTX are 575MHz on the core and 1800MHz DDR on the memory. Foxconn intends on releasing the FV-N88XMAD2-ONOC which is exactly the same but with a core clock speed of 630MHz and a memory clock speed of an amazing 2100MHz DDR.
These clock speeds will make the Foxconn 8800GTX OC just a little quicker than the ASUS Aqua Tank since the memory clock speed is a little higher.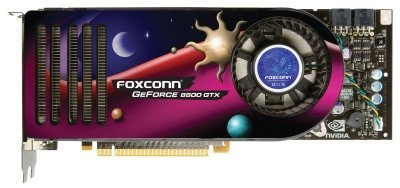 Foxconn are becoming quite serious about graphics cards lately and a product like this is surely going to give even AMD's upcoming R600 Radeon X2900XTX a run for its money. nVidia is said to be working on a response to AMD's X2900XTX but with companies pushing the 8800GTX to such levels as this, they may not need bother. If nVidia were to release something like an 8800 Ultra, it would probably operate closer to 700MHz on the core and 2200MHz - 2400MHz DDR using GDDR-4 memory but only time will tell.
We have come to the end!
That's the end of our CeBIT 2007 coverage from Taiwan - we hope you've enjoyed our looks at new and upcoming products from our friends here in Taiwan and we'll catch you next time!
PRICING: You can find products similar to this one for sale below.

United States: Find other tech and computer products like this over at Amazon.com

United Kingdom: Find other tech and computer products like this over at Amazon.co.uk

Australia: Find other tech and computer products like this over at Amazon.com.au

Canada: Find other tech and computer products like this over at Amazon.ca

Deutschland: Finde andere Technik- und Computerprodukte wie dieses auf Amazon.de
We openly invite the companies who provide us with review samples / who are mentioned or discussed to express their opinion. If any company representative wishes to respond, we will publish the response here. Please contact us if you wish to respond.