CeBIT 2007 coverage from Taiwan (Part 1) - DDR-3, SSD and R600
We kick off our CeBIT 2007 coverage from Taiwan looking at DDR-3 memory, Solid State Storage, AMD R600, MXM and more!

Published Mon, Mar 12 2007 11:00 PM CDT
|
Updated Tue, Nov 3 2020 7:04 PM CST
CeBIT 2007 coverage from Taiwan - Part 1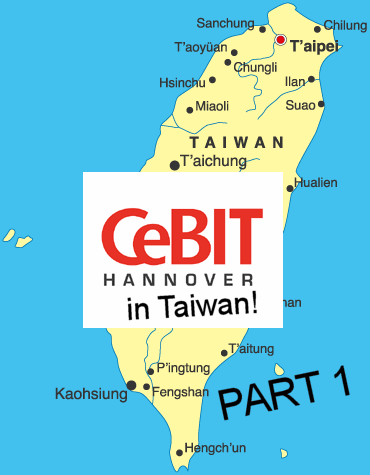 CeBIT is the largest computer trade show in the world held annually in Hannover, Germany in March. It's a massive show with a huge amount of display halls and many thousands of visitors and exhibitors. We decided not to go and in fact, we've never been before. Are we completely crazy being an online computer publication and not attending the largest computer show in the world? We don't think so and here are the reasons why.
Since we are based in Taiwan we always have the unique opportunity to see things before most others interested eyes. Granted sometimes it might take some added persuasion to make things happen, usually its doable when you know the right people. This year instead of trekking half way across the world to a place that is exceedingly cold with over the top hotel prices, we visited a handful of companies here in Taipei. Most of the companies we would visit in Germany are Taiwanese anyway, so we should have a good chance at seeing everything that we would have if we were to travel all the way to CeBIT.
Unsure at first of how successful the endeavor would be, in the end we were pleased with our findings. We visited a range of companies and got a bunch of exclusive information with the aim of providing interesting coverage on a range of products from the likes of Intel, AMD, nVidia, Gigabyte, GeCube, FSP, Foxconn, MSI, TEAM Memory, ABIT, ASUS and Albatron.
We managed to get the low down on Intel's upcoming P35 Bearlake chipset with native 1333 FSB and DDR-3 memory support. We got our first look at some brand spankin' new DDR-3 memory modules. Albatron was showing working nVidia MXM modules along with some fancy Mini-ITX motherboards. TEAM Memory showed us 64GB and 128GB IDE and SATA Solid State drives. MSI were showing a range of new products including a portable device capable of picking up digital TV on the run. ABIT showed us a range of their upcoming Intel Bearlake motherboards and the list goes on.
Put your seatbelt on for Part 1 and prepare yourself for the ride! We are bringing you this content about a full day before CeBIT Germany 2007 begins and well ahead of any other publications. Part 2 will be online March 14th covering everything else that wasn't covered here.
DDR-3 memory and SSD from TEAM
DDR-3 memory and Solid State Storage from TEAM
Next on the list was TEAM Memory who have just recently moved into a new office and things are definitely looking on the up and up for this Taiwanese company dedicated to most memory related products.
Harry and friends from TEAM were kind enough share some exciting CeBIT 2007 product news with us. We had actually been planning to meet with TEAM for a while but the timing worked out perfectly that we could see actual physical and working DDR-3 memory for the very first time which had literally just come off their Taipei factory line.
In one of those photos below you can see the difference between DDR (bottom), DDR-2 (middle) and DDR-3 (top). Notice that the connector key notch location is different to avoid installing into the wrong motherboard and that the DDR-3 chips are a little bigger than regular DDR-2 memory chips.
The exact module we had a chance to look at was TEAM's Elite DDR-3 1066 CL5-5-5-15 PC-8500 module with capacity of 1GB. DDR-3 is much different to DDR-2 in that more calculations can be performed per clock cycle. DDR-3 will also be able to read and write data at the same time. TEAM made the comparison of a CB radio - with DDR-2 and previous memory, you needed to wait for someone to finish talking before you start talking back to them but with DDR-3 you could both talk at the same time as each other.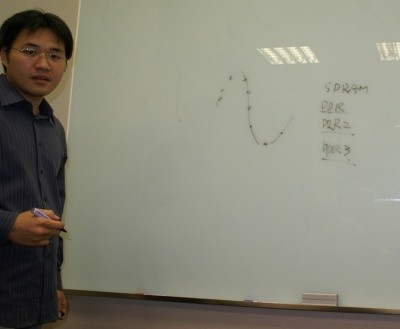 (A lesson in memory math...)
DDR-2 running at 800MHz and DDR-3 running at 800MHz will not provide the same performance numbers - a rough example given to us by TEAM would be that DDR-3 800MHz should be able to provide the same performance as DDR-2 operating at 1066MHz but of course no real-world numbers have been proved yet as Intel are still validating and testing DDR-3 modules.
The current JEDEC standard sets DDR-3 at 800MHz with timings of 5-5-5-15 which is the first batch you will see. The pin count is the same as DDR-2 at 240 pins but the layout is slightly different to avoid issues of installing the wrong RAM in the wrong motherboard, as you saw above. The default voltage of DDR-3 will be 1.5 volts compared to 1.8 volts of DDR-2. The maximum you'll ever be able to feed DDR-3 is around 2.0 volts and that's only if you intend on overclocking. TEAM will create a full range of DDR-3 modules but the first noticeable performance increase will come from their 1066MHz modules that come with timings of 6-6-6-18. The maximum current speed of DDR-3 chips is 1333MHz and they'll be on sale in the Q3 or Q4 timeframe. Nevertheless, TEAM is happy with their DDR-3 production so far and will have all of their new memory modules ready to sell as soon as motherboards are on the market that supports the new memory technology.
TEAM also showed us working 2.5" notebook size 128GB solid state drives in IDE and SATA format. Solid state is still a newish technology which is quickly gaining ground as a new storage medium that could and probably will eventually (10+ years) replace the regular hard drive, as we know it today. The benefit of solid state is that there are literally no moving mechanical parts inside (uses solid flash memory chips as used with memory cards like MMC, SD and Compact Flash). This will reduce the likeliness of drive failure and since there are no motors or highly sensitive drive heads like regular hard drives, solid state drives won't die if you drop them or they receive substantial shock. Keep in mind, we actually held these drives and they weigh next door to nothing - just like holding a feather, to be honest. This is an excellent step in the right direction for devices such as Ultra Mobile computers where overall weight is a concern.
Even though it has less latency than regular hard drives, the flash technology is still relatively new and still being improved in terms of size, performance and the number of reads and writes before flash failure. Right now the maximum amount of flash chips that you can bundle together is a total of 128GB and that has to do with controller limitation inside the flash. Soon this will improve and you'll start to see sizes of 256GB and upwards. You probably won't be able to buy any solid state drives in 2007 but late next year and beyond you will start to see more and more of these drives up for sale.
TEAM has promised us they'll let us benchmark solid state drives after CeBIT, so stay tuned!
Albatron shows off impressive Mini-ITX and MXM
Albatron is one Taiwanese company which we have started to work more closely with recently. They changed their focus from regular mainstream motherboards to other interesting products. Their main focus for CeBIT will be their range of new mini-ITX motherboards as well as nVidia MXM products.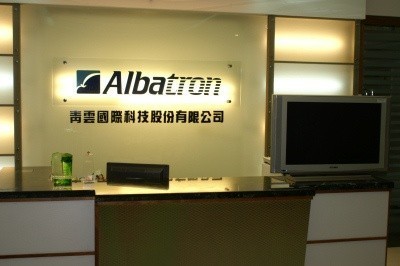 (I've never seen a receptionist move so quickly before!)
We met up with Sam and Candice who spent some time with us telling us about these new products. The first on the list is their KI690-AM2 motherboard which measures in at a tiny 17cm x 17cm and uses the regular mini-ITX form factor. It is based on AMD's new 690G chipset with support for all Socket AM2 processors. The only drawback might be that the motherboard uses DDR-2 SO-DIMM memory instead of regular 240-pin DDR-2 memory but if you're looking at building a real small PC, it shouldn't be much of an issue for you.
Besides the size of the motherboard, one of the most notably features is the onboard HDMI port as well as component video, DVI and VGA along with optical in and out and even digital coaxial and regular audio ports.
While it's not going to be a powerhouse of a motherboard, with the huge array of onboard connectors and considering its small size, it's going to be useful for a whole range of different systems and usage models.
It's amazing to see how much they've managed to squeeze onto such a small motherboard!
We were a little lucky to also see an nVidia MXM module finally in a working product. MXM was launched by nVidia way back in 2004 and it was all hyped up to be the next big technology for graphics upgradability in notebooks but it never seemed to get off the ground.
Albatron showed us one of their very own MXM modules based on the GeForce 7600GO GPU with 256MB of DDR-3 memory. Sure, it won't be any good for games like Crysis and UT2007 but it's still quite a decent upgrade from most onboard VGA solutions.
The MXM module we saw come out of a certain home theater PC and it's good to see that the module is actually starting to be used. Because of its small size and slot characteristics similar to notebook memory (installed flat rather than standing up straight), it allows for smaller systems which are still able to pack relatively good 3D performance.
GeCube's AGP Plans
Quick Bits - GeCube's AGP Plans
While we didn't get a chance to visit GeCube here in Taipei since most of their new products were already in Germany, they were able to help us out with information and pictures about their upcoming range of new AGP graphics cards.
When PCI Express graphics cards started to hit the market, the general conception was that AGP cards would be phased out within one year. As you know, the consumer drives the market and evidently there is still a demand for AGP graphics cards - especially high performance models.
Recently Nicole from GeCube let us know about the release of a whole range of new AGP cards including the Radeon X1950XT 256MB DDR-3, X1950PRO 256MB DDR-3 for high-end and X1650 PRO 512MB DDR-2 and X1650 512MB DDR-2 for mainstream markets.
It's good to see GeCube releasing new AGP cards based on fairly modern GPU's as it's clear there are plenty of users out there who are not yet willing to upgrade their complete system just to house a PCI Express graphics card.
FSP's monster 1200-watt PSU
Quick Bits - FSP's monster 1200-watt PSU
While we have very little details on the following product we thought it was important that we at least covered some power supplies.
Currently power supply companies are ramping up their wattage specifications with the launch of even more powerful DX10 graphics cards just around the corner. Elfin from FSP Group was kind enough to send a picture of their upcoming 1200-watt power supply which will likely be super expensive but a great match for something like an AMD R600 Crossfire dual graphics setup which will draw loads of power.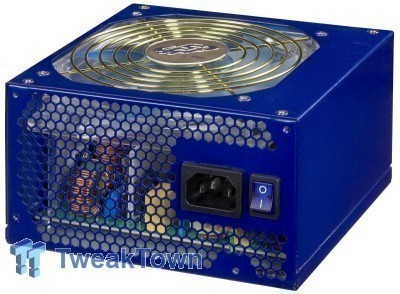 Keep in mind that this picture of FSP's 1200-watt power supply is not final and the colors will more than likely change. If you were at CeBIT you may even be lucky enough to see 2000-watt power supplies but they are still some time off and you'll first see products like this one coming to the market.
nVidia G84 / G86 / 8800 Ultra and R600
nVidia G84 / G86 and 8800 Ultra and Radeon X2900XTX (R600)
The big news for sometime at CeBIT was set to be the launch of AMD's highly anticipated Radeon X2900XTX graphics card based on the now famous codenamed R600 core.
There have been a lot of stories reported recently as to why the R600 has been delayed ranging from DDR-4 memory production and supply issues to AMD changing direction and waiting extra time to release a full top-to-bottom range of graphics cards based on the R600 program.
Whether or not any of this is true or not is unknown but we think it's probably a mixture of both but based on our discussions with Taiwanese companies, we think more of the reason has to do with production issues. Nevertheless, it seems like AMD and ATI are finally starting to get things under control. Most of the major graphics cards partners will have R600 demo systems on display at CeBIT but from what we heard, AMD is supplying ready-built systems and partners are not allow to modify the system in anyway. Quite sensitive don't you think considering AMD is claiming it is a product that will be ready in "
just a few weeks
". We actually think you'll start to see R600 cards sometime in May and probably toward the end of the month.

While there is pricing and specifications floating around and even pictures of the monstrous card which is said to measure 12" wide for the OEM version and 9" wide for the retail version, we're not going to republish that information as we cannot verify its accuracy. What might be interesting to note is that nVidia are planning on releasing a faster version of the 8800GTX called GeForce 8800 Ultra that is still based on the G80 core (information discovered in a beta Vista ForceWare driver).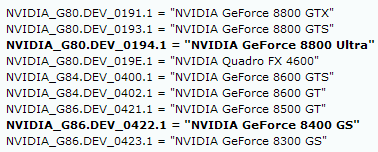 From our talks so far, we've heard nVidia have this card ready and will launch it either just before or just after AMD finally launch the Radeon X2900XTX as a spoiler for their big event. It's very unclear about what will be different about the 8800 Ultra (mouths are closed) but we would no doubt see higher clock speeds and possibly the move to faster GDDR-4 memory operating at around 2200MHz - 2400MHz DDR but it's all speculation at this point in time.
nVidia are not just concentrating on high-end, though. They are about to end production of a whole range of GeForce 7 series graphics cards including the 7950GT, 7900GS, 7600GT and 7600GS. On around April 18th, you will be able to buy a full range of new mainstream cards from nVidia called GeForce G84 8600GTS (replace 7950GT and 7900GS) with estimated pricing of $225 USD), G84 8600GT (replace 7600GT with estimated pricing of $165 USD) and G86 8500GT (replace 7600GS with estimated pricing of $90 USD).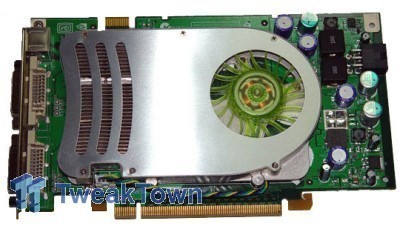 The GeForce 8600GTS will ship with either 256MB or 512MB DDR-3 along with HDCP, Dual Link DVI and HDTV and it's even said to have hardware DX10 support but we cannot confirm that yet so don't get too excited just yet. The 8600GT will be a cut down and cheaper version of the GTS with either 128MB or 256MB DDR-3 also with HDCP, Dual Link DVI and HDTV but probably lacking hardware DX10 support. Specifications on the GeForce 8500GT cannot be confirmed as yet. As we saw above, there will also be a new low-end GeForce 8400GS release at some stage but we're not sure when but it will probably be after G84 and G86.
As you can see, there's lots happening in the world of graphics cards from both AMD and nVidia - just release them already and stop waiting for each other to make a move!
Finishing up Part 1
That's the end of our Part 1 CeBIT 2007 coverage from Taiwan - we'll bring you more exciting cover tomorrow, so stay tuned!
PRICING: You can find products similar to this one for sale below.

United States: Find other tech and computer products like this over at Amazon.com

United Kingdom: Find other tech and computer products like this over at Amazon.co.uk

Australia: Find other tech and computer products like this over at Amazon.com.au

Canada: Find other tech and computer products like this over at Amazon.ca

Deutschland: Finde andere Technik- und Computerprodukte wie dieses auf Amazon.de
We openly invite the companies who provide us with review samples / who are mentioned or discussed to express their opinion. If any company representative wishes to respond, we will publish the response here. Please contact us if you wish to respond.