Introduction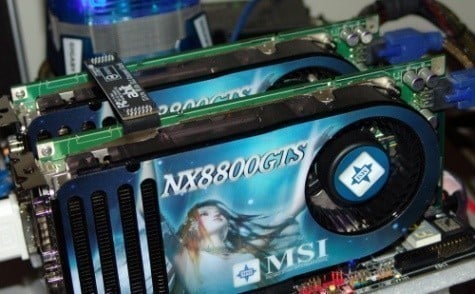 MSI GeForce 8800GTS 320MB SLI Performance
It's been quite a while since we have looked at anything SLI related at TweakTown and for good reason. Until the nVidia nForce 680i platform arrived, we didn't see a huge need to move to an SLI platform. The move from our Socket 939 AMD system to the Intel Core 2 Duo setup was one of the best we have ever done and with so much interest in the new platform from Intel (which just supports Crossfire dual graphics) it was going to be some time before we moved to a new platform which supports SLI.
As the new abit IN9 32X-MAX Wi-Fi (based on nForce 680i chipset and
reviewed here
) arrived into our labs, I instantly claimed it as the base VGA test motherboard. It's a pity that the board didn't perform as well as we expected in our testing (when overclocked). With a weird combination of BIOS resets and changes we eventually got it running and it hasn't skipped a beat yet. No doubt we will make the move when a newer revision of the 680i comes out but for the time being it's suiting us just fine and running extremely well for our graphics card testing requirements.
What do we have today? We have a pair of GeForce 8800GTS 320MB GTS graphics cards from MSI. With the 640MB version already being discontinued, these cheaper edition cards are popping up all over the place and it was great to have a pair together in the labs. It's not a cheap upgrade at around $900 AUD (about $680 USD) for the pair of them but if you're looking for some serious 3D gaming performance, it could well do the trick.
We clearly felt that if we were going to test SLI 8800's, it had to be done properly - the Dell 30" LCD with its lovely 2560 x 1600 resolution was pulled out and SLI was tested in style. Let's not ramble on anymore and see exactly what we have here and if a pair of 8800GTS 320MB cards in SLI can do it for us.
The Package
The front of the box is all very standard and gives us a wealth of important information. We of course can clearly see that the card is an 8800GTS and sports 320MB of DDR-3 memory. We also see Dual Link DVI, along with a few other key features. We can also see that the card is HDCP ready which is of course becoming more and more important these days with the new HD DVD and Blu-ray technology coming out.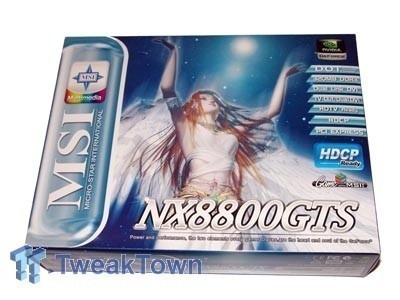 Turning the box over we have more information about the card with a focus on SLI, overclocking and the Dual Link DVI connectivity. We also have a small run down on some of the other features in a multitude of languages.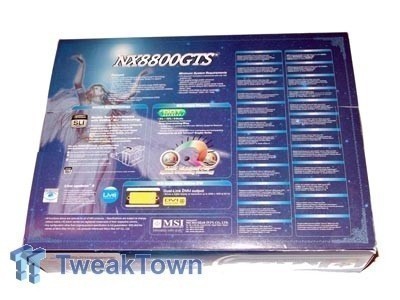 Moving to the inside of the package, it is unfortunately a bit blander then we had hoped - with no game included it was a letdown. Apart from the driver CD we have two quick guides, an install book and a user manual.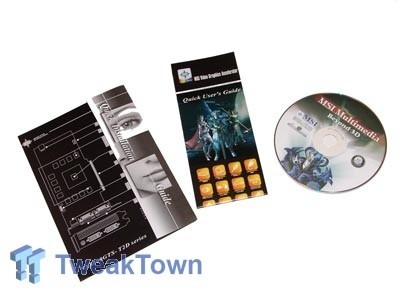 Cable wise is just as you would expect - two DVI to VGA connectors, PCI Express power connector, S-Video cable and HDTV out component cable.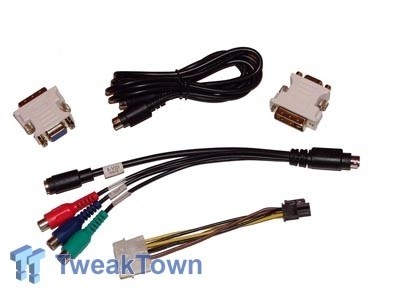 The most disappointing aspect of the bundle is that if you do a hunt around on the MSI website, you can see the 320MB overclocked model that comes with a full version copy of Company of Heroes and this one is missing a full version game which is a disappointment considering the price range of the product but at least you won't be stuck with two game copies if you do decide to go SLI.
The Card
Moving onto the card there isn't a whole lot to say, to be honest. The blue color scheme is quite attractive and will look quite nice if you have a case with a window.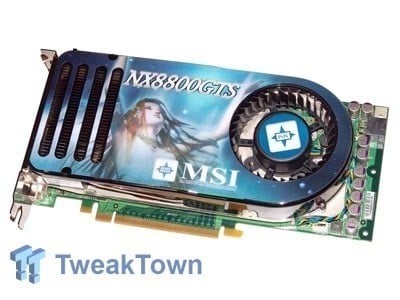 It is all very standard (reference design) looking and thanks to the large cooler on the front, there isn't a whole lot to see either.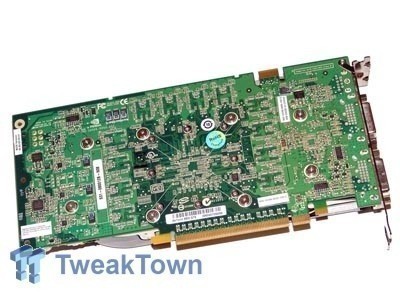 Turning the card over we just have our normal array of screws to hold the heatsink in place, we also have our normal line up of stickers and what not.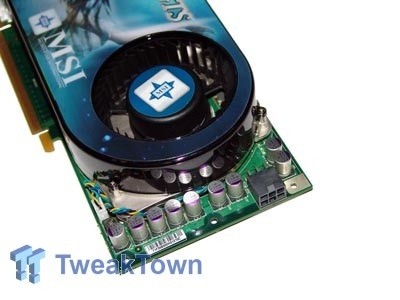 There is a single PCI Express power connector and if your power supply doesn't have one spare MSI have included an adapter to get you up and running which is something not all companies do.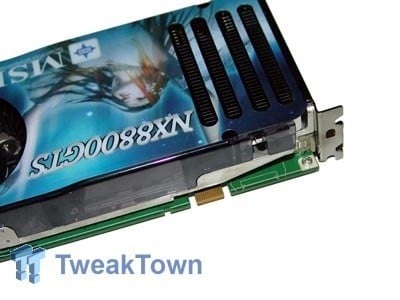 At the top of the card we can see the all important SLI connector that we will be making full use off today. Unlike the GTX variant, we only have a single connector, no there will be no chance of Quad SLI or whatnot at a later stage in time.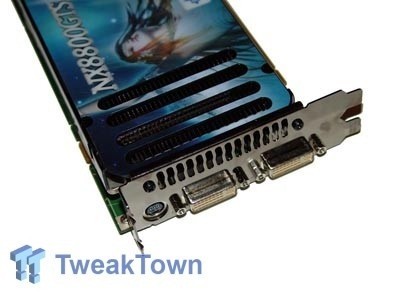 Finally we leave looking at our pair of dual link DVI and TV Out ports, like all other 8800GTS models the card does of course take up two slots in your system. Being based on the nVidia reference design, the clock speeds are the same as any other standard GeForce 8800GTS 320MB card on the market.
Benchmarks - Test System Setup and 3DMark05
Test System SetupProcessor(s):
Intel Core 2 Duo E6600 @ 3.3GHz (366MHz FSB x 9 and 1:1)
Motherboard(s):
abit IN9 32X-MAX Wi-Fi (Supplied by
Universal ABIT
)
Memory:
2 X 1GB Crucial PC8000 5-5-5-15 (Supplied by
Crucial
)
Hard Disk(s):
Hitachi 80GB 7200RPM SATA 2
Operating System:
Windows XP Professional SP2
Drivers:
nVidia ForceWare 97.92 and DX9c
As mentioned earlier, the new test system setup was somewhat of a pain but eventually we got our head around it and had it all up and running quite smoothly.
With the Dell 30" LCD monitor employed into action, we ran most of our benchmarks at three different resolutions which make sense for this particular SLI setup. We tested at 1280 x 1024 for 4:3 17"/19" LCD gamers, 1920 x 1200 for users of a 23" or 24" LCD's and 2560 x 1600 for people lucky enough to have a 30" LCD monitor.
We opted for skipping 1600 x 1200 as from a three resolution point of view, these were the most logical.
Let's find out what happens when we add an extra card to the already powerful 8800GTS 320MB.
3DMark05Version and / or Patch Used:
Build 130
Developer Homepage:
http://www.futuremark.com
Product Homepage:
http://www.futuremark.com/products/3dmark05/
Buy It Here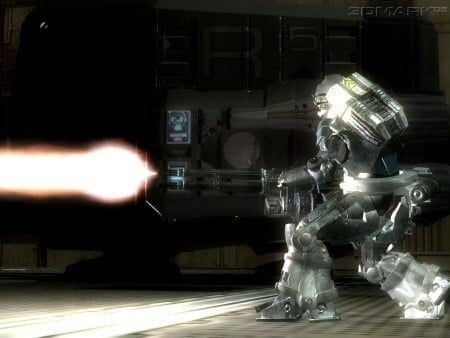 3DMark05 is now the second latest version in the popular 3DMark "Gamers Benchmark" series. It includes a complete set of DX9 benchmarks which tests Shader Model 2.0 and above.
For more information on the 3DMark05 benchmark, we recommend you read our preview
here
.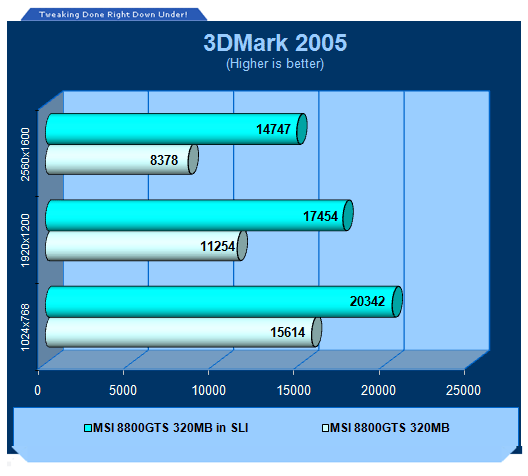 We can see that SLI gives us a clear performance gain off the bat and that as we move higher up in the resolution (as more stress is placed on the GPU) the percentage that SLI is faster grows quite significantly.
Benchmarks - 3DMark06
3DMark06Version and / or Patch Used:
Build 110
Developer Homepage:
http://www.futuremark.com
Product Homepage:
http://www.futuremark.com/products/3dmark06/
Buy It Here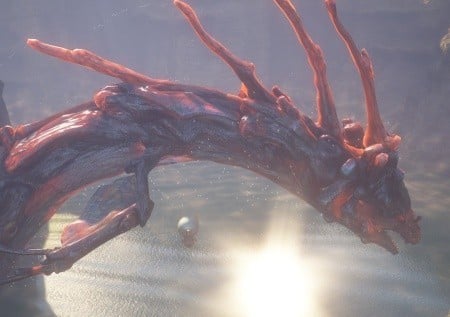 3DMark06 is the very latest version of the "Gamers Benchmark" from FutureMark. The newest version of 3DMark expands on the tests in 3DMark05 by adding graphical effects using Shader Model 3.0 and HDR (High Dynamic Range lighting) which will push even the best DX9 graphics cards to the extremes.
3DMark06 also focuses on not just the GPU but the CPU using the AGEIA PhysX software physics library to effectively test single and Dual Core processors.
The more intensive 3DMark06 version also paints a similar picture; the drop for the single card solution is more significant than that of the SLI setup as we increase the resolution.
Benchmarks - Half Life 2 (Lost Coast)
Half Life 2 (Lost Coast)Version and / or Patch Used:
Unpatched
Timedemo or Level Used:
Custom Timedemo
Developer Homepage:
http://www.valvesoftware.com
Product Homepage:
http://www.half-life2.com
Buy It Here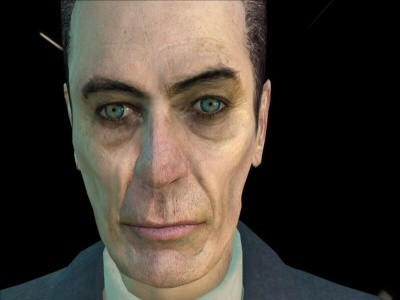 By taking the suspense, challenge and visceral charge of the original, and adding startling new realism, responsiveness and new HDR technology, Half-Life 2 Lost Coast opens the door to a world where the player's presence affects everything around him, from the physical environment to the behaviors even the emotions of both friends and enemies.
We benchmark Half Life 2 Lost Coast with our own custom timedemos as to avoid possible driver optimizations using the "record demo_name" command and loading the timedemo with the "timedemo demo_name" command - For a full list of the commands,
click here
.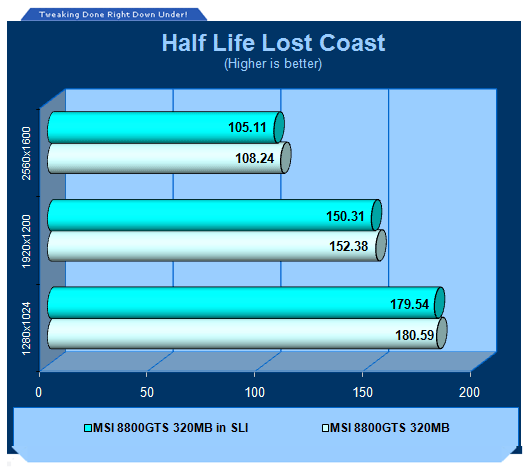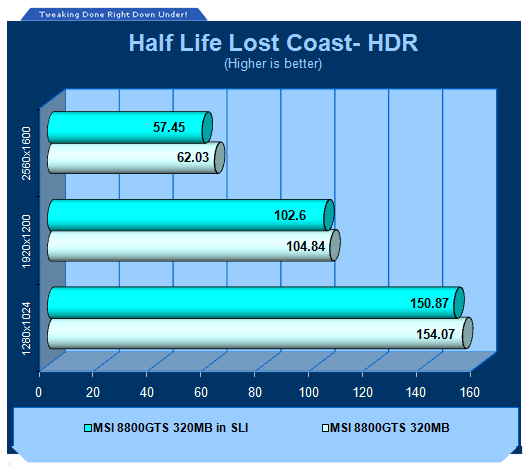 Hal Life has never seen performance gains with SLI and under more intensive situations, it actually sees a slight drop. This is no different with the GeForce 8800GTS cards in SLI from MSI.
You would hope under the load of 2560 x 1600 and with HDR enabled that we would see an increase but unfortunately we do not.
Benchmarks - PREY
PREYVersion and / or Patch Used:
Unpatched
Timedemo or Level Used:
HardwareOC Custom Timedemo
Developer Homepage:
http://www.humanhead.com
Product Homepage:
http://www.prey.com
Buy It Here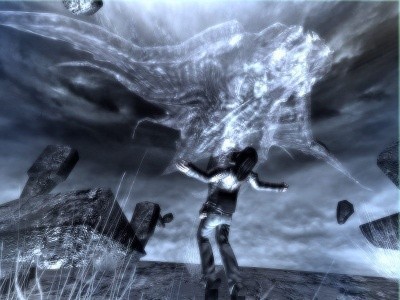 PREY is one of the newest games to be added to our benchmark line-up. It is based off the Doom 3 engine and offers stunning graphics passing what we've seen in Quake 4 and does put quite a lot of strain on our test systems.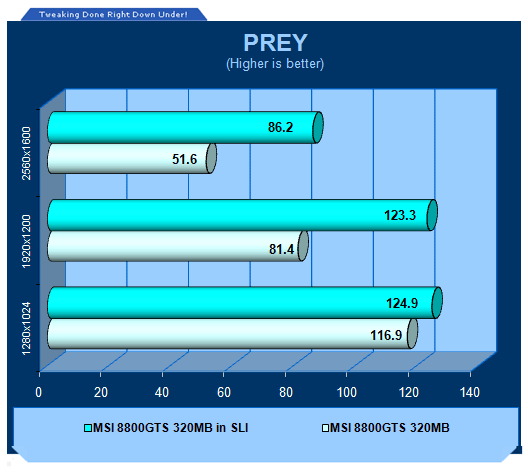 PREY is a classic example of how the extra resolution sees large gains when utilizing SLI as this game since nVidia has always been strong in OpenGL games.
When moving from 1280 x 1024 to 1920 x 1200 we can see the SLI rig isn't impacted yet the single card solution takes roughly a 40% hit. Moving to the top resolution sees SLI offer us a very playable setup but with minimum frame rates being low from the single card setup, we would consider it an average experience without SLI.
Benchmarks - F.E.A.R.
F.E.A.R.Version and / or Patch Used:
Unpatched
Timedemo or Level Used:
Built-in Test
Developer Homepage:
http://www.vugames.com
Product Homepage:
http://www.whatisfear.com/us/
Buy It Here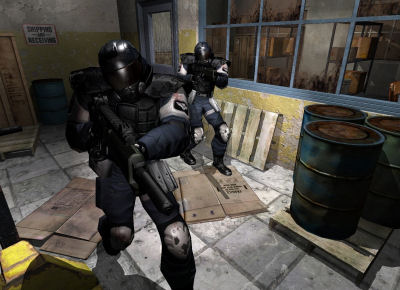 F.E.A.R. (First Encounter Assault Recon) is an intense combat experience with rich atmosphere and a deeply intense paranormal storyline presented entirely in first person. Be the hero in your own spine-tingling epic of action, tension, and terror...and discover the true meaning of F.E.A.R.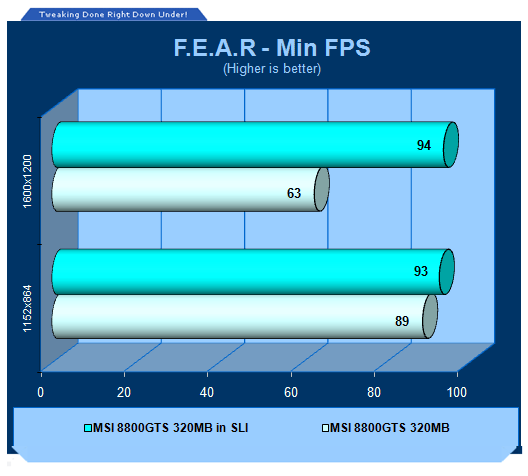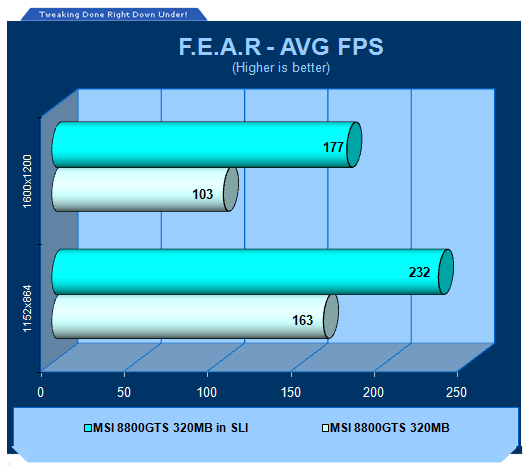 We can see that at the lower resolution the minimum isn't impacted much by SLI, when we move to the average though we see significant improvements.
The bottom line though is at these settings with one or two cards, F.E.A.R. is going to be running like a dream but the 2560 resolution would be a different story.
Benchmarks - Company of Heroes
Company of HeroesVersion and / or Patch Used:
Demo
Timedemo or Level Used:
Built-in Test
Developer Homepage:
http://www.relic.com
Product Homepage:
http://www.companyofheroesgame.com
Buy It Here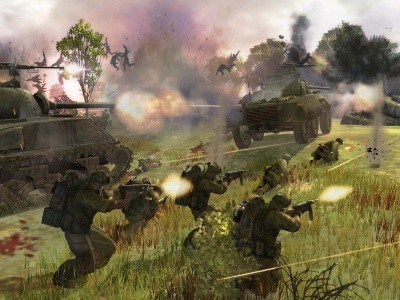 Company of Heroes, or COH as we're calling it, is one of the latest World War II games to be released and also one of the newest in our lineup of benchmarks. It is a super realistic real-time strategy (RTS) with plenty of cinematic detail and great effects. Because of its detail, it will help stress out even the most impressive computer systems with the best graphics cards - especially when you turn up all the detail. We use the built-in test to measure the frame rates.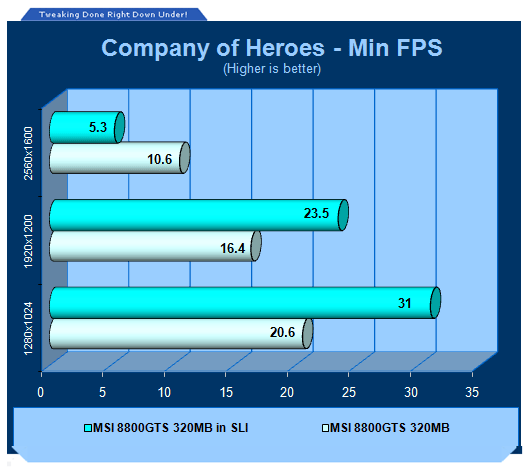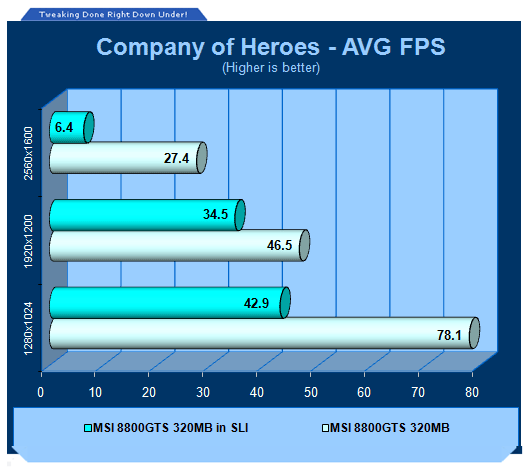 Company of Heroes really has some major issues but we've seen it all before - nVidia recently fixed the issues for Vista gamers but if you're still on Windows XP, no doubt you won't be too pleased at all.
Where is the driver fix nVidia?
Benchmarks - High Quality AA and AF
High Quality AA and AF
Our high quality tests let us separate the men from the boys and the ladies from the girls. If the cards weren't struggling before they will start to now.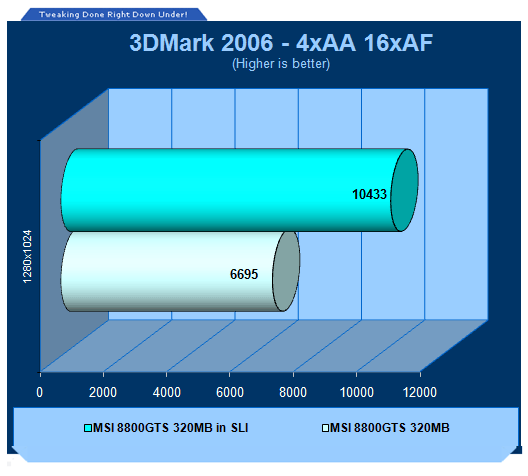 Increasing image quality settings just shows how much power is on offer from the SLI 8800GTS 320MB cards from SLI.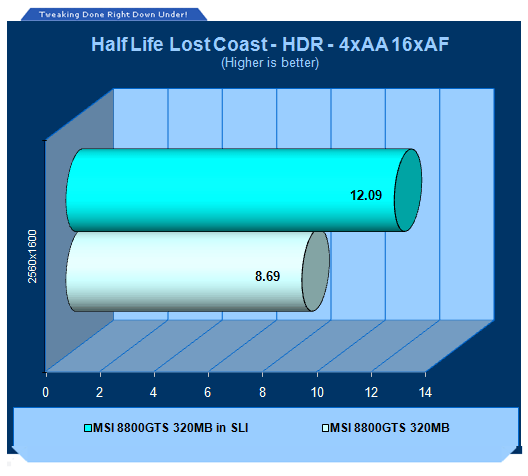 While we finally see a performance increase with SLI it doesn't really matter with these averages, you're going to be doing a whole lot of nothing.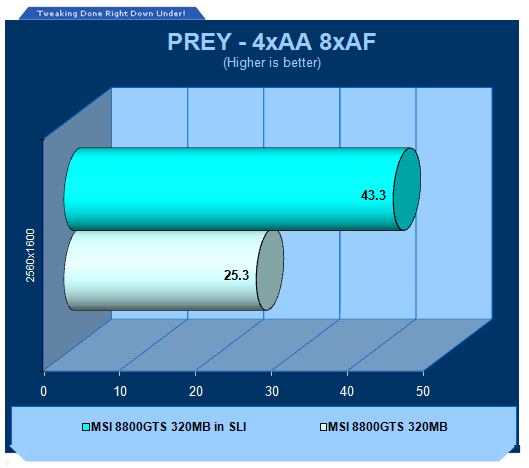 Finally we leave with PREY which shows the power of SLI offering a suitably decent gaming experience with an ultra HD resolution with AA and AF enabled.
Final Thoughts
nVidia SLI dual graphics is a great technology as we've always said that and it's really fallen into the market well since its inception sometime ago now.
MSI's GeForce 8800GTS 320MB GTS cards really do a good job of offer great gaming performance with oodles of power but it's clear that unless you're running resolutions of 1920 x 1200 or upwards (or with image quality settings such as AA and AF maxed out), it isn't going to be seen or worth spending that much money. If you wanted a speed bump at the lower resolution or around the 1600 x 1200 mark, we would recommend looking at a single GeForce 8800GTX ($830 AUD or $625 USD in Australia) instead of a pair of these in SLI ($900 AUD or $680 USD in Australia).
MSI have got a nice solid graphic card here and due to their aggressive pricing in Australia, it makes them quite the catch and clearly worth taking into consideration. Hopefully we do see MSI Australia release the overclocked model with Company of Heroes as it is disappointing to not have a game included within this package considering you are spending a bunch of cash.
The key to these cards in SLI really is the resolution you game at, we can't emphasize enough the importance of a high resolution when this much graphics card power is on offer. The other thing to remember is CPU power; you don't want to be bouncing off a wall due to any CPU limitation. We would recommend at least an overclocked E6400 or above for this kind of setup to take full advantage of it.
What would be interesting to check out is how the halved memory of the 8800GTS 320MB impacts SLI performance - 640MB vs. 1080MB but of course you'll end up spending a lot more money on the cards with the extra RAM onboard. In other testing we saw that the higher resolution gaming experience took quite an impact in some sectors when compared to the 640MB version. No doubt we will do some research and hopefully be back with another SLI article in a little while looking closer at this subject area or maybe a couple 8800GTS 320MB factory overclocked graphics cards in SLI.
At present you'll be well served with a pair of MSI's GeForce 8800GTS 320MB cards in SLI and make most of your friends quite jealous we'd imagine - just make sure you have a CPU and motherboard which is also up to the task and don't forget that AMD and ATI's upcoming R600 will probably be on shop shelves around May and nVidia might retaliate with a souped up version of the G80 called GeForce 8800 Ultra around about the same and either may end up being a better buy if you can wait.
- Pros
Loads of great performance for high resolution gamers
Aggressive pricing making MSI brand more affordable than others
HDCP for HD DVD and Blu-ray playback
Dual Link DVI for 30" LCD owners
- Cons
Light package missing full version game
Single card solution better for 1600 x 1200 and below
Rating - 8 out of 10