From smartphones and tablets to gaming consoles and PC rigs, streaming live gaming content, ASUS's suite of routers, from the RT-AX3000 to the powerful RT-AXE7800, has got you covered. All are equipped with the sort of high-end processing power and Wi-Fi speed needed to support multiple users doing their thing.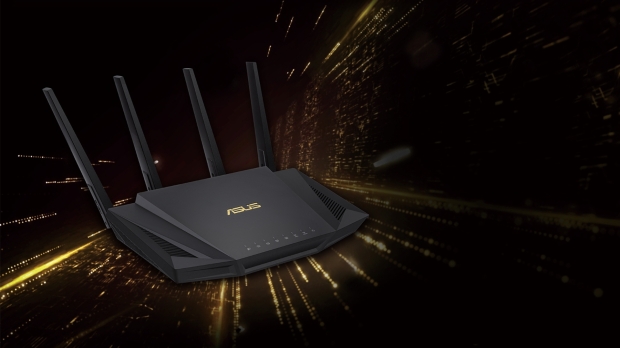 When choosing the right router for a home or small network, speed, reliability, and range are usually where the research ends. But as we all know, getting you connected is just one part of the story; staying connected with the tools to ensure you can grow and secure your network is just as important.
Where competing products might offer limited access to security tools, all ASUS routers have advanced network security tools as standard. Throw in intuitive parental controls, AiMesh technology that can extend any ASUS network without all-new hardware, and impressive VPN support. ASUS routers go far beyond simply connecting you.
And when you add up all of these features, offer the best value for your wireless network.
Advanced Security 24/7 and Without a Fee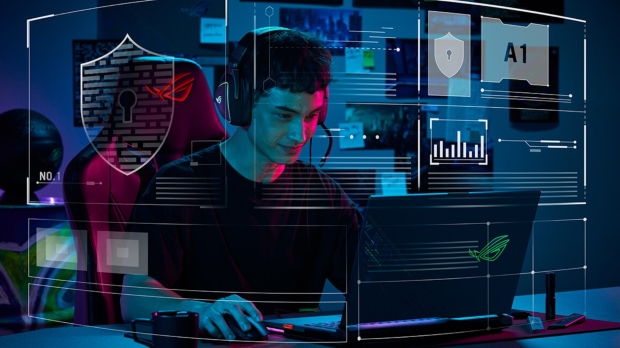 The modern household is a sea of devices all connected to keep family, friends, and colleagues close, with work and entertainment all but a click or two away. Even when you think about one or two people living together, you're looking at smart entertainment devices, work computers, phones, and tablets all connected simultaneously. And when it comes to setting up a new network (or upgrading an existing one), having a router that will work hard to protect your devices and data is invaluable.
Look at the ASUS RT-AX58U, which offers next-gen Wi-Fi 6 speeds, increased bandwidth, and the ability to support multiple devices across the 2.4 and 5 GHz bands. It also arrives with ASUS AiProtection, a commercial-grade protection suite that protects your smart home and network with tools and cybersecurity solutions from Trend Micro. This includes free automatic security updates, malicious site blocking, and a built-in tool to identify and block infected devices. All of this comes without a subscription fee and is there for the lifetime of the ASUS router.
All of this happens on the router, too, so you don't have to worry about advanced security tools on every device. And it's as easy as setting it up from within the powerful and intuitive ASUS Router app.
Powerful VPN Support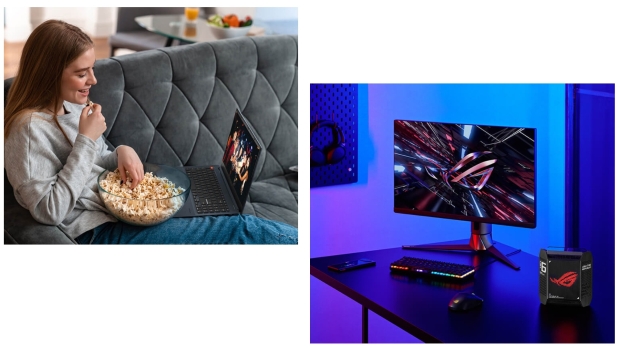 For the tech-savvy out there, having access to a VPN service is a key part of being online and minimizing the sheer amount of private data and analytical information that is openly being sent over the airwaves. It's also a great way to establish the best connection to a game server to reduce latency and boost your overall standing at the end of a round.
From popular VPN services like NordVPN and ExpressVPN, you might think that setting up a VPN to hide locational and personal network traffic is limited to an app running on a device. That's not the case, as many wireless routers now offer VPN services as part of the overall package - but this is often limited to basic functionality.
VPN functionality is standard for ASUS routers, with those in the ROG range having great VPN features to find and play on optimal game servers with the lowest latency. With ASUS' VPN Fusion, you can set up multiple VPN tunnels (connections) across multiple devices - including set-top boxes. This is great news for those browsing and watching Netflix content in other regions. As this is all handled directly via your ASUS router, VPN access on one device won't affect the speed or connectivity of others.
And as a nice little bonus, you get access to the Instant Guard app on Android and iOS for VPN access when you're out and signing onto a public network.
Intuitive and Hassle-Free Parental Controls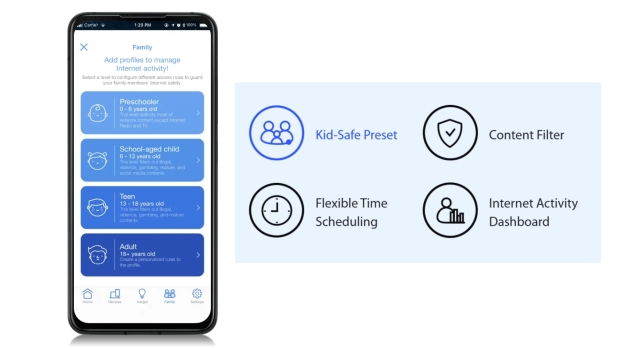 Whether you're tech-savvy or not, being a parent in the modern internet age requires keeping a healthy balance and being aware of what kids and devices can access and for how long. ASUS routers come equipped with in-depth and intuitive free parental controls to help protect kids and establish the right life balance in an always-connected world.
To help make the whole process easier, ASUS provides preset profiles based on age that automatically apply filters for inappropriate content while offering suggested screen time schedules for devices. All of this can be customized from within the app, where you'll also have access to browsing behaviors and can keep track of internet activity to maintain peace of mind.
Again, all of this is free on ASUS routers. Looking at competing devices with parental options, these are often locked behind subscriptions and free trial offers, which can add substantial ongoing costs to running a home network over time.
Extend Your Reach with AiMesh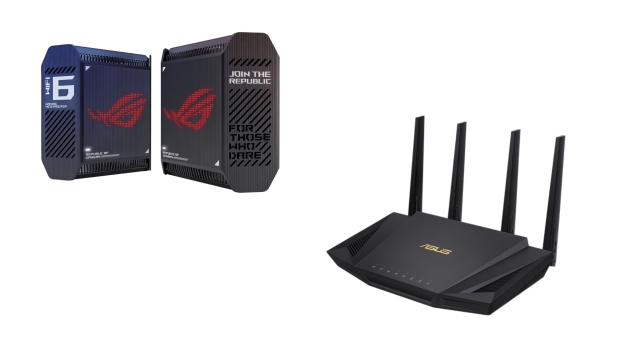 When someone wants to upgrade their home network, it often boils down to the extra range and bandwidth to support more devices across a larger area.
The simplest solution to solving the range problem is a mesh Wi-Fi system, where multiple devices deliver a single wireless network and devices simply connect to the closest router. Suppose you're considering setting up a mesh system or having that option in the future; you would need a matching set of particular routers to create a mech system.
The good news is that ASUS Routers come equipped with AiMesh technology - meaning that any AiMesh-capable ASUS router can create or be a part of a mesh Wi-Fi network. Whether you're moving into a new space, looking to set up a makeshift office in the backyard for summer, or simply making room for more tech, it's important to remember that extending a wireless network doesn't mean replacing what you've got.
Unbeatable Value
In the age of subscription services, ASUS's fee-free approach delivers a value upwards of $300+ in just a couple of years of the device ownership versus the likes of TP-Link or Netgear.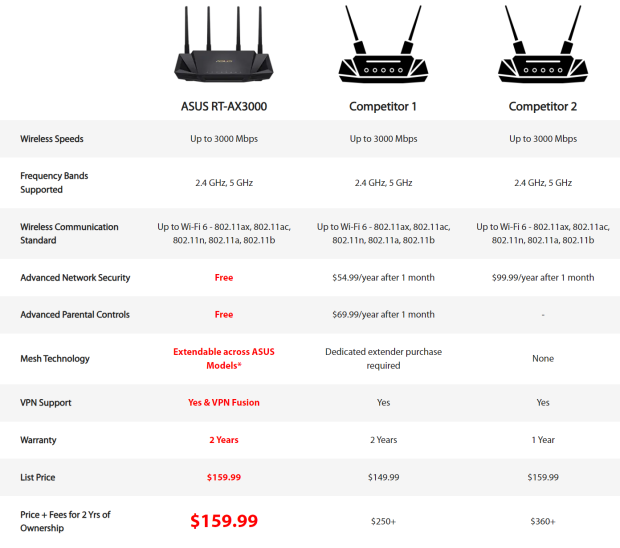 With advanced network security tools and features, in-depth VPN services, parental controls, and the ability to set up a mesh Wi-Fi system without buying all-new hardware, this sits on top of ASUS' award-winning technology, reliability, and excellent hardware. From the enthusiast-grade ROG Rapture GT6 for gamers to the ASUS RT-AX3000 for the modern connected household.
Visit https://www.asus.com/us/site/router-addon-value/ and check out how ASUS offers fully featured routers at a lower total cost than the competition.