Introduction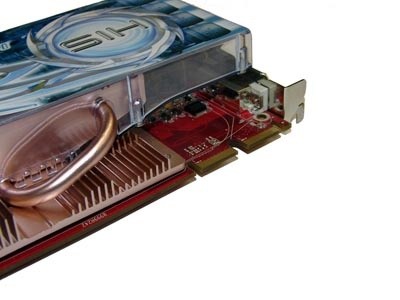 Looking for a mid-range graphics card from the AMD and ATI camp?
Depending on your budget there is a couple of solid options to choose from. The Radeon X1650XT being the cheaper alternative that sits at the bottom of the mid-range line up and the other is the Radeon X1950PRO which sits at the higher-end in terms of price and performance.
We have with us a pair of cards from HIS, one the Radeon 1650XT and the other a Radeon 1950PRO. We will see what these particular cards from HIS have to offer us along with what card is best for you. If you're on an LCD monitor that only supports a resolution as high as 1280 x 1024, is it worth the extra money to move to the X1950PRO? We'll discuss this and more.
Normally we see a lot of IceQ type graphics cards from HIS but this time around while we do have an IceQ edition in the shape of the Radeon X1950PRO we also got the chance to check out the new iSilenceII cooling design on the Radeon X1650XT.
Let's have a closer look at the cards then get stuck into our benchmarks.
HIS Radeon X1650XT iSilenceII
The HIS box is very standard with all the important information located on the front of the card, some of the main features include the fact that the card is HDCP ready, silent, 256MB of GDDR-3 memory, PCI Express, Dual Dual Link DVI and like all current ATI cards completely Vista ready.
Turning the box over there is a picture of the card along with some extended specifications. We can also see again some of the more important features included on the card, the fact that it is capable of being used in a Crossfire dual graphics (hardware link bridge or software in this case) configuration.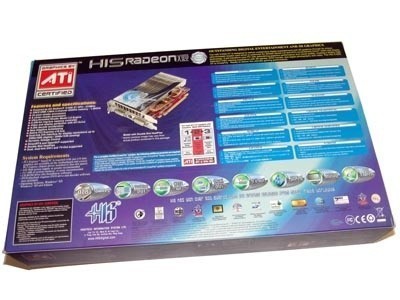 Contents of the box are pretty standard, HDTV out cables along with an S-Video cable and S-Video to RCA plug, single DVI to VGA connector and Crossfire link bridge cable. Paperwork wise we have the manual, along with the standard driver CD and the HIS Bonus DVD which has Dungeon Siege included along with a number of demos and applications.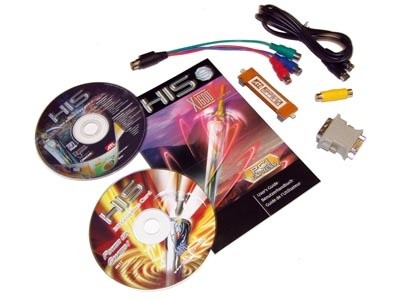 Moving onto the card itself we are seeing for the first time the new iSilenceII cooler from HIS. Like most silent coolers, it looks great but when you touch it, you notice that it was clearly designed to be an extremely high quality cooler. It doesn't have that typical cheap feel that we see on a lot of silently cooled graphics cards. Being silent and with support for HDCP for next-generation HD content playback, it would make a great card for your home theater PC With it being an entry level mid-range card, no additional power is needed which is handy for people with older or less powerful power supplies.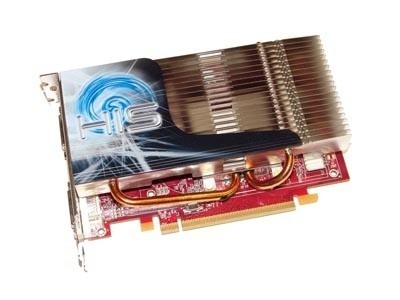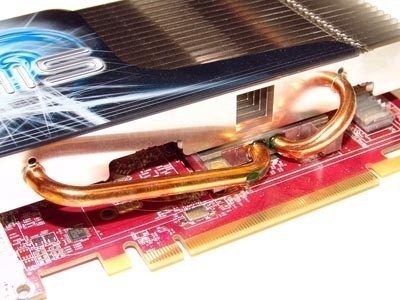 Most of the card is pretty standard but with the card being silently cooled and needing to be larger than standard, it does take up a total of two slots. We can also see that we have two DVI ports which both support Dual Link connectivity for users of 30" LCD monitors and our standard TV-out plug. As mentioned, both DVI ports are HDCP capable which means you'll be able to use this graphics card to playback next-generation HD move content from HD-DVD or Blu-ray discs on your PC.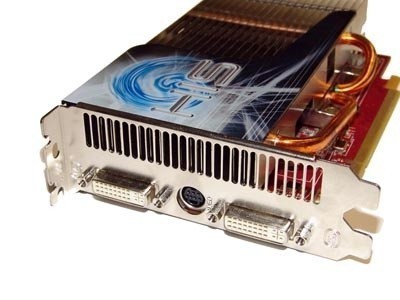 Specification wise the card isn't too bad either, 256MB of GDDR-3 of memory onboard with a 1.38GHz DDR clock speed as well as a 575MHz core clock speed. The card overall just from the look and feel leaves you thinking that it is an extremely well thought out card with quality and silence in mind.
HIS Radeon X1950PRO IceQ3 Turbo VIVO
Information wise the front of the box of the Radeon X1950PRO is very similar to that of the X1650XT, we can clearly see that it is an IceQ3 Turbo card along with the main specifications in regards to the card like, PCI Express, VIVO, a couple Dual Link DVI ports, 256MB of GDDR-3 memory, HDCP and more. Like the X1650XT it is also Vista ready.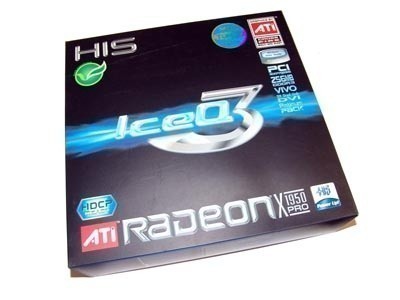 Turning the box over you can see the card in all its glory through the plastic cover. It is a great box design as it also highlights some of the key features that are included on the card and what the IceQ3 cooling fan is capable of. Across the bottom like the Radeon X1650XT we can see a few of the hundreds of awards that HIS have one.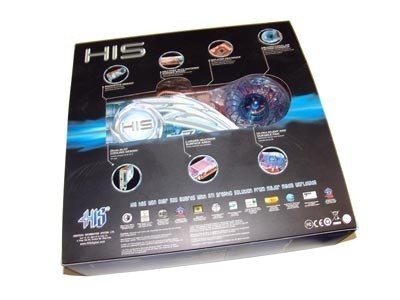 Opening up the box and diving inside we get a nice little bundle - included is VIVO cables to make use of the Video In / Video Out functionality, a couple DVI to VGA connectors, HDTV-out cable, HIS bonus DVD with a number of Cyberlink goodies and a copy of Flat Out. Finally we also have the much needed Crossfire link bridge cable for those who intend on purchasing a second and making use of the Crossfire dual graphics capabilities on supported motherboards.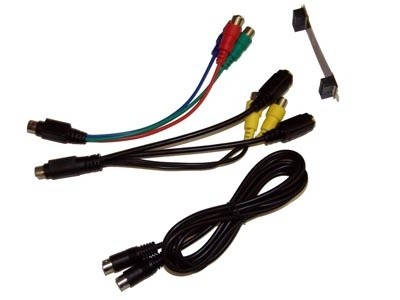 In typical IceQ fashion there isn't much to the card as the giant cooler takes up the entire front space of the card. We can see the copper heat pipe running across the top of the card along with the copper memory sinks to keep everything on the card as cool as possible. We also have the new Crossfire connectors located at the top.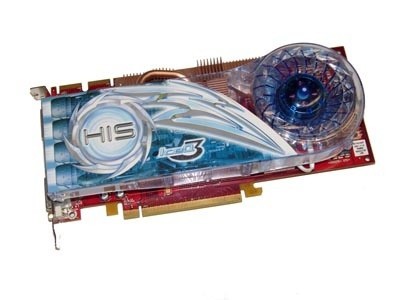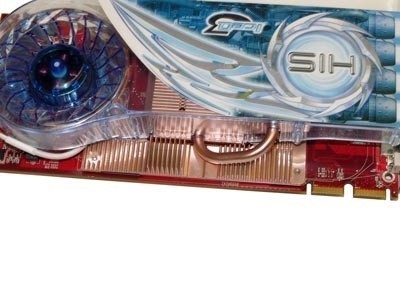 With the card being a higher-end mid-range card, it is required to have the 6-pin PCI Express power plug located in the middle of the card as opposed to the top where we would normally find it.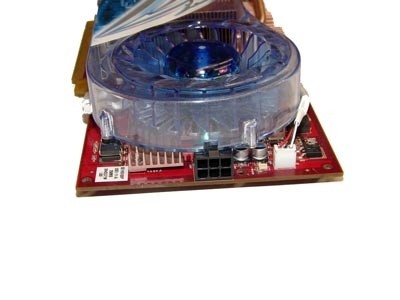 The I/O side of things is very standard with a couple of DVI ports (Dual Link and HDCP capable) and of course the TV-out port that is also capable of video in a feature as a bonus which that is not included on a lot of graphics cards these days. Also like all IceQ cards it does require a total of two slots which is becoming more and more standard these days when it comes to mid-range and above graphics cards.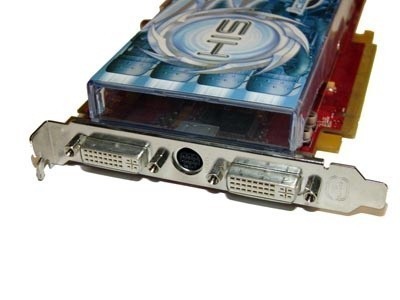 Coming in under the iTurbo naming scheme the card does get a slight bump in core and memory speed, the 256MB of GDDR-3 memory comes clocked at 1.48GHz DDR and core clock speed gets a slight bump to 620MHz.
Benchmarks - Test System Setup and 3DMark05
Test System SetupProcessor(s):
Intel Core 2 Duo E6600 at 3150MHz (350MHz FSB 1:1)
Motherboard(s):
ASUS P5B Deluxe (Supplied by
ASUS
)
Memory:
2 X 1GB G.Skill HZ PC8000 @ 350MHz 4-4-4-12 (Supplied by
Bronet
)
Hard Disk(s):
Hitachi 80GB 7200RPM SATA 2
Operating System:
Windows XP Professional SP2
Drivers:
ATI Catalyst 7.1 and DX9c
So, HIS Radeon X1650XT ($230 AUD) or HIS X1950PRO ($340 AUD) - What will it be?
Running our normal array of benchmarks along with a number of resolutions we will see where each graphic card sits and if it's worth spending the extra dollars on the Radeon X1950PRO if you have a monitor that is only capable of a low resolution.
Both cards were tested at their stock clock speeds but it's important to note that the HIS Radeon X1950PRO was tested using its "Turbo" clock speed configuration which is a little faster than a regular X1950PRO. We didn't provide any overclocked benchmark tests since both cards are pretty much maxed out at stock speeds.
Let's get started!
3DMark05Version and / or Patch Used:
Build 130
Developer Homepage:
http://www.futuremark.com
Product Homepage:
http://www.futuremark.com/products/3dmark05/
Buy It Here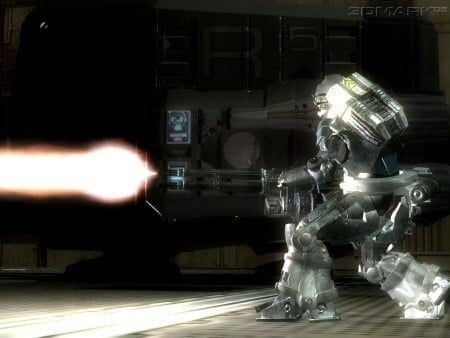 3DMark05 is now the second latest version in the popular 3DMark "Gamers Benchmark" series. It includes a complete set of DX9 benchmarks which tests Shader Model 2.0 and above.
For more information on the 3DMark05 benchmark, we recommend you read our preview
here
.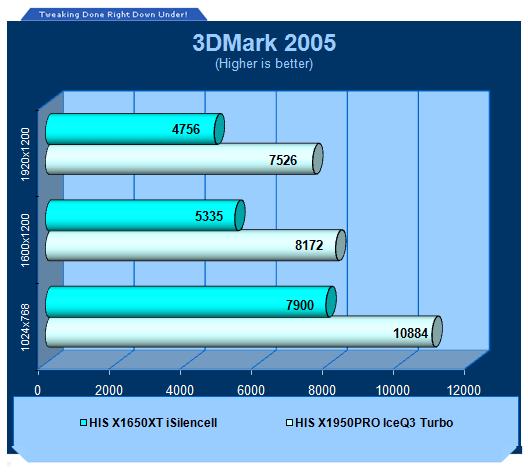 We can see that the Radeon X1950PRO has a consistent lead across the board. It is worth taking note that as we get into the higher resolutions, the % difference between the cards is greater.
Benchmarks - 3DMark06
3DMark06Version and / or Patch Used:
Build 110
Developer Homepage:
http://www.futuremark.com
Product Homepage:
http://www.futuremark.com/products/3dmark06/
Buy It Here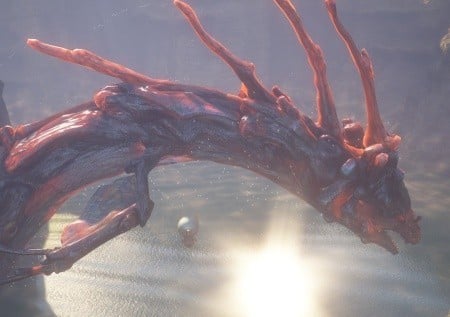 3DMark06 is the very latest version of the "Gamers Benchmark" from FutureMark. The newest version of 3DMark expands on the tests in 3DMark05 by adding graphical effects using Shader Model 3.0 and HDR (High Dynamic Range lighting) which will push even the best DX9 graphics cards to the extremes.
3DMark06 also focuses on not just the GPU but the CPU using the AGEIA PhysX software physics library to effectively test single and Dual Core processors.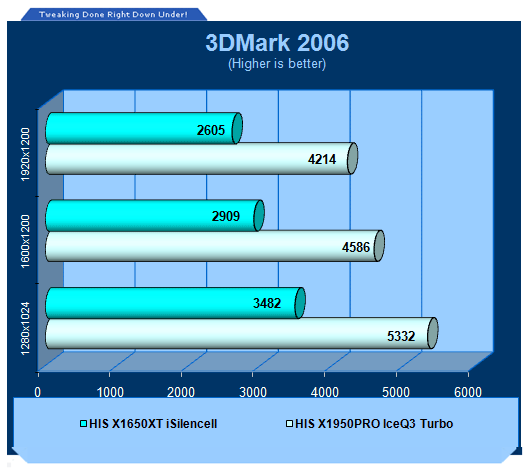 We see a similar picture to our 3DMark05 results - the biggest performance hit comes from moving to 1600 x 1200 from 1280 x 1024.
Benchmarks - Half Life 2 (Lost Coast)
Half Life 2 (Lost Coast)Version and / or Patch Used:
Latest from Steam
Timedemo or Level Used:
Custom Timedemo
Developer Homepage:
http://www.valvesoftware.com
Product Homepage:
http://www.half-life2.com
Buy It Here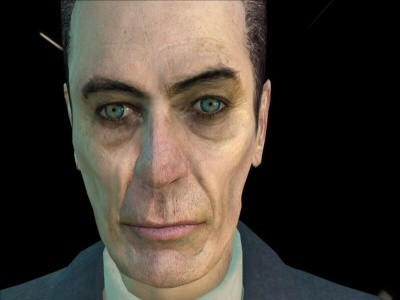 By taking the suspense, challenge and visceral charge of the original, and adding startling new realism, responsiveness and new HDR technology, Half-Life 2 Lost Coast opens the door to a world where the player's presence affects everything around him, from the physical environment to the behaviors even the emotions of both friends and enemies.
We benchmark Half Life 2 Lost Coast with our own custom timedemos as to avoid possible driver optimizations using the "record demo_name" command and loading the timedemo with the "timedemo demo_name" command - For a full list of the commands,
click here
.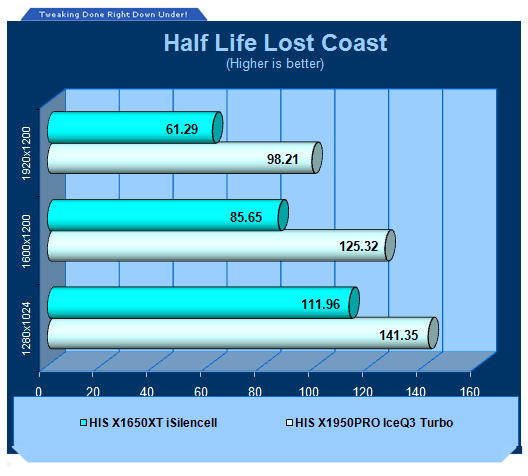 When it comes to gaming without HDR enabled, we can see that there isn't a real issue with either card.
The Radeon X1650XT offers a pretty solid performance at the higher 1920 x 1200 resolution. When we do turn around and use HDR, we can see that we don't really want to be venturing past 1280 x 1024 with the X1650XT although the X1950PRO can hold up even at 1920 x 1200.
Benchmarks - PREY
PREYVersion and / or Patch Used:
Unpatched
Timedemo or Level Used:
HardwareOC Custom Timedemo
Developer Homepage:
http://www.humanhead.com
Product Homepage:
http://www.prey.com
Buy It Here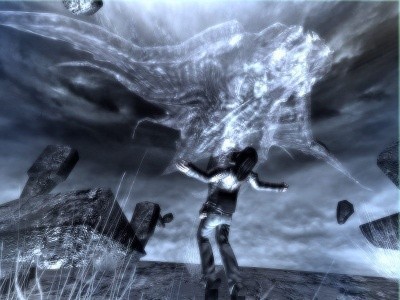 PREY is one of the newest games to be added to our benchmark line-up. It is based off the Doom 3 engine and offers stunning graphics passing what we've seen in Quake 4 and does put quite a lot of strain on our test systems.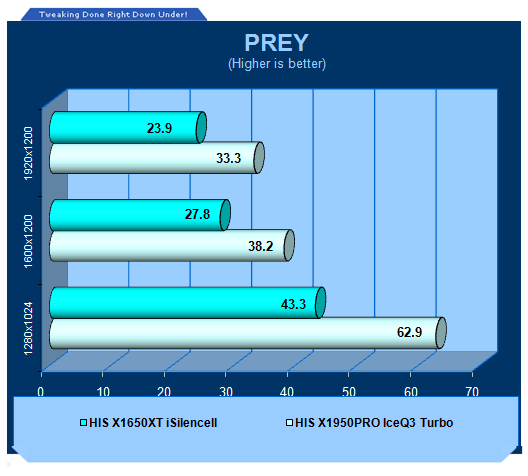 With all our settings maxed out in PREY, the Radeon X1950PRO even begins to struggle when we hit 1600 x 1200. You would really need to lower the detail on the X1650XT to play at 1280 x 1024 and even less detail if you intend going above that resolution.
Benchmarks - F.E.A.R.
F.E.A.R.Version and / or Patch Used:
Unpatched
Timedemo or Level Used:
Built-in Test
Developer Homepage:
http://www.vugames.com
Product Homepage:
http://www.whatisfear.com/us/
Buy It Here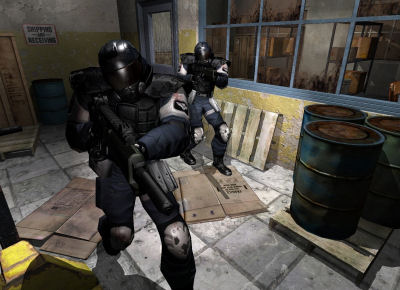 F.E.A.R. (First Encounter Assault Recon) is an intense combat experience with rich atmosphere and a deeply intense paranormal storyline presented entirely in first person. Be the hero in your own spine-tingling epic of action, tension, and terror...and discover the true meaning of F.E.A.R.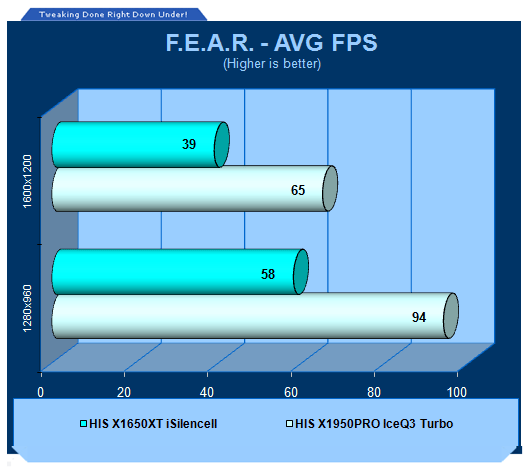 Radeon X1950PRO doesn't see any real issue at both resolutions here. If your minimum is above 30FPS, you will have a pretty good gaming experience. We can see though that even at 1280 the Radeon X1650XT sits just under.
Benchmarks - Company of Heroes
Company of HeroesVersion and / or Patch Used:
Demo
Timedemo or Level Used:
Built-in Test
Developer Homepage:
http://www.relic.com
Product Homepage:
http://www.companyofheroesgame.com
Buy It Here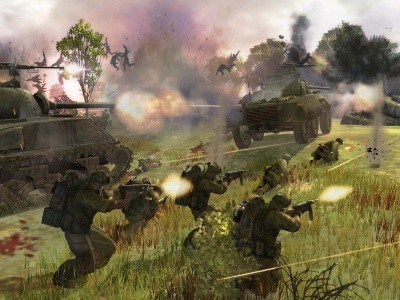 Company of Heroes, or COH as we're calling it, is one of the latest World War II games to be released and also one of the newest in our lineup of benchmarks. It is a super realistic real-time strategy (RTS) with plenty of cinematic detail and great effects. Because of its detail, it will help stress out even the most impressive computer systems with the best graphics cards - especially when you turn up all the detail. We use the built-in test to measure the frame rates.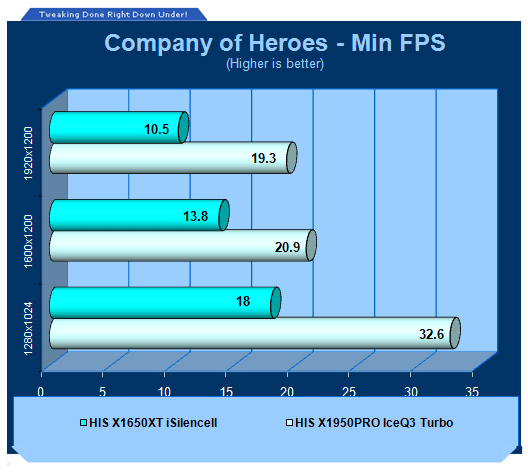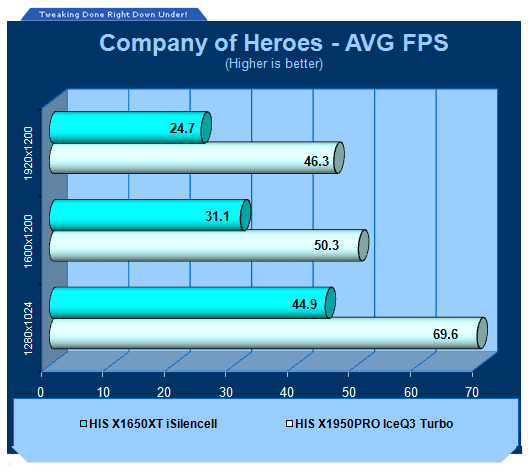 Company of Heroes is an extremely intensive game. While we saw a large jump in performance recently thanks to an updated Catalyst driver, we can see that with the settings maxed out you're not going to be getting above 1280 x 1024 with the X1950PRO. The detail will have to be dropped a lot for a decent experience on the X1650XT or higher resolution on the X1950PRO.
Benchmarks - High Quality AA and AF
High Quality AA and AF
Our high quality tests let us separate the men from the boys and the ladies from the girls. If the cards weren't struggling before they will start to now.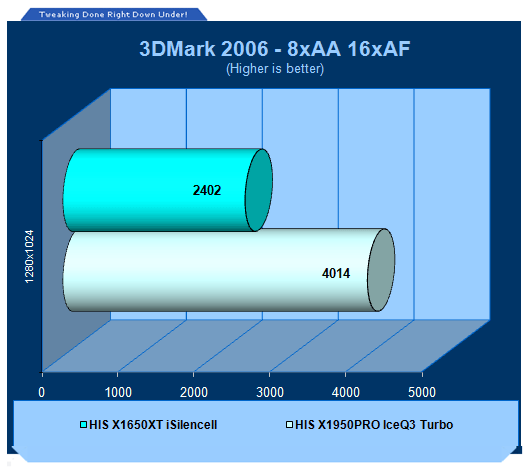 With AA, AF and HDR enabled we can see that the Radeon X1950PRO is able to offer almost twice the speed of the Radeon X1650XT.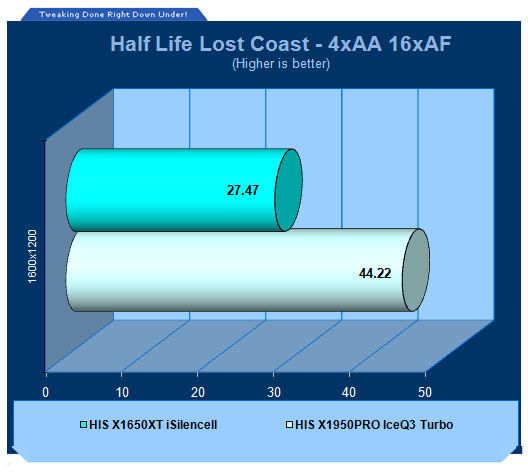 1600 x 1200 and our HQ settings see that the X1950PRO is borderline in terms of a solid gaming experience but the X1650XT clearly struggles and this tests proves a little too much for the cheaper card.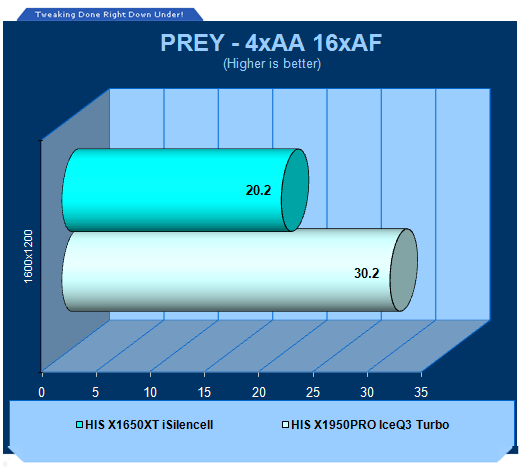 We finally leave with PREY and it's clear that you won't be gaming at these levels of quality settings with these particular cards. We can again see though with the intense settings the X1950PRO is 50% faster than the X1650XT.
Final Thoughts
HIS in our opinion just about always manage to produce a high quality and well thought out graphics card. There is no denying that and we can honestly say that the new silent heat pipe solution used on the X1650XT iSilenceII is one of the highest quality cooling devices we have ever seen before. You pay more for a HIS graphics card but you can see why.
The bundle as always is our biggest gripe; it really does need to be changed - with a similar bundle across the board, it does get very old, very quickly. HIS really need to look into including some new fun games into the bundle. While the bundle isn't small, if you're someone who has a HIS graphics card from 12 months ago and choosing to upgrade to the latest model, you will find that it's probably almost the same and that's just crazy. Update your packages HIS!
Performance is one of the key aspects to any graphic card and it's clear that the cards can perform in the right situation. If you're on a monitor that doesn't support above 1280 x 1024, aren't interested in any form of AA or AF and don't mind taking a hit in the quality department on some of the more recent releases, the HIS Radeon X1650XT is a good option. Since it's silently cooled and supports plenty of video output options including HDCP support, it will also make a great HTPC option. On the other hand, if the nVidia GeForce 8800 series is out of your budget and you want a card that will run most games pretty well at 1920 x 1200 with standard quality settings (or even if you want to have higher quality settings at 1280 x 1024 or 1600 x 1200), the HIS Radeon X1950PRO is going to be the better option and it's not very loud either using its new IceQ3 cooler and slightly overclocked "Turbo" configuration. With that said though it's going to be your wallet or purse that really decides what you buy.
Overclocking was just as we expected hence why we haven't placed any results, the Radeon X1950PRO offers an extremely limited overclock due to the core, it doesn't seem to matter what cooler device is used, it simply just won't overclock. The Radeon X1650XT also performed like any silent card. The cooling unit gets hot at stock speeds, so when you throw overclocking into the mix, the card simply doesn't handle it. If you want to overclock, it's not worth looking at a silent solution.
Both of these options from HIS are fantastic in their own right in our opinion and if you're willing to spend an extra few dollars moving to an HIS option compared to other cards that offer a stock cooling solution and a limited bundle and features, we would highly recommend them to you.