Mid-Range Graphics Card Warfare - AMD vs. nVidia (Q4 2006)
Back after Xmas, we look at graphics cards from AMD and nVidia and compare all current mid-range products as of Q4 2006.
Published Tue, Dec 26 2006 11:00 PM CST
|
Updated Tue, Nov 3 2020 7:04 PM CST
Introduction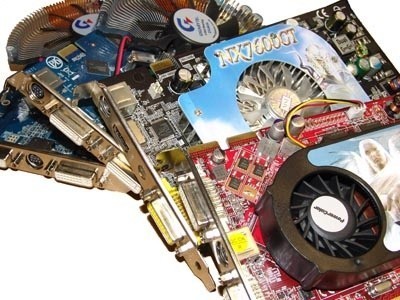 Mid-range is clearly where the target market for both nVidia and ATI is when talking about graphics cards.
Today we have with us a total of four mid-range graphics cards - two from AMD and two from nVidia. While all cards are mid-range, it's clear that they sit at different end of the scales - let's call them low-end mid-range and high-end mid-range. The Radeon X1650XT and GeForce 7600GT sits at the lower end of the mid-range scale and at the other end we have the GeForce 7900GS and the Radeon X1950PRO. While offering high-end type performance, the 7900GS and X1950PRO still in belong at the mid-range level due to their pricing.
While we have had a look at most of the cards previously, we have never placed them all together and let them fight it out. Well, that is exactly what we are going to do today. Chuck all four in our test bed and benchmark them and see exactly where everything sits including the new Radeon X1650XT, which we haven't looked at before.
We will be having a brief look at the cards separated into an ATI and nVidia section. Then we will have a look at the test setup and get into our normal array of benchmarks. So let's not delay and see what we have with us.
The Red Team
Radeon X1650XT
We haven't had a chance to have a look at the Radeon X1650XT before but we thought this was the perfect time to get one ready. With pricing sitting around the $230 AUD and moving upwards, it tells us that it is sitting at the entry level part of the mid-range sector.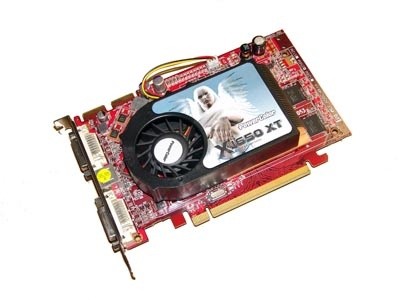 The Radeon X1650XT we have here today is from PowerColor, sports 256MB of DDR-2 memory and has a core clock of 600MHz and a memory clock of 1.4GHz DDR. HDCP is supported on this particular model through the DVI port (no HDMI here) and PowerColor have also announced that it is now available in both the standard PCI Express variant (like we have here) and AGP which is good news for people with old systems who are stuck with old graphics cards.
One of the most major features included on the new Radeon X1650XT is the integration of the new internal bridge system for people who want to run dual graphic card setups. ATI (now AMD) have always copped a lot of flack with the original Crossfire method but it's good to see that they have got it all under control these days - it's really about time, to be honest.
The main competition at the moment for the Radeon X1650XT is the GeForce 7600GT which is slightly cheaper. With nVidia establishing themselves so strongly in the mid-range market thanks to the old GeForce 6600GT a few years back, it's really going to be a tough fight for AMD.
Radeon X1950PRO
As far as the Radeon X1950PRO goes, people who read our content regularly will know that we are not a huge fan of it but if there was any to buy, it would probably be the one we're looking at today from Gigabyte with the integration of the Zalman heatsink fan. It's the best we've looked at so far but there are others on the market with non-standard cooling which deserve attention also.
Getting one under $350 AUD isn't going to be a problem though if that is stretching your budget, you're going to be able to find the PowerColor X1950PRO with Arctic cooling for under $300 AUD. With it costing closer to a $100 price difference between the Radeon X1650XT, it's clear that they are for two different market segments. You have the people who can tip just over $200 and those that can reach higher and come in closer to $300.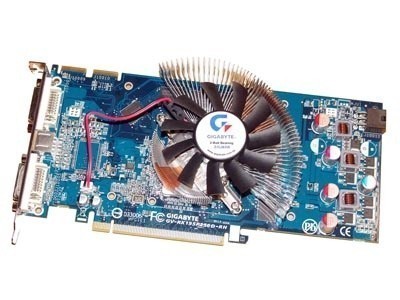 Core and memory sit both slightly lower than the Radeon X1650XT though thanks to the increased pipelines, remember it is a faster card overall. The core comes in at 575MHz and the memory 1380MHz DDR. One of the biggest gripes with the X1950PRO is the fact that it is a poor overclocker. The good news though for fans of the X1950PRO is that it's going to be making its way to AGP. While we did expect to see them this year, it looks as if there is going to be a slight delay with them showing up in the middle of January 2007.
Like the Radeon X1650XT we also have the new Crossfire bridge system but the Radeon X1950PRO was actually the first to use it. This gets rid of the need to be using a master card and annoying external cables - now all you need is a couple X1950PRO's, bridges and a Crossfire capable motherboard and away you go.
There are officially two variants of the Radeon X1950PRO - 256MB and 512MB, although the 512MB is quite expensive and sits closer to the GeForce 7950GT in price, and unfortunately it gets beat a lot when compared to this nVidia offering. On the other end is the 256MB which sits cheaper but is still more expensive then the GeForce 7900GS. What has always let the 7900GS stand out though is its overclocking. We won't be going into that today as we have seen the X1950PRO overclocked along with the 7900GS. What we want to see here is out of the box performance and straight out bang for buck.
The Green Team
GeForce 7600GT
One graphics card we never really paid much attention to was the GeForce 7600GT and we can honestly say, we aren't too sure why. It's pretty safe to assume though that with cards like the GeForce 7900GS, 7950GT and the 8800 series out and about, our focus was mainly there.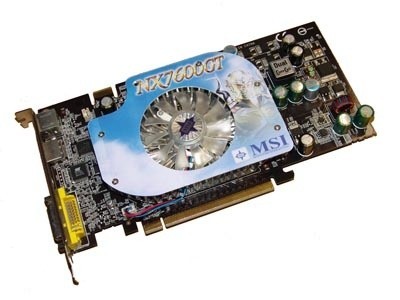 We have with us today a MSI GeForce 7600GT - unfortunately the particular model we have on hand isn't found in Australia though it does carry the same reference core and memory speed seen on the standard 7600GT from other companies. 575MHz on the core and 1.4GHz DDR on the memory alongside the inclusion of 256MB DDR-3 memory sees the card spec for spec sit very similar to the Radeon X1650XT. Though, it comes in well under $200 AUD with it being found closer to $185 AUD giving it almost a $50 AUD price advantage or 25% cheaper than the competing Radeon X1650XT.
Like both AMD offerings, the GeForce 7600GT has just been released under the AGP umbrella to give it a bit more attention. With both models coming with the standard 256MB DDR-3, you don't have to be worried that you're going to buy a crippled DDR-2 version or anything like that.
GeForce 7900GS
Sitting roughly 10% cheaper than the Radeon X1950PRO is the GeForce 7900GS which can be picked up for around $270 AUD and being released first, it is clear why it got more attention than the ATI offering when launched.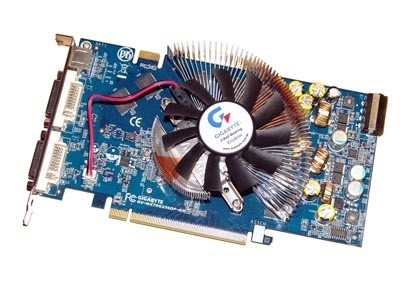 Coming stock clocked at 525MHz and 1440MHz DDR the core sits a fair bit behind the Radeon X1950PRO's 575MHz clock speed. The main difference though is that we see the Radeon X1950PRO max out at around the 650MHz mark and the memory hit just under what the GeForce 7900GS offers at standard. The GeForce 7900GS on the other hand though sees core speeds in excess of 675MHz and memory hitting almost 1800MHz DDR on a common occurrence. While it is generally a slower performer out of the box, when people really start having a look at bang for buck, the card is recommended left right and center if you're willing to take that little plunge into overclocking land and many are these days.
Unlike all the other cards here though the 7900GS is only available in PCI Express which is a bit of a bummer for AGP users that this kind of bang for buck is only limited to users of PCI E systems.
Benchmarks - Test System Setup and 3DMark05
Test System SetupProcessor(s):
Intel Core 2 Duo E6600 @ 3150MHz (350MHz FSB 1:1)
Motherboard(s):
ASUS P5B Deluxe (Supplied by
ASUS
)
Memory:
2 X 1GB G.Skill HZ PC8000 @ 350MHz 4-4-4-12 (Supplied by
Bronet
)
Hard Disk(s):
Hitachi 80GB 7200RPM SATA 2
Operating System:
Windows XP Professional SP2
Drivers:
AMD Catalyst 6.12, nVidia ForceWare 93.71 and DX9c
Our main focus will be GeForce 7600GT versus Radeon X1650XT along with GeForce 7900GS versus Radeon X1950PRO. At the same time though we will compare them all against each other and see exactly what you get for your money.
Without going on let's have a look exactly what we have and where your money is best spent this holiday season.
3DMark05Version and / or Patch Used:
Build 130
Developer Homepage:
http://www.futuremark.com
Product Homepage:
http://www.futuremark.com/products/3dmark05/
Buy It Here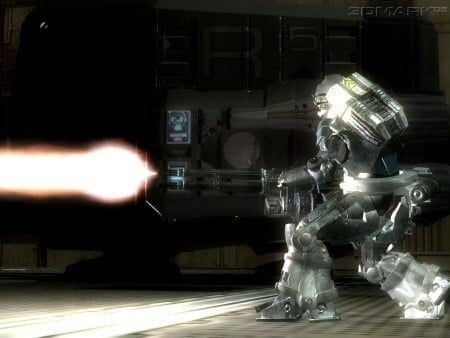 3DMark05 is now the second latest version in the popular 3DMark "Gamers Benchmark" series. It includes a complete set of DX9 benchmarks which tests Shader Model 2.0 and above.
For more information on the 3DMark05 benchmark, we recommend you read our preview
here
.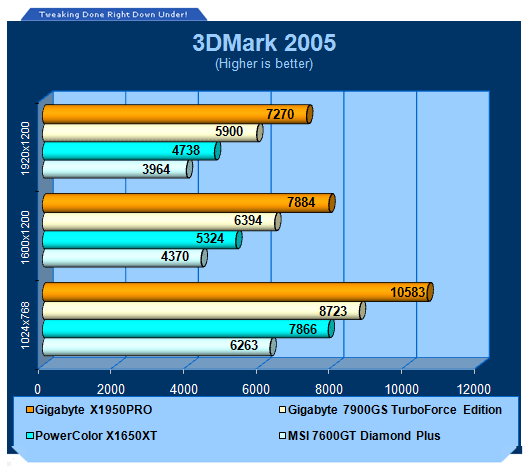 We have seen the Radeon graphics cards take quite the lead in 3DMark05 these days. It seems to mean little, though, because as soon as we get into the more intensive games, we begin to see where all the cards actually sit in terms of real-world performance.
Benchmarks - 3DMark06
3DMark06Version and / or Patch Used:
Build 110
Developer Homepage:
http://www.futuremark.com
Product Homepage:
http://www.futuremark.com/products/3dmark06/
Buy It Here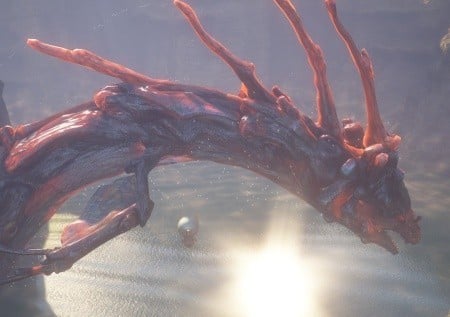 3DMark06 is the very latest version of the "Gamers Benchmark" from FutureMark. The newest version of 3DMark expands on the tests in 3DMark05 by adding graphical effects using Shader Model 3.0 and HDR (High Dynamic Range lighting) which will push even the best DX9 graphics cards to the extremes.
3DMark06 also focuses on not just the GPU but the CPU using the AGEIA PhysX software physics library to effectively test single and Dual Core processors.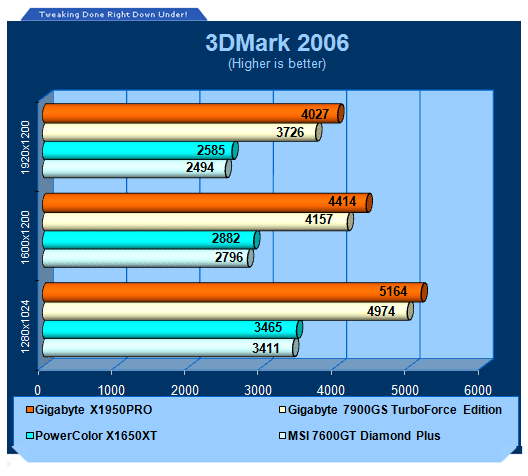 We can see in the more intensive 3DMark06 application that Radeon X1950PRO wins thanks to the increased core speed though at the lower end of the scale the 7600GT and X1650XT sit neck and neck.
Benchmarks - Half Life 2 (Lost Coast)
Half Life 2 (Lost Coast)Version and / or Patch Used:
Unpatched
Timedemo or Level Used:
Custom Timedemo
Developer Homepage:
http://www.valvesoftware.com
Product Homepage:
http://www.half-life2.com
Buy It Here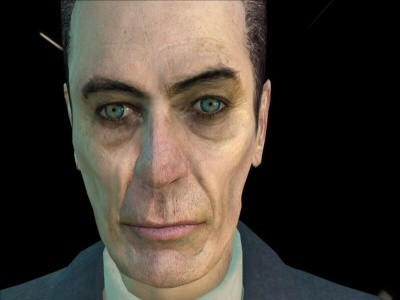 By taking the suspense, challenge and visceral charge of the original, and adding startling new realism, responsiveness and new HDR technology, Half-Life 2 Lost Coast opens the door to a world where the player's presence affects everything around him, from the physical environment to the behaviors even the emotions of both friends and enemies.
We benchmark Half Life 2 Lost Coast with our own custom timedemos as to avoid possible driver optimizations using the "record demo_name" command and loading the timedemo with the "timedemo demo_name" command - For a full list of the commands,
click here
.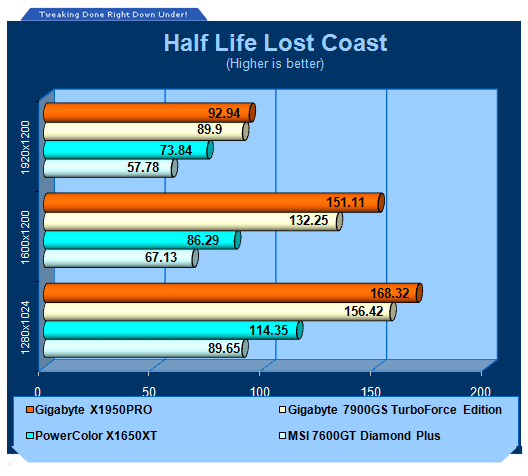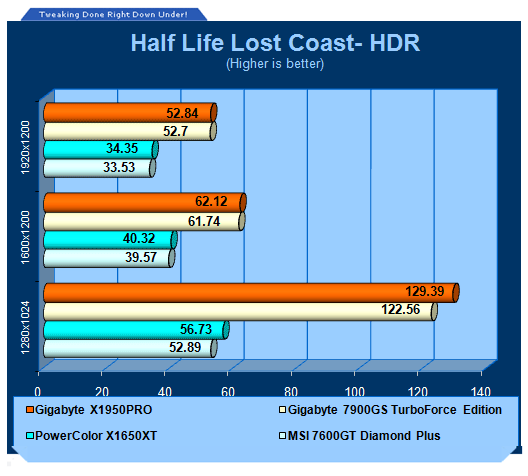 Moving to Lost Coast we begin to see the cards separate themselves - the Radeon X1950PRO wins again thanks to the increased core in our non-HDR tests and the Radeon X1650XT has a good jump on the 7600GT, though when we move to our HDR results we see all the cards even out especially when we move to 1600x1200 and beyond.
Benchmarks - PREY
PREYVersion and / or Patch Used:
Unpatched
Timedemo or Level Used:
HardwareOC Custom Benchmark
Developer Homepage:
http://www.humanhead.com
Product Homepage:
http://www.prey.com
Buy It Here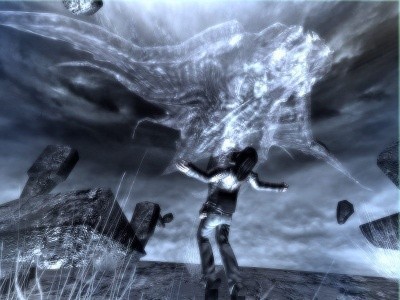 PREY is one of the newest games to be added to our benchmark line-up. It is based off the Doom 3 engine and offers stunning graphics passing what we've seen in Quake 4 and does put quite a lot of strain on our test systems.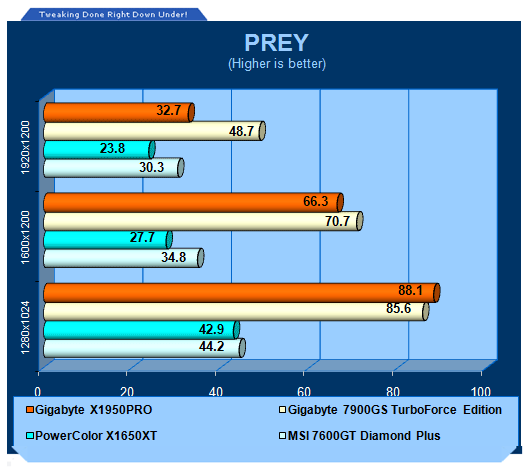 At the lower resolution we don't see much difference between the two sets of cards. It's not until we start placing more load on the cards that the optimization that is OpenGL sees the nVidia counterpart really take the lead.
Benchmarks - F.E.A.R.
F.E.A.R.Version and / or Patch Used:
Unpatched
Timedemo or Level Used:
Built-in Test
Developer Homepage:
http://www.vugames.com
Product Homepage:
http://www.whatisfear.com/us/
Buy It Here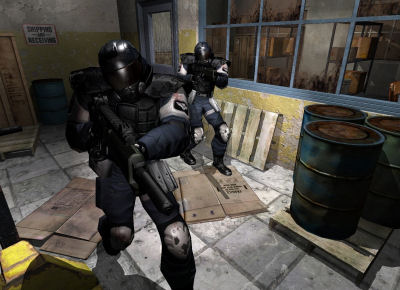 F.E.A.R. (First Encounter Assault Recon) is an intense combat experience with rich atmosphere and a deeply intense paranormal storyline presented entirely in first person. Be the hero in your own spine-tingling epic of action, tension, and terror...and discover the true meaning of F.E.A.R.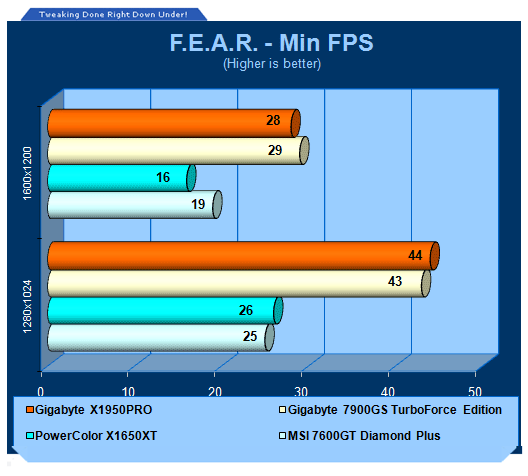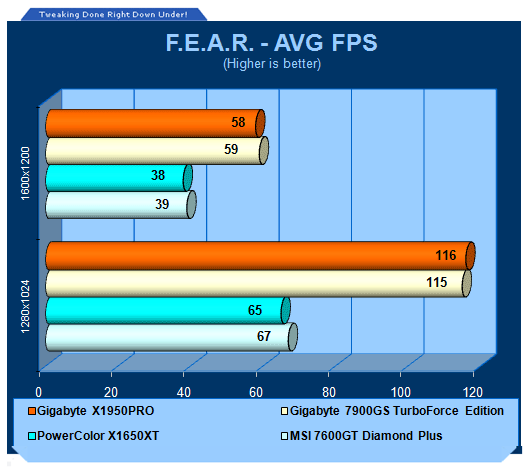 F.E.A.R. shows the cards sitting very close together, no real winner here.
Benchmarks - Company of Heroes
Company of HeroesVersion and / or Patch Used:
Demo
Timedemo or Level Used:
Built-in Test
Developer Homepage:
http://www.relic.com
Product Homepage:
http://www.companyofheroesgame.com
Buy It Here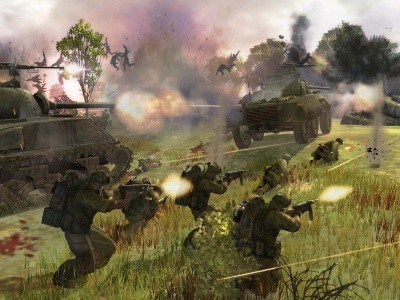 Company of Heroes, or COH as we're calling it, is one of the latest World War II games to be released and also one of the newest in our lineup of benchmarks. It is a super realistic real-time strategy (RTS) with plenty of cinematic detail and great effects. Because of its detail, it will help stress out even the most impressive computer systems with the best graphics cards - especially when you turn up all the detail. We use the built-in test to measure the frame rates.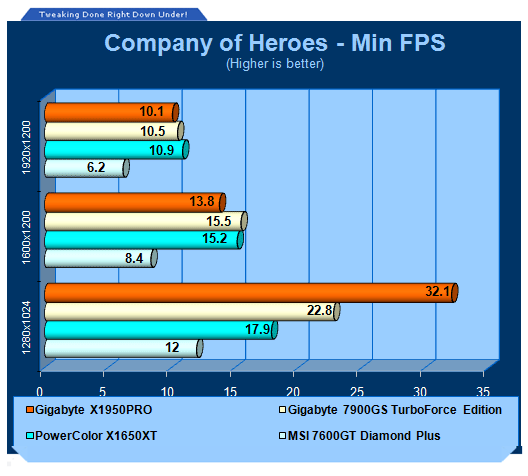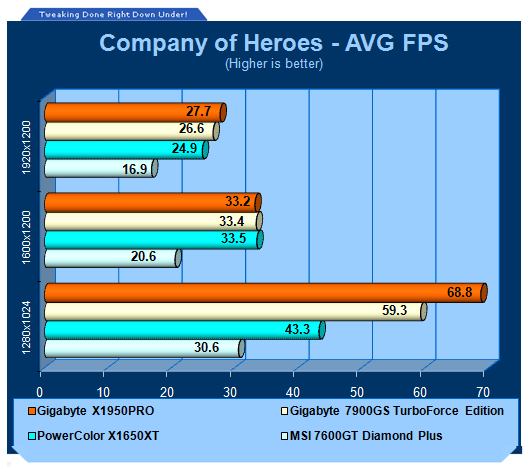 The lower resolution shows that the Radeon X1950PRO is able to pounce on everything but when we get to the higher resolution, we see the tables change. What is interesting though is thanks to the new AMD and ATI drivers, the Radeon X1650XT is able to offer similar performance to the GeForce 7900GS at the higher resolutions.
Benchmarks - High Quality AA and AF
High Quality AA and AF
Our high quality tests let us separate the men from the boys and the ladies from the girls. If the cards weren't struggling before they will start to now.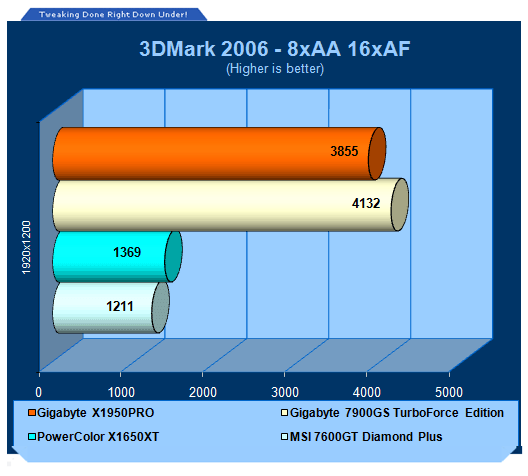 We see the cards are very close together with it really being hard to give a clear cut winner here.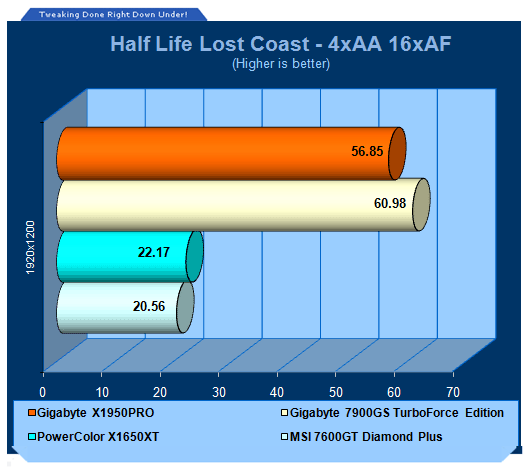 While the GeForce 7900GS sneaks ahead it isn't anything to get up and shout about. The Radeon X1650XT and GeForce 7600GT are neck and neck yet again.
While nVidia have the edge on OpenGL, the little GeForce 7600GT doesn't have much luck, its only the GeForce 7900GS that is able to sneak ahead of the Radeon X1950PRO due to the extra power on offer by the more expensive model.
Final Thoughts
AMD's Radeon X1650XT performed a little worse then we expected, with the pricing putting it more expensive then the GeForce 7600GT, we thought that it would also translate to a slight bump in performance. Unfortunately it doesn't and really ends up leaving us with somewhat of a sour taste in our mouths. There isn't much reason to go and buy a Radeon X1650XT unless you really don't have much money to spend and you just want to play Company of Heroes - and even then we don't doubt nVidia are far away with a driver to increase performance.
GeForce 7900GS and Radeon X1950PRO -we have always said as an out of the box card, the Radeon X1950PRO is the better card as far as pure 3D performance goes. It is consistently faster thanks to the increased core speed, when compared to the GeForce 7900GS. Why nVidia haven't increased the default core is beyond us (as it loves overclocking, a lot!) but it's possible that it will take away from the more expensive GeForce 7950GT sales. The 512MB variant of the Radeon X1950PRO doesn't offer any real performance gains and sits closer to the GeForce 7950GT in terms of price. This particular card we recommend you stay far away from as the GeForce 7950GT manages to beat it in almost every benchmark and offers some overclocking, too.
nVidia are clearly leading at the moment - both GeForce cards sit under that magical number, the GeForce 7600GT under $200 AUD and the GeForce 7900GS under $300 AUD. The Radeon X1950PRO needs a slight price drop to bring it on par with the GeForce 7900GS because at the moment, if you're willing to venture to the dark side and OC, the 7900GS is the best choice.
So, Radeon X1650XT or GeForce 7600GT? GeForce 7600GT is the easy choice in the lower realm of the mid-range segment, without a doubt - it's cheaper and performance is pretty much neck and neck, throughout all of our benchmarks. Radeon X1950PRO or GeForce 7900GS? Don't want to overclock? The X1950PRO is the best option for the high-end mid-range segment - it is faster in almost everything out of the box but as we said, if you're going to overclock and try and get the best value for your money, we would be doing you an injustice to recommend anything other than the GeForce 7900GS from the green team.
PRICING: You can find products similar to this one for sale below.

United States: Find other tech and computer products like this over at Amazon.com

United Kingdom: Find other tech and computer products like this over at Amazon.co.uk

Australia: Find other tech and computer products like this over at Amazon.com.au

Canada: Find other tech and computer products like this over at Amazon.ca

Deutschland: Finde andere Technik- und Computerprodukte wie dieses auf Amazon.de