Taiwan Exclusive - GeCube Dual GPU Radeon X1650XT Tested
We exclusively test the Gemini 2 dual GPU Radeon X1650XT graphic card from GeCube - it's Crossfire using a single card!

Published Wed, Dec 6 2006 11:00 PM CST
|
Updated Tue, Nov 3 2020 7:04 PM CST
Introduction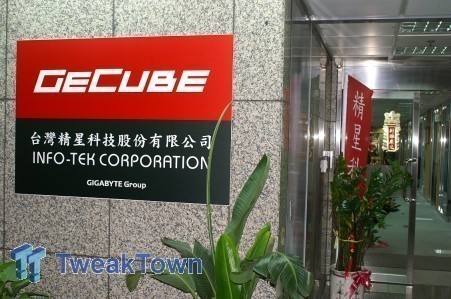 GeCube gets their hands dirty with Dual GPU X1650XT
This week we were given an exclusive opportunity to visit the GeCube office here in Taipei and test out their unreleased, highly anticipated and upcoming Gemini 2 dual GPU Radeon X1650XT graphic card. In the CPU game, everyone is talking about
Quad
but in the VGA game,
Dual
cards are on the mind at the moment.
According to the product managers and marketing folks from GeCube who we talked with throughout our visit, the product is almost finished and will be ready and for sale early next year - that is, very early January, as long as everything goes to plan. That's good news as GeCube as well as Gigabyte and ASUS (and the former XGI and probably many others behind closed doors) have tried producing dual GPU graphics cards in the past but they didn't really turn out as planned.
As it turns out, it is quite difficult to engineer a dual GPU graphics card (
no kidding!
) and that is made evident by the fact that no company has been able to do it properly (and in supply quantity) in recent times with current Radeon or GeForce silicon.
Read on more and learn about the GeCube Gemini 2 graphic card.
GeCube does Dual GPU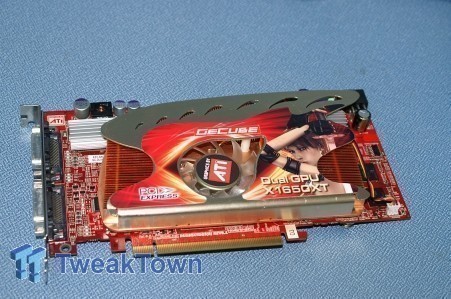 In this case, GeCube managed to make dual GPU technology work by placing two GPU's onto a single PCB with two separate memory buses each holding 256MB of DDR-3 memory each and linked internally through a PLX bridge which supports a total of 32 switchable PCI-E lanes. All of this is achieved using a method that GeCube call "
Self-Crossfire
" - just adjust the driver a little to make it think that the single card with two GPU's is actually two separate cards. Before you get too excited though, currently there is no way to run Crossfire with a quad GPU setup. If ATI / AMD change their drivers to support quad GPU Crossfire, then in theory GeCube Gemini 2 cards should do Crossfire (quad GPU) but that's yet to be proven but an interesting thought to ponder.
GeCube assures us that they got it right this time - after working very closely with the ATI driver team, performance is solid to the point where they are claiming around a 65 - 75% performance improvement over a single GPU... and stable and not the size of the moon! Thermal issues are under control and they've managed to do it in a cooling package which only uses a single slot design. They even ran thermal tests in a test lab heat chamber which runs anywhere from 45 - 70c and no stability issues were noted.
They've developed their own DVI cable which allows for Quad DVI output using their DMS59 cables. While the card runs hot using the super reliable and accurate touch method (joking!), we never noticed any artifacting or crashing during our testing. For a graphics card which houses a couple GPU's, the cooling solution is incredibly quiet - we expected it to scream like a jet going for takeoff but they've managed to keep noise levels very respectable indeed by making use of loads of copper (it's heavy!). The mosfets are also cooled with passive cooling to aid in heat reduction. It manages to pack in 512MB of DDR-3 memory (256MB per GPU), solid capacitors for enhanced durability, upcoming physics support and a HDCP key for playing back HD video content.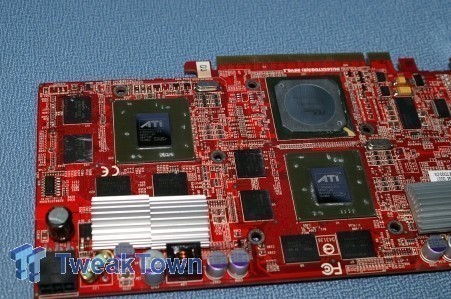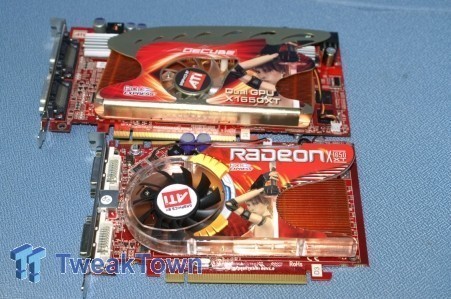 As far as pricing goes, it should sell for around the $300 USD mark, give or take a few bucks and depending on your region. For comparison and based off street pricing, a single Radeon X1950PRO will cost you around $250 USD, a single Radeon X1650XT over $180 USD (since there is not much available) and a Radeon X1950XT 256MB version will cost about the same as GeCube's Gemini 2.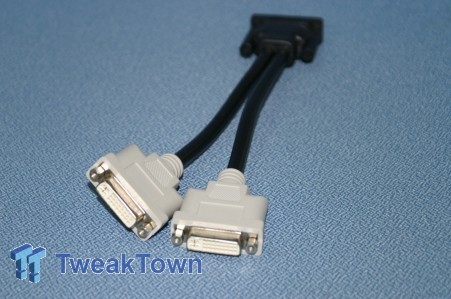 During testing of the cards we were interested to find out if you would still need an official Crossfire supported motherboard to run the Gemini 2. A little to our disappointment, we were told that you will need a Crossfire motherboard. Don't forget that the dual GPU technology is still operating under Crossfire mode and unless you modify the driver, Catalyst won't let you enable Crossfire mode if it detects a non-Crossfire supported motherboard.
We were able to run some benchmarking comparing the GeCube dual GPU card against a regular Radeon X1950PRO 256MB. Read on and check out the performance now you know about some of the details of the card!
Benchmarks - Test System Setup and 3DMark05
Test System SetupProcessor(s):
Intel Core 2 Duo E6700 @ 2.66GHz
Motherboard(s):
Gigabyte P965-DQ6 (Supplied by
Gigabyte
)
Memory:
2 X 1GB Kingston PC8000 (Supplied by
Kingston
)
Hard Disk(s):
Seagate 320GB 7200.10 SATA 2
Operating System:
Windows XP Professional SP2
Drivers:
Modified Catalyst 6.10 for Gemini 2 / Catalyst 6.11 for X1950PRO and DX9c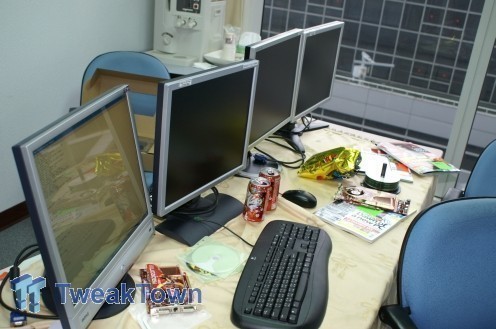 Our test system was pretty standard and configured without any overclocking. The Gemini 2 was running at its default clock speeds (574MHz core and 689MHz memory) and the X1950PRO was running at its default, too.
It's interesting to note that even though we are using an Intel P965 chipset based motherboard, we won't see any drop in Crossfire performance compared to the more expensive 975X chipset, since we are only working with a single graphics card.
If you were running a couple regular X1650XT cards in Crossfire mode on P965 chipset, you are said to see anywhere up to a 10% drop in performance in 3D performance over 975X since P965 has fewer PCI Express lanes available. The advantage of the GeCube Gemini 2 is that you won't see any degrade in performance since your first PCI-E slot has 16 lanes, which is the same as 975X.
We were going to compare against a regular Radeon X1650XT but we thought we would up the ante and see how the Gemini 2 performs against the higher-end Radeon X1950PRO. In a perfect world, we would have liked to compare against a whole bunch of cards but our testing time was limited and we did the best we could. We didn't have time for overclocking tests or our usual and full range of benchmarks but we managed to run quite a few of our usual tests including some AA and AF testing.
IMPORTANT NOTE -
Do keep in mind that although the Gemini 2 which we tested is almost ready, it is NOT a final product and it's still being tweaked along with the drivers for extra performance. Hence, treat the benchmark tests as a preview rather than a normal full review.
3DMark05Version and / or Patch Used:
Build 130
Developer Homepage:
http://www.futuremark.com
Product Homepage:
http://www.futuremark.com/products/3dmark05/
Buy It Here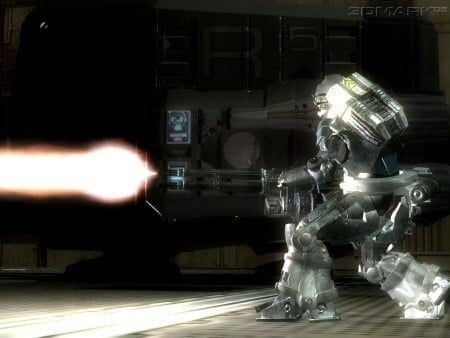 3DMark05 is now the second latest version in the popular 3DMark "Gamers Benchmark" series. It includes a complete set of DX9 benchmarks which tests Shader Model 2.0 and above.
For more information on the 3DMark05 benchmark, we recommend you read our preview
here
.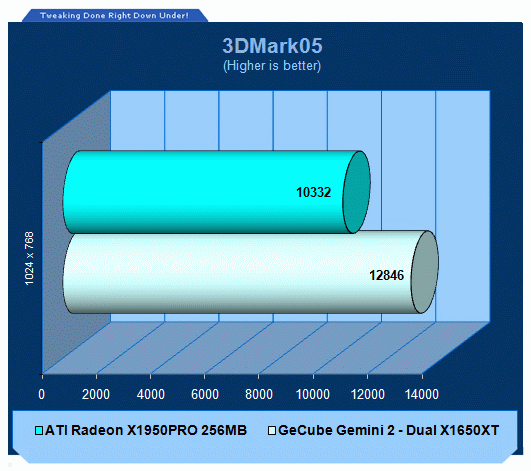 Here we see the Gemini 2 attaining about a 25% performance lead over the X1950PRO which is a good sign that GeCube's implementation of dual GPU is working effectively. Gemini 2 is about 20% more expensive than X1950PRO - looking good so far!
Benchmarks - 3DMark06
3DMark06Version and / or Patch Used:
Build 110
Developer Homepage:
http://www.futuremark.com
Product Homepage:
http://www.futuremark.com/products/3dmark06/
Buy It Here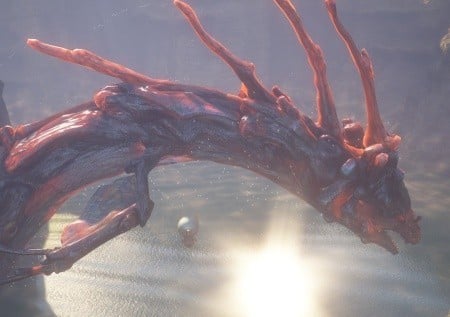 3DMark06 is the very latest version of the "Gamers Benchmark" from FutureMark. The newest version of 3DMark expands on the tests in 3DMark05 by adding graphical effects using Shader Model 3.0 and HDR (High Dynamic Range lighting) which will push even the best DX9 graphics cards to the extremes.
3DMark06 also focuses on not just the GPU but the CPU using the AGEIA PhysX software physics library to effectively test single and Dual Core processors.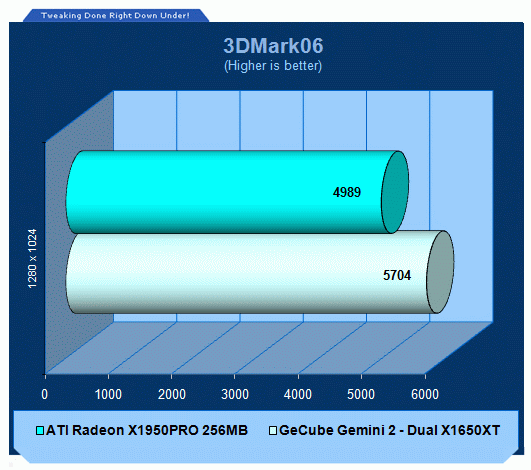 Under the more intensive 3DMark06 the lead of the Gemini 2 is reduced to around 15% but it is still showing potential in its non-final production stage.
Benchmarks - Serious Sam 2
Serious Sam 2 (HDR enabled)Version and / or Patch Used:
2.070
Timedemo or Level Used:
Shield Generator (HardwareOC)
Developer Homepage:
http://www.croteam.com
Product Homepage:
http://www.serioussam2.com
Buy It Here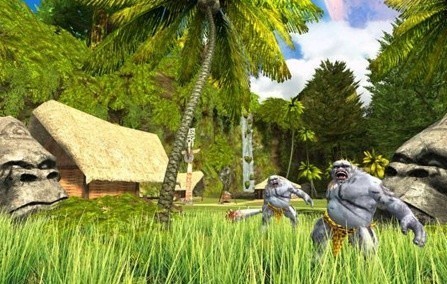 Picking up where Serious Sam: Second Encounter left off, Sam has rocketed off towards the conquered planet of Sirius, the new home of the notorious Mental. While en route, the Great Wizards Council of the nearly eradicated Sirian civilization telepathically contacts Sam to aid him in his quest to destroy Mental and help restore Sirius. He is then sent on a quest to find the fragments of a mystical medallion scattered throughout the galaxy that will bestow Sam with the power to defeat Mental.
While Serious Sam 2 is not one of the most intensive games in our benchmark suite, we can stress the system by enabling HDR.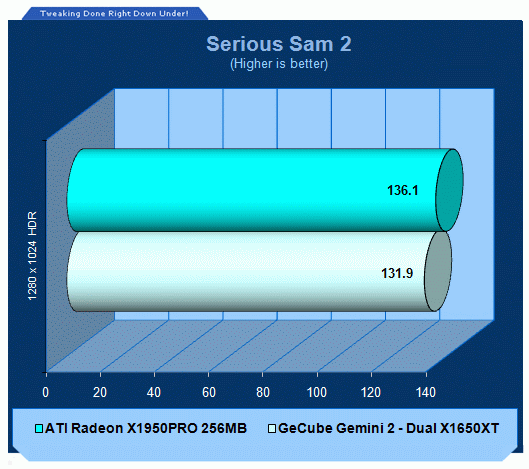 Next up we see Serious Sam 2 which for whatever reason sees the X1950PRO coming out just ahead. It may well be that ATI's own Catalyst drivers are not optimized fully for this game when running in Crossfire mode.
Benchmarks - Quake 4
Quake 4Version and / or Patch Used:
1.2
Timedemo or Level Used:
HardwareOC Timedemo
Developer Homepage:
http://www.idsoftware.com
Product Homepage:
http://www.quake4game.com
Buy It Here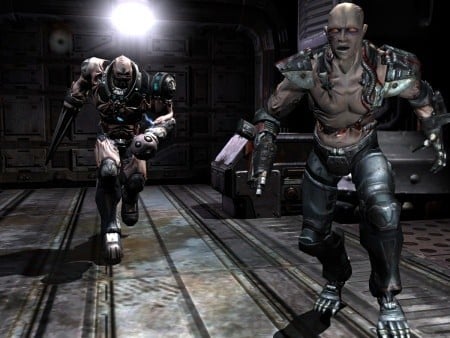 Quake 4 is based off the popular Doom 3 engine and as a result uses many of the features seen in Doom. However, Quake 4 graphics are more intensive than Doom 3 and should put more strain on different parts of the system.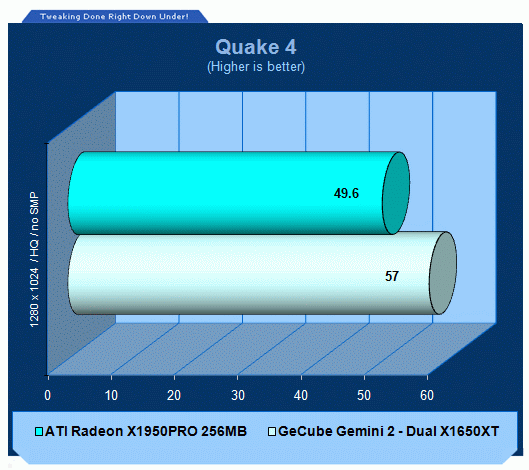 Under Quake 4 we are seeing some slightly bizarre results nevertheless the Gemini 2 still manages to come out in front.
Benchmarks - PREY
PREYVersion and / or Patch Used:
1.1
Timedemo or Level Used:
Guru3D Timedemo
Developer Homepage:
http://www.humanhead.com
Product Homepage:
http://www.prey.com
Buy It Here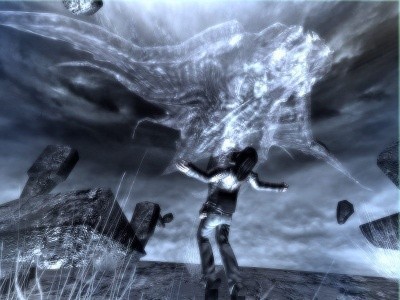 PREY is one of the newest games to be added to our benchmark line-up. It is based off the Doom 3 engine and offers stunning graphics passing what we've seen in Quake 4 and does put quite a lot of strain on our test systems.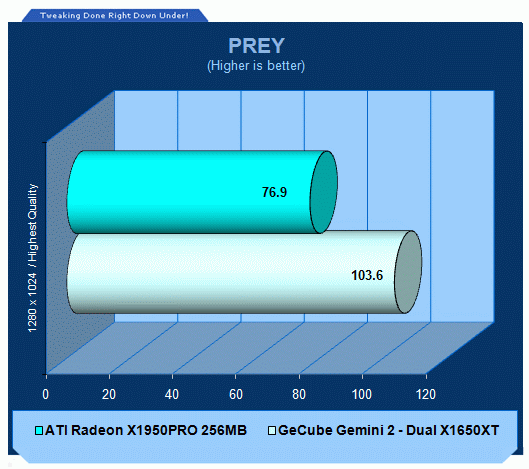 Under the intensive PREY game, the GeCube Gemini 2 sees the biggest lead here of almost 35%.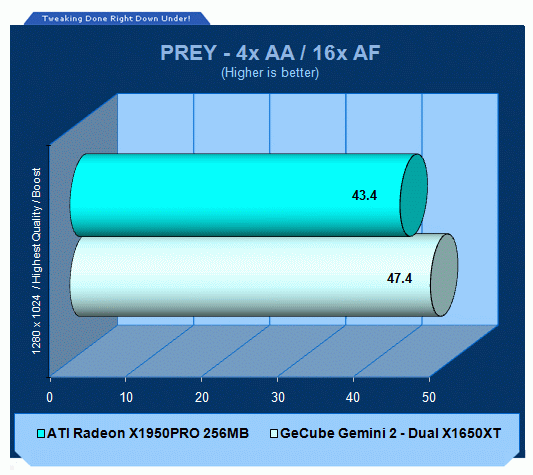 Although when we turn on AA and AF along with the 512MB Boost option, things become much closer.
Final Thoughts
To be honest, our thoughts on GeCube's Gemini 2 are mixed. Given that it is a non-final product and GeCube and ATI are still working together on drivers for further 3D performance on the dual GPU's, it's looking like quite a positive product to us. Even before the card is ready, it's starting to prove itself against the higher-end X1950PRO and at times would come close to matching Radeon X1950XT 256MB's performance.
The idea is quite an interesting one in that you can run ATI Crossfire mode from a single graphics card in what GeCube are calling Self-Crossfire. I can't help but thinking though that this idea would have been better executed when Crossfire first finally hit the market. Back then it was more of a pain to get everything setup, trying to find master cards and what-not. Nowadays and with the very latest Catalyst drivers, you can run many different kinds of Radeon cards in software Crossfire mode without the need of a master card or even an annoying dongle. If GeCube could somehow make Gemini 2 officially work on any motherboard, regardless of chipset, it would make a big difference, we feel.
Nevertheless, the idea behind Gemini 2 is still good and right now the product is working well and we like what we see. Being Self-Crossfire, there is less screwing around when setting up your system - just plug it in, enable Crossfire in Catalyst Control Center, reboot one time and you're up and running. If for whatever reason your motherboard only has a single PCI Express graphics slot and you want Crossfire graphics, this would be one of your only choices. And I don't know too many people that have four monitors but the Quad DVI output feature is definitely one which will help this product in the sales area. We haven't investigated software Crossfire enough to make any hasty comments but it would be interesting to know what type of performance hit there is by taking away the dongle and letting the driver handle everything. It might well be that the Gemini 2 has a big advantage over two separate Radeon X1650XT cards running in Crossfire but unfortunately we couldn't test that at this stage but we will later.
Only time will tell how well the graphic card sells for GeCube. It's quite an interesting product and it's hard to gauge how the market will react to it. Taking practicalities away from the story, it's a pretty exciting product and some users are likely to go for it purely because it has dual GPU and the 1337 factor. Thumbs up to GeCube and their engineers for figuring out finally how get this sort of technology working and I'll admit that we're excited about it.
GeCube have quite an interesting product on their hands which initially we think is good (performance, quiet and single slot cooling, quad DVI, simple and quick Crossfire setup, physics support and HDCP) but we won't make any final conclusions until we are given the final product with the latest tweaked drivers.
PRICING: You can find products similar to this one for sale below.

United States: Find other tech and computer products like this over at Amazon.com

United Kingdom: Find other tech and computer products like this over at Amazon.co.uk

Australia: Find other tech and computer products like this over at Amazon.com.au

Canada: Find other tech and computer products like this over at Amazon.ca

Deutschland: Finde andere Technik- und Computerprodukte wie dieses auf Amazon.de
We openly invite the companies who provide us with review samples / who are mentioned or discussed to express their opinion. If any company representative wishes to respond, we will publish the response here. Please contact us if you wish to respond.